Flavor Painted Sugar Cookies using McCormick flavor extract and food color are simple and fun to make for any occasion!
Disclosure: I have teamed up with McCormick to share with you everyday baking projects and I have received compensation for this post. Thank you for reading and supporting the brands that I partner with in order to bring you new and exciting content here on Jelly Toast. All opinions expressed in this post are, as always, 100 % my own.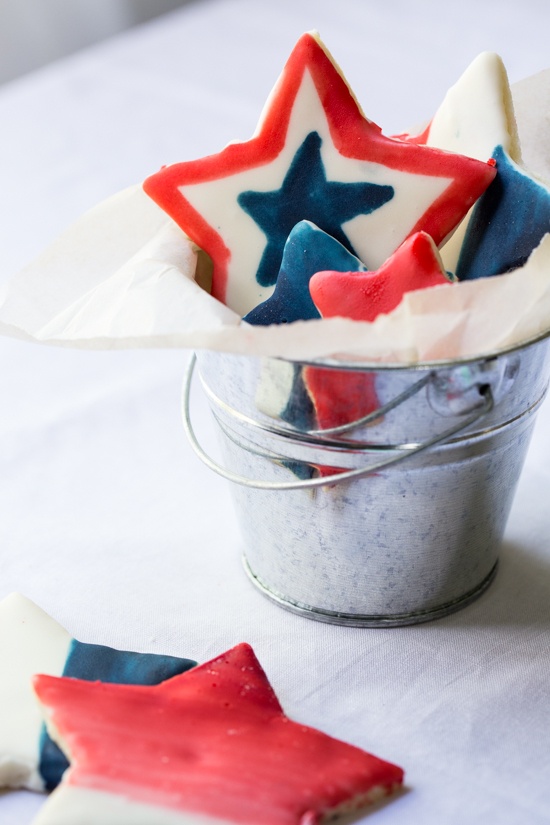 I seem to have blinked and missed June. Honestly, what is going on with time? Maybe it's a getting old thing. Either that or it's broken. It's weird though, because the older I get, the more I hear things come out of my mouth like "I remember when you were this big" and "When I was little…".
I told you it was getting bad and I fear it will only get worse.
In my attempt to be somewhat ahead of the game and beat time at it's own game, I wanted to share a fun and simple idea with you for decorating sugar cookies. That's right. A Fourth of July recipe over a week ahead of time. Can you believe it?
Now, if you look around on this site, you will not find any fussy decorated sugar cookies. No piping, no tedious detail work, nothing. And I'll tell you why: It's just not my thing. You'd think being a former art teacher I would be all over that stuff. Turns out, my attention span isn't long enough for such drawn out projects. I'm more of a live in the moment kind of girl. A free spirit, if you will.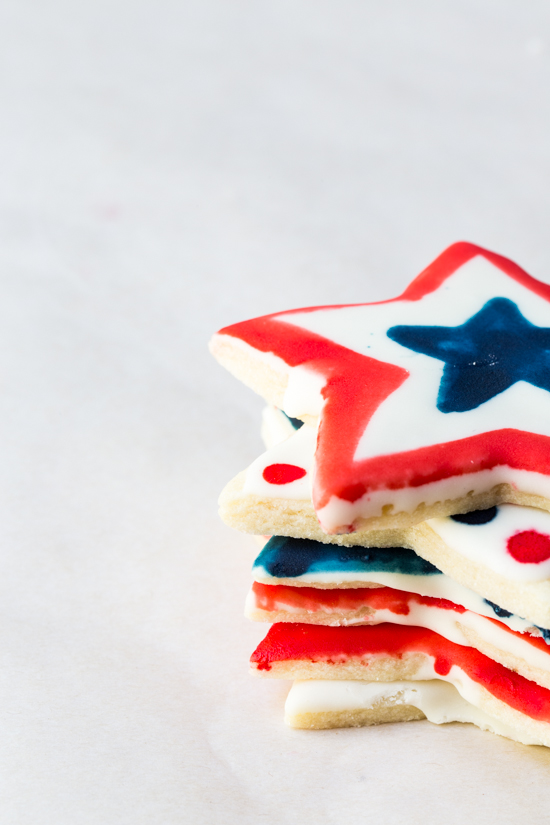 Now, do not get me wrong. I love, love, LOVE beautifully decorated cookies. I'm beyond impressed with the creativity and artistry that comes along with being able to decorate a fancy cookie. It's truly an art form.
It's just that I choose to leave that type of work to the experts.
Which is why when I heard about this technique of flavor painted sugar cookies, I was all over it! You simply mix a bit of McCormick food color and flavor extracts together to make a flavor paint and go to town. This was the most freeing and fun cookie decorating that I've ever done. My kids even got in on it and had the best afternoon painting away at their little cookie stations.
I made a little video to show you how easy this flavor painting is to do:
Honestly, if I can do this and have a great time in the process, so can you! What's great about this technique, too, is that you can apply this method to any holiday or occasion that you have coming up. These star shaped cookies with red and blue are great for Fourth of July, but the possibilities are endless. I'm thinking that pumpkins in the Fall with little Jack-O-Lantern faces would be adorable!
Like I said, so many possibilities!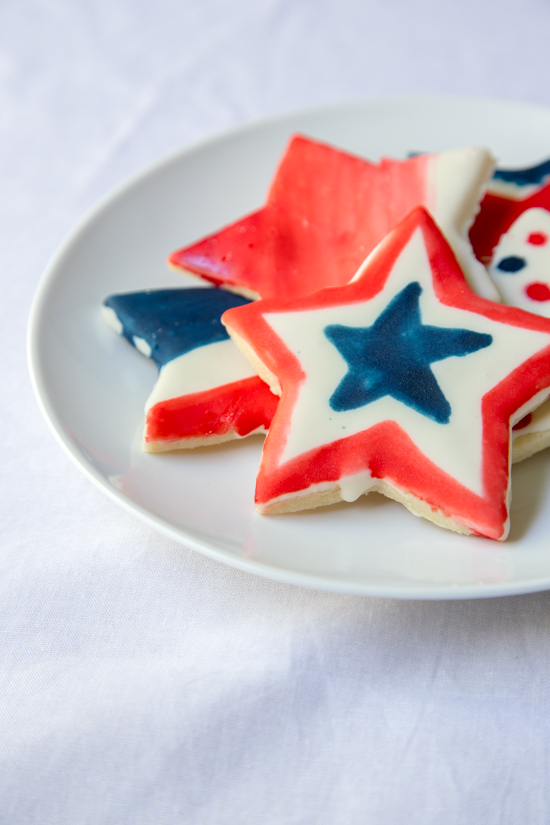 Happy Wednesday!
Painted Sugar Cookies Recipe

June 25th, 2014

Yield: 36 cookies

Ingredients:

2 3/4 cups flour

1 teaspoon salt

1 cup (2 sticks) unsalted butter, softened

1 1/2 cups sugar

1 egg

2 teaspoons McCormick Pure Vanilla Extract

1 can (16 ounces) white frosting

Directions:

Preheat oven to 325°F. Mix flour and salt in large bowl. Set aside. Beat butter and sugar in large bowl with electric mixer on medium speed until light and fluffy. Add egg and vanilla; mix well. Gradually beat in flour mixture on low speed until well mixed.

Roll dough on generously floured surface to 1/4-inch thickness. Cut out cookies with a variety of star-shaped cookie cutters. Place on ungreased baking sheets.

Bake 8 to 10 minutes or until edges start to brown. Cool on baking sheets 1 minute. Remove to wire racks; cool completely.

Spoon frosting into medium microwavable bowl. Microwave on HIGH 20 to 30 seconds, stirring every 10 seconds. (Frosting should be a pourable consistency.) Dip tops of cookies into frosting. Place frosted cookies on wire rack set over foil-covered baking sheet. (The baking sheet will catch drips.) Let stand 10 minutes or until frosting is dried.

Prepare red and blue Flavor Paints (see recipe notes). Paint a variety of stripes and designs, cleaning paint brush in between colors. Let stand until paint is dried.

Notes:

Flavor Color Combinations

Red: 1/2 teaspoon McCormick Raspberry Extract + 1/4 teaspoon McCormick Red Food Color

Blue: 1/2 teaspoon McCormick vanilla extract + 1/4 teaspoon McCormick Blue Food Color