autumn chicken pot pie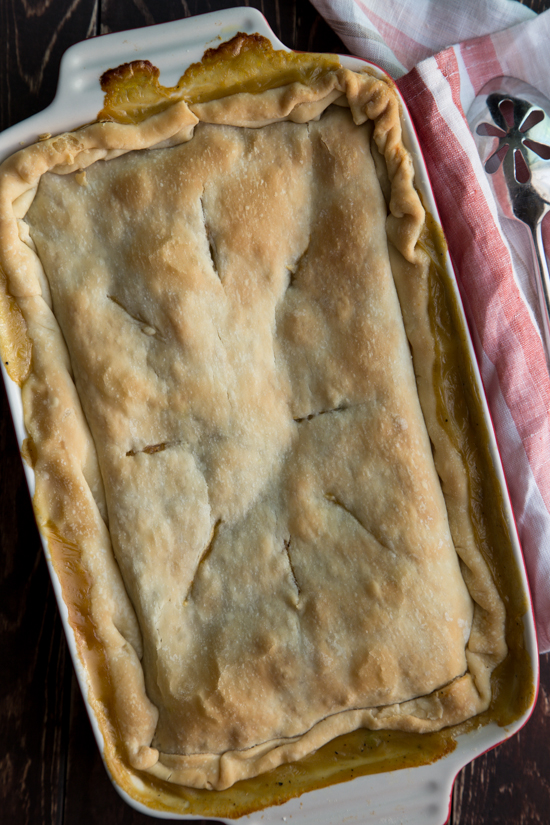 Something I've noticed since starting Jelly Toast, is that food and weather seem to go hand in hand. Warm, summer weather calls for crisp, fresh produce or simply grilled dinners. Nothing creamy, rich or indulgent, like chicken pot pie.Now, autumn on the other hand, is a completely different story. Fall and winter cuisine is everything summer cuisine is not: warm, stick-to-your-ribs food that comforts you, both body and soul. Since October has started, Northwest Ohio has decided to become a little wackadoo and not follow the unwritten but universally agreed upon midwest 'rules' for autumn:
No temps over 65 (absolute max here, people. My target is more like 55)
No humidity levels that make me turn on my air conditioning just to cut through it.
Crisp fall smells every morning (not necessary, but strongly recommended).
These are most likely just my rules, but seriously, I think I could get a lot of people on board with them. Mother Nature is a whole other animal. She is on her own agenda and I think that agenda is to see just how frizzy she can make my hair in mid October. Well played, Mother Nature, well played…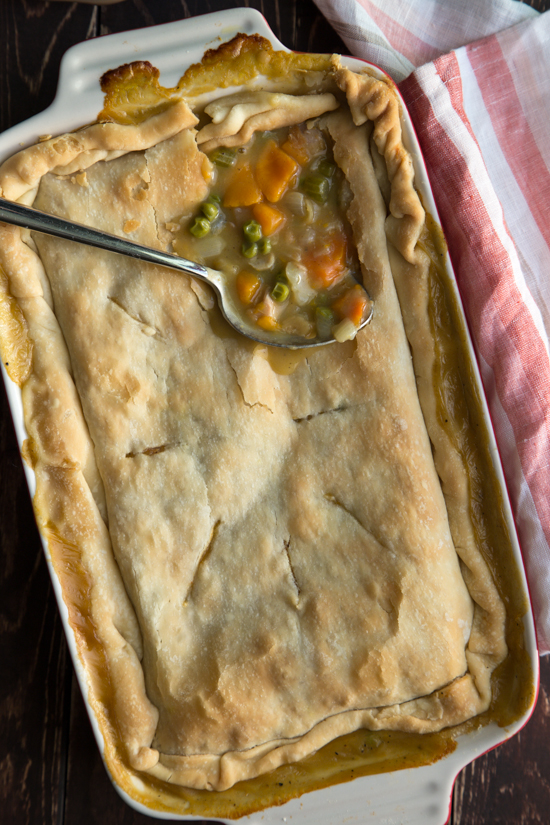 Anyhoo, my weather rant is over for today (I think). Basically, this last week I've been trying to will the weather to be what I wanted it to be which is cool, slightly overcast yet not dreary. The type of weather that invites a light jacket and pumpkin spice latte without sweat running down your face. No one wants to sweat into their latte, trust me.
In attempts to drum up some cool breezes, I decided to make a rich and bubbling Chicken Pot Pie. To up the fall-ness of it a bit more, I threw in some diced up sweet potatoes, but you could easily add cubed up butternut squash instead.
I took some help from a store bought pie crust, because frankly, it was a weeknight and I didn't feel like cleaning my food processor after making pie dough. That's just me. If you feel like whipping up your own dough, go right ahead! It'll be delicious, I'm positive of that.
So, if you're like me and want to invite the cool weather to get here already, this Autumn Chicken Pot Pie is the ticket. Also, my kiddos inhaled it so that made me feel pretty great. Especially after the Cornbread Bite experience.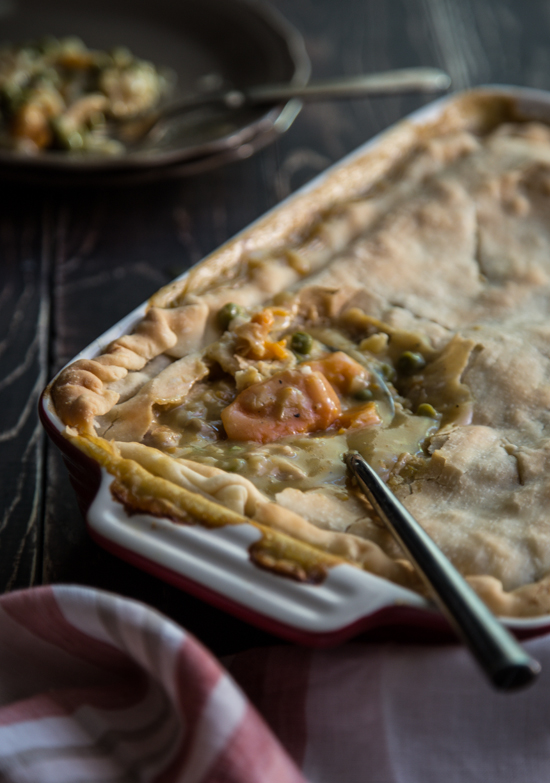 Happy Monday!
Autumn Chicken Pot Pie Recipe
Yield: 6 servings
Prep Time: 10 minutes
Cook Time: 60 minutes
Total Time: 1 hour 10 minutes
Ingredients
2 Tablespoons butter
1 onion onion, chopped
2 celery stalks, sliced
2 carrots, peeled and sliced
1 sweet potato, peeled and chopped
2 cloves garlic, minced
1/2 cup flour
4 cups chicken stock (store bought or homemade)
1/2 teaspoon dried thyme
1 chicken bullion cube
1 cup frozen peas
2 cups cooked chicken, shredded or cubed (see notes)
1 store bought pie crust (1 roll or 1/2 a box), room temp
flour for rolling
Directions
Preheat oven to 400 degrees.
In a large pot, melt the butter over medium high heat. Add onion, carrot and sweet potato. Cook until soft, about 8 minutes. Add garlic and cook until fragrant.
Add flour, and stir until vegetables are coated.
Slowly add broth to the pot, whisking to create a smooth sauce. Add thyme and chicken bullion. Bring to a boil, and reduce heat to a simmer, stirring frequently. Simmer for about 5 minutes or until sauce is nice and thick. Stir in chicken and peas. Pour mixture into a 2 quart casserole dish.
On a slightly floured work surface, roll pie crust slightly to fit the shape of your casserole dish. Place crust over casserole dish, folding overhang inward and crimping the edges. Cut several vents in the top of the crust.
Place casserole dish on a rimmed baking sheet and bake for 35-40 minutes or until crust is golden and filling is bubbling. Allow to cool for 10-15 minutes before serving.
Enjoy!
Notes:
Use any chicken that you like. Most recently, I used 4 chicken thighs that I roasted at 375 for about 30 minutes. I have also made this recipe using chicken from my
basic roasted chicken breast recipe
. You could also use leftover chicken from a market rotisserie chicken.