cherry kale panzanella #SundaySupper #ChooseDreams
Cherry Kale Panzanella is a light but hearty dinner salad packed full of kale, cherries, peaches and crusty skillet croutons. The whole family will love it!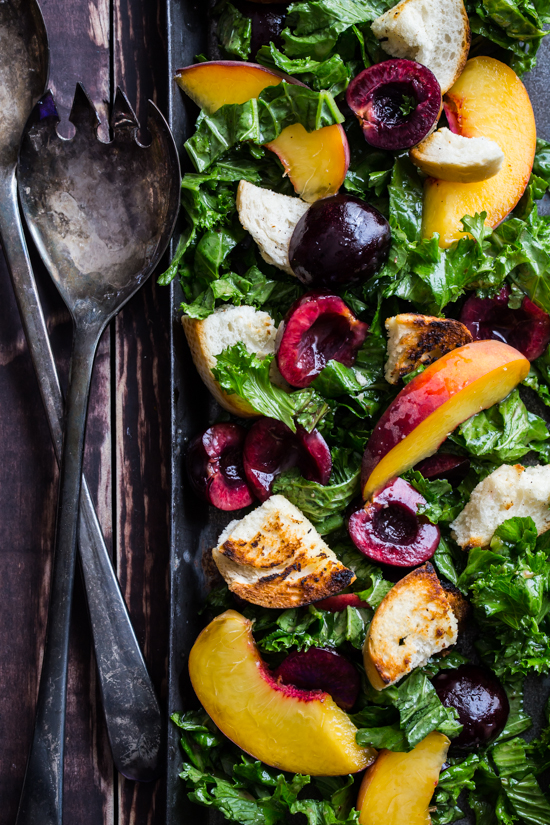 It's hard to believe that the end of July is upon us and that the new school year is right around the corner. Where has the summer gone?! When it comes to summer vacation, and really anytime throughout the year, my husband and I truly try to make the most of the time that we have together, especially because we realize how fast this time can seem to fly by. We seek out activities that we all can be a part of and that get us moving.  Camping, hiking, golfing and evening walks after dinner help us avoid the pitfalls of summertime boredom – which can be SO easy to fall into, believe me.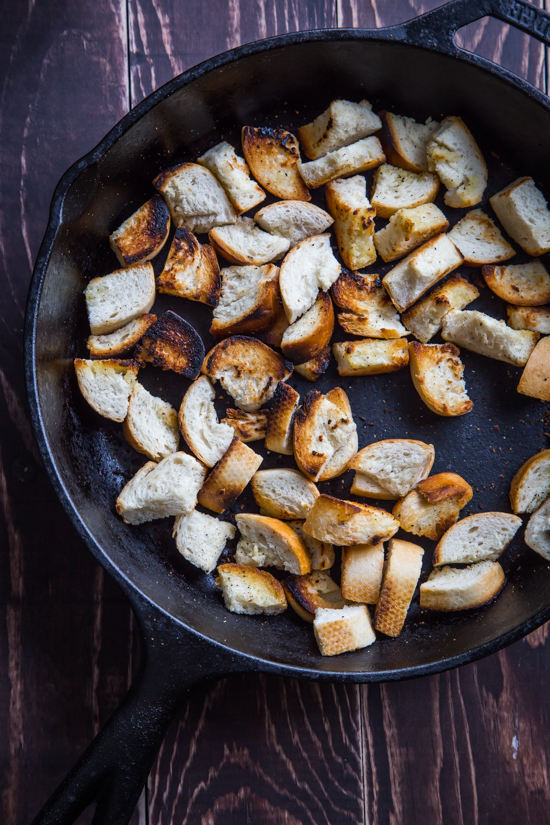 One of our favorite summer activities is to put the bike rack on the van, pack a picnic in my bike basket (yes, I totally have a bike basket and LOVE it) and head to the park. The wide, long trails at the park make for a great afternoon riding, not to mention some good practice gearing up for taking the training wheels off the kiddos' bikes. We ride and look at the trees and plants and just enjoy being together. That sounds incredibly corny, but it's true. After the bike ride, we spread out a blanket and dig into some awesome picnic fare which usually consists of fruit, salads and sandwiches. Not to mention several huge bottles of ice water. Those kids can seriously sweat, let me tell you.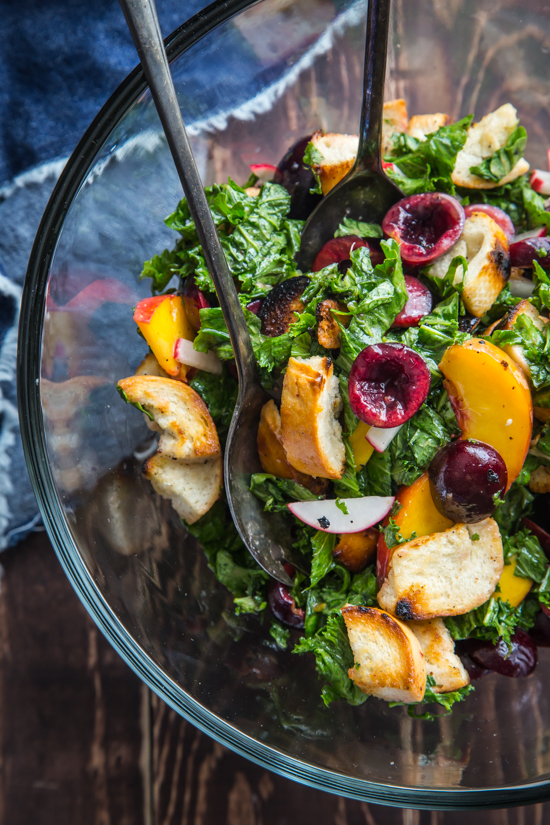 On our most recent bike/picnic expedition I whipped up this simple but incredibly flavorful and nutrition packed Cherry Kale Panzanella salad. Like it or not, kale is here to stay and it's an undeniable choice when it comes to healthy living. It's packed full of vitamins K, A and C as well as beta-carotene. I could go on and on, but in the end it's true what they say, kale is a superfood.
Now, it's also true that kale can be a little hard to take. It's bitter and tough and not the most glamorous of vegetables. This Cherry Kale Panzanella takes care of all of that. The first step is to dress the kale with the dressing so that it has time to tenderize and lose much of it's bitterness. The salad is then packed full of fresh, in season stone fruit like cherries and peaches. I love using in season produce because it's much fresher and typically a lot less expensive than buying vegetables and fruits that are out of season. It's really a win-win situation.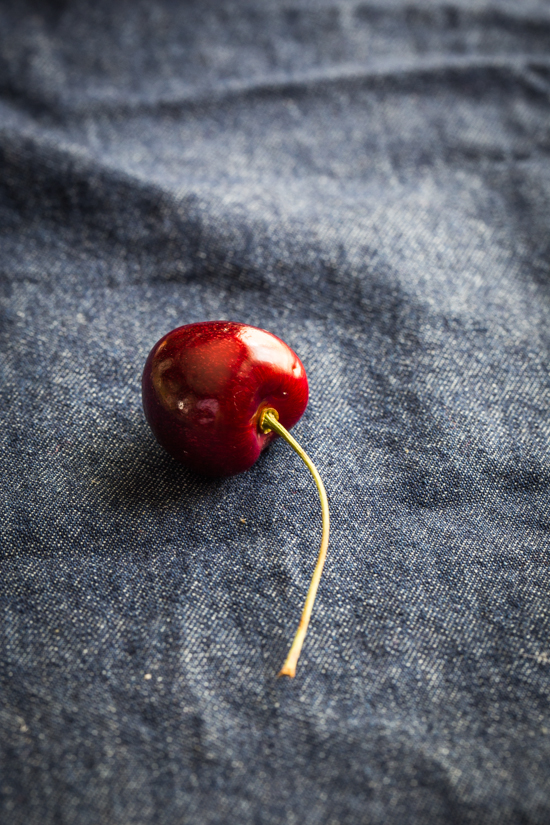 To add a some heartiness to the salad I threw in some wheat berries, which also provide a great source fiber and protein.  Big, quick skillet croutons get tossed into the salad for some seriously satisfying crunch.
This salad has quickly become one of my favorites. It's easy, but full of great nutrient packed ingredients that stick with you. Because the kale just continues to get better as it marinates in the dressing, it made for a perfect picnic salad to take along with us on our biking picnic.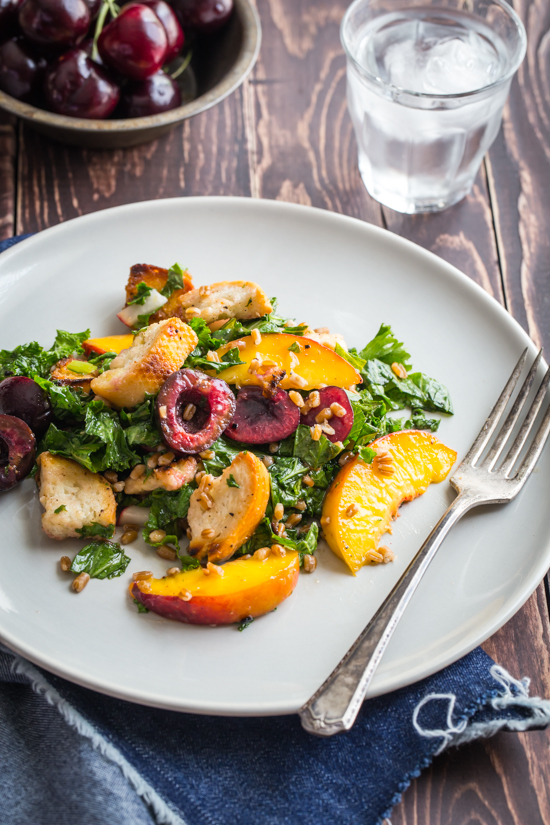 I've been invited by American Family Insurance to share this great, healthy family recipe with you. Summer is all about getting outside and being active, especially together as a family.
Cherry Kale Panzanella Salad Recipe
Ingredients
1/2 cup extra virgin olive oil
1/2 cup white balsamic vinegar
2 Tablespoons apricot jelly or orange marmalade
1 Tablespoon honey
2 teaspoons whole grain mustard
salt and pepper to taste
1 bunch of kale, finely chopped
2 cups cherries, pitted and halved
2 small peaches, sliced
4 large radishes, cut into matchsticks
4 cups cubed bread (I used 1/2 French baguette)
1 Tablespoon extra virgin olive oil
1 cup wheat berries, cooked
Directions
Place olive oil, vinegar, jelly, honey, mustard and salt and pepper in a blender. Blend until smooth. Put kale, cherries, peaches and radishes in a large bowl. Drizzle with half of the dressing and toss to coat. Allow kale and fruit to marinate in the dressing while you make the croutons.
Heat a large skillet over medium heat and add remaining 1 Tablespoon of olive oil. Add bread cubes and toss to coat in the oil. Cook, stirring occasionally until all of the bread is crunchy and toasted. Remove from heat and allow to cool for a few minutes.
Add croutons and wheat berries to salad and toss to incorporate into the salad.
Serve and Enjoy!
July 27th, 2014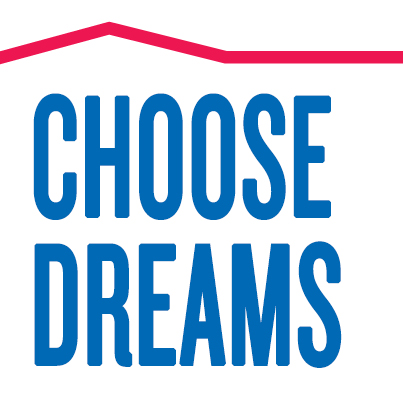 For more wonderful ideas on family activities and recipes check out American Family Insurance's Health and Fitness #ChooseDreams Pinterest Board. You can also find and follow them here: Website, Linkedin, Youtube, Google+, Twitter, Facebook and Pinterest.
For more Fit and Healthy family friendly recipes, look no further than our Sunday Supper table!
Get Up and Go Power Breakfasts
Salads and Healthy Snacks
Healthy Fit Lifestyle Dinners
Healthy Desserts
Join the #SundaySupper conversation on twitter on Sunday! We tweet throughout the day and share recipes from all over the world. Our weekly chat starts at 7:00 pm ET. Follow the #SundaySupper hashtag and remember to include it in your tweets to join in the chat. To get more great Sunday Supper Recipes, visit our website or check out our Pinterest board.
Would you like to join the Sunday Supper Movement? It's easy. You can sign up by clicking here: Sunday Supper Movement.
Disclosure: This post is sponsored by American Family Insurance. All opinions are my own.