Chocolate Marshmallow Banana Toast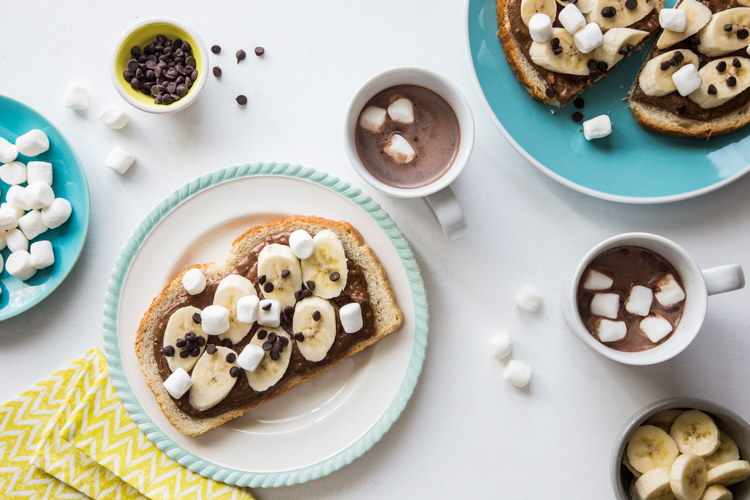 This post is sponsored by Campfire Marshmallows. All opinions are my own. 
Let's talk toast. I am an equal opportunity toast lover: savory, sweet, complicated, simple – it truly doesn't matter. Serve up a combination of intriguing and delicious ingredients on a piece of toasted bread and I'll come running. Well, maybe I'll come walking quickly. Running and I have never been BFF's. I'm more of a cross-training type of girl. You know, jump squats, lunges, weighted step-ups. That sort of thing.
But I'm getting off topic.
This week, to kick off a brand new year with my very favorite marshmallows (Campfire!!) I thought it would be fun to share one of my kiddos' favorite toast recipes: Chocolate Marshmallow Banana Toast. It's a classic combination of nut butter, chocolate, marshmallows and bananas, and frankly, this toast is perfect for breakfast, snack time or dessert. While I say that this is a beloved recipe of my kiddos, the grown-ups love it just as much. Plus, if you serve it up on a slice of your favorite gluten-free bread, this treat is great for gluten-free week!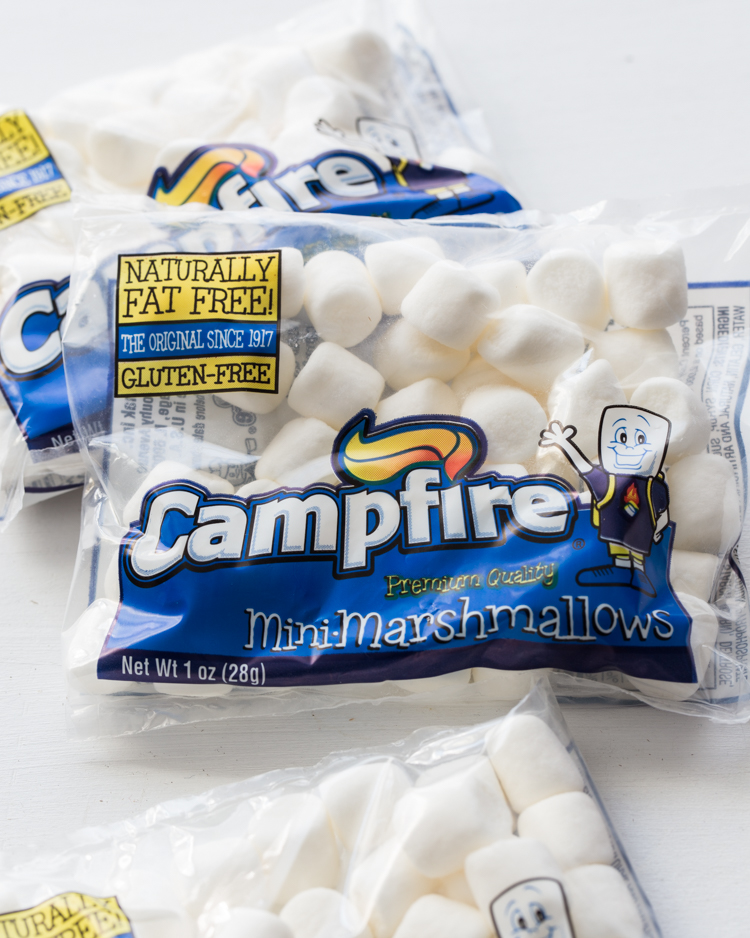 In fact, one of the things that I adore most about Campfire Marshmallows, is that they are extremely allergy friendly. They are made in a nut-free and gluten free facility. With C's peanut allergy, I am constantly disappointed with how many foods are processed with peanuts. It can be extremely discouraging to go grocery shopping or when checking birthday treats at school to find that more and more foods are off limits. Luckily, my little lady is a complete trooper and is never brought down by what she can't have. She simply embraces what she can have, and some of our favorites are the wide variety of Campfire Marshmallows.
This month, I stocked up on Campfire's 90 calorie snack packs. They are great after school snacks and portion controlled for when I need a little something sweet, but nothing over-the-top. They are wonderful to have for recipes that you need only a few marshmallows, like mugs of hot chocolate or this chocolate marshmallow banana toast. Then you don't have a big bag of marshmallows sitting in your cabinet going stale or tempting you to eat a handful of them overtime you walk by the pantry.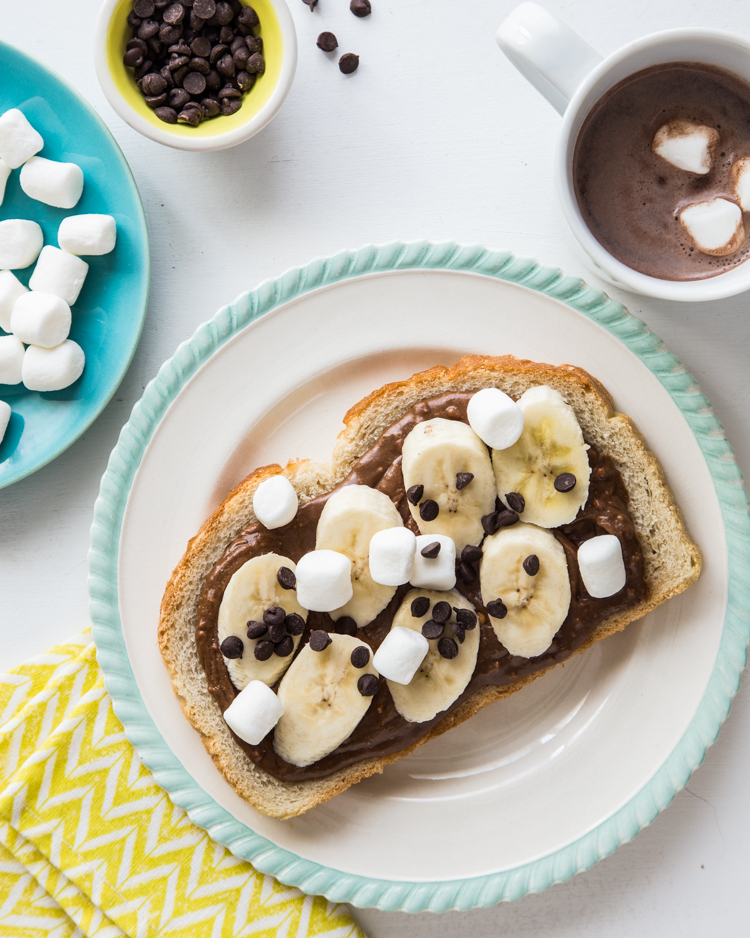 The base spread for this toast is a mixture of nut butter (we used our favorite soy nut butter, but use your favorite), mini chocolate chips and mini marshmallows that gets melted in the microwave and spread on two hearty pieces of gluten-free bread or sour dough bread. Again, use what you've got and what you like!
Top it all of with sliced bananas, a sprinkling of mini chocolate chips and a few more Campfire Mini White Marshmallows. One Campfire 90 Calorie Pack works perfectly for this entire recipe, but by all means, if you have a larger bag of Campfire Mini White Marshmallows in your cabinet, use that. Just be sure to give this toast a try. Serve it up with a few cups of hot chocolate for the perfect after-school snack.
I'm thrilled to be teaming up with Campfire Marshmallows again in 2015 to bring you year of exciting, seasonal, and family friendly recipes. We have some new features coming up that I can't wait to share with you. Be sure to check out Campfire on Facebook, Pinterest, and Twitter. Plus, check out our Marshmallow Madness Pinterest Board for even more marshmallow inspiration! If you've been getting hit by a lot of snow, there are some great, kid-friendly recipe ideas on there for snow days <3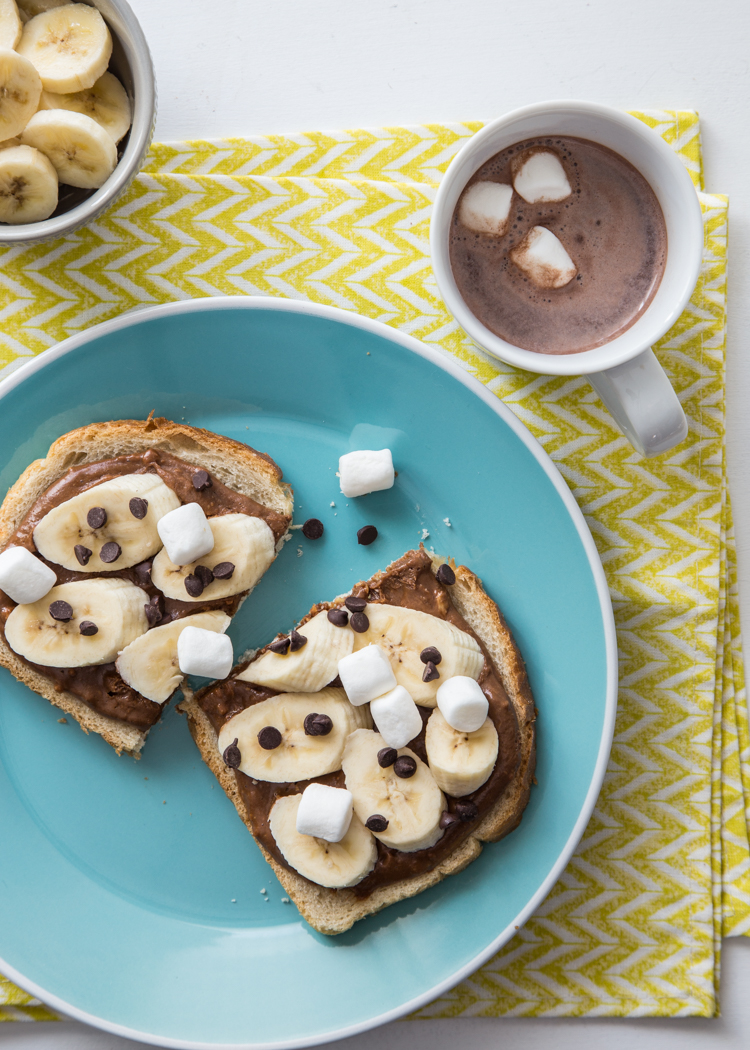 Happy Tuesday!
Disclosure: I have teamed up with Campfire Marshmallows to bring you a year of scrumptious seasonal recipes. This post is part of that partnership. Thank you for supporting the brands that support Jelly Toast. All opinions are 100% my own. 
Chocolate Marshmallow Banana Toast Recipe
Yield: 2 servings
Prep Time: 5 minutes
Ingredients
1/4 nut butter (I used soy nut butter, but if nut allergies aren't an issue, use your favorite)
3 tablespoons Campfire Mini White Marshmallows
2 tablespoons mini chocolate chips
1 large banana, sliced
extra mini marshmallows and mini chocolate chips for sprinkling
2 slices of hearty bread, gluten free or sourdough
Directions
Place nut butter, Campfire Mini White Marshmallows and chocolate chips in a microwave safe bowl. Microwave for 20-30 seconds. Stir. Microwave for an additional 20-30 seconds or until nicely melted. Stir. Divide marshmallow mixture between the two pieces of bread and spread evenly. Top with banana slices and sprinkle with additional marshmallows and chocolate chips. Serve and enjoy!