French Vanilla Iced Coffee Cubes | iCoffee Express Review + Video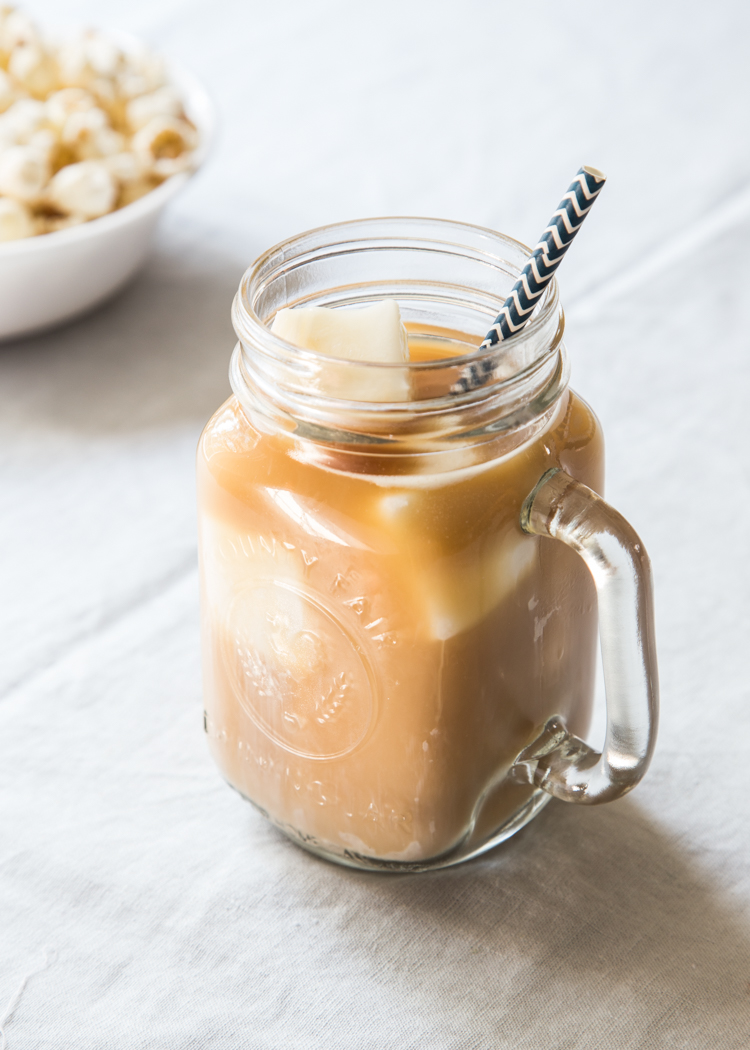 Coffee is quite possibly my favorite food. Is coffee a food? Yeah, I think it is. This post, which is sponsored by iCoffee, is inspired by my favorite summertime iced coffee. Once the weather turns hot and humid, my coffee turns ice cold. I still typically start the day with one cup of hot coffee, but after that, it's cold, cold cold.
Now, I have several ways that I like to make iced coffee, but none of them involve the drive through. Have you ever bought an iced coffee? They are crazy expensive and if you're like me, they're gone in about 3 sips. What's the deal with that? With my thrifty, yet coffee obsessed sensibilities I've had to come up with ways to make fun iced coffee drinks at home.
I love making cold brewed coffee at home, but to be honest, I don't always have it on hand or feel like undertaking the lengthy process of making a big batch. So, when cold brewed coffee is out, I turn to another option: ice cubes. The problem with ice cubes, though, is the whole "watered down" factor. Nobody has time for watered down coffee. Don't worry, I have a fix for that.
With my switch from hot to cold coffee I also switch preferences from black coffee to sweetened with cream. I drink my hot coffee black about 90% of the time – although sometimes I add a little vanilla chai coffee creamer or peppermint mocha coffee creamer around Christmas time. But when it comes to iced coffee, I almost never drink it black. I like my iced coffee to be sweet and creamy. Which is why this method of making French Vanilla Iced Coffee cubes is one of my favorite ways to whip up an at-home iced coffee – plus so simple!
All it takes is gently heating some whole milk (or the milk of your choice) with some sugar and pure vanilla extract before pouring it into ice cube molds. Freeze the milk ice cubes and keep them on hand for a quick iced coffee fix.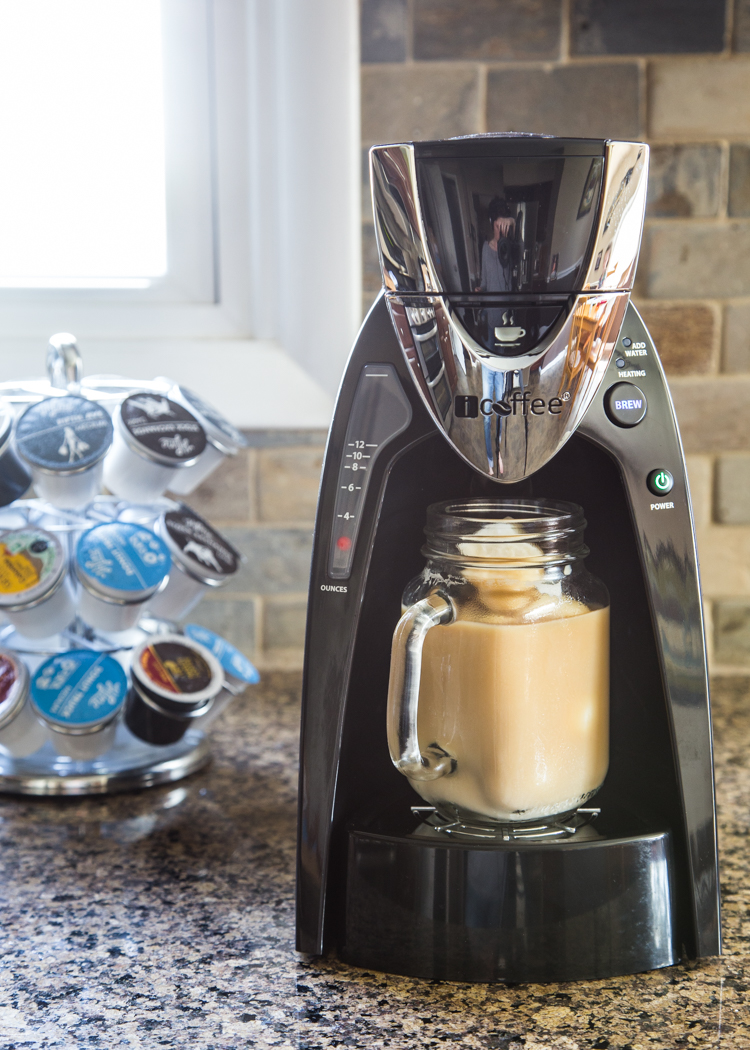 Back in the Fall, I shared with you guys my love of my new iCoffee Opus Brewer. This machine has been such a shining star in our kitchen I feel like I am always looking for excuses to show it off. When my friends at iCoffee told me about their new Express Brewer, I was excited to give it a try. Way back, about 5 years ago, I got my first single serve coffee brewer – the Keurig Mini. The machine was ok, but had some serious drawbacks. The machine couldn't fit a travel mug, which was huge because most of my coffee is consumed on-the-go. The measurement of how much water and coffee was going to brew was vague at best. Needless to say, we replaced that machine very quickly.
When I got my new iCoffee Express there were features that I had to check out right away, because of my not-so-great memories of my first mini brewer.
First things first, does it fit a travel mug? YES!!! It does, which is SO important. I mean, who doesn't want to have that option?
Second, how precise is the brew size? VERY!! You can brew anywhere from 4-12 ounces, which is a very big variation of sizes and not one that you find on other smaller single serve brewers. You can see in the video the red ball indicator at just how clear your brew size will be.
Third, it has the iCoffee SpinBrew technology which mimics the flavor of a French press and has incredibly smooth flavor with none of the bitterness that is characteristic of other single serve brewers. When we did our blind taste test back in the Fall between the iCoffee Opus and the Keurig I was blown away by the difference. Frankly, I had been skeptical that there would be any difference, but boy was I wrong.
Last, but certainly not least, you can brew any brand k-cup compatible on the market, as well as your own grounds with the reusable iCup filter cup. That means I can use my favorite HiLine coffee cups with no worries.
I made a little video showing you this slick new brewer and how simple it is to make my French Vanilla Iced Coffee cubes. The cubes serve double duty – cool down my coffee while making it sweet and creamy at the same time. That's my idea of multi-tasking.
For more information on the iCoffee line of brewers check out their
website
and find them on
Facebook
,
YouTube
,
Twitter
and
Instagram
. And don't forget to scroll down for my full French Vanilla Iced Coffee cubes recipe.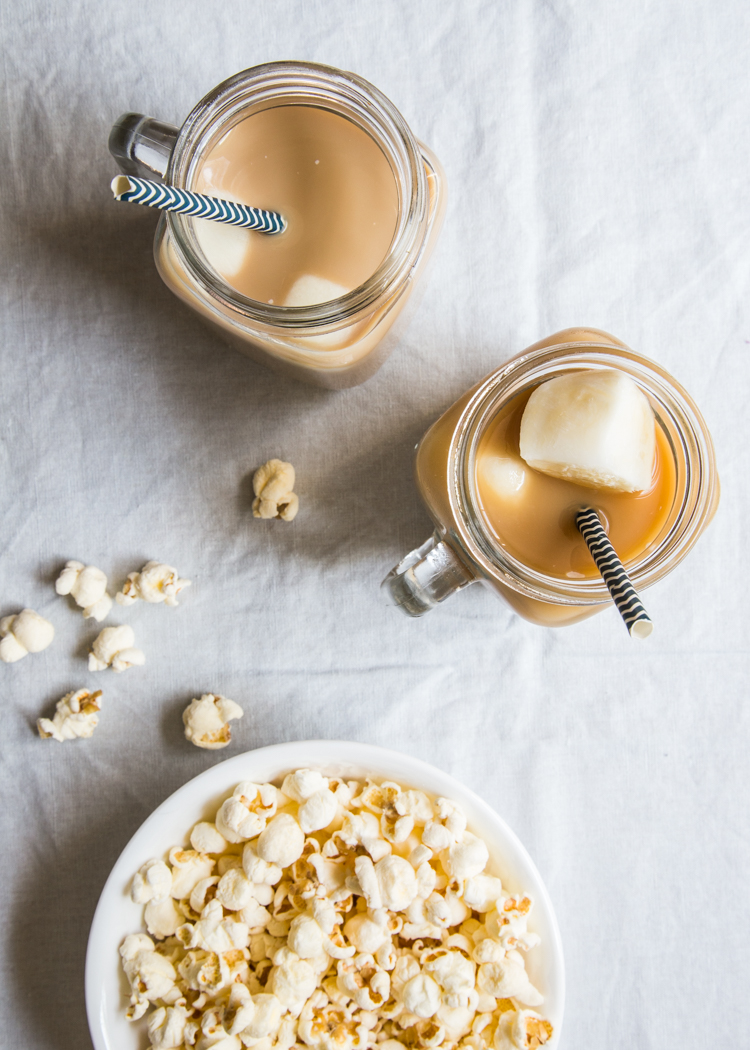 Happy Sunday!
Disclosure: I received compensation for this recipe post and an iCoffee Express brewer to try out in my home. Thank you for reading and supporting the brands that I love and that help make Jelly Toast possible. 
French Vanilla iced Coffee Cubes
Yield: 12-14 milk ice cubes
Prep Time: 10 minutes + freezing time
Ingredients
2 cups whole milk
2 Tablespoons sugar
2 teaspoons pure vanilla extract (I used McCormick Extra Rich Vanilla Extract)
Directions
In a small saucepan, combine milk, sugar and vanilla extract over low heat. Stir constantly until sugar is dissolved about 1-2 minutes. Remove from heat. Pour milk mixture into ice cube molds and place in freezer until frozen.
Place 3-4 frozen French Vanilla cubes into a mug and pour hot brewed coffee over them. Add a few more once the first batch melts, if desired. Serve and enjoy!