gift guide for cocktail lovers + a giveaway!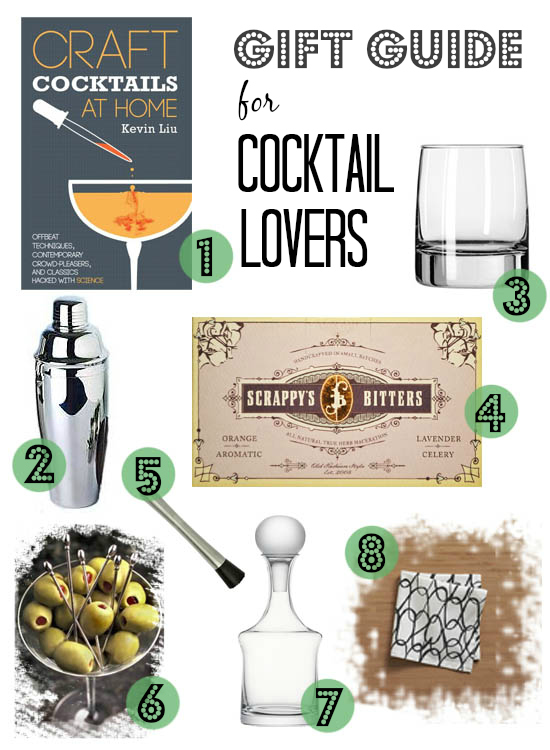 Today, we're talking cocktails! If you're a frequenter of Jelly Toast, you know that I like to mix up an interesting drink from time to time. My husband and I love to experiment with mixing up new and exciting libations so I thought a gift guide and giveaway dedicated to mixology was definitely in order. On to the Gift Guide for Cocktail Lovers! (and the giveaway, of course!)
1. Craft Cocktails at Home: This book is super fun and has a scientific (but not stuffy) approach to mixing up craft cocktails at home. This book speaks to me and my Engineer of a husband.
2. Cocktail Shaker: You need a solid cocktail shaker (or two or three) at a party and you can't go wrong with giving one as a gift to your cocktail loving friends.
3. Vibe Double Old Fashioned Glasses: I love the lines of these Vibe Double Old Fashioned  glasses! Sleek and modern with a classic feel.
4. Scrappy's Bitters Gift Box: Have you tried bitters in your cocktails? They are crazy fun to play around with and add so much dimension to your cocktails. This set makes a fantastic gift!
5. Cocktail Muddler: Do you love mojitos? Then you need a muddler! No more using the handle of a wooden spoon. Not that I'd know anything about that…
6. Stainless Steel Martini Picks: I love, love, love my stainless steel martini picks. They are so elegant and make any mixed drink or cocktail feel fancy. Even if you're hanging around in your pjs sipping on a rum and coke. Trust me!
7. Tino Decanter: This Tino liquor decanter from Crate and Barrel makes a gorgeous gift! Plus it is shipping free right now, so I'd jump on it!
8. Links Cocktail Napkins: A cute set of cocktail napkins is a must for any cocktail lover. Paper is fine, but these little Links Cocktail Napkins are just too cute and would go with any party theme.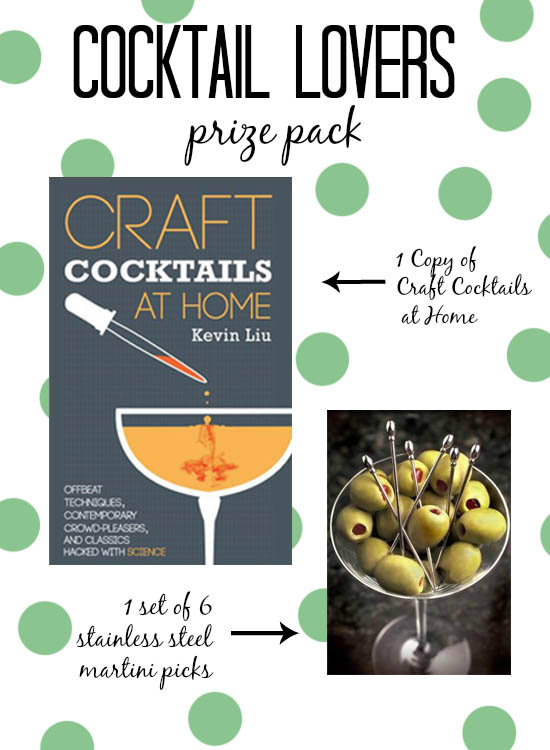 This Giveaway is Closed – Congratulations, Jennifer!
Cocktail Lovers Giveaway!
For today's Cocktail Lovers Prize Pack, I'm giving away 1 copy of Craft Cocktails at Home and 1 set of 6 Stainless Steel Martini Picks to one lucky Jelly Toast reader. If you love mixing cocktails or know someone who does, you will love digging into this book. And these stainless steel martini picks are gorgeous. It's like jewelry for your cocktail. Which is a must, if you ask me.
Simply enter a comment below telling me what your favorite mixed drink is and I will draw a winner at random tonight at midnight (Wednesday, December 11, 2013).
**DETAILS – PLEASE READ BEFORE ENTERING**
I will be drawing one winner to receive one Cocktail Lovers Prize Pack (1 Copy of Craft Cocktails at Home and 1 set of 6 Stainless Steel Martini Picks). To enter, you must currently reside in the USA. If you have won a prize from Jelly Toast in the last 12 months, you are not eligible to win. Only one entry per person. To enter, leave a comment on this blog post telling me what your favorite mixed drink is. When signing in to leave your entry comment, please be sure to enter in your current email address as that is how I will be contacting the winner. The prize will be shipped directly from Amazon.com.
This giveaway is not sponsored in any way shape or form. I am purchasing the prize directly with my own money and sending it to the winner. I am in no way associated with either of these prize items. I just really enjoy them and wanted to share them with you!
You have until Midnight on Wednesday, December 11th, 2013 EST to enter your comment! Winner will be chosen at random and contacted via email. The winner will also be announced here tomorrow. 
Be sure to stop back for more gift guide goodness and a new giveaway tomorrow!
Good Luck and Happy Wednesday!
**Disclosure: This giveaway is not sponsored by anyone but me. I am purchasing the prize with my own money and sending it to the winner. This post does contain Amazon Affiliate links which means if you make a purchase from clicking through to Amazon from this site, Jelly Toast will earn a few pennies. Pennies which allow me to host awesome giveaways for you 🙂 Thanks so much!