how to make a marshmallow wreath | video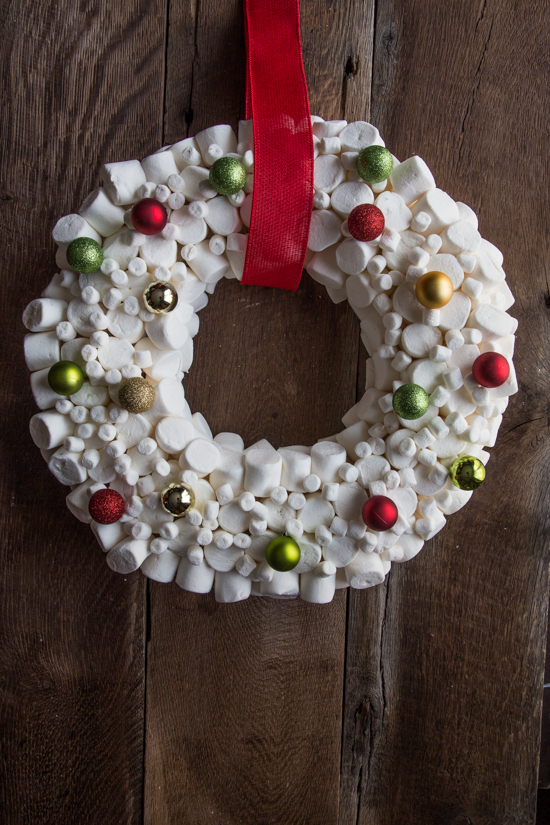 This post is sponsored on behalf of Campfire® Marshmallows. All opinions are my own. 
So, here I am, less than a week before Christmas, coming up with more Christmas decorations to fill my house. I have a problem. I can't resist picking up little knick knacks of holiday cheer. Plaid reindeer, glitter Christmas trees, cheery wooden hedgehogs – it's all to much for me to resist. Cuteness plays a big factor on whether or not something appeals to me. Especially when it comes to all things Christmas.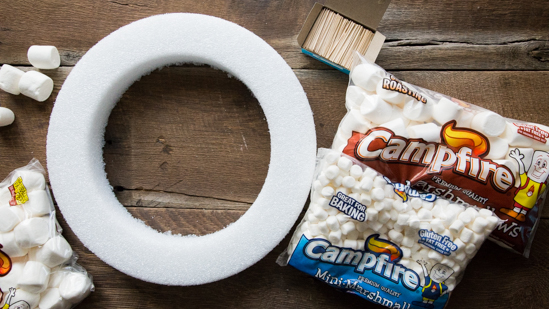 Which is why when I heard about making a wreath out of marshmallows, I totally had to give it a try. It turned out adorable, plus, it was quick and easy. Jamie and I worked on it together, and because I'm assuming you are a visual learner like I am, we made a little how to make a marshmallow wreath video so you can see how it comes together.
See? Totally easy. The instructions below make a large sized wreath, but you could make mini wreaths and use them as place cards at your Christmas dinner or even turn them in to ornaments for your Christmas tree.
I have to admit that one of my first thoughts was, "Wow, that's a lot of marshmallows to use for a decoration" but then I looked at the price of a bag of marshmallows compared to some expensive colored balls and craft supplies and realized that the marshmallows in this application were just a craft supply. And being a former art teacher, I am someone who can totally get on board with crafting.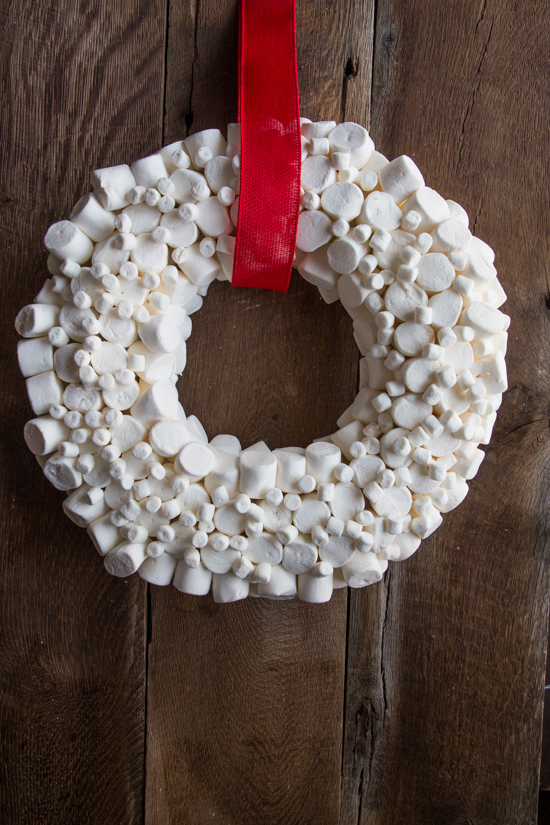 When the marshmallows are all assembled and looking puffy and adorable, you can leave it plain snowy white, or if you're feeling extra fancy, dress it up with some wired mini ornaments.
Both are fabulous.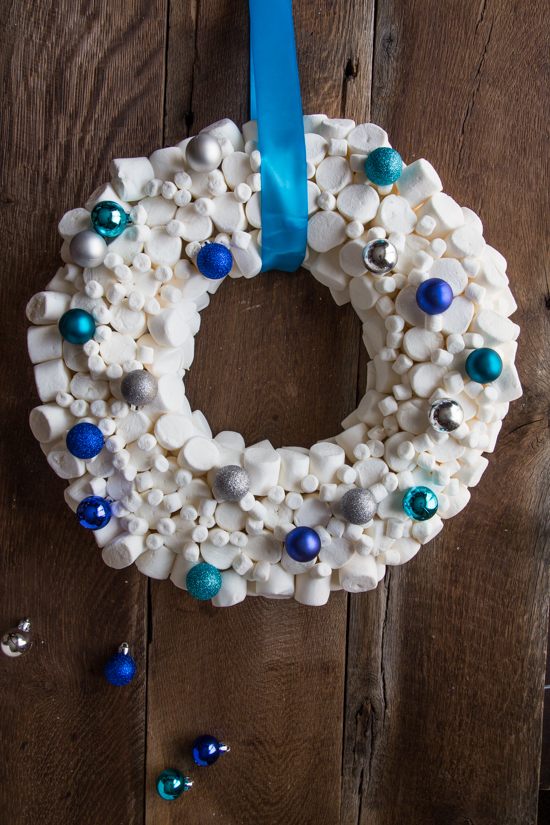 I have teamed up with Jamie from My Baking Addiction and Campfire® Marshmallows to bring seasonal recipes and fun craft ideas featuring their wonderful marshmallows. This post is a part of that partnership. For more marshmallow goodness, please visit our Marshmallow Madness Pinterest board and join in on the fun.
Happy Friday!
How to Make a Marshmallow Wreath
Ingredients
12 inch flat foam wreath form
3 16-ounce bags regular Campfire® Marshmallows
1 16-ounce bag Campfire® Mini Marshmallows
toothpicks
Optional
ribbon
lightweight plastic bulbs
hot glue gun
Directions
1. Insert toothpicks about halfway into the foam wreath form. Add a regular Campfire® Marshmallow to each toothpick. Fill in the entire wreath except for the back.
2. Add Campfire® Mini Marshmallows in a clustered design to fill in gaps between the regular marshmallows.
3. Once your wreath is completely filled with marshmallows, place the wreath in a cool place such as refrigerator or cold garage for about 24 hours to let the wreath set up.
4. If desired, add a festive ribbon and affix small, lightweight plastic bulbs with a hot glue gun for a little pop of color.
Notes:
Since this wreath is made of marshmallows, we recommend displaying it indoors, that way it will be safe from little critters.
This wreath holds up best in a cool, dry climate.
We have not attempted to preserve our wreath for upcoming holiday seasons; therefore, we cannot comment on that matter. However, we may try spraying it with craft shallac to see how it will hold up in a cool place.
Marshmallow Wreath inspired from Food Network