Tart Cherry Old Fashioned
This post, Tart Cherry Old Fashioned, is sponsored on behalf of the The Cherry Marketing Institute. Thank you for supporting the brands that I love and that help make Jelly Toast possible. All opinions are, as always, my own.
Since having kids, my husband and I have spent most of our Valentine's Days opting for a date-night-in. The tradition started out of necessity when our kids were babies, but in recent years, we have realized that we often prefer to stay in and that there is something wonderfully romantic about preparing an awesome meal at home, sipping cocktails and spending time together in the kitchen.
While the menu has varied over the years, each Valentine's Day dinner has involved some fabulous cocktails.
This year, to play to our current love of classic and well balanced cocktails, we are going to be serving up Tart Cherry Old Fashioned cocktails.
You simply can't go wrong with the classics.
When we make a classic Old Fashioned, we typically use Rye with a twist of lemon and orange peel, along with Angostura bitters. But for this version, I wanted to infuse this classic cocktail with a bit of tart cherry juice and adjusted the other ingredients accordingly.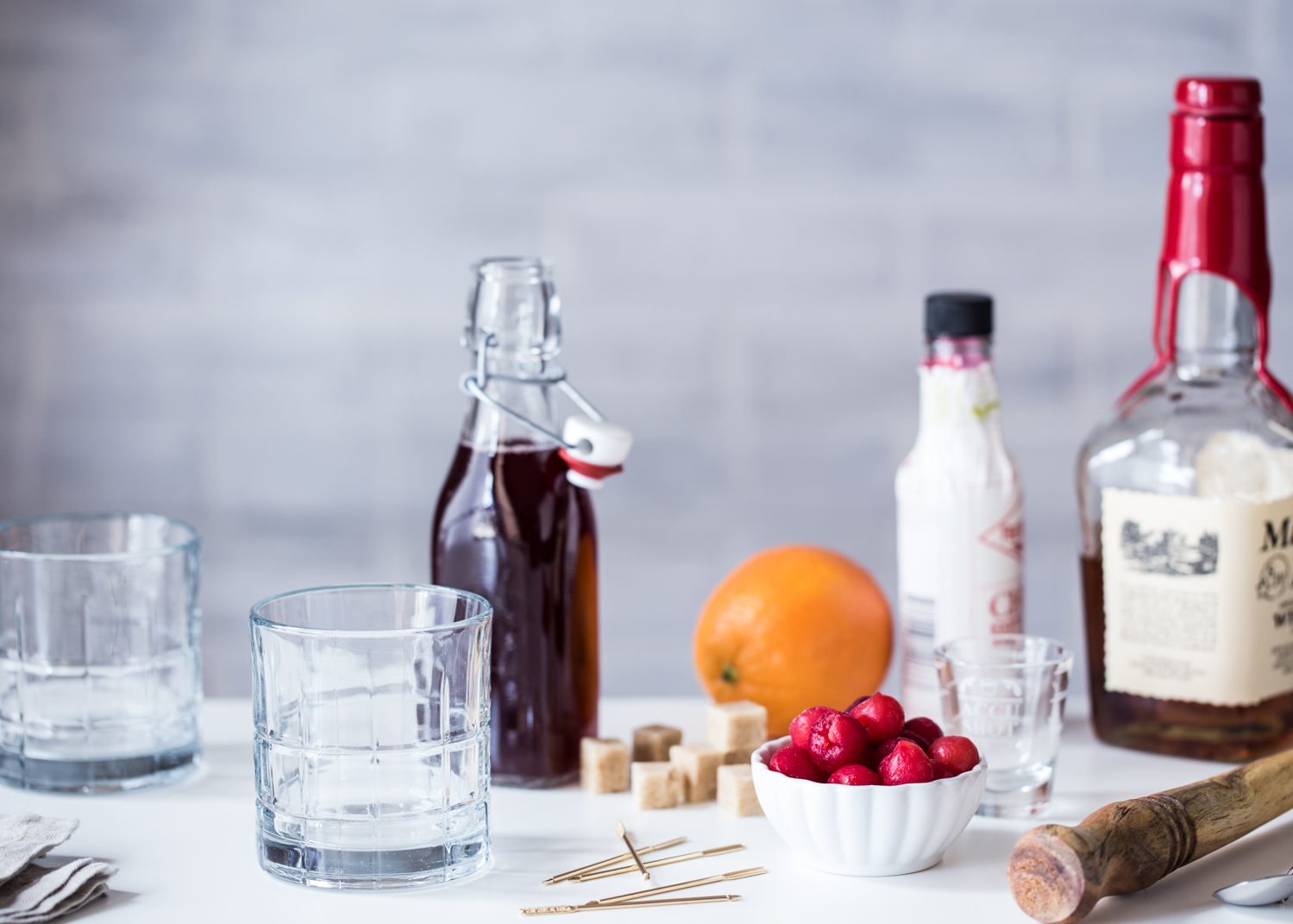 This Tart Cherry Old Fashioned cocktail uses bourbon to bring some vanilla notes that balance nicely with the tart fruitiness of the cherries. Then cherry bitters, Demerara sugar, and a twist of orange add enough depth to make this cocktail rich, but still allow all of the individual flavors to shine.
I have seen tart cherry cocktails that use muddled cherries, however, I opted for the use of tart cherry juice to keep the drink's striking amber color and garnishing with some lovely ruby red tart cherries.
This slow sipping cocktail is the perfect start of any Valentine's Day dinner.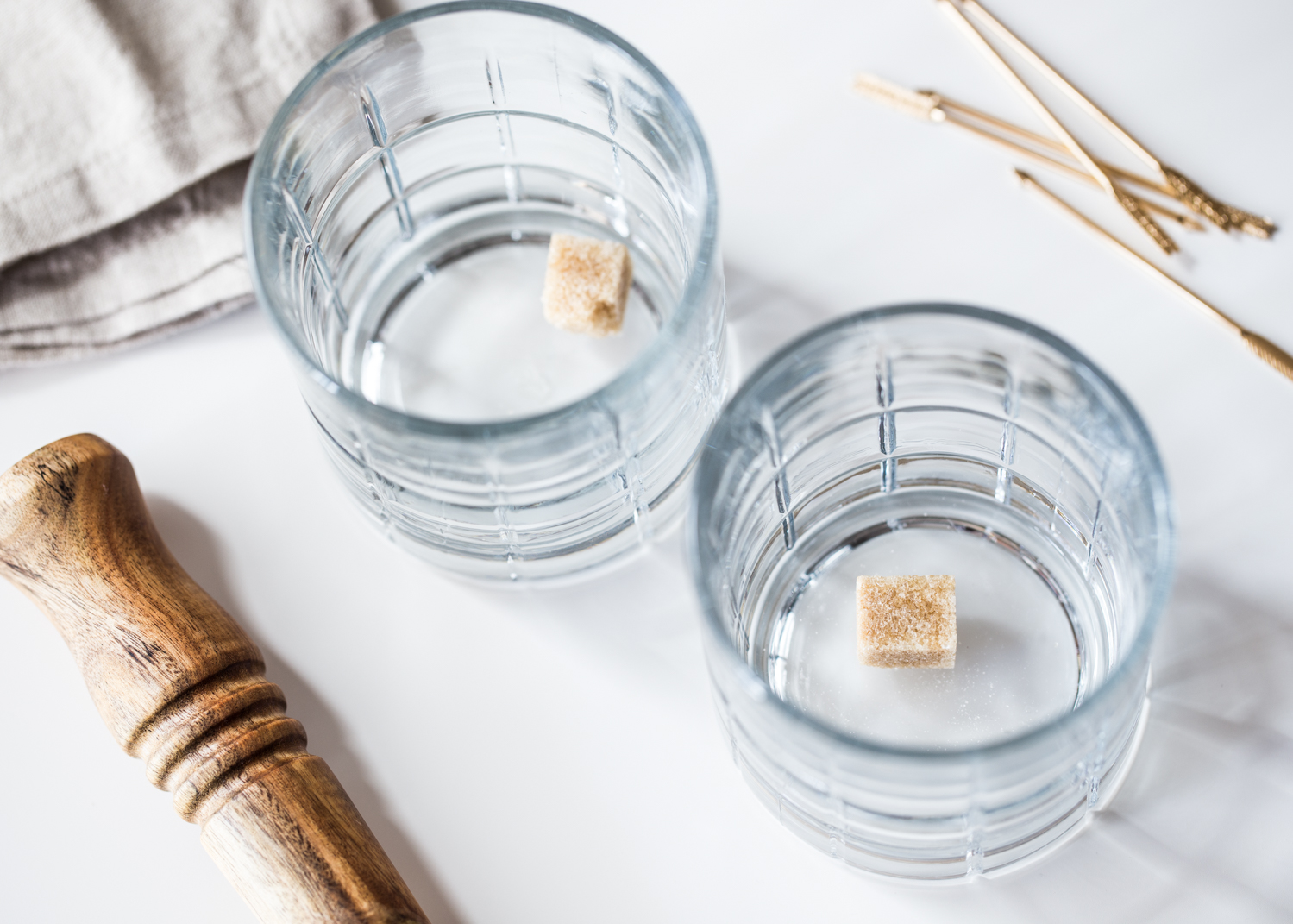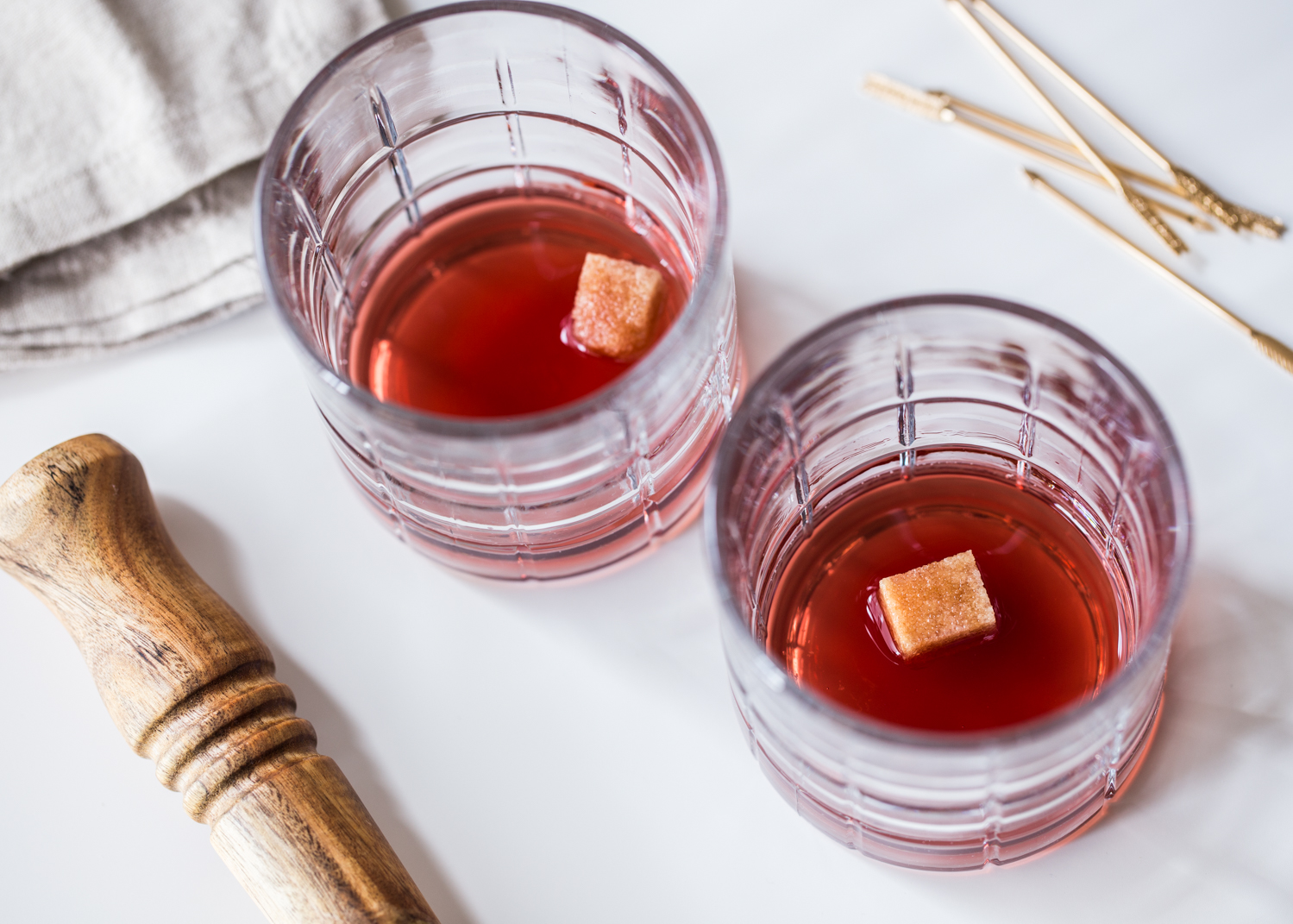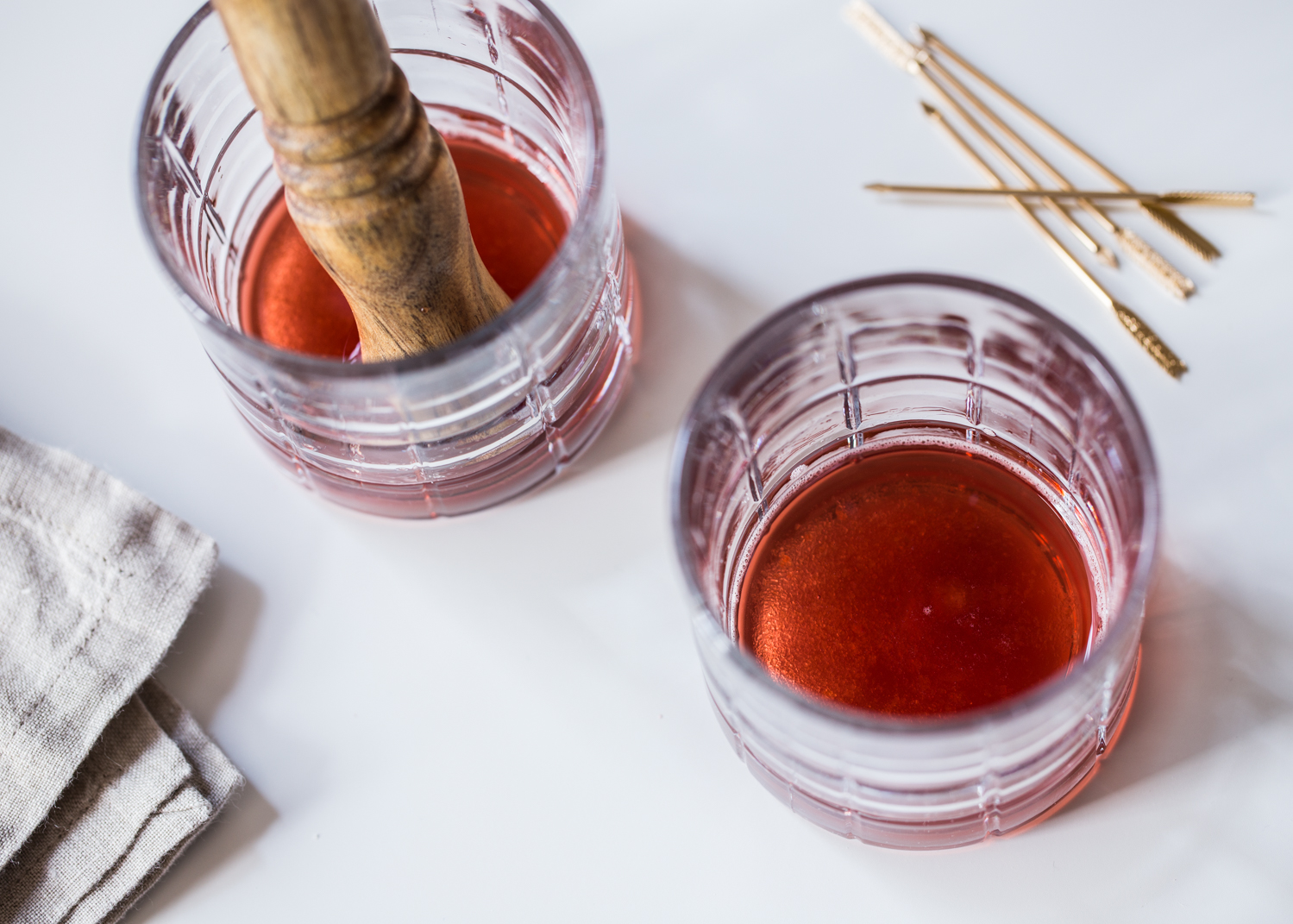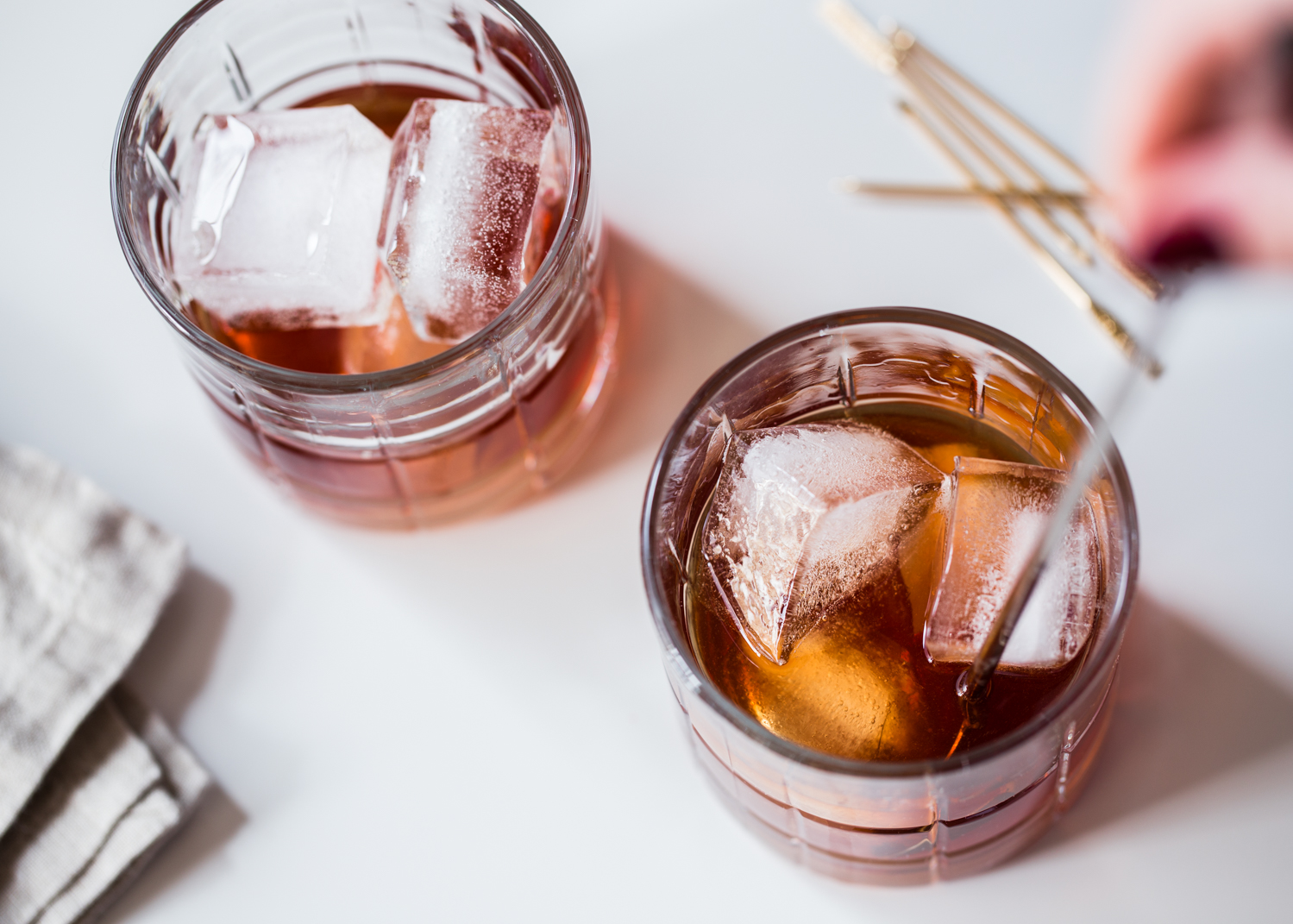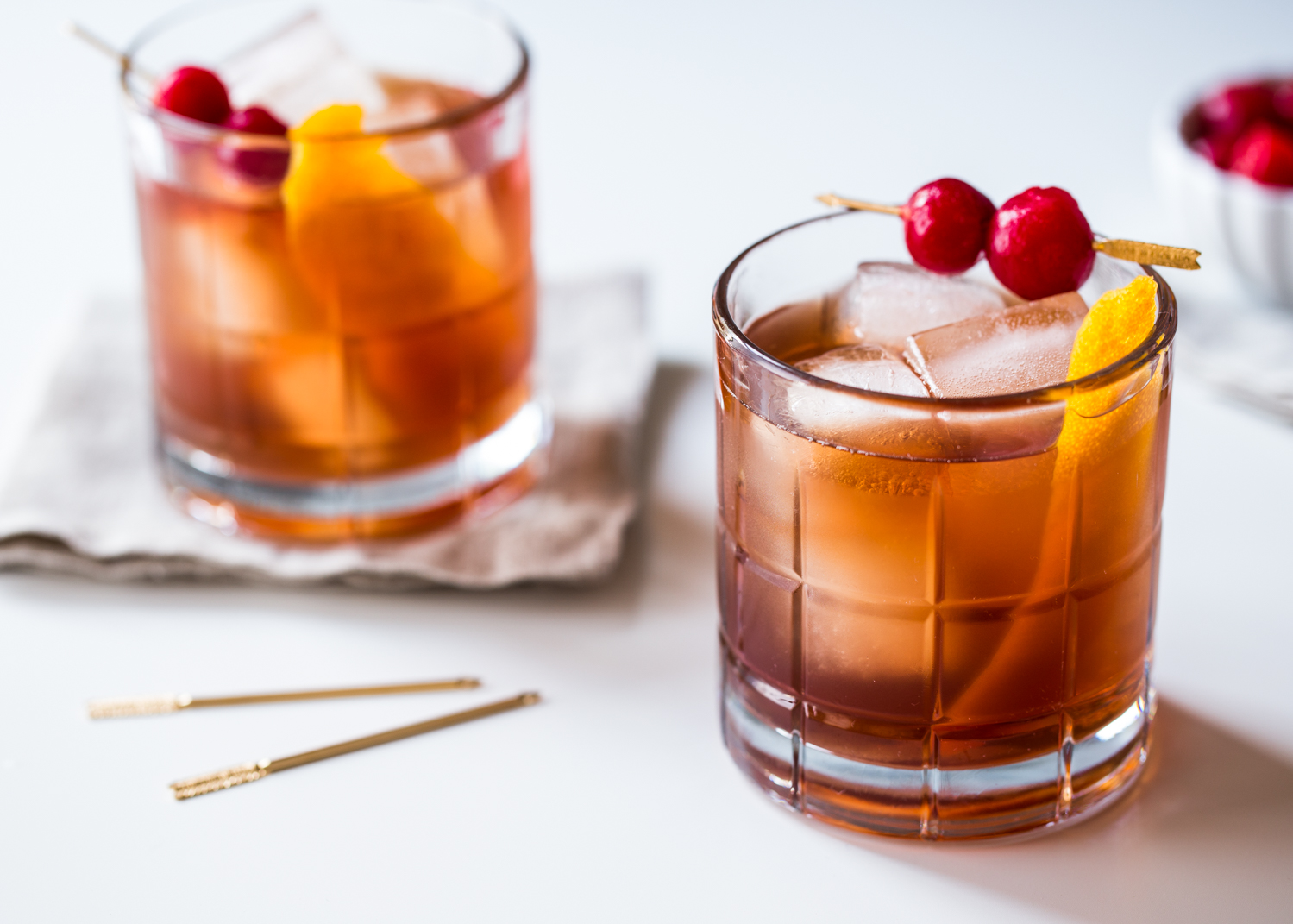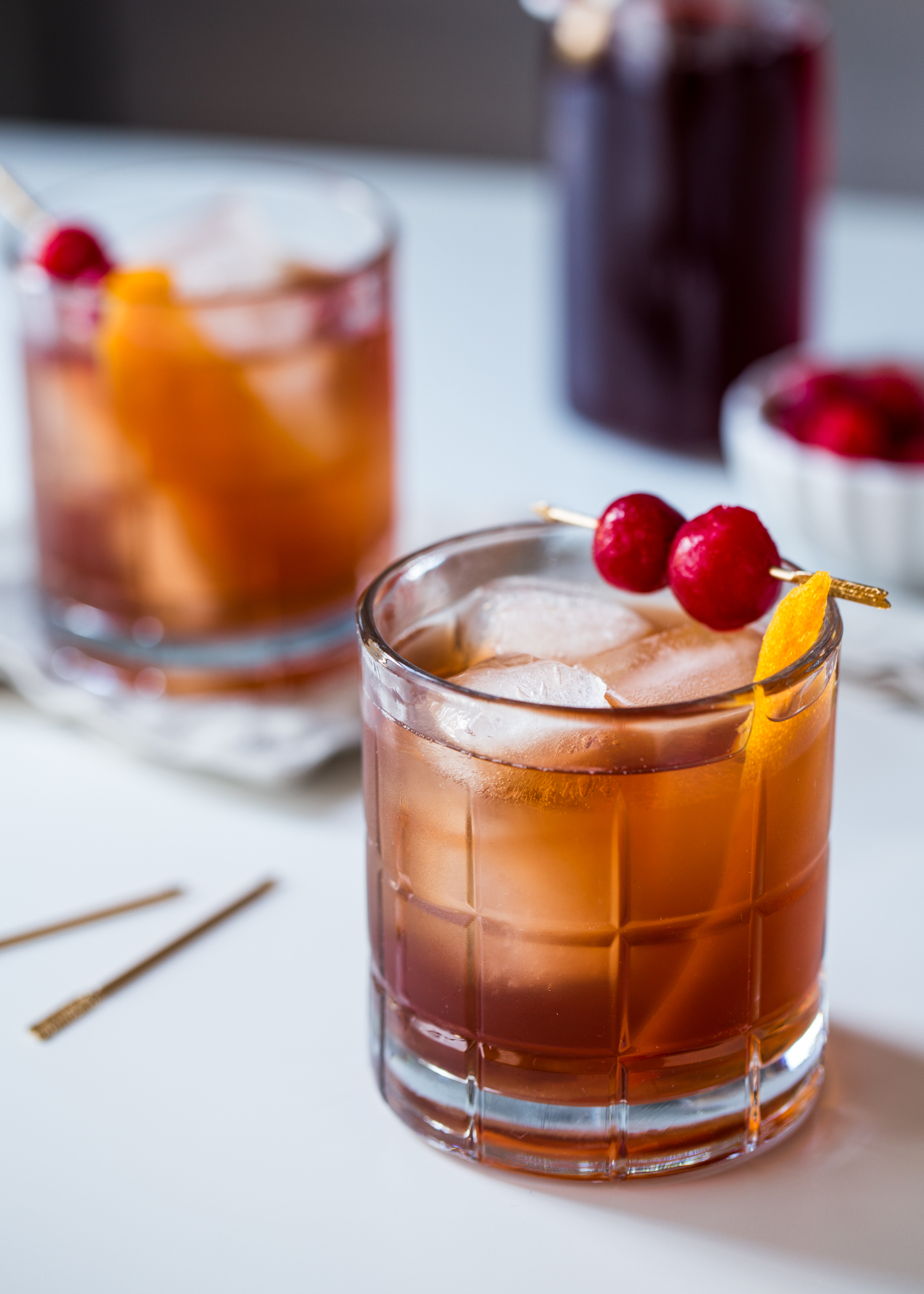 Speaking of dinner, I have teamed up with The Cherry Marketing Institute and some of my favorite bloggers to bring you an entire Cherry infused Valentine's Menu.
So if you, like me, are planning a festive Valentine's Day dinner in with your sweetie or group of friends, you are going to love this menu!
My Tart Cherry Old Fashioned is kicking things off but there is so much more to this meal.
Be sure to head over to ChooseCherries.com for the rest of this Montmorency tart cherry infused dinner menu!
Appetizer
Cherry & Goat Cheese Bites from A Couple Cooks
Side/Vegetable/Salad
Tart Cherry Glazed Root Vegetables from Cookin' Canuck
Entrée
Rosemary Roasted Cornish Hens with Pears and Tart Cherries from Love & Zest
Dessert
Tart Cherry Tartelettes from Love & Lemons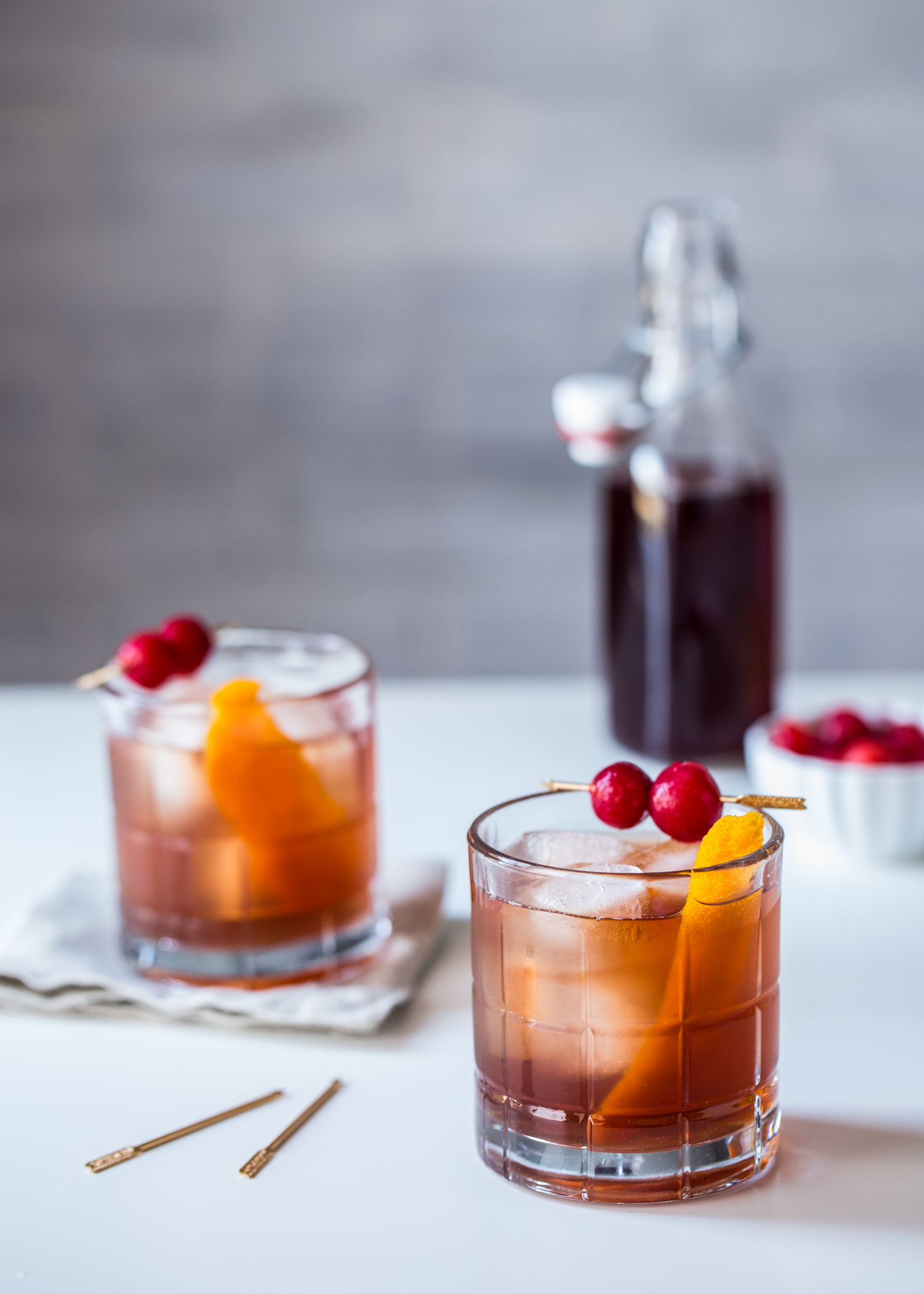 Happy Monday!
Tart Cherry Old Fashioned Recipe
Yield: 2 cocktails
Prep Time: 10 minutes
Ingredients
2 sugar demerara sugar cubes
4-6 dashes Cherry Bitters
1 ounce Montmorency Tart Cherry juice
4 ounces Bourbon Whiskey
Directions
Place 1 sugar cube each in the bottom of 2 old fashioned glasses. Add 2-3 dashes of cherry bitters over each sugar cube. Add 1/2 ounce tart cherry juice to each glass. Crush sugar cubes with muddler or bar spoon until completely broken. Fill each cup half way with large ice cubes. Add 1 ounce of bourbon to each glass and stir the cocktails 6-8 times. Add a bit more ice and 1 more ounce of bourbon to each glass. Stir another 6-8 times or until cocktail is chilled and sugar looks dissolved.
Garnish with orange peel and frozen tart cherries.