vegetable slaw with mint and lime
Light and fresh Vegetable Slaw with Mint and Lime is perfect for lunch or a lovely summer picnic side dish.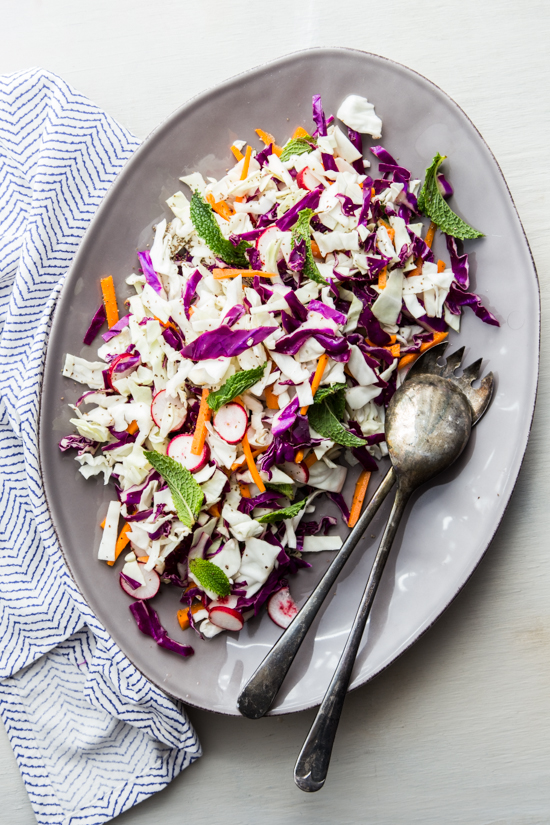 I've been a lover of salads my entire life. My mom can tell you how as a kid I would munch on salads and veggies like they were candy. As a (supposed) grown up, I still have a strong affection for salads, particularly now that I realize the health benefits. The problem is, I get bored with plain greens salad day after day. And some days, I want something completely different, like a satisfyingly crunchy slaw salad, with basically no greens at all.
Although I'm counting mint as a green. It's green therefore it counts, right?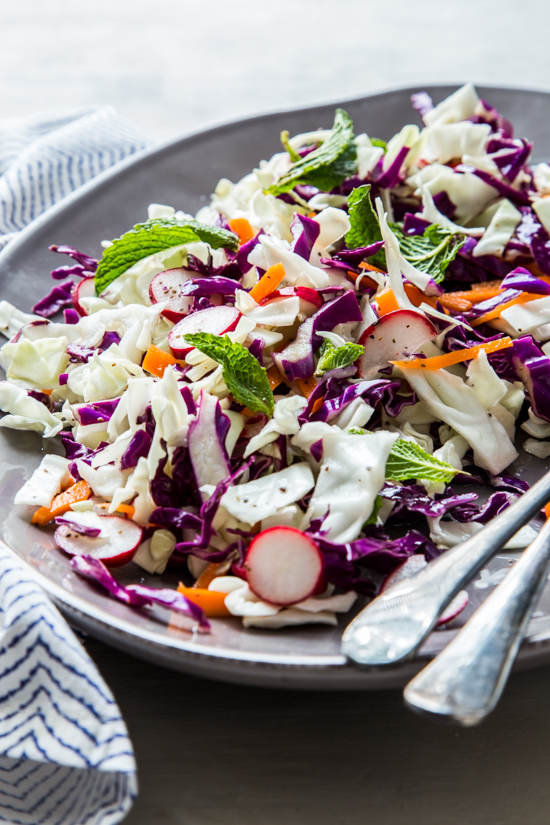 This crunchy vegetable slaw with mint and lime is my current lunchtime favorite. I've made several variations over the last several weeks but this version is my favorite. It's full of beautiful crunchy cabbage, carrots and radishes that not only give this slaw substance, but unbelievably stunning color. The light, fruity dressing of apple cider vinegar, honey and lime juice gives the salad some tang and bright flavor without weighing it (or you) down.
This slaw could easily be made vegan with a swap of agave in place of the honey, but I love the floral flavor of honey paired with the zesty lime.
Serve this as a light main course for lunch or a delightful summer side dish on the side of grilled chicken, fish or even burgers. The fact that it's mayo-less makes it even better for hot summer days.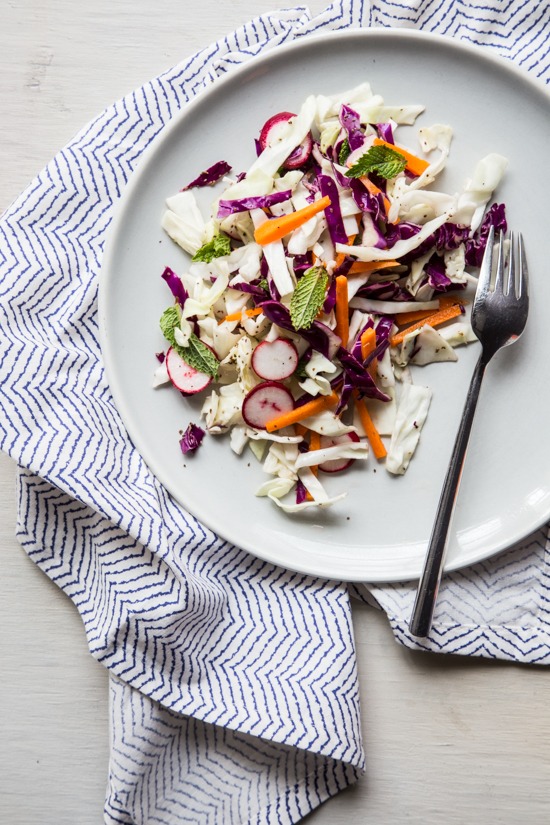 Happy Monday!
Vegetable Slaw with Mint and Lime Recipe
Yield: 4 servings
Prep Time: 15 minutes
Total Time: 15 minutes
Ingredients
5 cups cabbage, shredded (I used a combination of green and purple)
2 medium carrots, cut into thin matchsticks
6 radishes, thinly sliced
1/4 cup fresh mint leaves, torn if large
1/4 cup cider vinegar
2 Tablespoons honey
1/2 teaspoon celery seed
juice from 1/2 small lime
Directions
In a large bowl, toss together cabbage, carrots, radishes and mint. In a small bowl whisk together cider vinegar, honey, celery seed and lime juice. Drizzle dressing over vegetables and toss to coat. Enjoy!
Notes:
If you're making the slaw ahead of time, reserve the mint leaves and add them in right before serving.
June 9th, 2014