warm kale salad with maple roasted acorn squash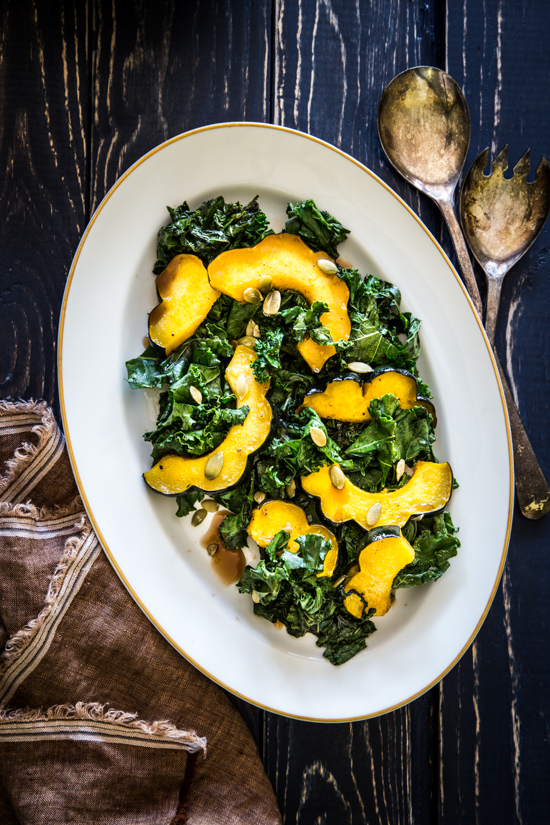 At the risk of sounding like a broken record, I'm a total kale convert. In fact, I am really starting to regret my 'kale is the worst' stance from a few months ago. Which means of course, I have been cooking kale any way possible. You see, I have a habit of getting on food kicks where I find one ingredient and cook it in every way imaginable until I (or my family, at least) is completely over it. Well, I feel like I'm on the tail end of a kale kick, which started with veggie enchiladas, kale chips and kale salad with roasted salmon. See? I wasn't kidding.
And now, I'm a kale-o-holic. But, you have to trust me, this one's different and it's all about Autumn.
This Warm Kale Salad with Maple Roasted Acorn Squash is sautéed, served warm and tossed with a sweet balsamic vinegar and maple dressing. With the addition of the roasted acorn squash and pumpkin seeds, it's a perfect transition into Fall. Which is music to my ears.
This one is for all of my Fall loving friends.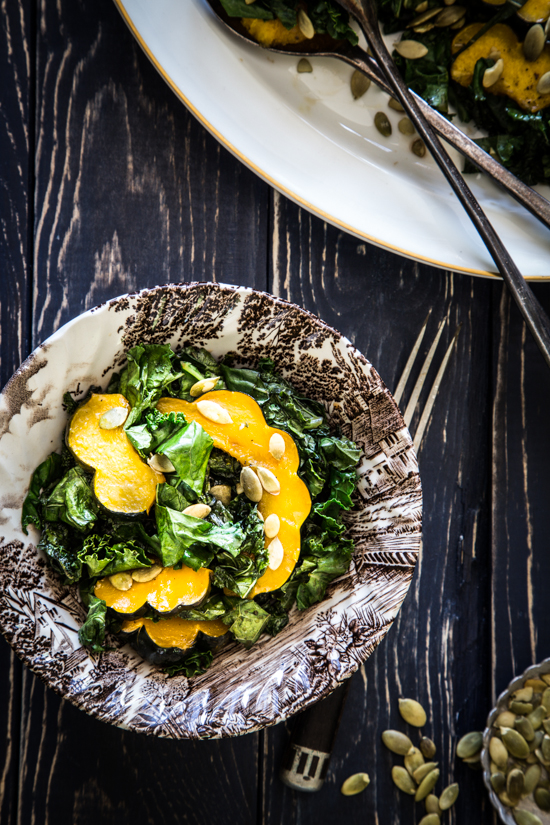 Happy Friday!
Warm Kale Salad Recipe
Yield: 2-4 servings
Prep Time: 15 minutes
Cook Time: 20 minutes
Total Time: 35 minutes
Ingredients
1 acorn squash, seeds removed and thinly sliced
2 tablespoons olive oil
2 tablespoons maple syrup
salt and pepper
pinch of dried sage
1 tablespoon extra virgin olive oil
1 bunch kale, stems removed, leaves chopped
3 tablespoons maple syrup
3 tablespoons good quality balsamic vinegar
1/4 cup of raw pumpkin seeds
Directions
Preheat oven to 375 degrees. Spray rimmed baking sheet with non stick spray and set aside.
In a large bowl, place sliced squash, 2 tablespoons of maple syrup, 2 tablespoons of extra virgin olive oil, salt, pepper and sage. Toss to combine. Spread squash rings and liquid evenly onto prepared baking sheet. Roast squash for 15-20 minutes or until tender.
Meanwhile, heat a large skillet over medium high heat. Add remaining olive oil and kale. Stir kale until coated with oil and beginning to wilt, about 30 seconds. Pour remaining maple syrup and vinegar over kale and continue to stir until kale is bright green and tender, but not completely wilted about 30 - 60 seconds more. Remove kale to a large bowl.
Top kale with roasted squash and sprinkle with pumpkin seeds.
Jelly Toast