Fresh, dark cherries mingle with mint and lime in this beautiful, summer Sweet Cherry Mojito.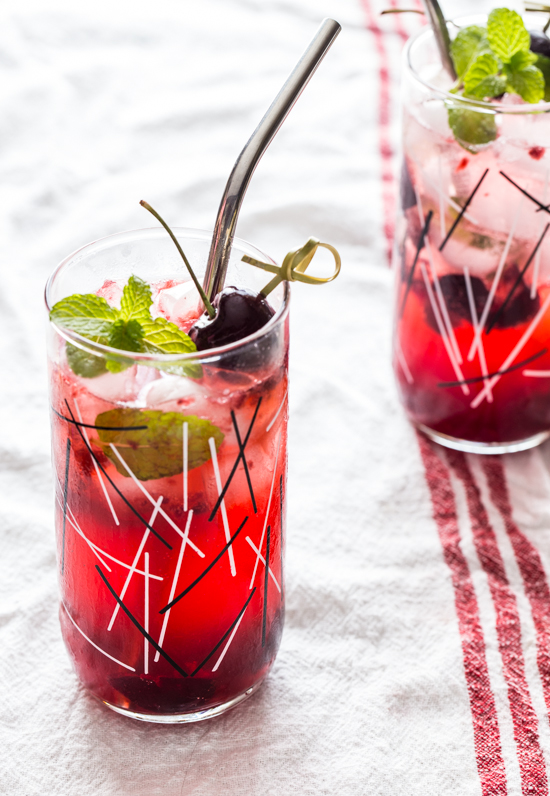 Ahhhhhh…Welcome, Friday!  It's great to see you after a long and busy week.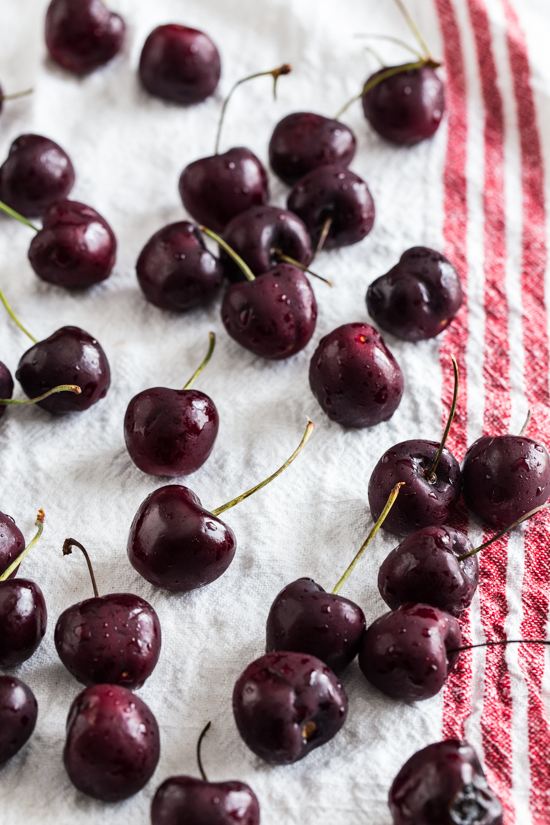 I'm happy that this busy, crazy week is finally winding down. Last Friday was my birthday as well as the day that my dad underwent surgery and I'm thrilled to be able to say that he's doing very well. He's home and resting up, which in my book calls for a bit of a celebration.
Ok, more than a bit.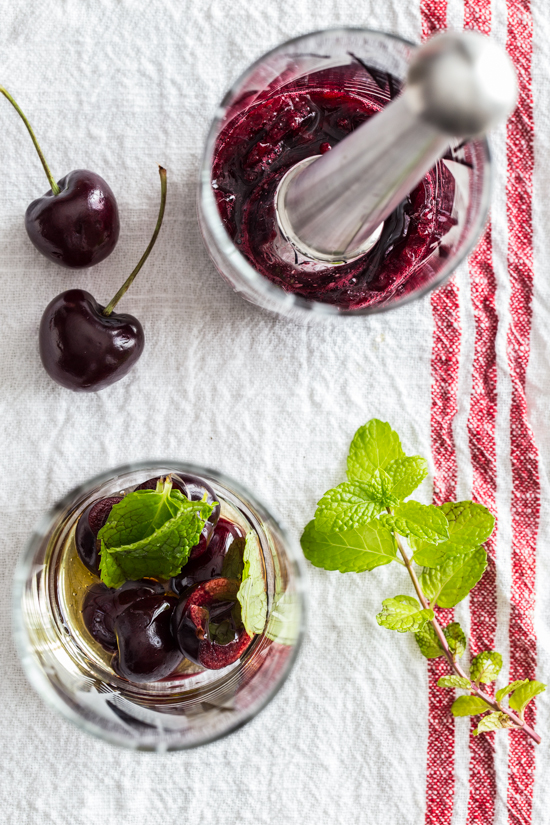 Do you ever have weeks where you feel like you end up at the grocery store every day and even sometimes more than once a day? This happens to me more often than I care to admit, but this week was one of those weeks. It's usually due to me forgetting items on the first trip, or being convinced that I need a package of raw cashews and some sprinkles right now. Cashews and sprinkles are essentials, apparently. On these multiple trips, I have a hard time not picking up a few other items while I'm there. The way my grocery store is set up is that you walk through the produce section before you get to anything else. Which is actually a pretty healthy way to set up the store now that I'm thinking about it.
Anyway, for the last week there has been a huge display of fresh Michigan sweet cherries staring me in the face every time I roll in for the most recent "urgent" ingredients. For some reason, I have momentary cherry-buying amnesia and am convoked that we are fresh out of cherries and that I should probably pick up another bag. All of this goes on at the store only to come home and find three – yes three – partial bags of cherries already in the fridge.
Crud.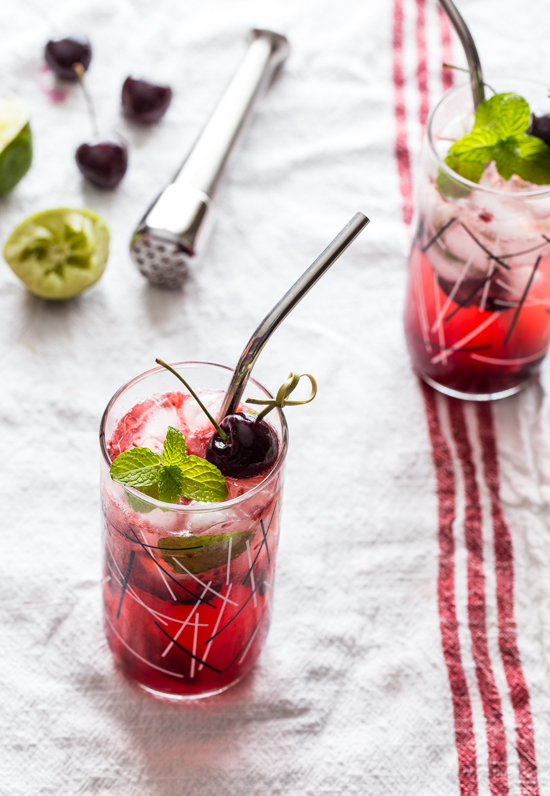 Needless to say, we've been eating a lot of cherries. A lot, a lot. After a cherry snack, the Buddy will roll by with purple fingers and cherry juice smeared across his little cheeks. I can't help but giggle and then send him the the bathroom to look in the mirror. Poor kiddo can't eat a cherry without making a serious mess.
Anyway, I've been loving on these cherries something fierce and had the mental flash that a sweet cherry mojito would be pretty darn tasty. Some sweet cherries muddled with fresh mint (which is one of the only plants that I can keep alive throughout July) and a mixed with rum turned out to be a fabulous combination. I went off the traditional mojito course and decided to use some honey in place of sugar. I like the floral earthiness of honey and with the fresh cherries, it just seemed like a good idea.
Let me tell you, it really was. I finished the mojito off with a squeeze of lime and some club soda and all in all, this was a very simple to make, but fabulous summer cocktail!
My only problem is that each cocktail only uses three cherries, so I'm back to the drawing board on what to use the rest of them for. I guess I'll sip on another mojito while I brainstorm.
That's three more down.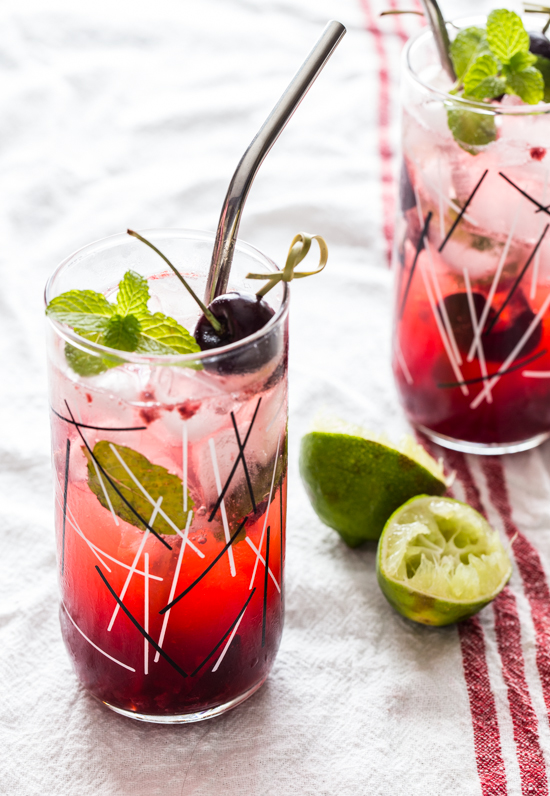 Happy Cocktail Friday!
Sweet Cherry Mojito Recipe

July 18th, 2014

Yield: 1 cocktail

Prep Time: 5 minutes

Total Time: 5 minutes

Ingredients:

3 sweet cherries, halved and pitted

4 mint leaves

1 1/2 teaspoons honey

1/2 lime, juiced

2 ounces white rum

3 ounces club soda

ice for serving

Directions:

Place cherries, mint and honey in a tall glass and muddle together with a cocktail muddler or the handle of a wooden spoon until the cherries are smashed and the mint has released it's aroma. Add rum and lime juice and stir. Add ice to the glass and top off the drink with club soda. Garnish with additional cherries and mint leaves. Enjoy!
Looking for more fruit filled summer cocktails? Try these: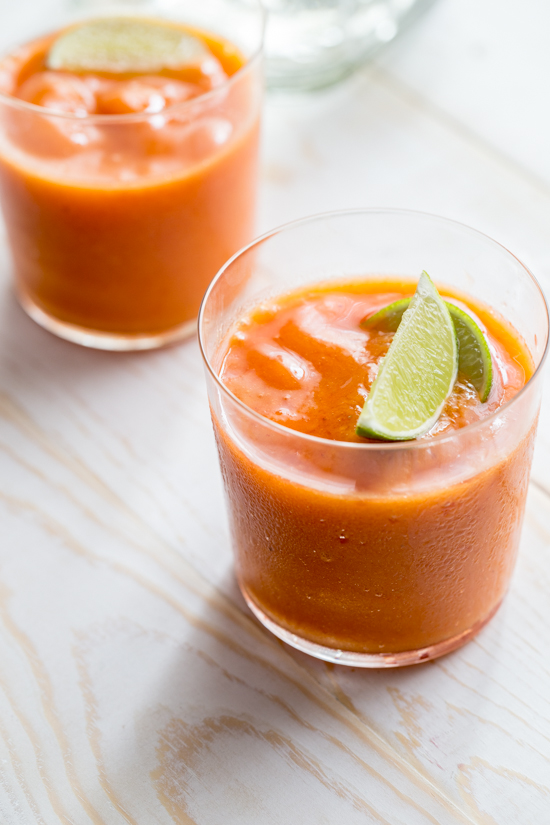 Frozen Mango Strawberry Cocktail