chocolate white chocolate chip cookies
Chocolate white chocolate chip cookies are simple to make and are a total crowd pleaser!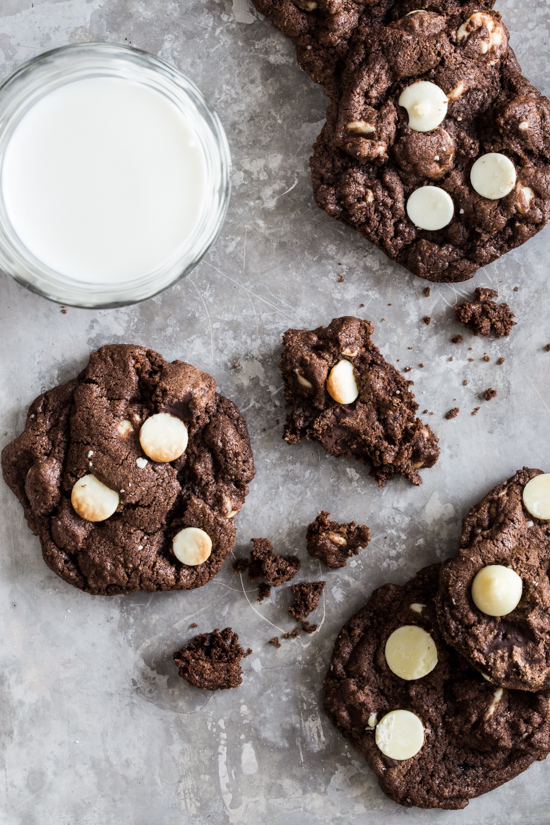 Our church festival was last weekend and it's pretty fun as far as church festivals are concerned. For weeks leading up to it, there have been a flurry of notes going home asking for volunteers and donations of baked goods for the festival. Anytime there is a request for donated baked goods, I instantly perk up – obviously.
Before giving it a lot of thought, I signed up to bring cookies and went about my business. I figured that I could come up with my cookie idea later and that there was still time.
Which there was.
But what I didn't factor in is my penchant for procrastinating.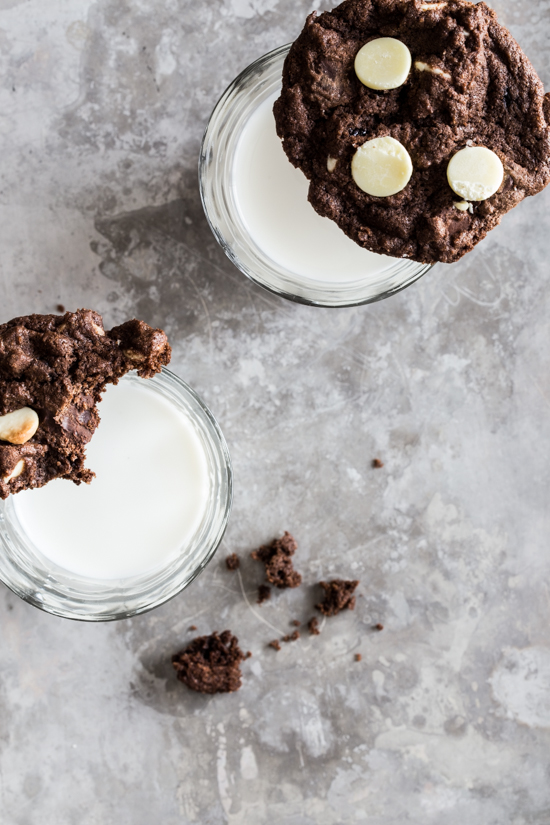 So, the day before the cookies needed to be delivered came around and I was still not totally sure what I was going to make. The "putting off the decision" was becoming less cute and more obnoxious by the second. Finally, I remembered a cookie recipe that I had seen on an episode of The Pioneer Woman for Chocolate Chocolate White Chocolate Chip Cookies. The name jumped into my head because it was something that the Buddy had found ridiculously hilarious due to the number of times the word "chocolate" appeared in the title. That's totally his type of humor.
I don't know if I've mentioned it before, but I write a weekly review of The Pioneer Woman's show over on Food Fanatic. Have you ever seen her show? It's adorable. Seriously. The food is classic PW. Home-cooked and mouthwatering plus her family is just the sweetest. It's a show that I like to watch with my kids who get the biggest kick out of all the cattle ranching work that they do.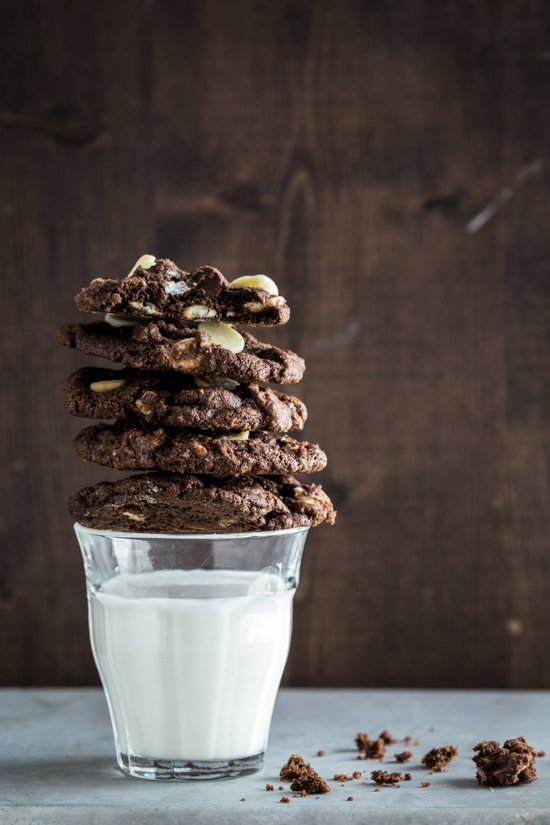 I have a pretty good visual memory and if I see something once, it will stick in my head. Much better than if I'm just told something. So, as I was wracking my brain for a recipe, this one popped into my head. I knew it would be a crowd pleaser: classic chocolate cookie with chocolate and white chocolate chips in it. What's not to love?
Luckily, I had everything I needed for a batch of these cookies and I decided to mix things up and use a combination of bittersweet chocolate chips as well as dark chocolate chips (because I turn everything into dark chocolate if given the chance). I also stirred in a bit of instant espresso powder to give the chocolate an even bigger boost. The results were fantastic! Soft cookies that are sweet, but happily not too sweet, and full of chunks of melted chocolate.
My kids were thrilled because the recipe made so many cookies (5 1/2 dozen) that there were enough to keep some at home, as well as take to the festival.
The festival and cookies were both hits. And I have PW to thank – at least for the cookies!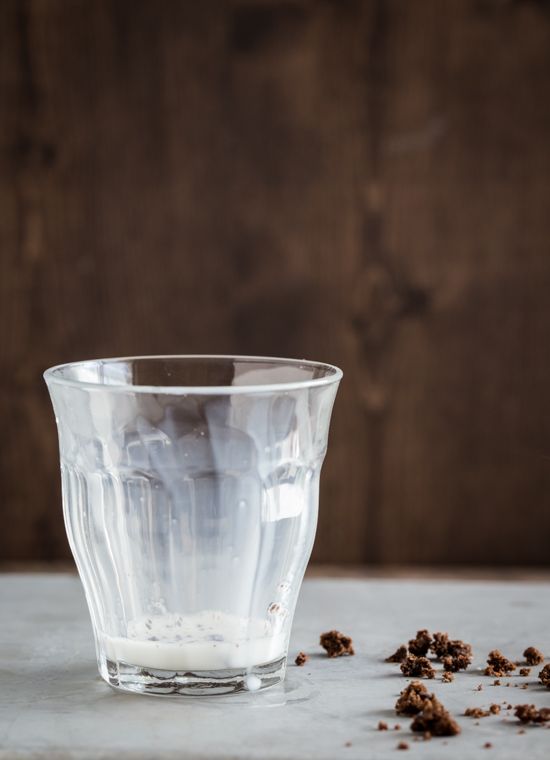 Happy Wednesday!
Chocolate White Chocolate Chip Cookie Recipe
Yield: 5 1/2 dozen cookies
Prep Time: 15 minutes
Cook Time: 10 minutes per sheet
Ingredients
2 1/2 sticks unsalted butter, softened
2 cups granulated sugar
2 large eggs
1 Tablespoon vanilla extract
2 cups all-purpose flour
3/4 cup cocoa powder, unsweetened
1 1/2 teaspoons baking soda
1 teaspoon kosher salt
1 Tablespoon instant espresso powder
3/4 cup bitter sweet chocolate chips
3/4 cup dark chocolate chips
2 cups white chocolate chips, divided
Directions
Preheat oven to 350 degrees and line rimmed baking sheets with parchment paper and set aside.
In the bowl of a stand mixer, cream together butter and sugar until light and fluffy. At least 3 minutes. Add in eggs, one at a time, beating between each to incorporate. Add vanilla extract and beat until combined.
In a medium bowl whisk together flour, cocoa powder, baking soda, salt and espresso powder. With the mixer on low, add dry ingredients to butter mixture a little at a time until just incorporated. Carefully mix in dark chocolate chips, bitter sweet chocolate chips and 1 1/2 cups of white chocolate chips.
Drop dough by the leveled tablespoon onto the prepared baking sheets. Press 3 white chocolate chips into the tops of each ball of dough and bake for 10 minutes or until cookies are just set. Allow cookies to cool on baking sheets for 3 minutes before transferring them to a wire rack to cool completely.
Enjoy!
May 21st, 2014