marshmallow no-churn ice cream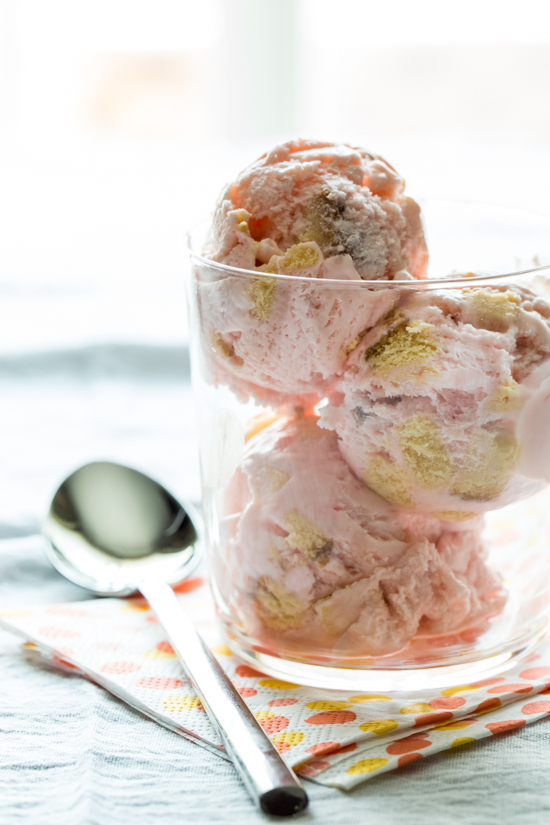 Marshmallow No-Churn Ice Cream made with Campfire® Marshmallows Pink Lemonade Mallow Bursts is sweet, creamy and a breeze to put together!
Yes – it's true. I'm sharing two no-churn ice cream recipes in a row. I can't get over how cool it is that you can make incredibly sweet and creamy ice cream without using an ice cream machine. Don't get me wrong, ice cream machines are great, but not everyone has one (**raising my hand**). Yesterday, I shared a quick and simple frozen banana ice cream which is really just one ingredient.
Today, I have a very different recipe for you that has texture so much like traditional churned ice cream, you would never know that it wasn't made with a machine. You're going to love it!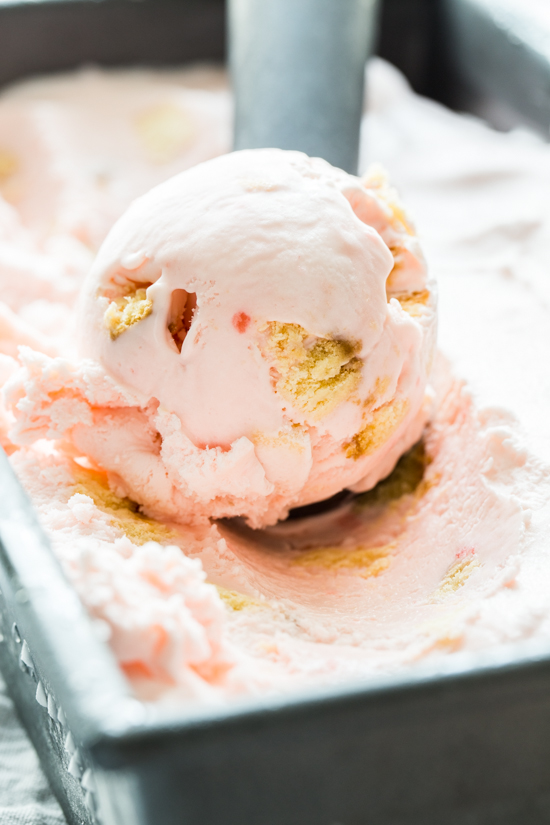 This Marshmallow No-Churn Ice Cream is pillowy, decadent and just plain amazing. I have seen this method of using whipped cream and sweetened condensed milk all over from Martha to Nigella. It's basically those two ingredients: whipped cream and sweetened condensed milk but I wanted to turn it up a notch and use Campfire® Marshmallows Pink Lemonade Mallow Bursts to add sweet, citrusy flavor and fluffy marshmallow texture.
The first time I tried these Pink Lemonade Mallow Bursts, I was blown away. They are so unbelievably flavorful, and forgive me the obvious analogy, but the flavor of pink lemonade  just bursts in your mouth.
They're pretty awesome.
And just plain pretty: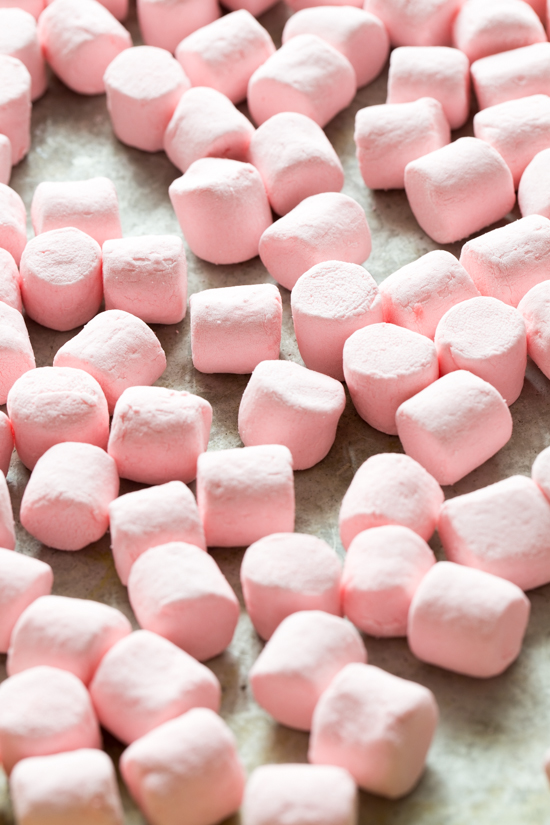 Well, I wanted to round out the texture and flavors of this sweet, frozen treat with some little bites of pound cake. The resulting combo is nothing short of fabulous. My family went fairly nuts over this ice cream, it's so good.
And just take a look at how easy this ice cream is to put together:
Easy, right?
What's really wonderful is that these Mallow Bursts come in three more flavors: Key Lime, Lemon Meringue and Blue Raspberry.
So yeah, I have some serious ice cream making on the agenda.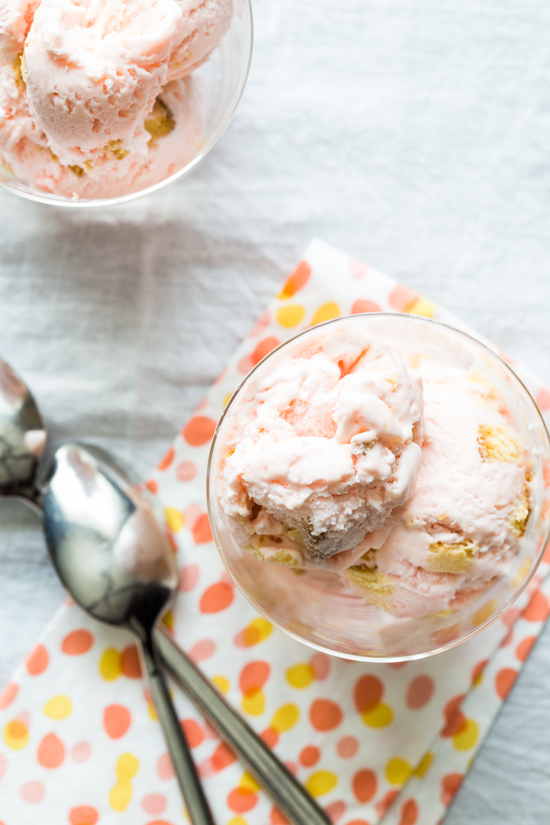 Besides the great flavors, I love that Campfire® Marshmallows are made in a peanut free facility. With they Baby's allergy, it can be difficult sometimes to find treats that aren't processed with nuts.
If you would like more information on Campfire® Marshmallows visit their website, Facebook page or Pinterest board.
I've even started a Marshmallow Madness Pinterest board because with summer coming up, you can't be too prepared for s'mores season, am I right?
Would it be weird that s'mores are one of the main reasons I like camping? I hope not.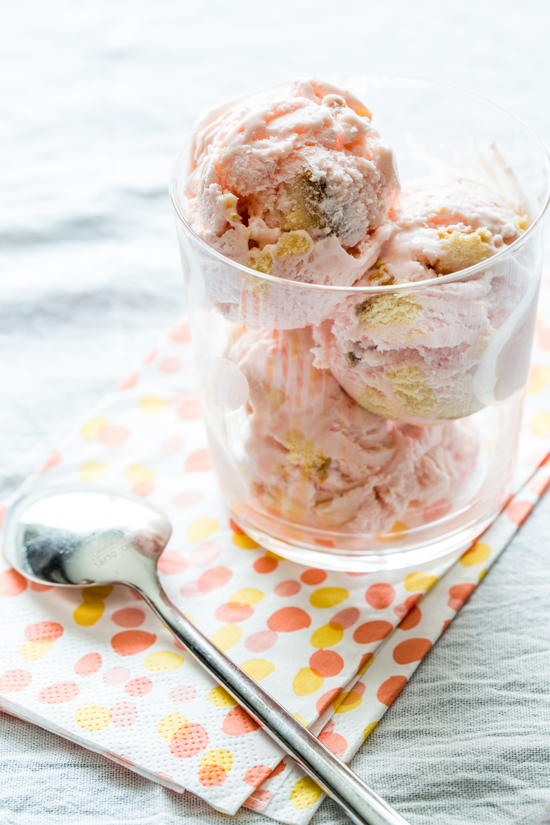 Happy Friday!
Disclaimer: This post is brought to you by Campfire® Marshmallows. Thank you for reading and supporting the brands that I partner with in order to bring you quality content and recipes. All thoughts and opinions are, as always, 100% my own.
Marshmallow No-Churn Ice Cream Recipe
Yield: 6-8 servings
Prep Time: 15 minutes
Cook Time: 6 hours (freezing time)
Total Time: 6 hours
Ingredients
1 - 14 ounce can of sweetened condensed milk
2 teaspoons vanilla extract
2 Tablespoons marshmallow flavored vodka (optional)
2 cups cold whipping cream
40 Campfire® Pink Lemonade Mallow Burst marshmallows
1 1/4 cups frozen pound cake, cubed small
Directions
In a large bowl, mix together sweetened condensed milk, vanilla extract and marshmallow flavored vodka and set aside.
In the bowl of an electric mixer, whip heavy cream until stiff peaks form and set aside. Be careful not to over beat the cream.
In a medium microwave safe bowl, place the Campfire® Marshmallows Pink Lemonade Mallow Bursts. Microwave on high in 30 second intervals until marshmallows are puffed and melty. Watch them carefully as to avoid any spills. Stir until smooth and allow to cool slightly.
Spoon whipped cream into sweetened condensed milk mixture and fold in gently taking care not to deflate the whipped cream. Pour melted Mallow Bursts on top of that mixture and continue to fold in. Gently fold in pound cake and transfer ice cream mixture to a metal loaf pan. Freeze for at least 6 hours or until ice cream is firm. Scoop and serve!
Notes:
The small amount of vodka allows the no-churn ice cream to freeze to the perfect not too hard, not too soft texture. However, if you prefer to leave it out, the ice cream will still be incredible!
May 15th, 2014