chai spice snickerdoodles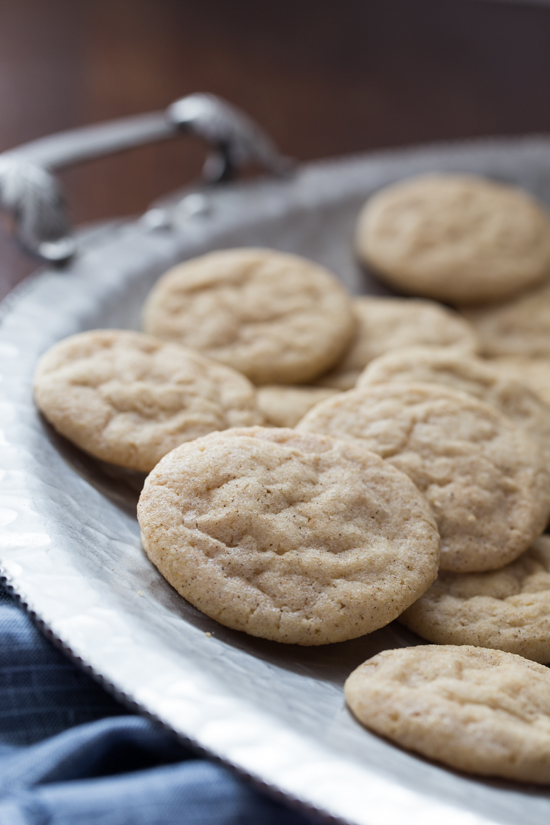 All summer long, I look forward to the end of the hot sweltering season. The heat, the unstructured days, the heat (yes, I count it twice because it's my nemesis) really bog me down and get in the way of my productivity. I long for cool breezes coming through the windows at night, crisp mornings where you can see your breath in front of your face, and the weather that welcomes a hot cup of coffee and the excuse to turn the oven on, just to cozy the place up a bit.But now that fall is here, I'm desperate for time to slow down. I want to savor the season, draw out each and every apple and pumpkin treat. I don't want September to be over already, it just started! Where has this month gone?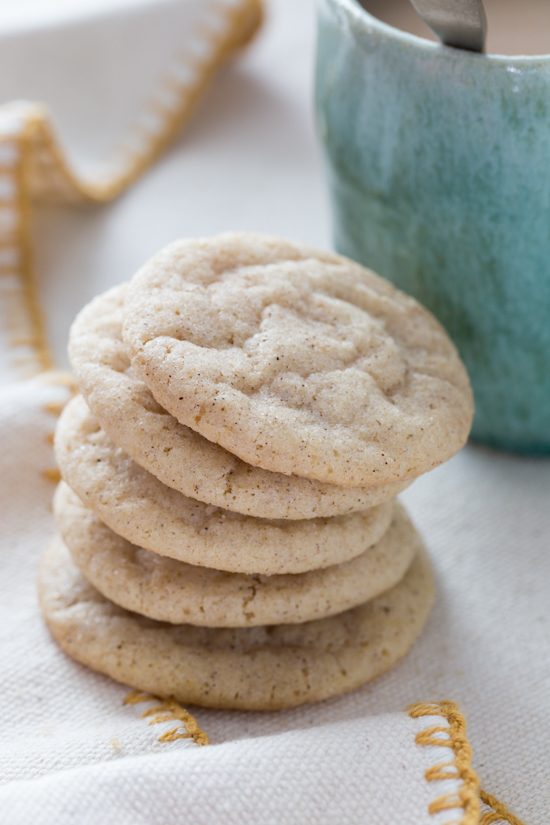 I feel horribly behind on my baking and when I got asked to share a dessert at the Buddy's school for a faculty luncheon, I jumped at the excuse to bake a warm, fall treat.
In the effort to not prematurely exhaust apple and pumpkin laden desserts, I turned to another autumn love of mine for inspiration: Chai tea lattes.
Yes, it's true. I do drink something besides coffee. In fact, I quite love a cup of tea, and during the fall I am even known to enjoy hot caramel apple cider and a chai latte or two. The warm, sweet spice of chai is perfect this time of year.
It was those unique chai spices – cinnamon, ginger, cardamom and allspice – that I added to a traditional snickerdoodle cookie to make these sweet and spiced chai spice snickerdoodles. The results were wonderfully sweet and satisfying. Soft, chewy, sweet and spicy. Perfect with a cup of coffee or tea – or in my kids' case, hot chocolate. The kiddos loved them, which I always consider a victory.
A beautiful autumn cookie, indeed.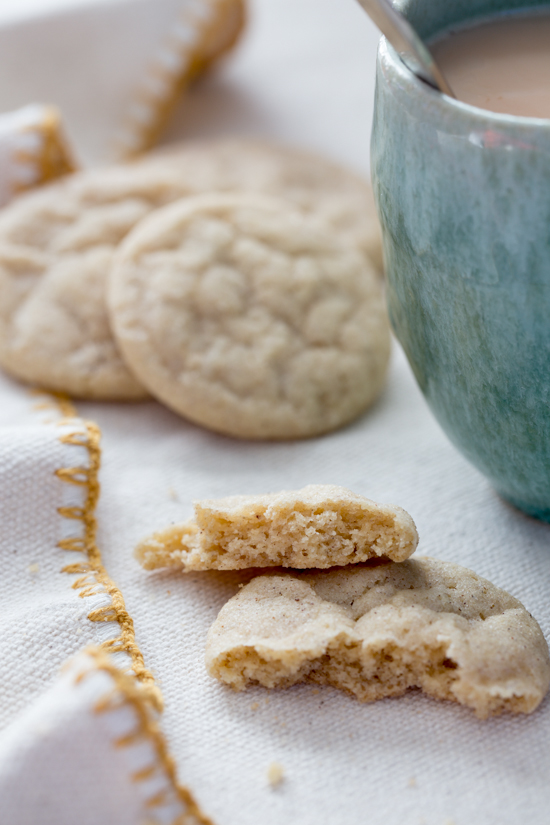 Happy Monday (and last day of September)!
Chai Snickerdoodles Recipe
Yield: about 3 dozen cookies
Prep Time: 20 minutes
Cook Time: 10 minutes
Total Time: 30 minutes
Ingredients
1 cup sugar
1 teaspoon cinnamon
1/2 teaspoon ground ginger
1/2 teaspoon ground cardamom
1/4 teaspoon ground allspice
1 stick of unsalted butter, softened
1 egg
3/4 teaspoon pure vanilla extract
1 1/2 cups of all purpose flour
1 teaspoon cream of tartar
1 teaspoon baking soda
pinch of salt
Directions
In a medium sized bowl, mix together sugar, cinnamon, cardamom, ginger and allspice. Remove 1/4 cup of sugar mixture to a shallow bowl for rolling cookies.
In a the bowl of a stand mixer, cream together butter and remaining sugar mixture until light and fluffy. Add egg and vanilla and mix until incorporated.
In a large bowl, whisk together flour, baking soda, cream of tartar and salt. With the mixer on low, add dry ingredients to butter mixture until just incorporated.
Scoop dough into small balls (about 1/2 tablespoon of dough) and roll in reserved sugar/spice mixture. Place balls on baking sheet and bake for 10-11 minutes. Transfer cookies to cooling rack to cool completely.
Enjoy!