chicken noodle soup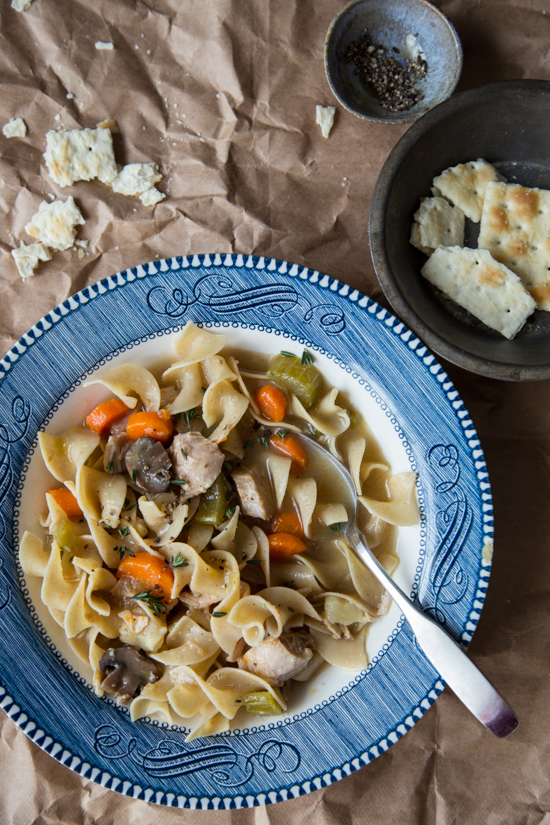 In the last couple of days, our house seems to have been taken over by sickly kids and piles of laundry. These two things are not necessarily connected, but I like to blame the piles of laundry (which are clean, by the way) on the fact that it's more important to be snuggling with sick little kiddos and making Chicken Noodle Soup. Yes, a sick kiddo trumps folding underwear. And socks. Sock folding is the worst. When my kids get sick, I usually try to whip up some type of soup for them, and that soup is often chicken noodle soup. This past weekend, the Baby came down with a cough. One that kept her up all night long, coughing and feeling miserable. It breaks my heart anytime either of the kids get sick, but for some reason it's even worse in the middle of the night, when they're so tired that they can't keep their eyes open, yet can't sleep for more than 20 minutes without going into a coughing fit.
Yeah, those nights are rough.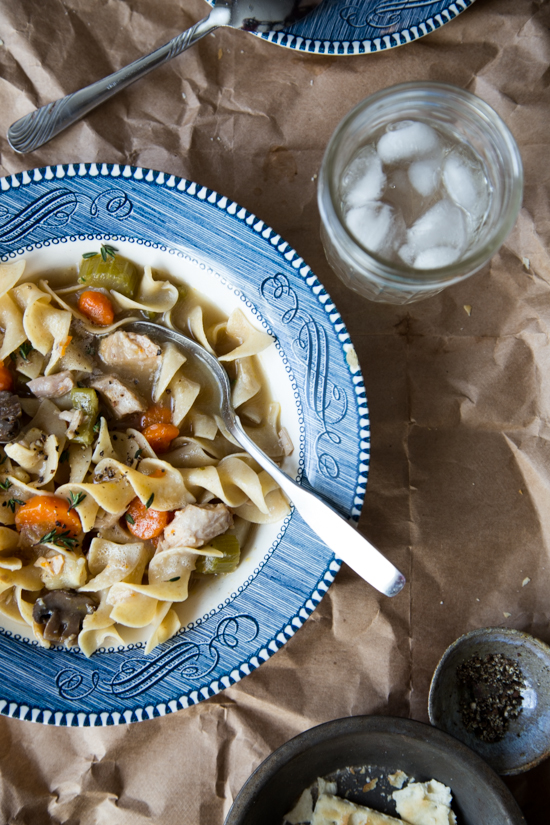 Well, the doctor gave us lots of good things to do to try to minimizer her symptoms while we wait for the virus to run it's course, and I added 'make chicken noodle soup' to the list. Now, the thing is, I rarely make my chicken noodle soup the same exact way two times in a row. I tend to use whatever is in the fridge, and whatever type of noodle or pasta needs to be used up in the pantry. Glamorous, I know.
While the exact ingredients tend to fluctuate, the recipe always starts with roasted chicken and making a batch of homemade stock. When I'm feeling like cutting some time out, I have even made this chicken noodle soup with a rotisserie chicken from the grocery store. That was a delicious pot of soup, I'm not kidding. A rotisserie chicken is a lifesaver on a busy night.
Anyway, I prefer roasting my chicken as opposed to boiling it, which many recipes do, because I'll be honest, boiling chicken skin freaks me out a little. I love the roasted flavor, and the bones from the roasted chicken make the most flavorful broth!
Now, this recipe is not a 'quick' recipe. While there is nothing difficult about it, it does take a while from start to finish. If you are looking to make this, but not have it be a multiple hour processes, here are a few ways you can cut down on time:
-Make some roasted chicken on the weekend and put it in your freezer for quick weeknight dinners.
-Make a batch of homemade chicken stock on the weekend to freeze and have on hand.
-Don't have time for that? Use a rotisserie chicken and your favorite store bough stock and jump right to the Make the Soup step.
I take a lot of help from the store, especially on busy nights when I haven't had a chance to cook ahead, but anytime that I get a chance to stock pile my freezer full of broth – I feel totally spoiled. It's the little things in life.
I've written the recipe assuming you are starting from the very beginning with the roasting of the chicken, but feel free to skip around based on the ingredients that you have already on hand. Also, this soup can take pretty much any of your favorite veggies you have laying around your fridge. You have a carrot and a turnip? Sure, throw those in. You want to throw a potato in? Why not?
I'm not kidding when I saw that I rarely make this recipe the exact same way twice. But if I have all of these specific ingredients on hand, this is my favorite way to make it.
A word of warning: be very cautious on how much you salt the soup during the cooking process. I made the mistake one time getting a bit too generous with my kosher salt in the beginning cooking stages, and I ended up with a crazy salty pot of soup. So, salt with caution and remember, you can always add a bit more at the end if it turns out to be not salty enough.
Oh, and if this weren't already one of my favorite things to make for my family, it freezes beautifully. Having some of this in the freezer for a chilly fall night is a lifesaver when you're in need of a little extra comfort on a weeknight.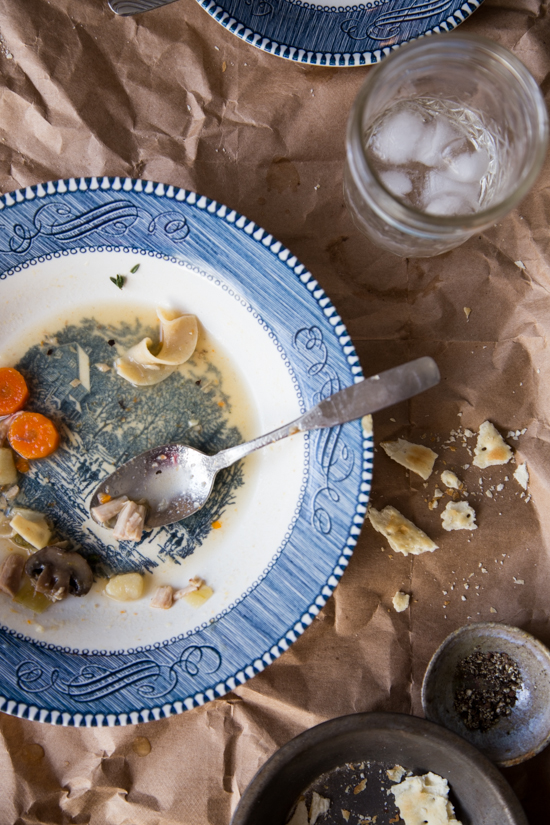 Enjoy and Happy Friday!
Chicken Noodle Soup Recipe
Yield: about 4 quarts
Prep Time: 20 minutes
Cook Time: 3 hours
Total Time: 3 hours 20 minutes
Ingredients
1 griller pack (2 breasts and 4 drumsticks) of chicken, bone-in, skin on (or about 3-4 lbs of your favorite bone-in, skin on chicken pieces)
2 tablespoons olive oil, divided
kosher salt and black pepper (cracked and peppercorns, divided)
16 cups of water
2 carrots, chopped into large chunks + 6 carrots, peeled and sliced
2 ribs celery, chopped into large chunks + 3 celery ribs, thinly sliced
2 onions (1 cut into large chunks, 1 diced)
1 tomato, cut into large chunks
1 small bunch parsley
2 bay leaves
1 parsnip, peeled and diced
3 garlic cloves, minced
8 oz cremini mushrooms, cleaned and sliced
1 tablespoon fresh thyme leaves (or 1 teaspoon dried)
8 oz whole wheat soup noodles
Directions
Roast Chicken
Preheat oven to 375 degrees. Place chicken, skin side up on a rimmed baking sheet. Drizzle with 1 Tablespoon olive oil and season with salt and pepper. Roast for 45 minutes or until cooked through. Allow to cool for 10 minutes. Remove and discard skin. Remove meat from bones, and chop or shred. Reserve meat and bones separately.
Make Stock
Pour 16 cups of water into a large stock pot. Add chicken bones, 2 chopped carrots, 2 chopped celery ribs, 1 onion cut into wedges, tomato, bay leaves, parsley, 1 scant tablespoon of kosher salt and 1 tablespoon peppercorns. Bring to a boil, and reduce heat to a simmer. Simmer for 45-60 minutes or until broth is richly flavored. Strain and discard solids. Reserve stock.
Make Soup
In a large dutch oven (or in the same stock pot you just made the stock) heat 1 tablespoon of olive oil over medium/high heat. Add remaining diced onion, diced carrot, garlic and parsnip. Cook, stirring frequently until veggies are beginning to soften and onions become translucent, about 8 minutes. Add mushrooms and cook, stirring, for an addition 3-5 minutes. Add stock to the veggies and stir. Add thyme and bring soup to a simmer. Simmer until veggies are tender. Add in chicken and bring soup to a boil. Add noodles and boil until noodles are cooked. Adjust salt and pepper to taste. Serve!
Notes:
If you have roasted chicken and stock on hand, skip ahead to Make Soup
Feel free to mix up the veggies in the recipe. I love making this soup when I have some odds and ends veggies to use up.
Salt with caution, as this soup can get overly salty very quickly. You can always add more at the end, but it's difficult to fix if you've over salted at the beginning of the recipe.