fig deviled eggs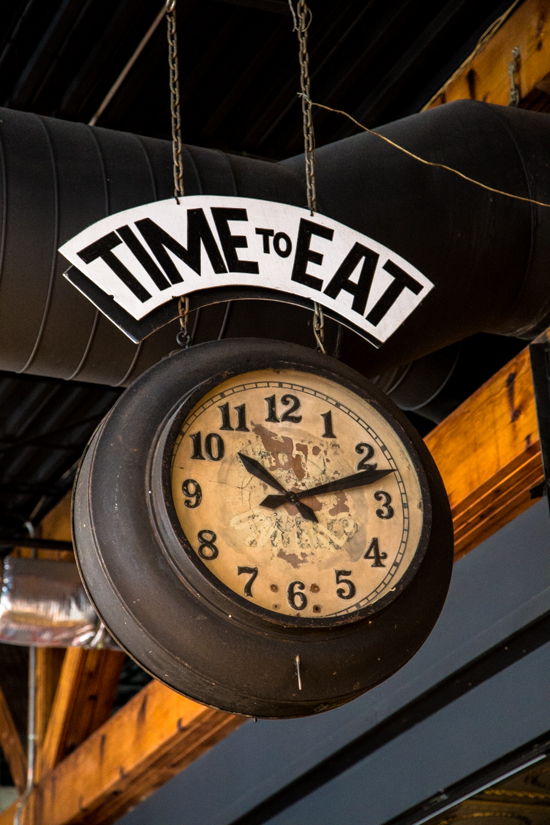 Topped with prosciutto and balsamic glaze, these Fig Deviled Eggs are a slightly sweet and oh-so-fabulous twist on a classic.
Last week, I shared my adventure to Columbus with the Ohio Poultry Association when I had the chance to tour the brand new Bob Evans's headquarters, step inside an actual egg farm – where I learned that Ohio is the second largest egg producing state in the country – and eat so much fabulous food that my jeans were protesting by the end of the three day trip.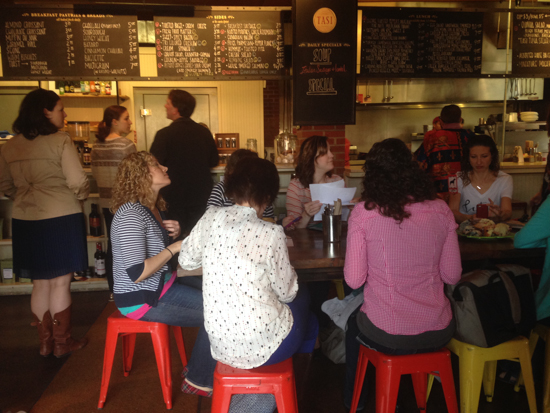 On the last day of our trip, we visited the popular Columbus brunch location, Tasi Cafe, for breakfast. And because we were there to celebrate the incredible egg, we had the most fabulous black bean cakes with poached eggs and jalapeño butter sauce. I could wax poetic about eggs all day long, but the show stopper of this plate were the black bean cakes.
Oh. My. Word.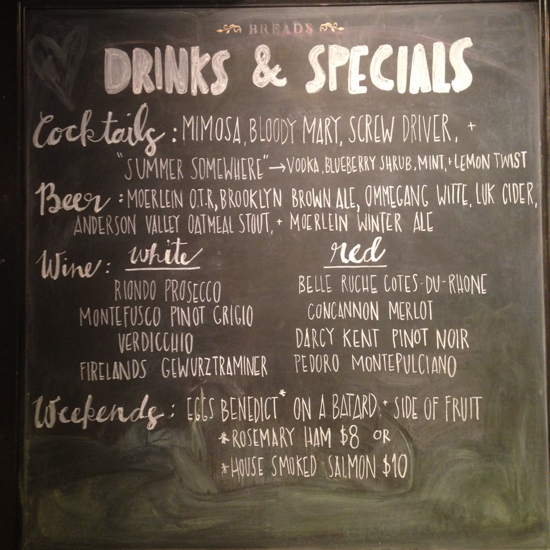 When I heard "black bean cake" I was expecting something that resembled a black bean burger. Slightly crusty on the outside and fairly dense throughout. These cakes had nothing to do with black bean burgers, so much so, that the two could hardly be called distant cousins.
Honestly, these cakes were just that: cakes. They were fluffy, delightful and full of flavor. The perfect bed for runny yolked, poached eggs. I am working on a version at home because I need these in my life on a regular basis!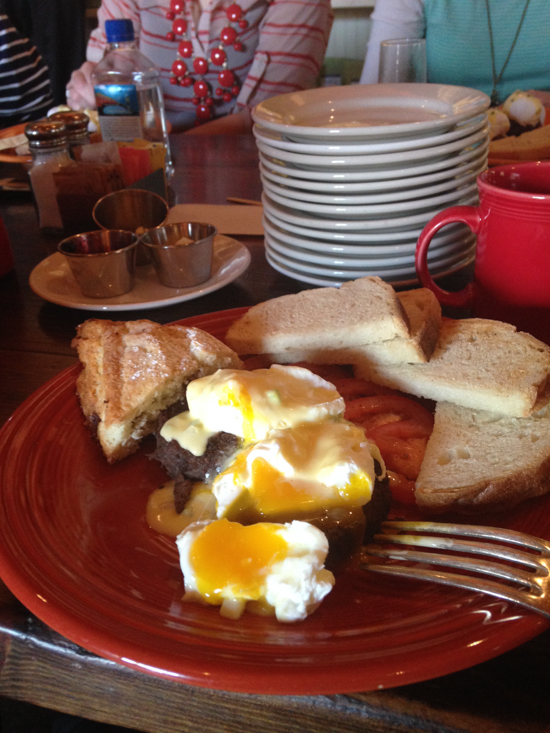 After our spectacular brunch at Tasi's, we headed to Columbus' North Market, which was too cool not to snap a few pics of. The market is full of fascinating food vendors and Jim from the OPA gave us each a $10 bill and told us to buy an ingredient for a "Chopped" style challenge. We were intrigued, and knowing that the week was all about eggs, we knew that these "secret" ingredients would somehow tie in to an egg creation.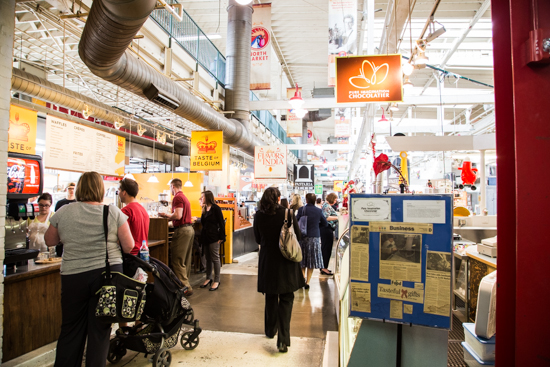 I ended up choosing a local tulip honey, which just seemed lovely to me and also a bit of a challenge to pair with eggs. An intriguing challenge, nonetheless.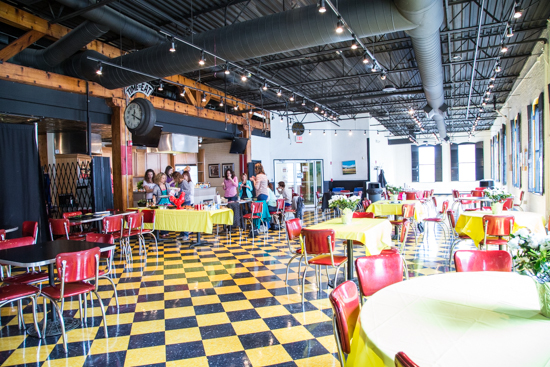 We all gathered upstairs in the market where there was a fabulous space full of retro tile, cherry red vinyl chairs and a stage kitchen were Jim was prepping ingredients. We were in for a serious treat.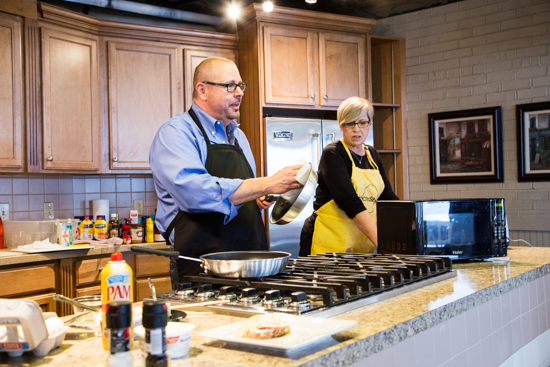 Before the challenge got underway, Jim demonstrated a few egg basics: how to make an omelet (to which he showed us a few of his favorite variations – the Greek version looked incredible!), how to make faux Eggs Benedict, and how to make a microwave scramble. I am familiar with the microwave scrambled egg because we make them pretty often around here, but I liked Jim's tips on using a larger mug to scramble two eggs at once.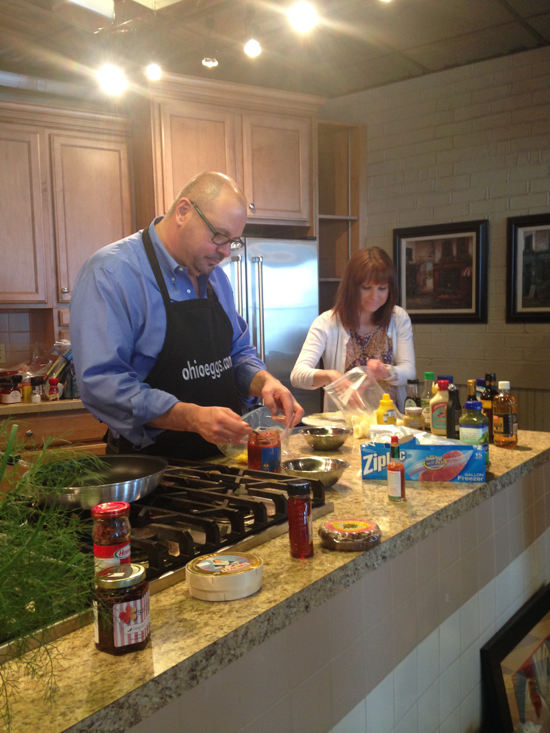 Then came the challenge – we presented our ingredients to Jim and he paired them together to create a half a dozen different and very creative deviled egg recipes. There was a green eggs and ham version that he used Melanie's Green Machine Smoothie to make (I know, right?!), and with my honey he paired some dried figs and created a very surprising and delicious fig deviled eggs with prosciutto and balsamic. These eggs were sweet and the flavors just worked. So much so that I recreated them at home. The only thing I changed in my version was to use fig preserves instead of whole dried figs in order to have a smoother texture to the filling.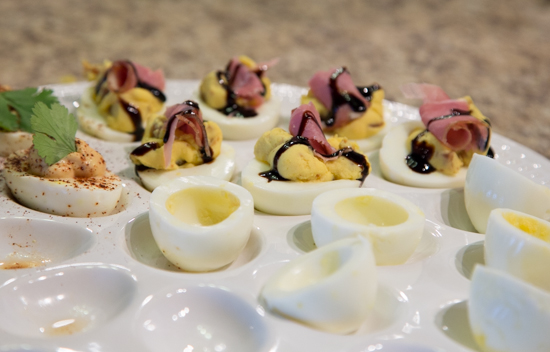 After the egg challenge, we settled in for our last meal together before returning to the hotel to pack up and head to our respective corners of the state.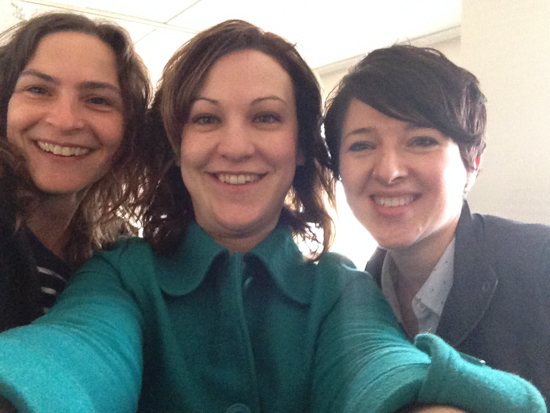 This trip went beyond my expectations and I can't believe how much I learned about how eggs are produced. How local they are, even though they are coming from large farms. I am so impressed with the ethical farming practices that go on and it couldn't make me any prouder to be an Ohioan.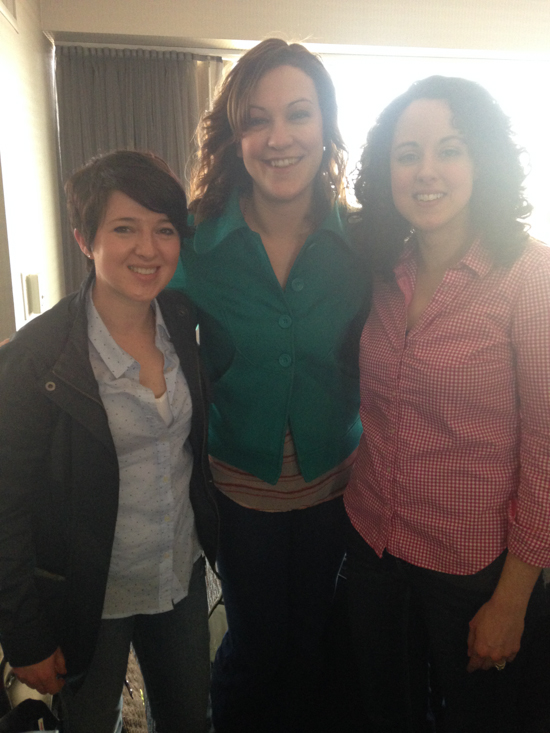 For more recaps on this great trip head over to Melanie Makes, Neighbor Food , Lemons for Lulu and Shugary Sweets. And be sure to check out my version of the Jim's Fig Deviled Eggs – you'll be delighted!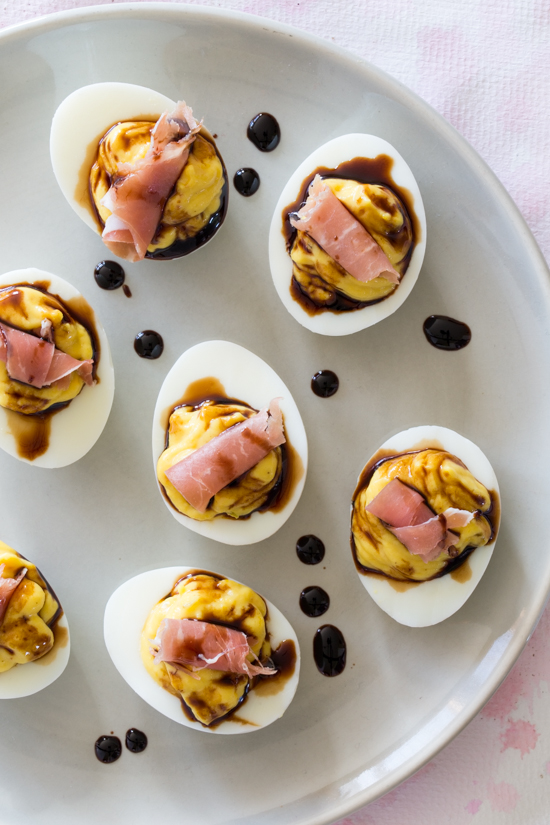 Happy Monday!
Disclosure: I was invited by the Ohio Poultry Association to attend this Ohio Egg Event which was paid for by the OPA. All opinions expressed in this post are, as always, 100% my own. 
Fig Deviled Eggs Recipe
Yield: 12 deviled eggs
Prep Time: 10 minutes
Ingredients
6 hard cooked eggs, cut in half, yolks and whites separated
1 tablespoon Miracle Whip
1 Tablespoon fig preserves
1 1/2 teaspoons dijon mustard
1 1/2 teaspoons honey
salt and pepper to taste
12 small pieces of prosciutto for serving
balsamic glaze (store bought or high quality balsamic vinegar, reduced)
Directions
In a small bowl, crumble the egg yolks with a fork and add Miracle Whip, fig preserves, dijon mustard and honey. Mix to combine. Spoon filling into egg whites. Top with rolled pieces of prosciutto and drizzle with balsamic glaze. Enjoy!
Recipe adapted from Jim's Fig Balsamic Deviled Eggs
April 28th, 2014