Green Tea Hot Toddy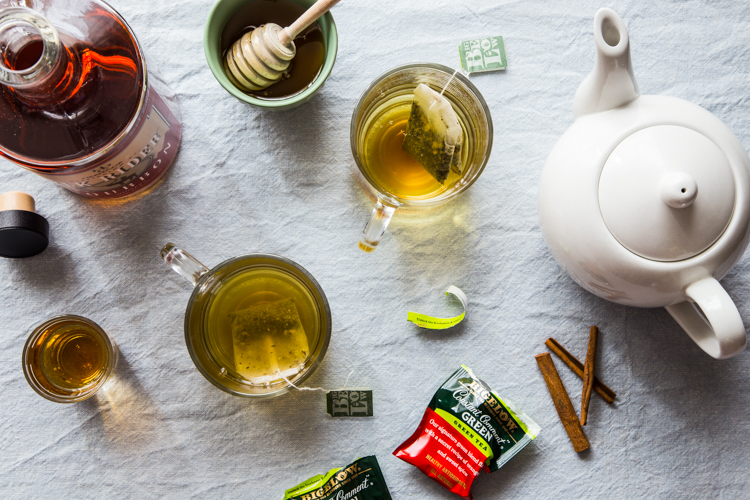 I don't typically share cocktail recipes on Mondays, but let's be honest. There are some Mondays that call for a cocktail. And really, this isn't a cocktail recipe as much as it's a tea/home remedy concoction.
With bourbon.
This green tea hot toddy is a little cup of comfort and much needed after a hectic weekend full of sick kids and long, snowy road trips. If this Monday doesn't call for a hot toddy, I'm not sure what does.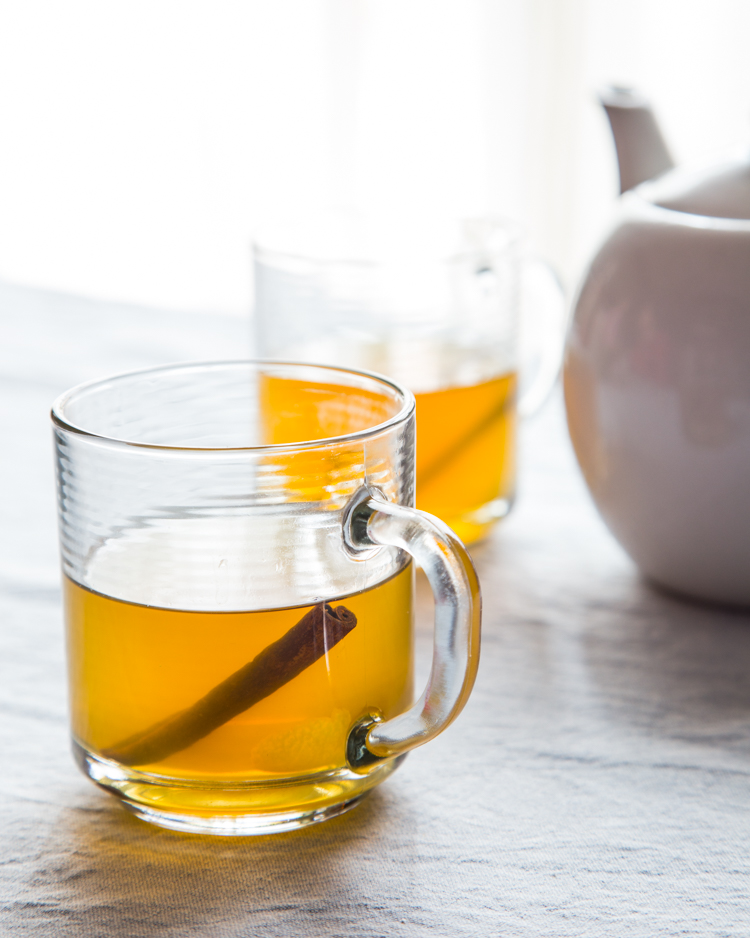 Our weekend wasn't all bad. We got to celebrate my brother-in-law's birthday with a great surprise party that my sister-in-law and nieces and nephew organized. They did an amazing job and all I could think the whole time was that there is no way I could pull off something like this.
I can hardly buy a Christmas gift for my husband without spilling the beans or at least, very strongly hinting to what I picked out. A surprise party with 100+ guests? Nope. That is completely out of my wheelhouse.
However, I enjoy a great party, especially with family, so we knew that making the 8 hour car ride to attend wasn't even a question. We were going.
Well, the plan was great until halfway through the car ride we realize that A is just not feeling well and  with 9pm rapidly approaching and 4 more hours of driving ahead of us, we called it quits for the night. Stopping at a hotel was a lifesaver, although it definitely made it close arriving to the party on time.
The party was a total hit and we turned around and headed home yesterday, only to arrive way past the kids bedtime once again. We were all exhausted and achy from being in the car for three days.
After the kids got tucked away in bed, I whipped myself up one of these comforting green tea hot toddies.
The bourbon I used was Heritage Distilling Co. Elk Rider Bourbon which I just had a chance to try out. The bourbon is incredibly smooth drinking and paired well with the spicy notes of the "Constant Comment" green tea that I used.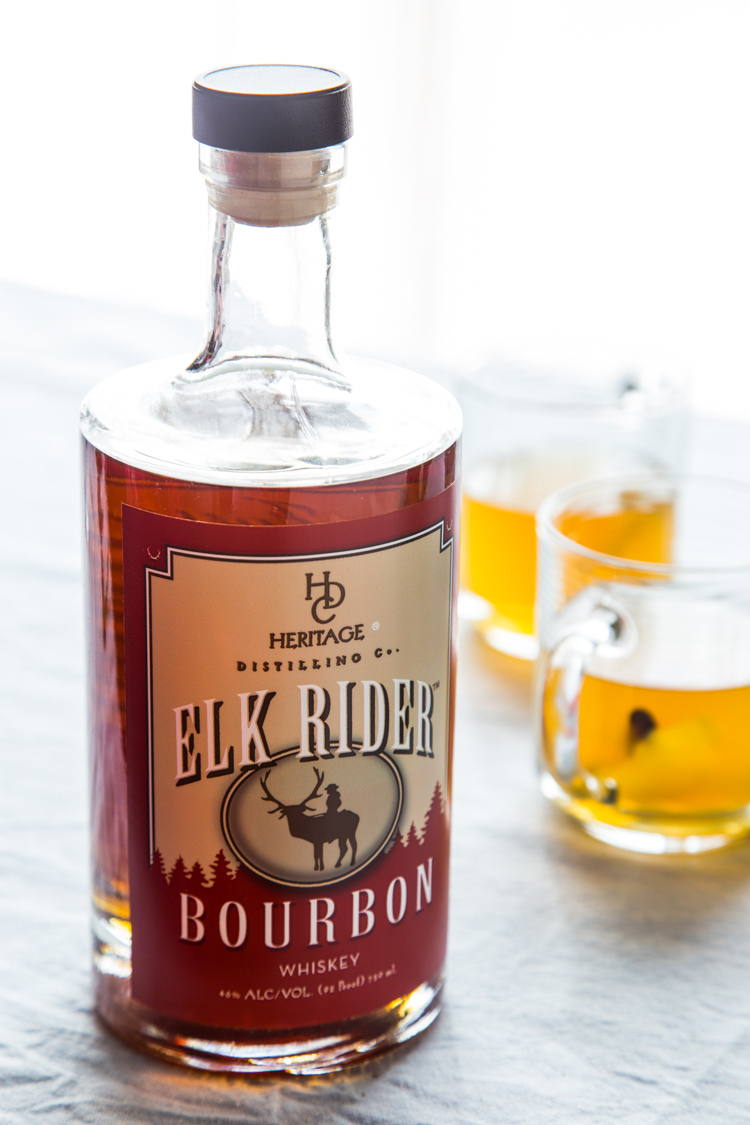 Now, a quick story about my choice of tea. Growing up, my mom always drank Constant Comment. It was her jam back before having a jam was a thing. She didn't drink coffee, but you would never find our house without a red box of her favorite tea.
When I was shopping for some green tea after being inspired to start drinking it again from Liz and Marly during an episode of my new favorite podcast, The Chopped Podcast. They were chatting about their habit of drinking green tea after meals and at bedtime, and I figured it would be a good habit to get into.
I go in and out of drinking tea at bedtime, but always feel a little better when I do.
Now, I realize adding bourbon probably negates the benefits of green tea, but this toddy is just a once in a while drink, so no worries there.
Well, when I was at the store surveying my green tea options, I saw this green tea version of Constant Comment and I had to try it! I am happy to report that it is very Constant Comment-y – with all the orange and spice that you'd expect.
Although if you're looking for something heavy in traditional green tea flavor, this isn't the tea for you. I, however, found it to be just what I was looking for: comforting.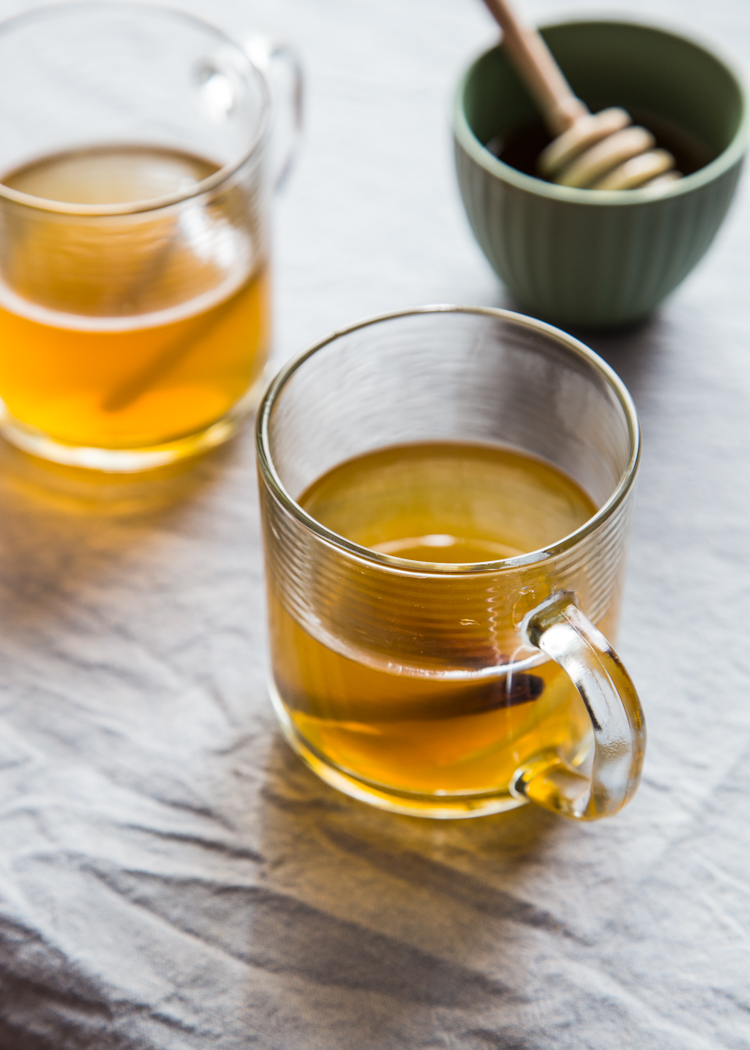 Happy Monday!
This is not a sponsored post. The kind folks at Heritage Distilling Co. sent me some of their wonderful products to try and after trying them and loving them, I wanted to be sure to share them here with you.
You know, in case you're a bourbon fan like me. Enjoy!
Green Tea Hot Toddy Recipe
Yield: 1 hot toddy
Prep Time: 5 minutes
Total Time: 5 minutes
Ingredients
4 ounces hot green tea
1 ounce honey
2 ounces Bourbon
cinnamon sticks and lemon peel for garnish
Directions
Pour green tea into mug and stir in honey to disolve. Add bourbon and stir. Garnish with cinnamon sticks and lemon peel. Enjoy!