le creuset sugar pink heart cocotte giveaway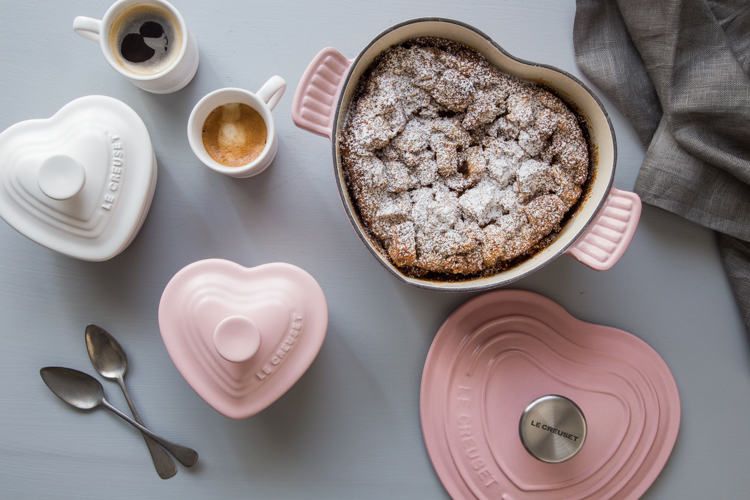 This giveaway is generously provided by Le Creuset.
Happy Valentine's Day! Before you run off to your calendar app in a panic, don't worry. You didn't miss it. In fact, it's not quite here yet, with it still being January and all. But here's the thing: I have a super special Valentine's Day present for you: A Le Creuset Sugar Pink Heart Cocotte Giveaway! Yup, and there is a back story at how special this giveaway is, too.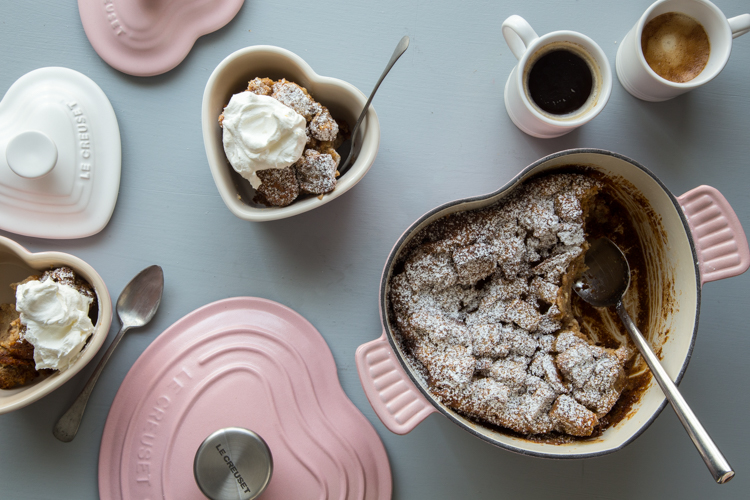 A few months ago, I was contacted by Le Creuset to develop a two Valentine's Day inspired recipes featuring their gorgeous Sugar Pink Heart Cocotte. I had to pinch myself a bit, because photographing for Le Creuset is pretty much my dream. Le Creuset is such an iconic cookware. Not only is every piece they make stunning to look at, but it's the absolute workhorse of my kitchen. I can do without fancy shoes or beautiful manicures – but do not even try to separate me from French oven, because it just isn't happening.
For my two recipes I made Cinnamon Swirl Bread Pudding (seen above) and French Onion Soup with Wild Mushrooms (seen below). Both recipes are perfect for a Valentine's date at home. In fact, I'll be making another batch of the Cinnamon Swirl Bread Pudding for my kiddos to enjoy for their V-day treat.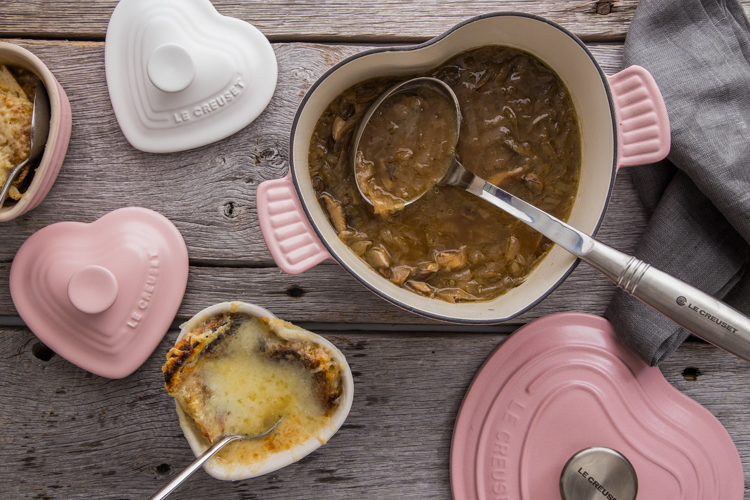 Now here's the wild part. This Sugar Pink Heart Cocotte is sold out online. Yup, that's right. These have been so popular, the online inventory is gone. Here's some good news, though: you can still pick up your very own at a local Le Creuset Signature Store. But again, they're going fast, guys, so hurry!
And here's the very best news of all: Le Creuset is going to be giving one lucky Jelly Toast reader their very own Sugar Pink Heart Cocotte and it will arrive before Valentine's Day! I know, I know. I'm bursting with excitement.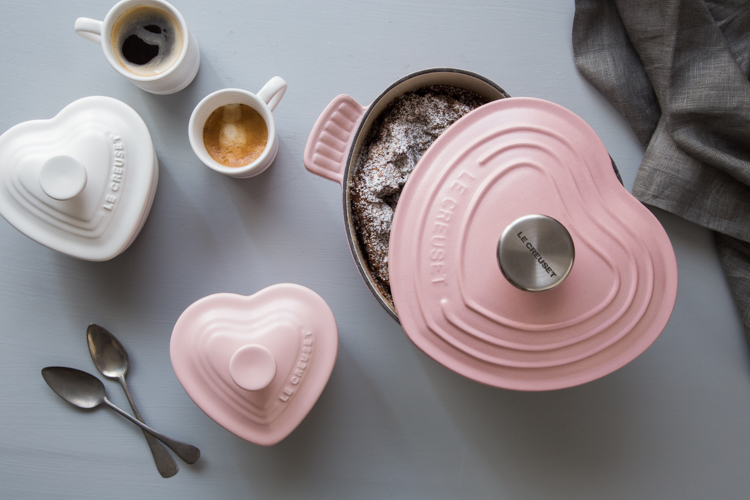 This Sugar Pink Heart Cocotte is part of their matte collection and it has a shimmery pink sheen that is utterly beautiful in person. It's the perfect 2 quart size for making recipes to feed 2-4 people. It's seriously so adorable and beautiful and I just love it!.
This Giveaway is over and the winner will be contacted shortly. Thank you to all who entered!
GIVEAWAY
And because I love simple giveaways and not making you sign up for a bunch of social media stuff (you're welcome), all you have to do to enter is leave one comment on this blog post telling me what you will make in your Sugar Pink Heart Cocotte on Valentine's Day. The giveaway is limited to US residents only and you must be 18 years old to enter.  Giveaway will end Tuesday, January 27 at 8:30 PM EST and the winner contacted immediately after via email. 
Because of the quick giveaway, the winner will need to respond with their mailing address (no PO boxes) info within 24 hours or a new winner will be chosen. This is to ensure that the prize arrives in time for Valentine's Day.  
Good Luck and Happy Early Valentine's Day!!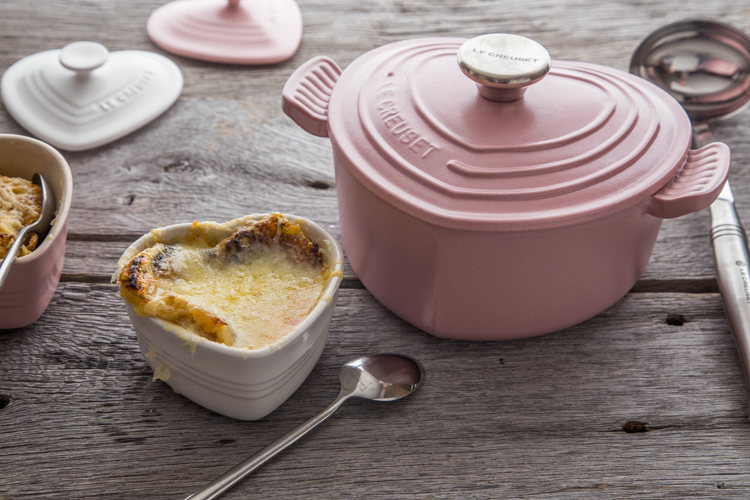 Disclosure: I was paid to develop and photograph recipes featuring the Le Creuset Sugar Pink Heart Cocotte for the Le Creuset website and Le Creuset is generously providing this giveaway.