McCormick, Mixed and Peppermint Marshmallows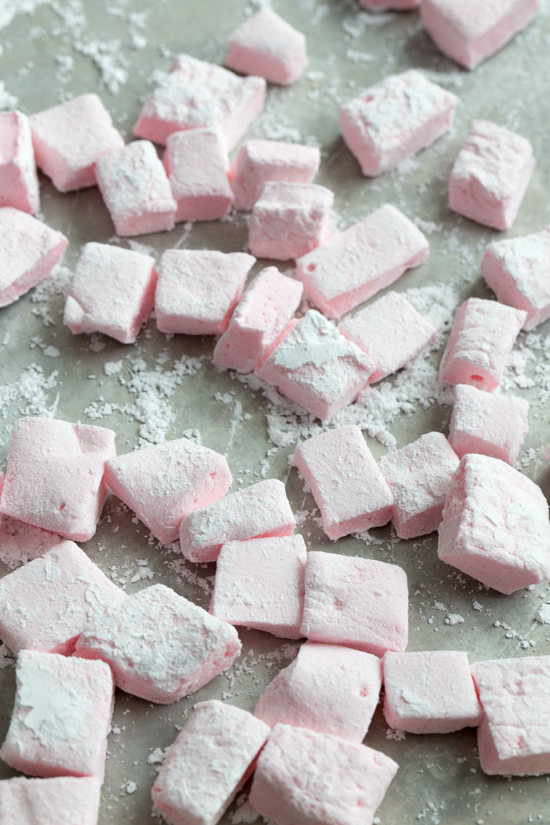 What do McCormick, Mixed and Peppermint Marshmallows have in common? More than you think, and it all started when I attended Mixed back in November. Mixed is a fabulous food blogging conference held in the scenic mountains of Virginia. And not just any scenic mountain, but the very same mountain and lodge where the iconic movie, Dirty Dancing, was filmed.
So, yeah, it was pretty fabulous.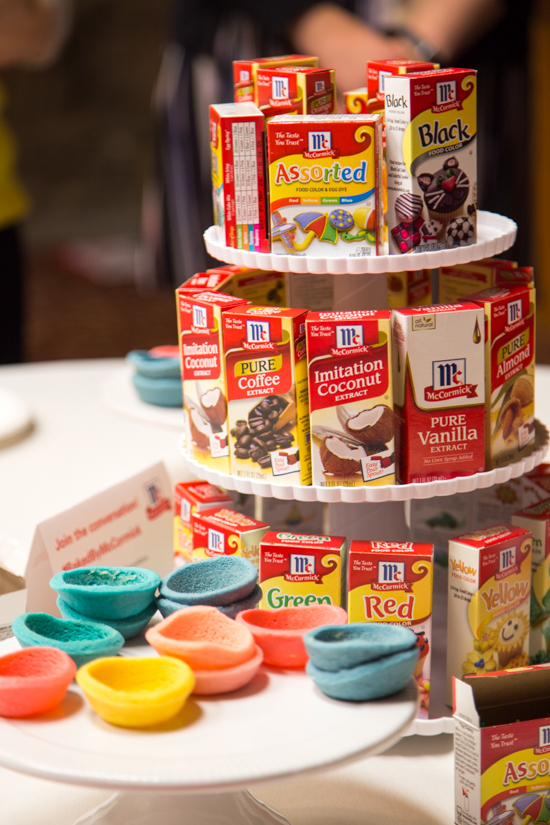 While at Mixed, I had the chance to meet Alan Richardson and Karen Tack who are the authors of Hello, Cupcake!, What's New, Cupcake? and Cupcakes, Cookies and Pie, Oh, My!, all of which are adorable and incredibly inspiring dessert cookbooks, if you're looking for some whimsical sweets. Karen and Alan were there along with the great folks at McCormick to share tons of ideas with us bloggers about adding dashes of flavor and color to our holiday treats…all year long.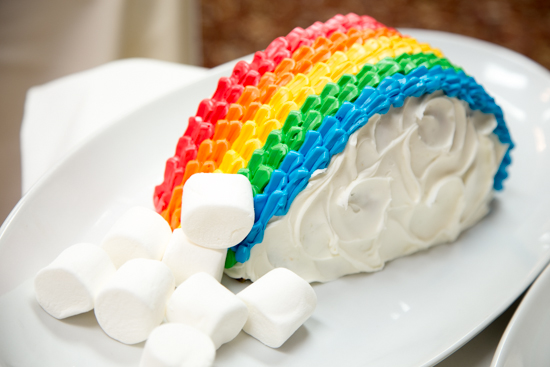 This was one of my favorite breakout sessions because it not only inspired ideas for Jelly Toast, but it gave me so many ideas of treats and goodies that I could make at home with my kiddos, for any occasion during the year.
Take for instance, this rainbow cake. This cake has the Baby written all over it and I am earmarking it for her 5th birthday next year. Seriously, it's almost too cute.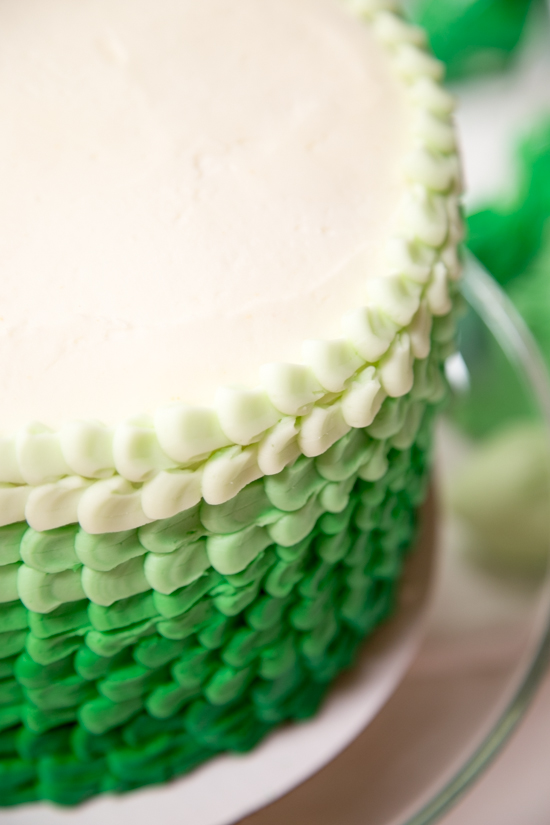 And this Ombre Cake? It needs no words, but I am seriously in need of some improved piping skills before I attempt it. (see my efforts below):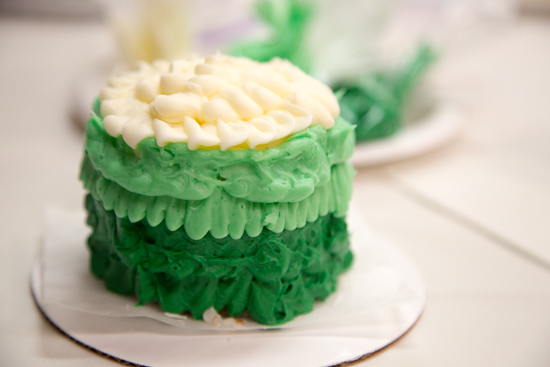 Yeah…I'm not quite up to Karen and Alan's level yet, but I'm determined to get there!
Speaking of Karen and Alan, they were so full of ideas on how to use McCormick food coloring and flavor extracts to create beautiful and delicious spins on classic treats, it was unbelievable. Alan is a candy artist, I kid you not.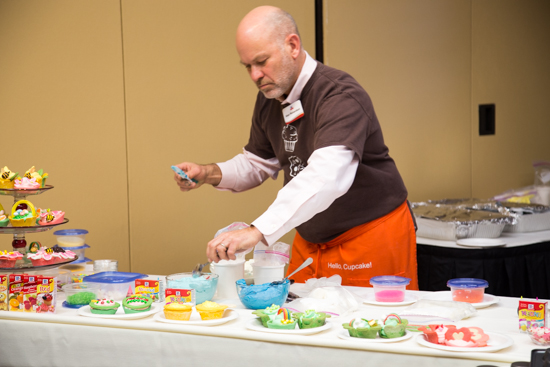 The sweet people at McCormick shared a box of goodies that included a fantastic selection of food coloring, flavor extracts and baking cups and accessories to help inspire us bloggers to get in the kitchen this holiday season and whip up some treats packed with color and flavor.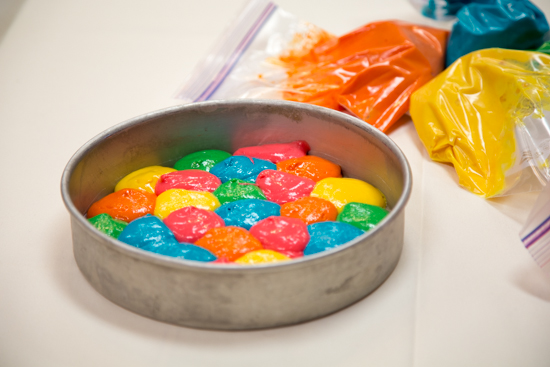 Needless to say, my kiddos were completely on board.
We decided to whip up a batch of pretty pink Peppermint Marshmallows that would go perfectly in a piping hot cup of cocoa on a snowy day – which is exactly what we did. I took a trusted marshmallow recipe from Alton Brown and switched out the vanilla extract for McCormick Peppermint Extract and added several dashes of McCormick Red Food Coloring.
I also decided to spread these marshmallows out onto a larger pan with the intent of cutting them into cute little snowflake shapes using my handy dandy snowflake cookie cutter. Well, things don't always go as planned and my snowflake cutter was no where to be found. Until 3 days later, at least.
Well, we rolled with it and decided to slice these up with my pizza cutter and had deliciously adorable results. Plus the large surface area of the marshmallows had them floating delightfully in our hot chocolate. So, it was a win win situation.
I also made a video to demonstrating the different steps of these Peppermint Marshmallows, including the most important step – enjoying them!!
I hope you liked it!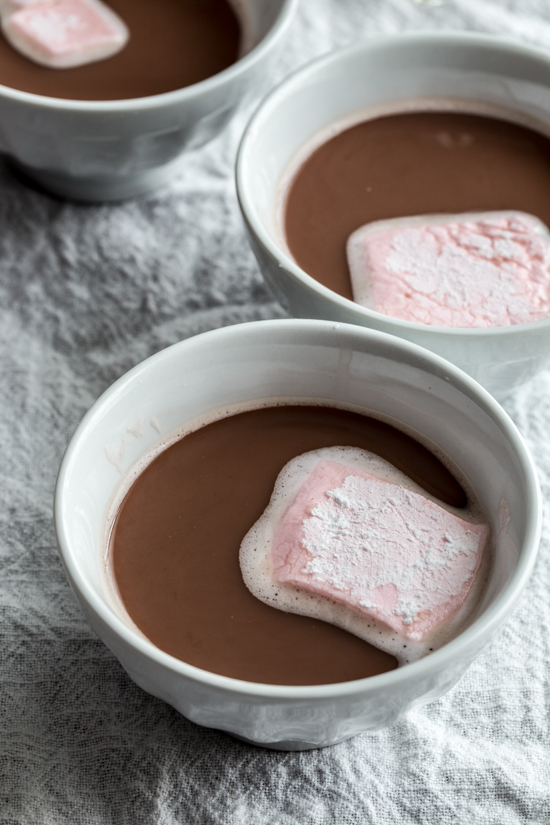 Happy New Year!!
**Disclaimer – McCormick provided me with an awesome assortment of flavor extracts and  and food colors for me to share some holiday ideas with you. All opinions expressed are purely my own! Enjoy!
Peppermint Marshmallows Recipe
Yield: 1 1/2 pounds of marshmallows
Prep Time: 30 minutes
Cook Time: 15 minutes
Total Time: 4 hours 45 minutes
Ingredients
1/2 cup powdered sugar, divided
3 envelopes of unflavored gelatin
1 cup ice water, divided
12 oz granulated sugar (or about 1 1/2 cups)
1 cup light corn syrup
1/4 teaspoon kosher salt
1 1/2 teaspoons McCormick Pure Peppermint Extract
4-5 drops of McCormick Red Food Coloring (or enough for desired color)
non stick spray for pan
Directions
Spray a rimmed baking sheet with non stick spray. Using a sifter or metal sieve, dust pan completely with 1/4 cup of powdered sugar. Set aside.
Fit electric mixer with whisk attachment. Place gelatin and 1/2 cup of cold water in the bowl of the mixer and allow to sit (not mixing) while you make the sugar syrup.
In a small sauce pan, combine remaining cold water, granulated sugar, corn syrup and salt. Place pan, covered, over medium high heat and cook for 3-4 minutes. Remove lid, attach a candy thermometer and cook mixture until it reaches a temperature of 240 degrees F, about 7-8 minutes more. Remove mixture from the heat.
Turn mixer on low and begin to carefully stream hot sugar syrup into the mixing bowl. Once all of the syrup is in the mixing bowl, increase speed to high. Continue whipping the mixture is very thick, white and fluffy. Mixture will still be warm, but no longer piping hot. Add McCormick Pure Peppermint Extract and food coloring during the last minutes of whipping.
Pour marshmallow mixture onto prepared baking sheet and spread evenly with a damp spatula. Dust top of marshmallow with remaining powdered sugar. Allow mixture to set until marshmallows are firm, about 3-4 hours.
Cut marshmallows into desired shapes using festive cookie cutters, or into squares with the help of a pizza cutter. Toss with a bit more powdered sugar if marshmallows are extra sticky.
Place in mugs of delicious hot chocolate and enjoy!
Notes:
Marshmallows can be kept, covered, at room temperature for up to 2-3 weeks.
I spread the marshmallow mixture onto a 1/2 sheet pan to make thinner marshmallows that are good for cutting into a variety of shapes with cookie cutters. For thicker marshmallows, spread the mixture into a greased and powdered sugar dusted 9X13 inch pan.