quick cornbread bites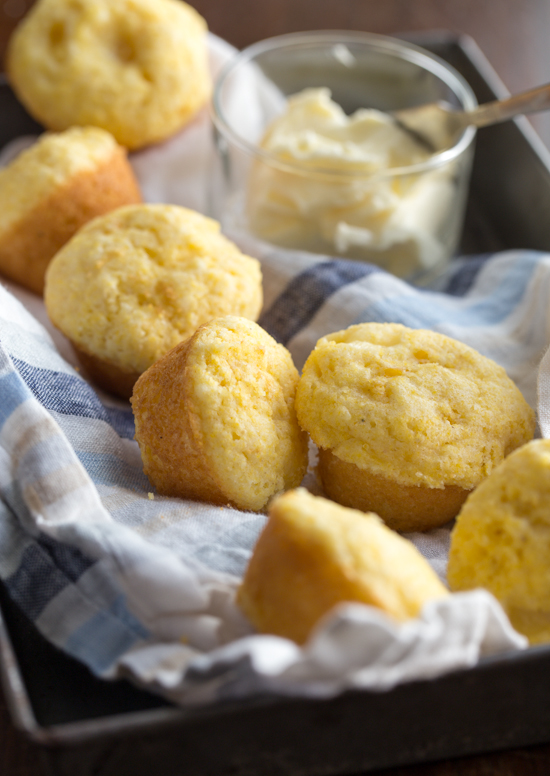 There is a funny story behind these criminally easy cornbread bites. I guess not funny 'ha ha' but sort of amusing. Walk with me.Last week, I was brainstorming different quick and simple items to make ahead to pack in the Buddy's lunch box. Over the summer, we bought him a Planetbox lunch box in hopes that it would be an easy and Earth friendly choice, and honestly, I couldn't be more thrilled with it. It's helped me keep interested in packing a variety of items in his lunch as well as helped me rest easy that he won't be fiddling with a million little baggies and containers that would ultimately end up in the garbage.
But I digress…
Anyway, I was brainstorming new little items to tuck away in his lunch and desperately wanted to bake something cute in my mini muffin tin, which if you ask me, doesn't get enough of a work out in my kitchen. I've made mini quiche bites, which were awesome, but that was back in the spring.  I needed some mini muffin love in my life, like, right now. And in my head, the kiddos did, too. Obviously.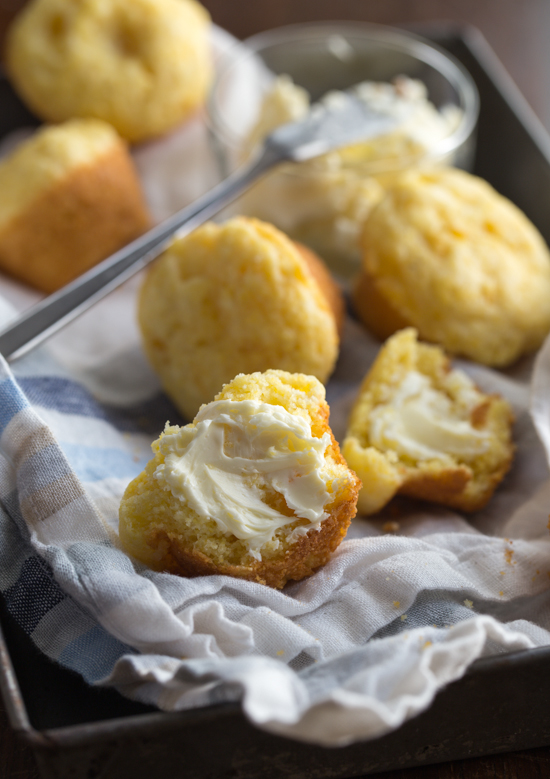 The problem was, I wasn't feeling uber inspired, but still wanted to bake something in my very own oven to send with him to school. For some reason, cornbread popped into my head. Perhaps it was because I had just had some of the best BBQ in my life a few weeks ago when I went to the Hill Country Barbecue with Amber in NYC, complete with darling little cornbread muffins. It was an unbelieveable meal. So good, in fact, that both Amber and I realized that neither of us had whipped out our phones to Instagram the occasion. We were too busy being elbow deep in brisket. Moist brisket, to be exact. Oh, and we also saw Ty-lor for Top Chef Texas. Not kidding, it was an epic lunch. Anyway, it was a great way to end the 2 day trip to the city after attending the BHG Stylemaker Event.
So what does all this crazy BBQ talk have to do with the Buddy's lunch? Well, ever since that BBQ lunch with Amber, I had been craving cornbread, so I figured making teeny tiny quick cornbread bites would be adorable, delicious and provide an new packable lunch item for the Buddy. Something besides his Wow Butter and jelly sandwiches.
While I typically enjoy baking things from scratch, life gets crazy at times and I am not one to turn down help when I need it. Last week, I needed the help, so I turned to my favorite little Jiffy mixes and doctored it up with some monterey jack cheese and corn.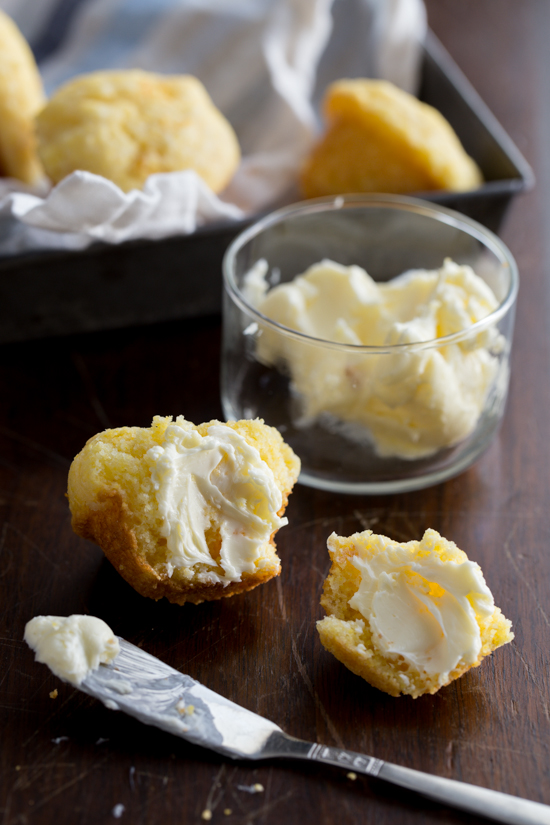 They turned out sweet and tender with some added flavor and texture from the cheese and corn. I was quite pleased with myself. I had dirtied one bowl and one pan and in less than 1/2 hour, these were done and ready to go. Plus, I loved them!
There was only one little problem: the Buddy did not love them. Now, I'm not sure what has gotten into him lately, but he is all of a sudden asserting his big '6 year old' self and becoming picky on me. More things than not that I put in front of him, will be dissected and deemed: just not that great. New food items (and ones that I swear he has eaten and loved before, but for some reason are now unacceptable) are often accompanied by a comment like "I liked the (insert tolerable ingredient) but didn't like the (insert offending ingredient) so..I don't really like it". It's like he's saying 'good effort, but don't quit your day job'. News flash, kiddo: you're my day job and apparently, I'm up for a job performance review.
Needless to say, I was a little bummed. I thought they were good and I had made them specifically for his fancy pants lunch box. A girl can't win.
But…
Just as I was about to insist that he try another one, unwilling to go down without a fight, I turn around and see the Baby grabbing two of these quick cornbread muffins at a time and stuffing them into her tiny little cheeks. THANK you! At least someone likes them! It turns out that I wasn't completely off base with my quicky cornbread bites. She continued to request them for her lunch for the next couple of days and I gladly gave her as many as she wanted. There may have even been a tear or two when the last one was eaten. Okay, I probably imagined that, but let me have this moment.
Anyway, thanks to my little lady, my faith in myself to doctor up a cornbread mix was restored. Perhaps I should set my goals a bit higher. Nah, I'm considering this a firm success and praying the Buddy grows out of his food critic attitude soon. Although, perhaps he's found his future career…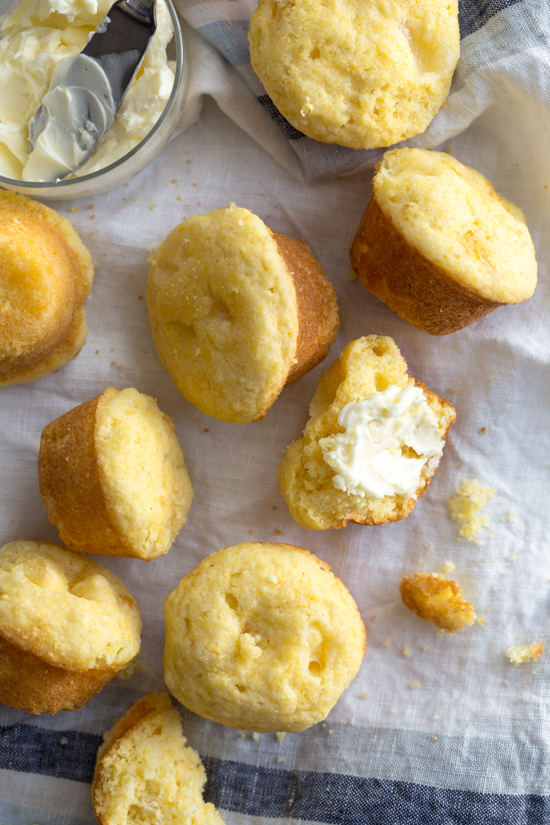 Happy Wednesday!
Quick Cornbread Bites
Yield: 24 mini muffins
Prep Time: 10 minutes
Cook Time: 12 minutes
Total Time: 22 minutes
Ingredients
2 boxes of Jiffy Corn muffin mixes
2 eggs
2/3 cup milk (I used whole)
2/3 cup monterey jack cheese, shredded or cut into small cubes
1/3 cup corn (frozen or fresh)
Directions
Preheat oven to 400 degrees. Grease a mini muffin tin with non stick spray and set aside.
In a large bowl, stir together muffin mix, eggs and milk until well combined. Fold in cheese and corn. Divide batter between muffin wells and bake for 10-12 minutes or until puffed and golden. Allow muffins to cool slightly before removing from pan
Enjoy!
Notes:
If you want your cornbread bites a bit spicy, try adding pepper jack cheese in place of the monterey jack.