tart cherry chutney toast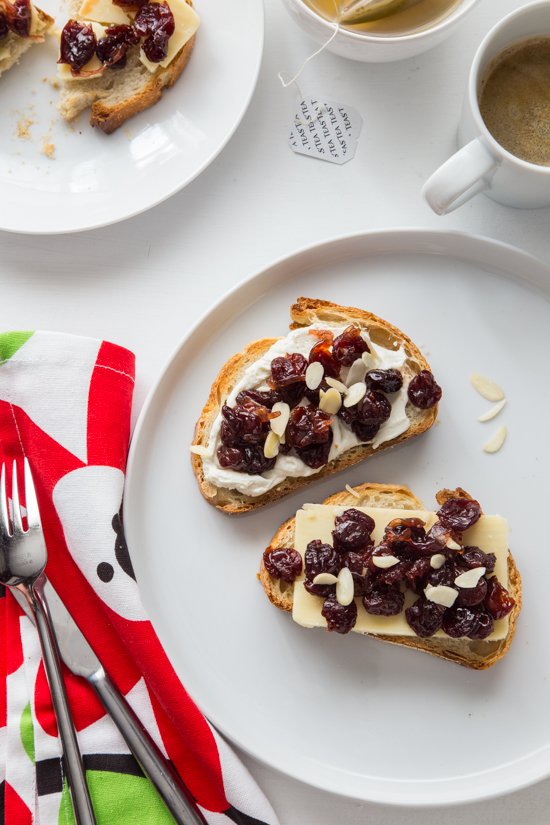 This post is sponsored by the Tart Cherry Marketing Institute. All opinions are my own.
Last week, I spoke about some changes that I'm making in 2015. Nothing Earth shattering, but small changes to move myself toward embracing the person that I am while striving to be the best version of me that I can be. I'm getting back into my smoothie routine and I'm sharing more of the 'real life' food that I make every day.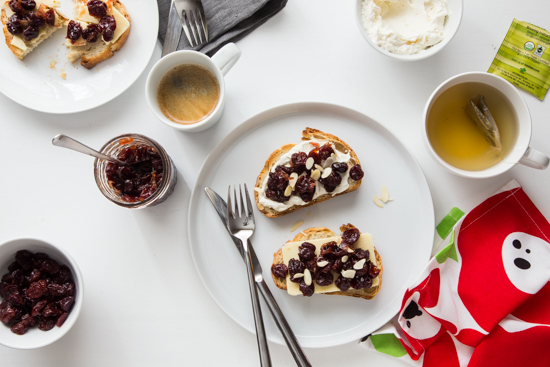 When I was younger, I was one of those people who would skip breakfast. I know, I know. It's truly the most important meal of the day and I was a total slacker when it came to making myself eat before leaving the house. However, when my kids were born I started moving slowly but surely toward a daily breakfast routine. Maybe it's the desire to model healthy habits for them or perhaps it's just the wisdom of my 30's finally taking hold. Either way, I eat breakfast every morning – and most mornings those breakfasts involve oatmeal, smoothies or toast.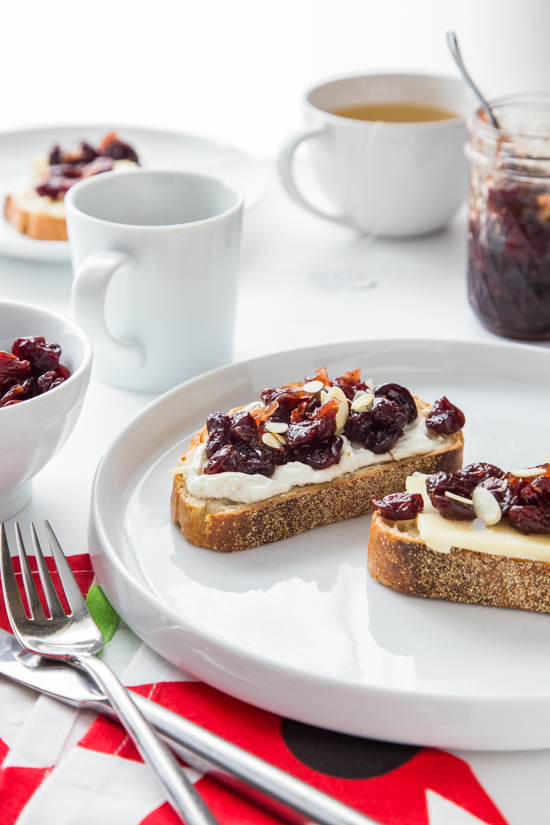 It is because of my love of breakfast that I'm excited to be partnering with the Cherry Marketing Institute this year to create some amazing recipes that feature the incredible superfood: tart cherries. Have you heard about tart cherries? I happen to adore them, particularly in their dried form, and eat them in my oatmeal, in energy snacks, as well as sprinkled onto caramel apple rings.  Tart cherries are full of incredible antioxidants and are praised for their ability to lower the risk of heart disease as well as help your body recover after a hard workout. They also provide a burst of ruby red color and bright tartness to any of your favorite morning staples. In fact, one of the things I love most about tart cherries is that they are available all year in dried, frozen and juice varieties. With the different forms available, it's easy to add frozen cherries to smoothies, cherry juice to your morning tea or a handful of dried cherries to your bowl of oatmeal. So not matter which form you like, you can create a healthful and beautiful breakfast year round.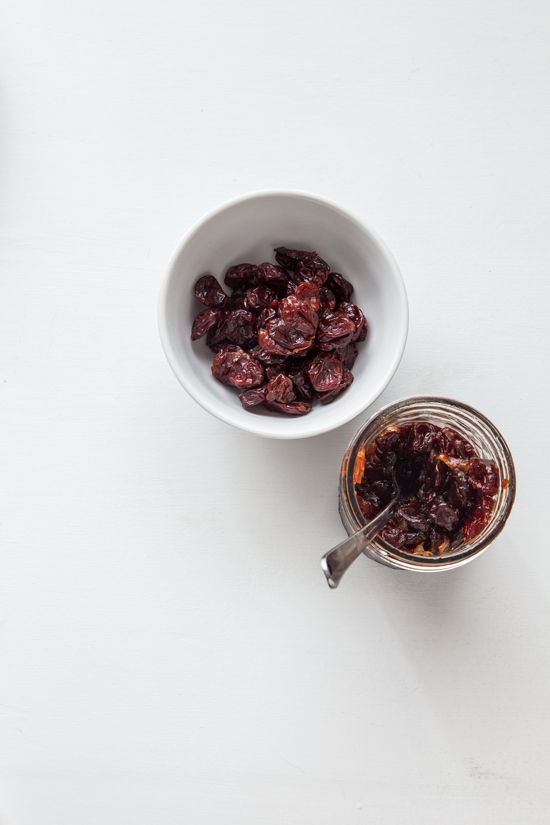 The possibilities to liven up your breakfast with nutrient-packed tart cherries don't end with oatmeal and smoothies. I love adding them to my morning toast, too! This week I used my favorite dried tart cherries along with a bit of tart cherry juice, shallots, ginger, vinegar and sugar to create a slightly savory tart cherry chutney toast. My original intent was to spread a piece of toast with ricotta cheese and top it with this tart cherry chutney. However, after tasting that combination, I wasn't sold that it was the best way to feature the chutney – and this chutney is definitely worth featuring. I ended up finding two different combinations that I adored so much, that I couldn't decide which I liked better: whipped cream cheese and very sharp white cheddar. These combinations are quite different, but both are amazing paired with the tart cherry chutney, all piled atop toasted sour dough bread. A little sprinkle of slivered almonds for a finish makes either pairing delicious. This tart cherry chutney toast is a keeper and maybe my new best friend.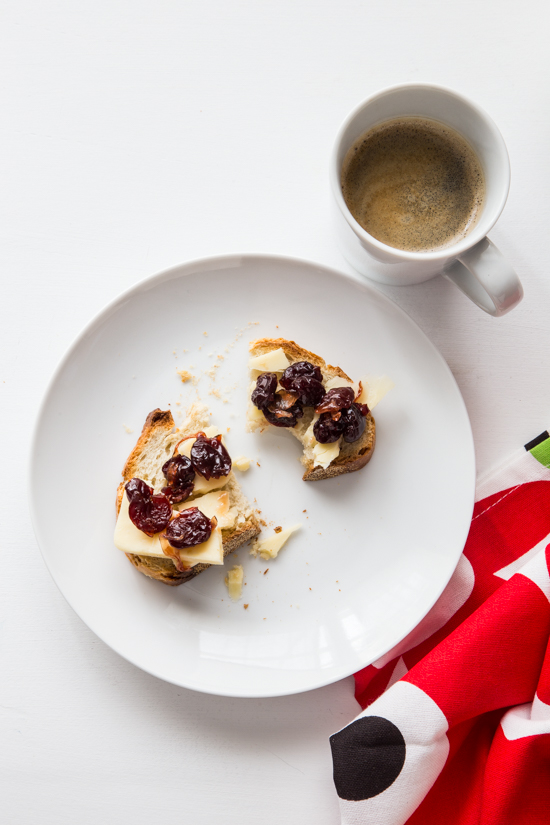 Be sure to watch out for more of my tart cherry recipes to come. For more information about tart cherries including their health benefits, be sure to check out ChooseCherries.com or check them out on Facebook , Twitter and Pinterest.
Happy Tuesday!
Disclosure: I have partnered with the Cherry Marketing Institute this year to bring you a variety of delicious and nutrient packed recipes featuring tart cherries. This post is part of that partnership. Thank you for supporting the brands that support Jelly Toast.
Tart Cherry Chutney Toast Recipe
Yield: 8 servings
Prep Time: 15 minutes
Cook Time: 20 minutes
Total Time: 30-35 minutes
Ingredients
1 cup dried tart cherries
1 large shallot, peeled and thinly sliced
1/4 cup cider vinegar
1/4 cup tart cherry juice
1/2 cup raw sugar
1/4 teaspoon ginger, dried or 1 inch fresh ginger, grated
Pinch black pepper
FOR ASSEMBLING THE TOAST
sliced sourdough bread, toasted
whipped cream cheese or sharp white cheddar cheese
slivered almonds
Directions
Make Tart Cherry Chutney
In a small sauce pan set over medium heat, add dried tart cherries, shallot, vinegar, tart cherry juice, raw sugar, ginger and pepper. Stir and bring mixture to a low bowl. Reduce heat to low and allow mixture to simmer for 10-15 minutes or until cherries are plump and liquid is syrupy. Remove from heat and allow to cool for at least 10 minutes.
Assemble the Toast
Spread 2 tablespoons of whipped cream cheese OR place 1 slice of sharp white cheddar cheese on top of 1 piece of sour dough toast. Top cheese with 2 tablespoons cherry chutney and a pinch of slivered almonds. Serve and enjoy!