Baked Goat Cheese with Harissa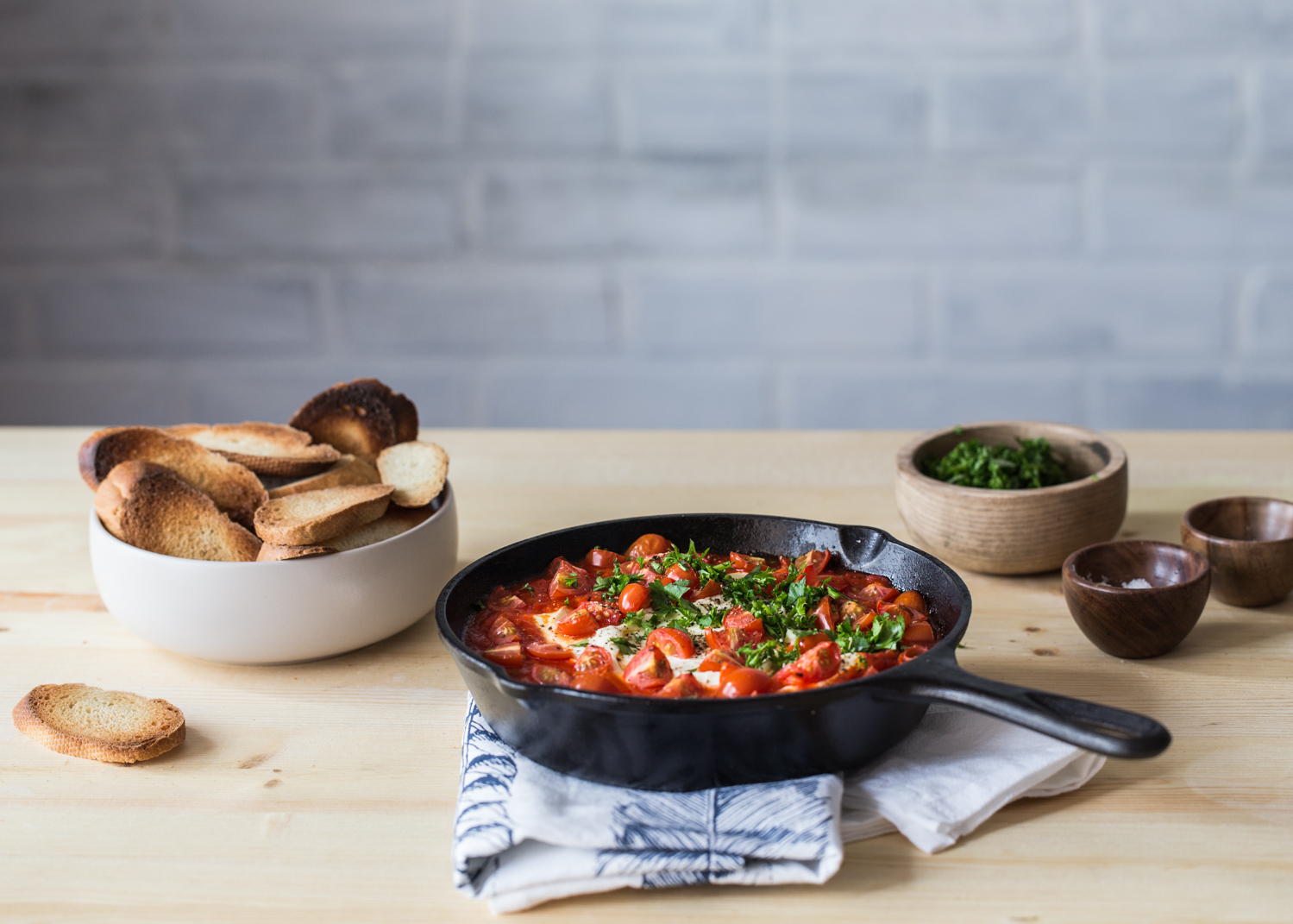 The other day I got to thinking about how certain recipes come to be. Take this Baked Goat Cheese with Harissa for example. I am often inspired by flavor combinations that I see in restaurants, but occasionally one particular ingredient will grab me by the shoulders, shake me, and command me to pay attention. Recently, that ingredient was Harissa. And boy, am I paying attention.
I had seen Harissa floating around the internet in recipes and just simply had never tried it. It sounded tasty enough, a sauce or paste from North Africa made with chili peppers and spices. What could be bad, right? It's just that I had never been put in a situation where I really needed to try it. Well, I was cooking from a new cookbook and in one of the recipes, it called for Harissa. Harissa!! Finally, a good solid excuse to try this out. I knew that recipes for homemade Harissa are around, but for the sake of simplicity, I picked up a jarred version from the grocery store to try it out. I have found that there is a range of spice levels when it comes to Harissa. I love a spicy sauce, but for this particular recipe, I chose a mild jarred version found at my grocery store. It is made up of primarily roasted red peppers and some spices.
Now, just about a month later, I can't even remember what the rest of the recipe was about that featured Harissa, but that seriously does not matter. After one bite my eyes were open and my life, or at least my dinner table, has not been the same since.
The layers of flavor with both sweet and spicy elements are just a refreshing change for the typical tomato based sauces. This stuff is a rockstar in the kitchen and I am not even trying to hold myself back from it's power. Harissa is here to stay!
After trying all sorts of meals with a bit of Harissa (hello, barley spinach risotto!), I got to thinking something bubbly and cheesey would only be made even more delicious by a dollop of Harissa. I was not wrong. Baked Goat Cheese with Harissa was born.
This Baked Goat Cheese with Harissa recipe is very easy to prepare, just a combination of cream cheese and goat cheese in a baking dish, surrounded by a moat of Harissa and some chopped grape tomatoes. Bake it in a small casserole dish (or my favorite 8-inch Lodge Cast Iron Skillet
) until the cheese is soft and dippable and serve it up with a generous amount of toasted bread. Make it on a special occasion or just a Tuesday. Whatever comes first. It's seriously that good.