barramundi en papillote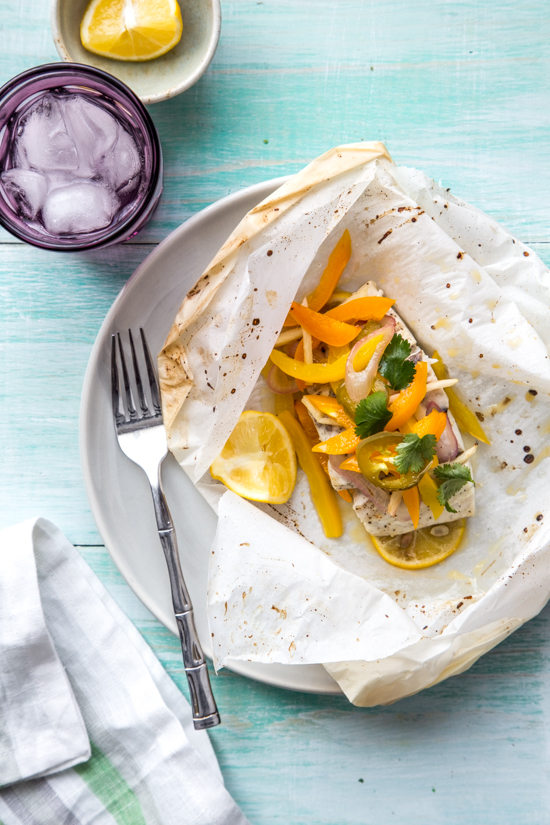 Full of bright, fresh flavors, Barramundi en Papillote is a simple and healthy seafood recipe that will satisfy the entire family. 
After the rich meals and sweet treats of the holidays, I've been struggling to get back into my swing of healthy eating. Yes, it's true, I like to indulge in desserts and cocktails, much of which I share here on Jelly Toast, but our true day-to-day eating is one of moderation with a focus on healthy, real food.  Maybe it's due to the polar vortex, gracing us with consistent sub-zero temps and endless snow days, but being cooped up in the house for weeks on end has made it difficult to remain active and feel satisfied with lighter fare.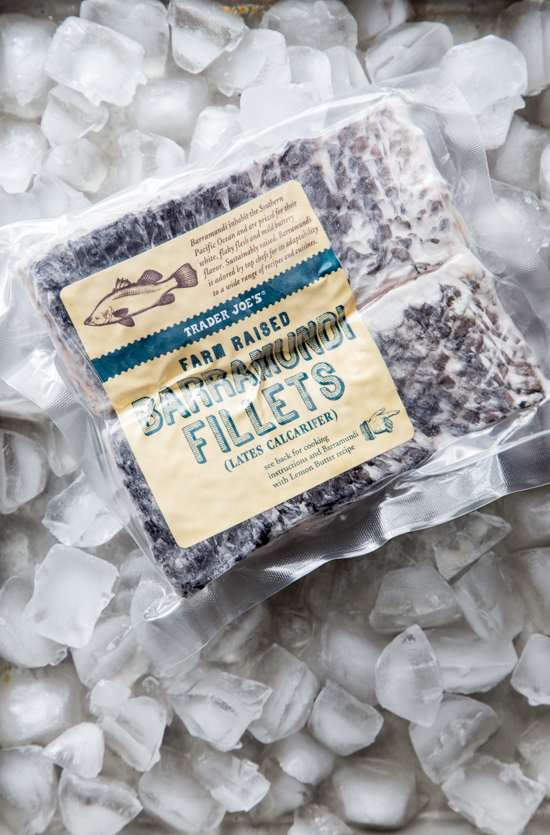 While my head is telling me that I need to focus on healthy recipes, my heart is screaming for comfort food. And it's this desire for comfort food that has made me so thrilled to have discovered a new-to-me fish, Barramundi.
Have you ever heard of it? I hadn't until recently, and now, after having tried it, I know it will be a staple in my kitchen from here on out. I found my frozen Barramundi fillets at my favorite place – Trader Joe's. If you don't have a Trader Joe's near you, Barramundi can also be found at Whole Foods, Safeway and more.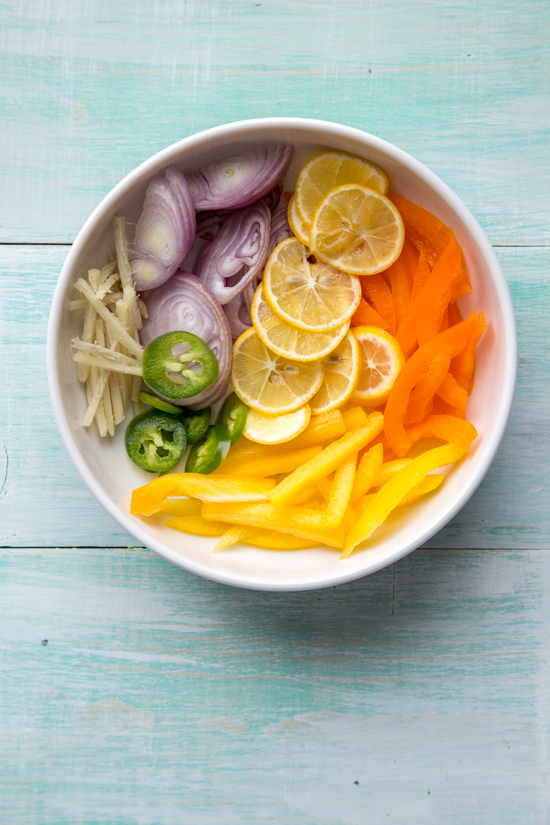 Barramundi is a firm fleshed, mild flavored white fish and is applauded for it's sustainability, often being called "The Sustainable Sea Bass". It's high in Omega-3 which is a fantastic health benefit, but what I really love about it is it's meatiness. Barramundi is meaty and filling, without weighing you down. But it's lower in fat than salmon, which is great if you are looking for a lower fat fish option.
Barramundi can replace fish in almost any fish recipe stand up to most cooking techniques, such as grilling, poaching or searing which makes it endlessly versatile.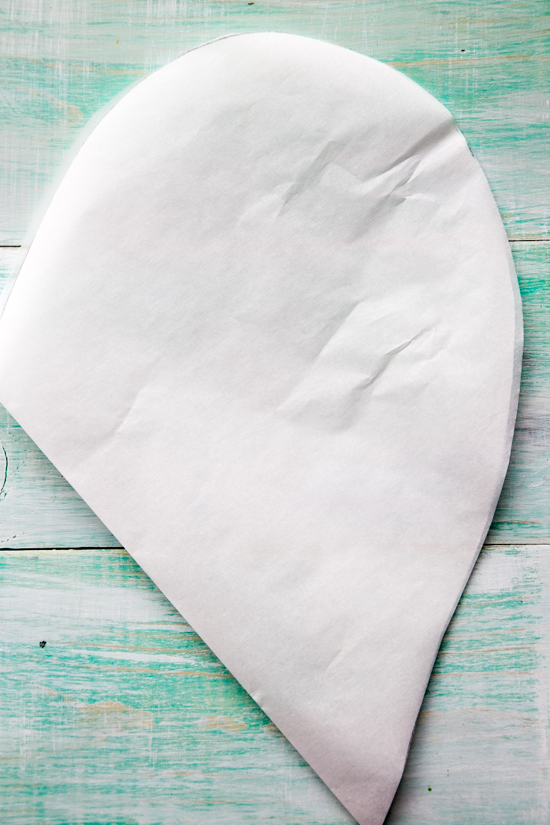 I decided to try Barramundi out in my favorite seafood cooking method: parchment packets. I've toted my love of parchment packets several times here on Jelly Toast with my Ginger Mango Chicken en Papillote and my Shrimp and Rainbow Quinoa en Papillote. I love how you can customize each packet, simply and without fuss, to accommodate individual tastes. For instance, my kiddos don't love super spicy food – which isn't unusual – but my husband and I like a little added kick. It couldn't be easier to add a few jalapeño slices to our packets and simply leave them out of the kiddos. Easy peasy.
Most of the time when I cook in packets, I do a simple folded packet with twisted ends, nothing fancy. For this recipe, I decided to try the traditional folded shape for an 'en Papillote' dish (which just means 'in parchment'). This shape starts with making a big heart out of parchment paper.
And with Valentines day right around the corner, I couldn't resist trying it out. It was easier than I thought it would be, the trick being to make small, crisp folds to keep the packets together. But all in all, no big deal.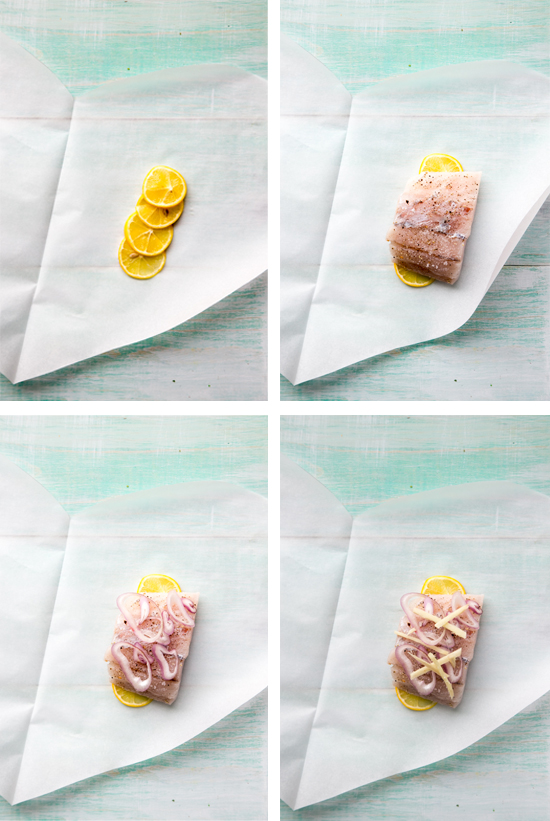 To build the packets, simply layer up the ingredients as shown, starting with Meyer lemon slices and the Barramundi. I'm a visual learner so I thought a few step-by-step photos might be helpful for this recipe.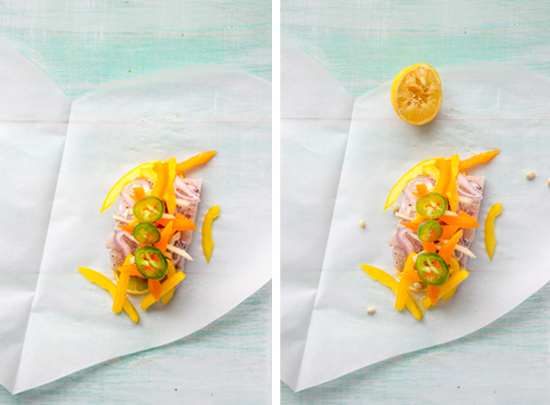 After all the veggies are on, squeeze a bit of lemon over the top and dot with a teeny tiny bit of butter. Just a touch. The butter mixes the with lemon juice to create a great sauce for the whole dish.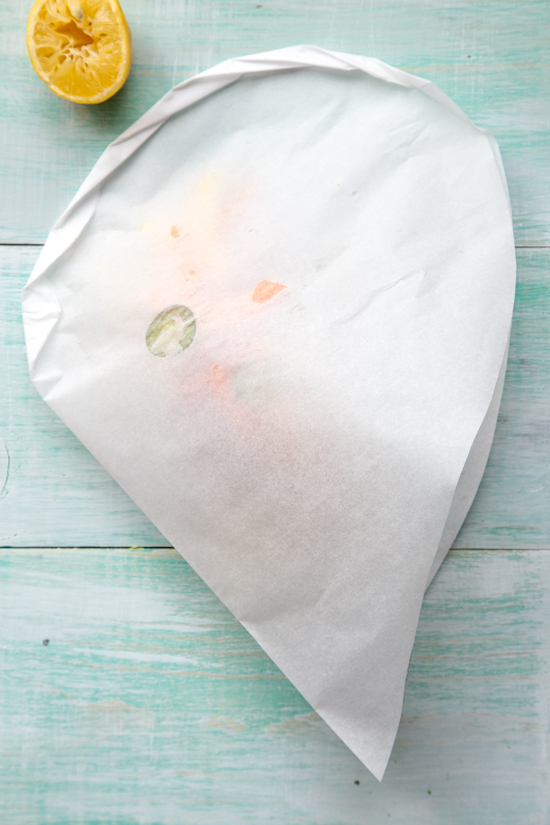 Then fold it.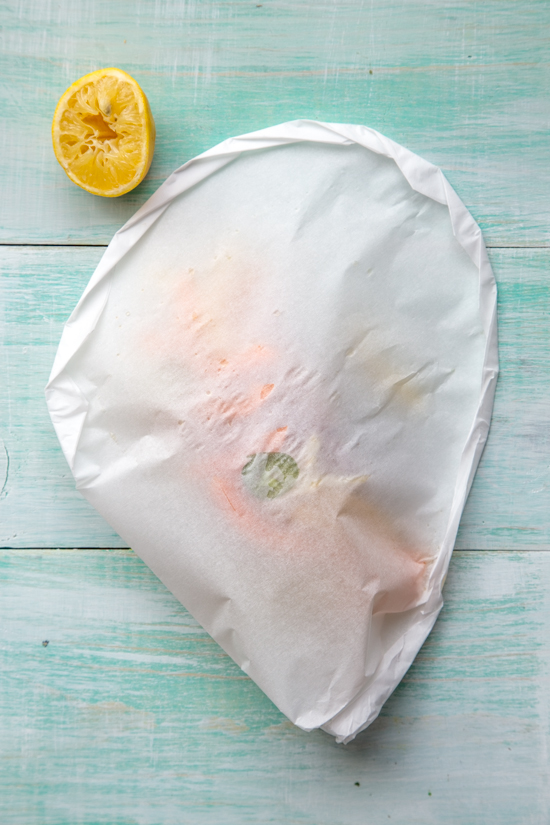 Twist it.
And mark it with a B, and put it in the oven for baby and me!
Sorry, I couldn't help it. But in my defense, the baby thought that was hilarious.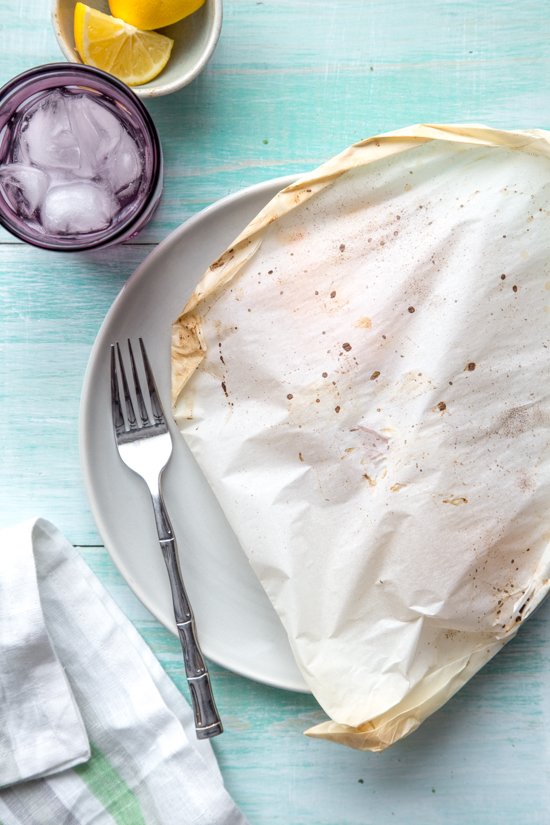 The Barramundi en Papillote only needs 15 minutes in the oven (score!) and it comes out moist and incredibly flavorful! I used ginger and a touch of jalapeño, and then garnished with lemon and cilantro. The results were light and refreshing, but definitely a full meal. In fact, my husband kept looking over and saying, 'wow..this is really good…seriously…*munch munch*..wow". And even more convincing – my kiddos ate every. single. bite. Total win.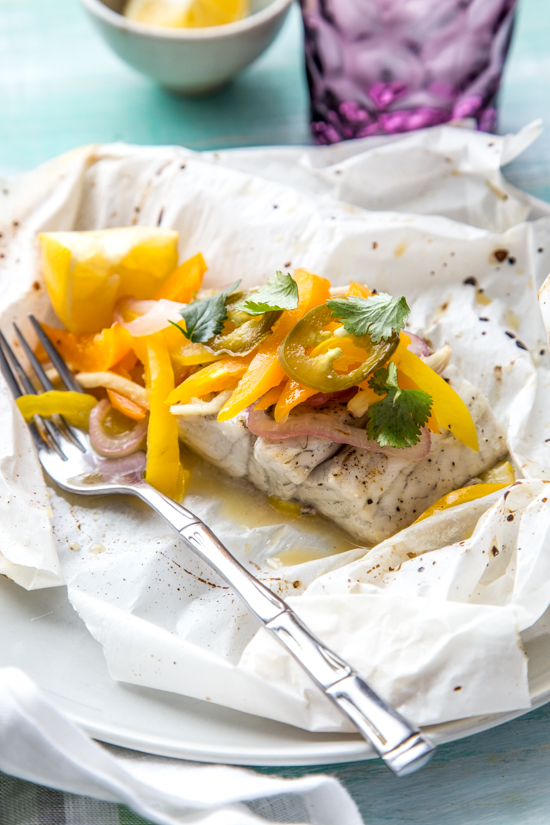 Enjoy and Happy Wednesday!
Disclosure: This is a sponsored post via NoshOn.It Publishing Partners Program by a leading Barramundi producer. All opinions are, as always, 100% my own. 
Barramundi en Papillote Recipe
Yield: 4 servings
Prep Time: 15 minutes
Cook Time: 15 minutes
Total Time: 30 minutes
Ingredients
4 Barramundi fillets, thawed and skin removed
4 Meyer lemons, 2 thinly sliced, 2 cut in half
1 large shallot, thinly sliced
2 inch piece of ginger, cut into fine matchsticks
1 orange bell pepper, thinly sliced
1 yellow bell pepper, thinly sliced
1 jalapeño, thinly sliced (optional)
salt and pepper
1 tablespoon unsalted butter
1/4 cup cilantro leaves
4 pieces of parchment paper large enough to fold over barramundi fillets, with a little extra room.
more Meyer lemons for garnish
Directions
Preheat oven to 450 degrees. Season both sides of the Barramundi with salt and pepper.
On your work surface, lay one piece of parchment paper. Fold parchment in half and draw a half heart shape starting on the folded edge. Cut out heart shape and unfold paper.
Build your packets
On one side of the parchment paper, layer 3-4 Meyer lemon slices, 1 piece of Barramundi, 1/4 of the shallots, ginger, bell peppers and jalapeños. Squeeze one half of a Meyer lemon over the top of the vegetables, dot with 1/4 tablespoon of the butter and season with salt and pepper. Repeat with the remaining 3 packets.
Fold other flap over the Barramundi and vegetables and using tight, small folds, seal the two pieces of parchment together, twisting the tale end shut at the bottom.
Place parchment packets on a baking sheet and bake for 15 minutes. Remove from oven. Cut a cross in the top piece of parchment with kitchen scissors to open, garnish with lemon wedges and cilantro leaves and serve immediately.