sausage stuffed mushrooms #CaptainsTable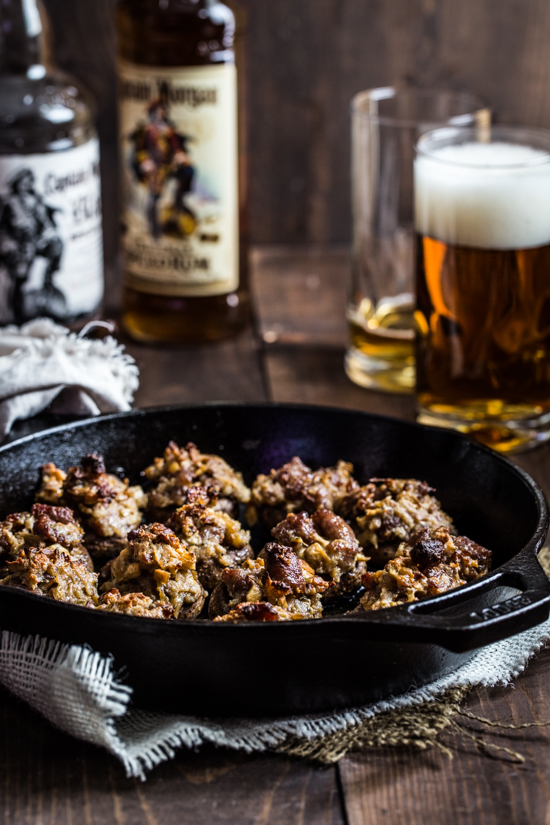 Rum-spiked, sausage stuffed mushrooms are perfect for your football party!
It's football time, my friends, and all that means to us this year is eating some good food. I have little to no opinion on the two teams that made it in to the big game, so all I'm hoping for is an exciting game, hilarious commercials and of course, a serious spread of snacks. Number 1 on my list of snacks for this year: Sausage Stuffed Mushrooms. And not just any mushrooms, but rum-spiked sausage stuffed mushrooms. These are beyond delectable and combine my love of sweet breakfast sausage with spiced Captain Morgan rum and fabulous mushrooms. Le sigh.
Do I really need to wait for Sunday to make a batch?
Speaking of mushrooms, over the holidays, I had the pleasure of buying fresh mushrooms from Pennsylvania while visiting my in-laws. When we got to the mushroom…er, store, it was set up more like an office…sort of. It had a lobby with a sliding window and an 8X11 sheet of paper taped the wall that had a list of their mushrooms, sizes and prices. Odd, yes, but very intriguing, too. I placed my order for five pounds of Cremini mushrooms and one pound of shitake mushrooms and waited while the man went down a long hall into a large, hanger like room and brought me back my order. The whole thing wasn't what I thought it would be like, but it was cool, nonetheless. I'll definitely be back.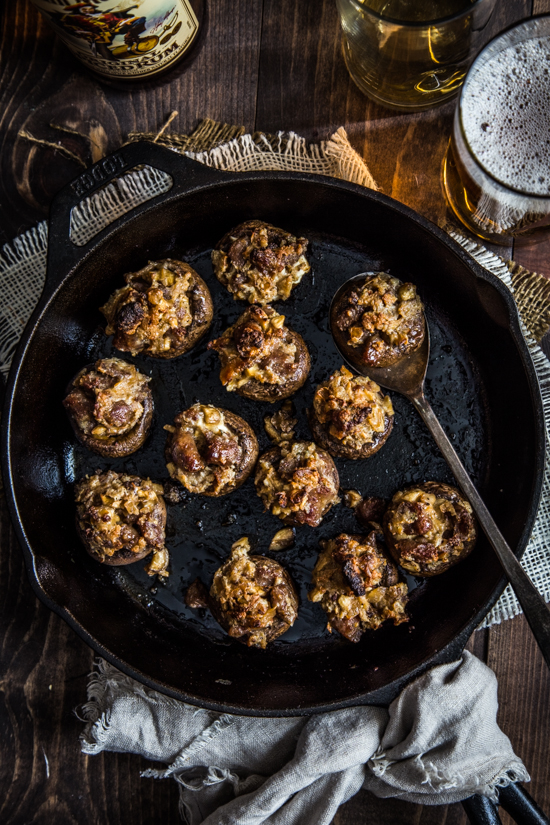 The mushrooms traveled all the way back to Ohio with us, and I tested a variety of recipes, including several versions of Sausage Stuffed Mushrooms. For a while now, my go-to sausage stuffed mushroom recipe has been from Ina Garten and features all sorts of Italian goodness: Italian sausage, mascarpone cheese and sweet Marsala wine. I love these mushrooms, and Ina's recipe is perfect in every way, I kid you not.
But, I had the idea to play around with swapping Captain Morgan Rum for the Marsala wine and seeing where that took me. The Rum with Italian sausage was ok, but not great. The flavors just didn't get along like I'd hoped. And don't get me started on the mascarpone cheese with the rum. Let's just say, it was bizarre. Back to the drawing board.
I knew I wanted to keep the method of infusing flavor into the mushrooms themselves, but that the flavor profile would need to change significantly. Sweet breakfast sausage was my answer. This version features my very favorite brown sugar and honey breakfast sausage, shallots, cream cheese, parmesan cheese and crunchy panko bread crumbs. The flavors in the sweet breakfast sausage taste great with Captain Morgan Original Spiced Rum and made these mushrooms a keeper.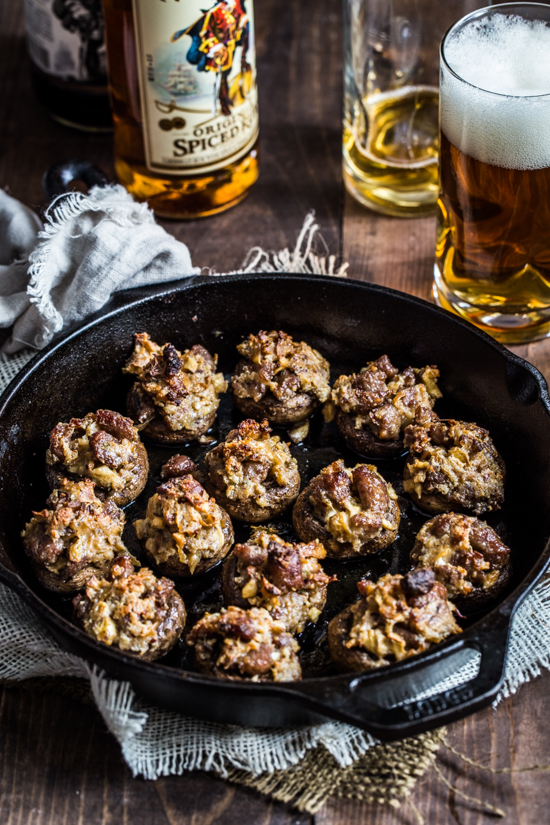 In fact, this is my last entry for the Captain Morgan Captain's Table Challenge. Remember, Captain Morgan will donate 1 dollar to WhyHunger for every time the #hashtag #CaptainsTable is used over social media. This will continue through the weekend, so be sure to share any rum infused goodies and cocktails that you whip up this weekend for the big game. Every share will help! And if you're looking for ideas, try my Sausage Stuffed Mushrooms, because seriously, they're awesome. Tomorrow, I'll be sharing my #CaptainsTable football inspired cocktail, so be sure to stop back.
You don't want to miss it!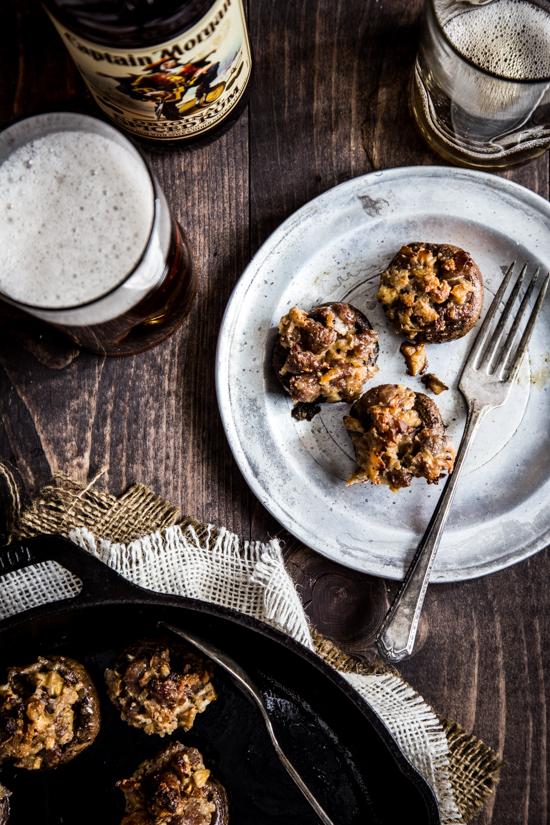 Happy Monday!
**Disclosure: Captain Morgan provided me several bottles of their rum to use in my recipes as well as reimbursement for recipe ingredients. As always, all opinions are my own. 
Sausage Stuffed Mushrooms Recipe
Yield: 20 mushrooms
Prep Time: 20 minutes
Cook Time: 30 minutes
Total Time: 50 minutes
Ingredients
20 stuffer sized mushrooms (2 - 14oz packages), stems and caps separated
2 Tablespoons extra virgin olive oil
3 Tablespoons Captain Morgan Original Spiced Rum
For the Filling
2 teaspoons extra virgin olive oil
1 shallot, minced
mushroom stems, chopped
12 oz sweet breakfast sausage, casings removed (I used brown sugar and honey sausage)
pinch of crushed red pepper flakes
2 Tablespoons Captain Morgan Original Spiced Rum
3 oz cream cheese
2 Tablespoons parmesan cheese, grated
1/4 cup seasoned panko bread crumbs
Kosher salt and black pepper
Directions
Preheat oven to 450 degrees.
Place mushroom caps in the bottom of a large bowl. Drizzle with 2 tablespoons olive oil and 3 tablespoons Captain Morgan Original Spiced Rum. Sprinkle with salt and pepper and toss to coat mushroom caps well. Allow to marinate while preparing the filling.
Heat a large non-stick skillet over medium heat and add remaining olive oil. Add shallots and chopped mushroom stems, sautéing until beginning to soften. Add sausage and cook until browned, breaking it apart with a wooden spoon. Sprinkle in crushed red pepper and stir. Add remaining rum and bring to a simmer, allowing the rum to reduce down by half. Stir in cream cheese and cook until cheese has melted into the filling mixture. Stir in parmesan cheese and bread crumbs, season with salt and pepper and remove from heat.
Spoon filling into mushroom caps and place in baking dish, or large cast iron skillet. Bake for 30 minutes or until mushrooms are cooked through and filling is golden. Enjoy!