butternut squash soup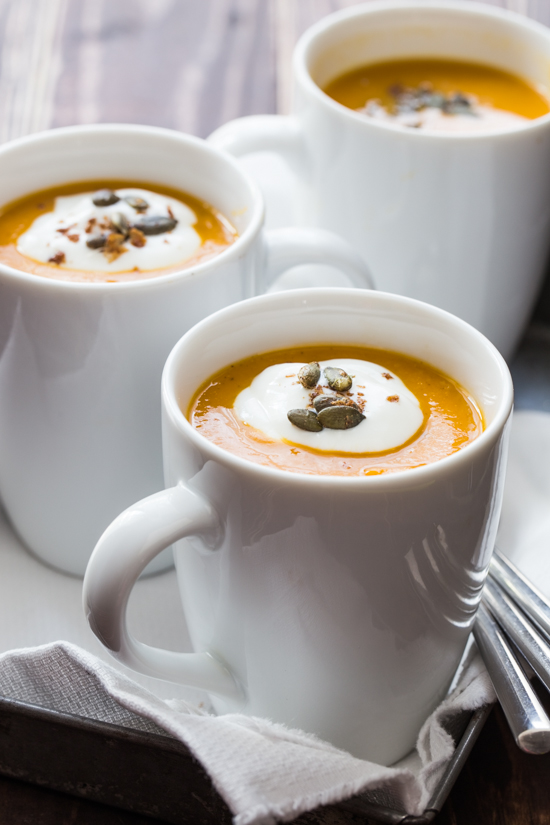 I've been thinking about holiday traditions the last couple of days, and how I realize that I have some very random things that I always find time to do during the holiday season. Some are very specific, like our marathon day of Christmas decorating the day after Thanksgiving. Every year, the tree is up by lunch and there is a very cold husband outside wrestling with the 60lb extension ladder in order to hang our beautiful white Christmas lights.
Truth be told, the last few years, I have been out there with him 'holding' the ladder in case it slips. But I question, what would I really do if the ladder slipped and he fell? Would I throw myself under him to cushion his fall? That was my instinct, but one year I mentioned it only to be scolded that you never throw yourself under the person that is falling, because then we would both end up injured and who would call 911?Roger that.
So now when it comes to hanging Christmas lights, I hold the ladder as tight as I can and have the 9 and 1 already dialed into my cell phone, ya know,  just in case.
Knock on wood.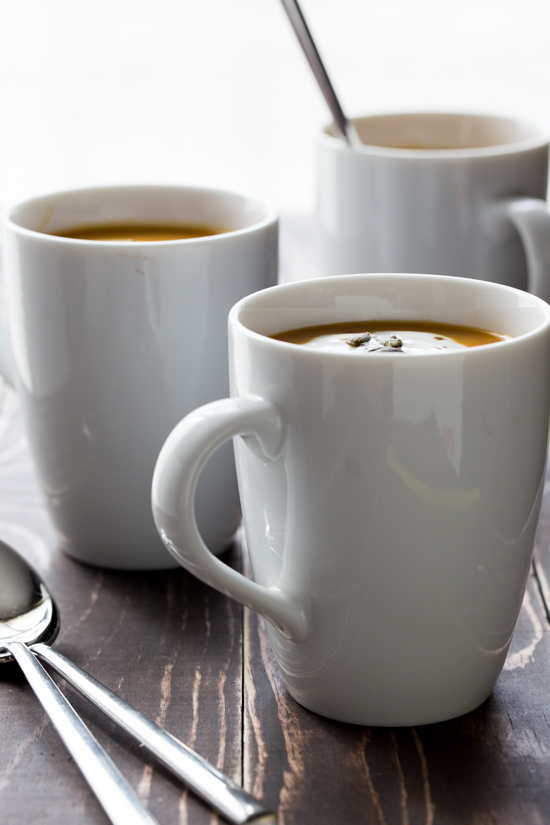 Besides our crazy and slightly dangerous day-after-Thanksgiving antics, during the holiday season I devour cheesy Christmas movies. I'm not kidding, I troll the guide on my Direct TV menu for anything that could possibly be a corny, made for Hallmark channel gem of a movie. Then I get the stink eye from everyone else when I've clogged up the DVR with movies titled, 'Mrs. Miracle' and 'Hitched for the Holidays'. I'm not even sorry.
When it comes to these 'films' I've got my faves, obviously, with The Christmas Card topping the charts. Oh yes, brace yourself for the terrible acting, but man, I can't get enough of that movie. I'm a complete mess when he builds her parents that bench! Oh, and it's on tonight, by the way.
And how dare I forget about my other all time favorite: Comfort and Joy with Nancy McKeon – gah, I love it!
Now, these are just my TV movie obsessions. If we're talking real movies, nothing beats Love Actually. You know I'm right and I'm not even the slightest bit embarrassed to tell you that.
So, if you find yourself at home, curled up on your couch and watching utterly crazy made-for-TV-movies, you will definitely need a little something to eat. You know, to keep your energy up and replenish fluids from all they crying.
Can I suggest a lovely cup of sweet and savory Butternut Squash Soup? You can eat it right out of a mug which makes it ultra easy to eat while binge watching Christmas movies. Or so I've heard…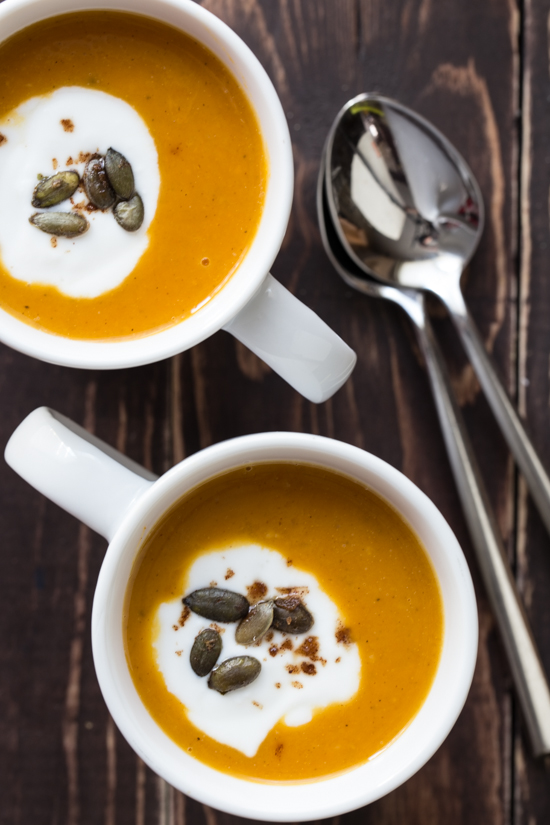 Be sure to head over to My Baking Addiction for the complete recipe for my Butternut Squash Soup.
Happy Wednesday!