candy corn bark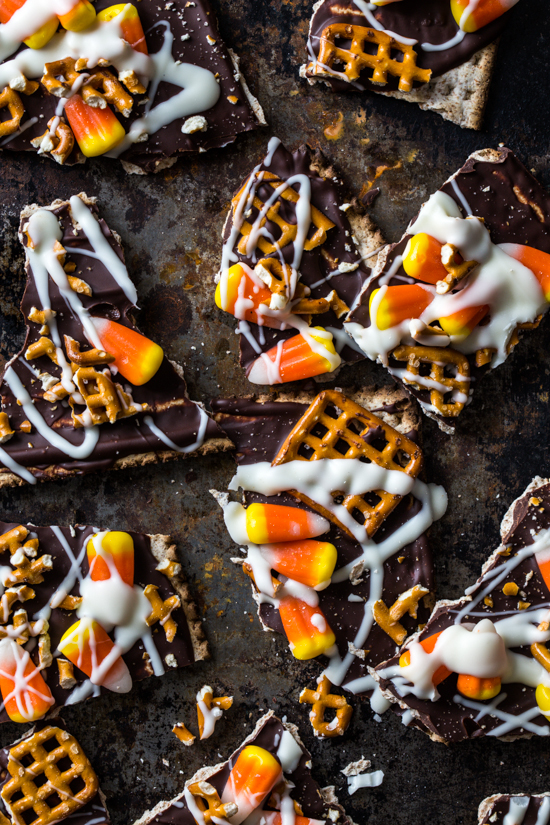 I don't know about you, but I love a quick holiday treat. When Halloween comes around, I feel like I have two different personalities dueling it out inside of me. The one side loves to get into *somewhat* involved treats. Not necessarily difficult, but snacks that have cutesy details and multiple steps. Sometimes that complicated side gets me into a bit of trouble. Her overachieving ways often come back to bite us all.  She means well, though. At least that's what I tell myself.
My Mini Chocolate Dipped Caramel Apples are a good example of her involved treats. There is nothing difficult about them, but there just several steps and some wait time that go into making them.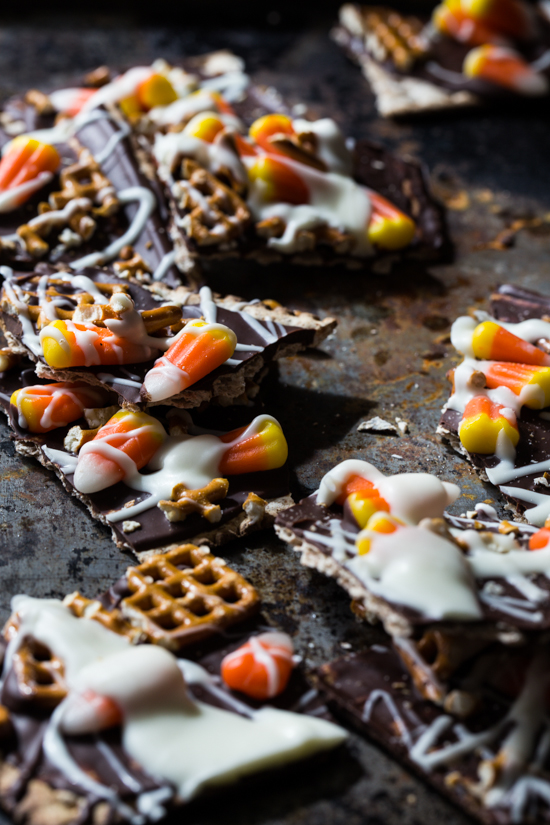 In high contrast to my ambitious side, there's my simple side. The side that wants something that looks cutesy and festive, but in reality, only wants to spend about 10 minutes in the kitchen. Because in reality, these 10-15 minute desserts are life savers when you find out that you need to bring a treat to a Cross Country Banquet on a weeknight in between getting dinner ready, helping with homework and still trying to get everyone to bed at a decent time. Caramel apples are out of the question on those nights. Those nights are when I need this quick and easy candy corn bark that can be put together in less than 15 minutes.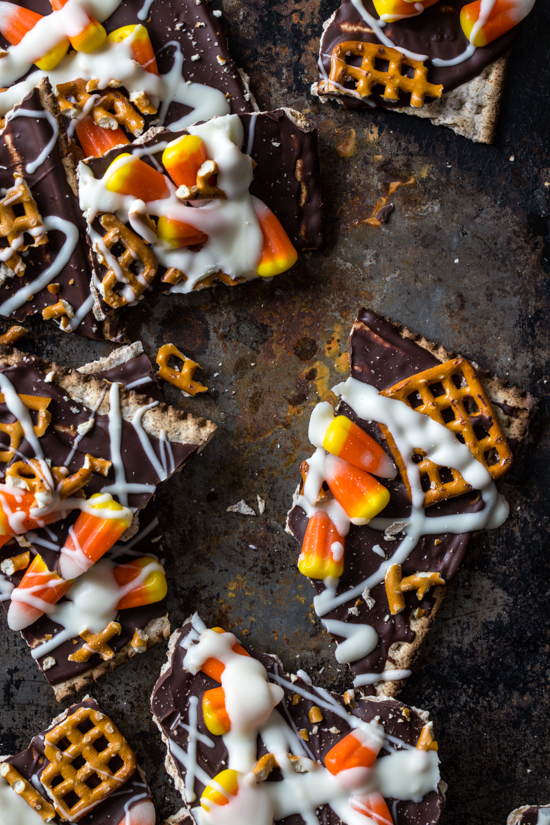 To make this candy corn bark, I put a spin on my favorite matzo bark, which uses matzo crackers as the base for the chocolate and goodies. I love using the matzo crackers because it cuts down on the over-the-top-sweetness of chocolate bark and it also keeps things from getting too melty while you're eating it. When feeding this to kids, that's a major plus.
Speaking of kids, mine went a little batty over this. They love it. They call it 'Halloween Bark' but I wouldn't dare pigeon hole this into October. Feel free to make this well into November when the autumn mix candy corns are still going strong in the stores. You would also get zero judgement from me if you decided to chop up some of those sweet little mellocreme pumpkins and threw them onto the bark.
Oh baby, do I love me some mellocreme pumpkins.
Anyway.
It just so happens, that I have a bit of this bark left over from making a batch for the Baby's classroom birthday treat yesterday. That's what's called 'winning at Wednesday', my friends.
Make the candy corn bark into a t-shirt. Win, win. win.
I'll give you a piece of bark if you can name the show 🙂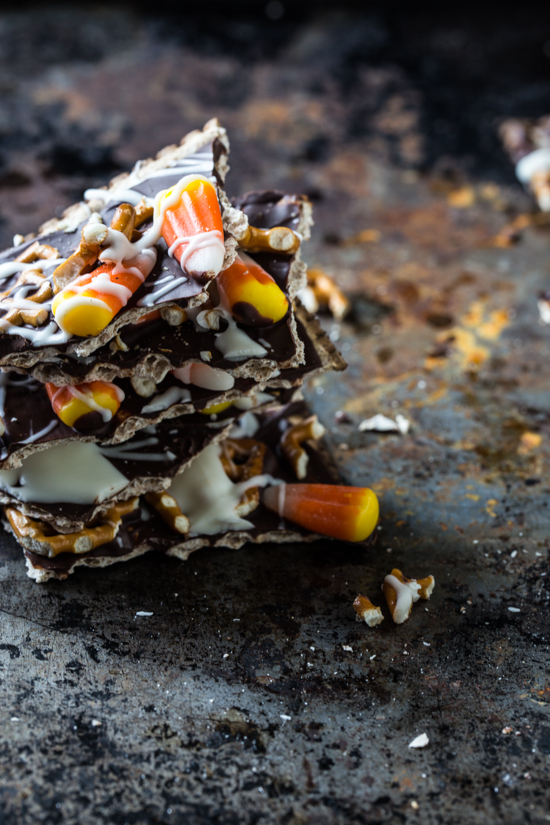 Happy Wednesday!
Candy Corn Bark Recipe
Yield: serves 20
Prep Time: 10 minutes
Cook Time: 5 minutes
Total Time: 15 minutes
Ingredients
5 matzo crackers (I used whole wheat)
10 oz dark chocolate chips
1 cup candy corn
1 cup pretzels, crushed
1/2 cup white chocolate chips
1 teaspoon coconut oil
Directions
Lay matzo crackers out on a rimmed baking sheet.
Pour dark chocolate chips into a microwave safe bowl and microwave on 50% power, stirring frequently until chips are almost melted. Remove from microwave and stir chocolate until totally smooth. Use a spoon to spread chocolate over matzo crackers in an even layer.
Sprinkle wet chocolate with candy corn and crushed pretzels.
In another small microwave safe dish, microwave white chocolate and coconut oil on 50% power, stirring frequently until chips are almost all melted. Stir until smooth. Use a fork to drizzle white chocolate over the top of the bark. Chill until chocolate is firm. Break bark into pieces and serve!
Notes:
Leftover bark can be stored in an airtight container at room temp or in the fridge.