Chicken Couscous Quesadillas
Need to mix up your weeknight dinner? Try these quick and easy Chicken Couscous Quesadillas!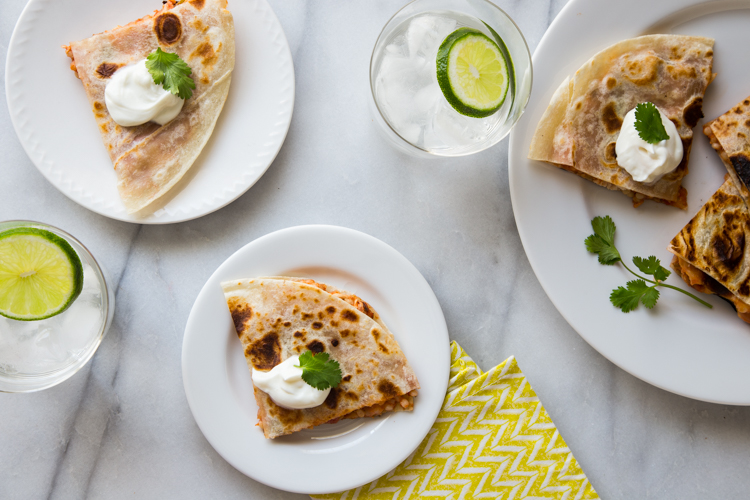 This post is sponsored by Sargento Cheese. All opinions are my own.
Starting in college, I had a fascination with cooking shows. My mom and I would sit and watch show after show and get inspired to try new dishes and foods in the kitchen. I studied how the chefs would hold their knives and picked up on endless cooking basics such as how to peel garlic by smashing it with the side of your knife or how to properly break down an onion.
You should have seen the way I used to cut onions. Let's just say it was a mangled mess.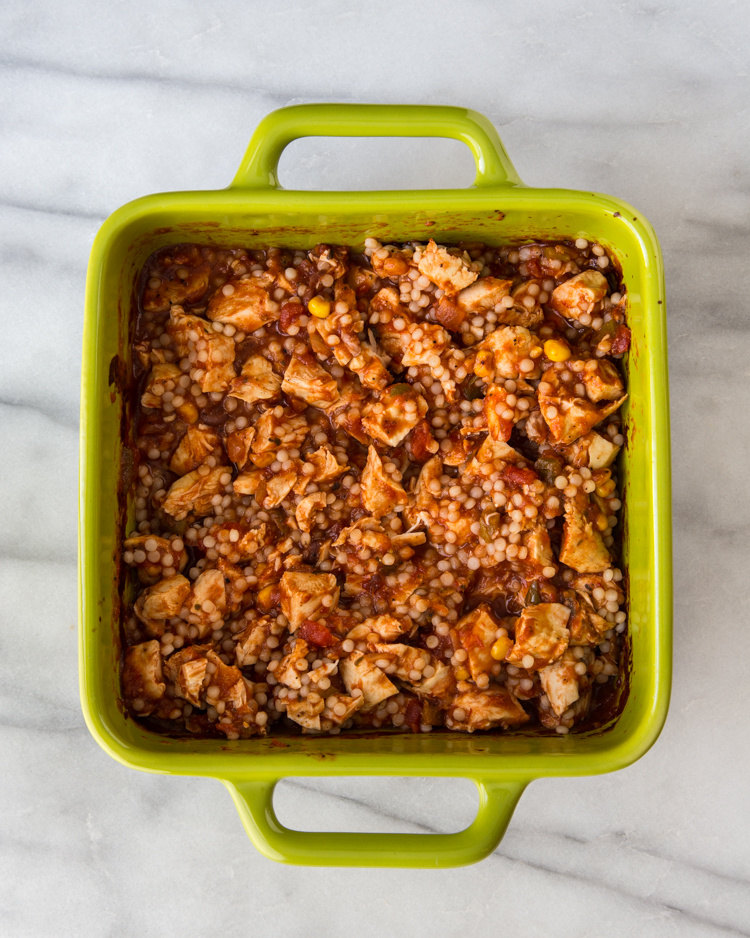 Fast forward about ten years. My love of cooking had grown exponentially but I still was obsessed with cooking shows. Plus, a new style of show had emerged by that time: cooking competition shows. I was so into these shows that my family and I thought it would be incredibly fun to hold our own annual Chopped style cooking competition.
Imagine eight people packed into a kitchen with every burner going and pretty much every surface covered with whisks, knives and cutting boards with a menagerie of kids running through their legs.
Yeah, it can get pretty wacky. But that's what we love about it!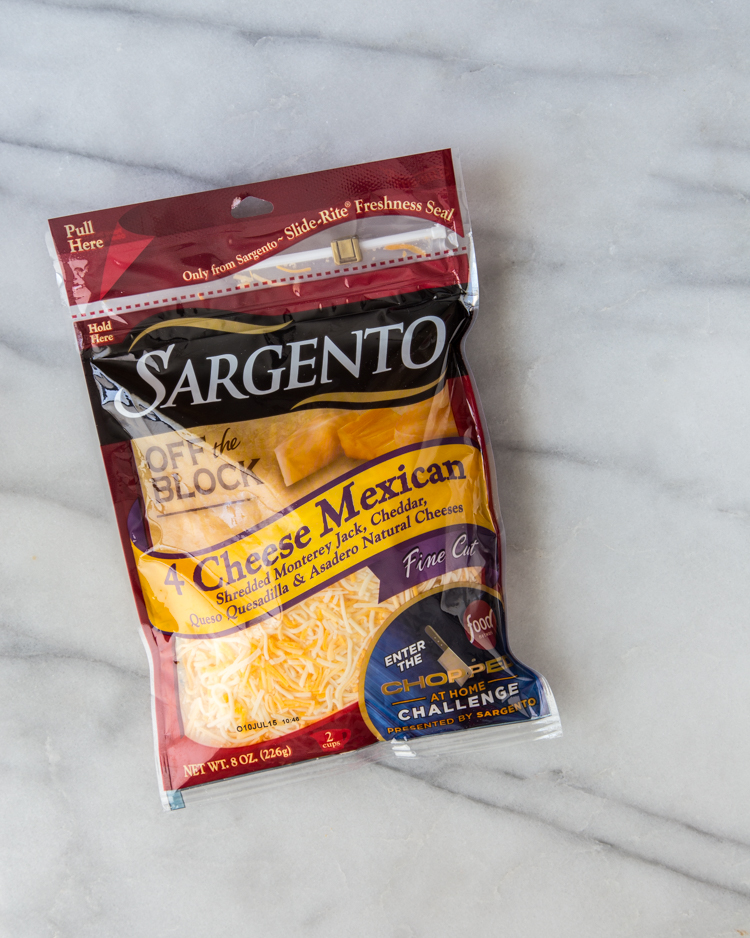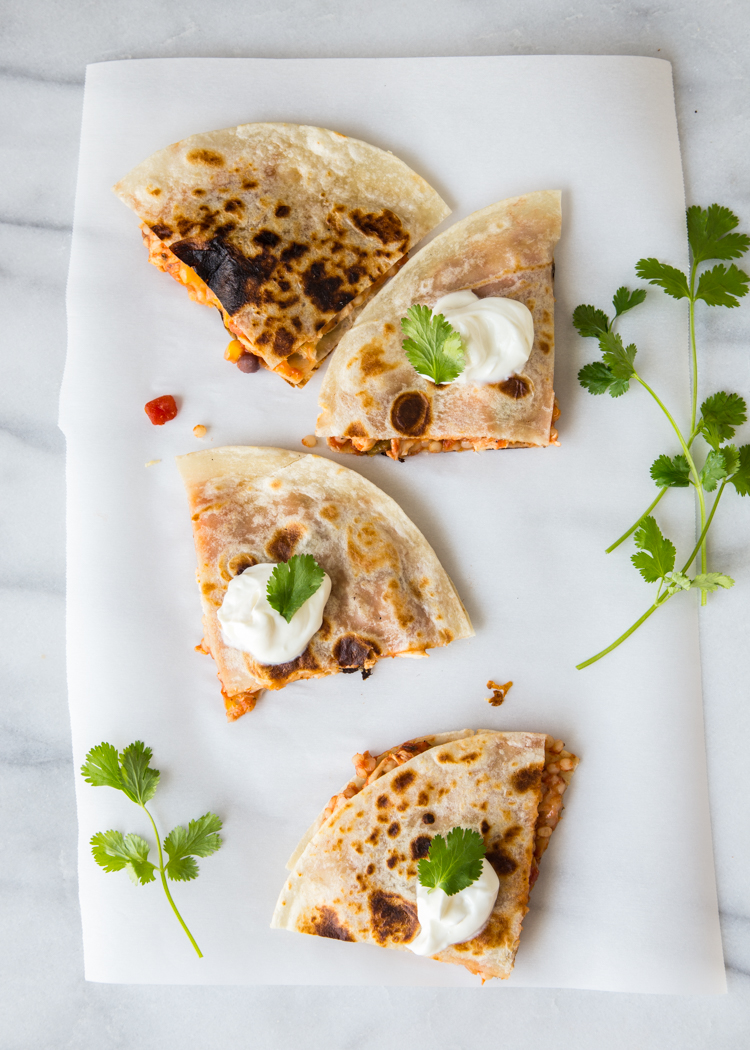 For my dish, in true Chopped fashion, I was given the ingredients of boneless chicken tenders, salsa, couscous and Sargento Off the Block 4 Cheese Mexican to work with. Not too shabby and with that list, I knew quesadillas would hit the spot.
In our house, we have quesadillas several times a month. Whether it's for lunch or dinner it's just a meal that always sounds good. For these Chicken Couscous Quesadillas, I simply baked the boneless chicken tenders with some salsa before mixing them together with my favorite pearl couscous. The couscous added some substance a great texture to the filling, but the star ingredient has to be the shredded cheese. A bit of cheese on each side holds the quesadilla together and the 4 Cheese Mexican blend from Sargento adds the perfect cheesy flavor to this recipe.
When it comes to the salsa, I used a mild black bean and corn salsa, but you can use whatever is your family's favorite. Top off these cheesy bites with a bit of sour cream and a sprinkling of cilantro leaves and you're good to go.
I would say this is a winning dish!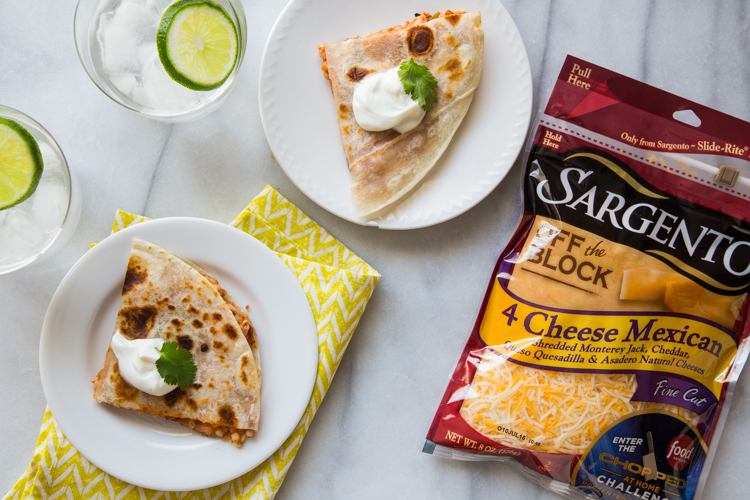 Happy Wednesday!
Chicken Couscous Quesadillas Recipe
Yield: 4 servings
Prep Time: 5 minutes
Cook Time: 35 minutes
Total Time: 40 minutes
Ingredients
1 lb boneless chicken tenders
1 1/2 cups salsa (spicy or mild)
1/2 cup pearl couscous, cooked according to package directions
8 flour tortillas
8 ounces Sargento Off the Block 4 Cheese Mexican
1/4 cup low fat sour cream
2 tablespoons cilantro leaves
Directions
Preheat oven to 350 degrees. Place half of the salsa in the bottom of a square baking dish. Layer chicken tenders over the salsa and top with remaining salsa. Bake for 15-20 minutes or until chicken tenders are cooked through. Remove from oven and cut chicken into pieces. Return to baking dish with salsa and stir in couscous.
Heat a cast iron skillet over medium high heat. Place one tortilla in the hot skillet and top with 1 ounce of cheese. Spread 1/4 of the chicken mixture over the cheese and top with an additional ounce of cheese and one more tortilla. Cook until cheese is melted, taking care not to burn the tortilla. Flip the quesadilla and cook on the second side until cheese is fully melted and quesadilla is heated through.
Repeat with the remaining ingredients. Cut quesadillas into fourths and serve with sour cream and cilantro leaves, if desired.
This is a sponsored conversation written by me on behalf of Sargento. The opinions and text are all mine.