Blackberry Mint Julep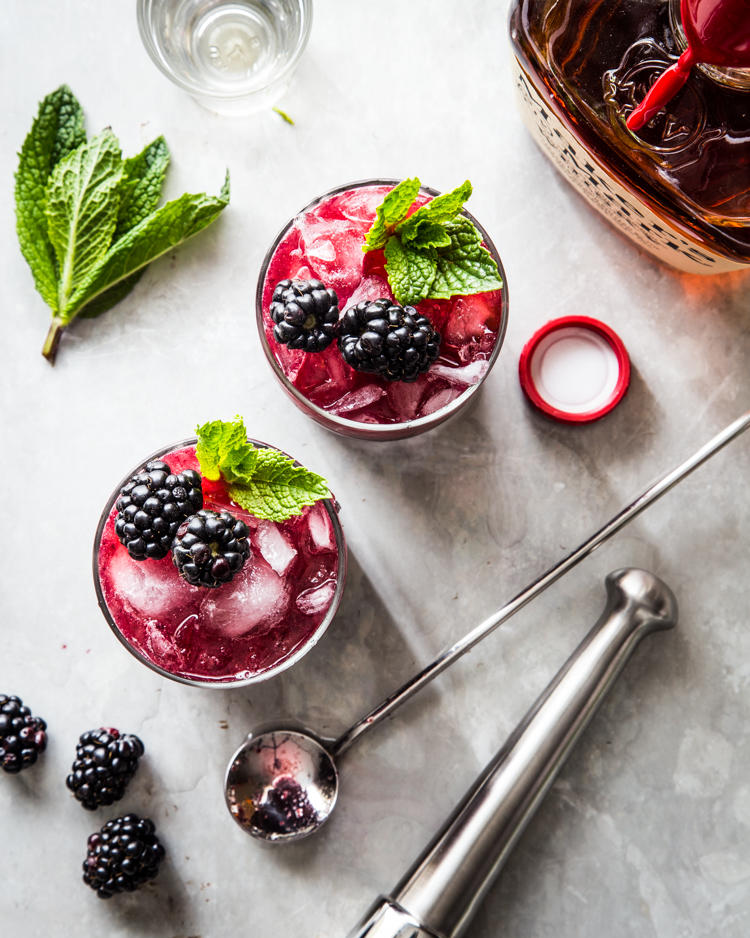 Blackberries. Bourbon. Mint. All of these things spell success in the cocktail world. A few weeks ago, I had the pleasure of traveling South to Birmingham and at one of our dinners, I put together a blackberry bourbon cocktail at the make-your-own-cocktail bar. It was one of the best cocktail decisions I'd made in a long time.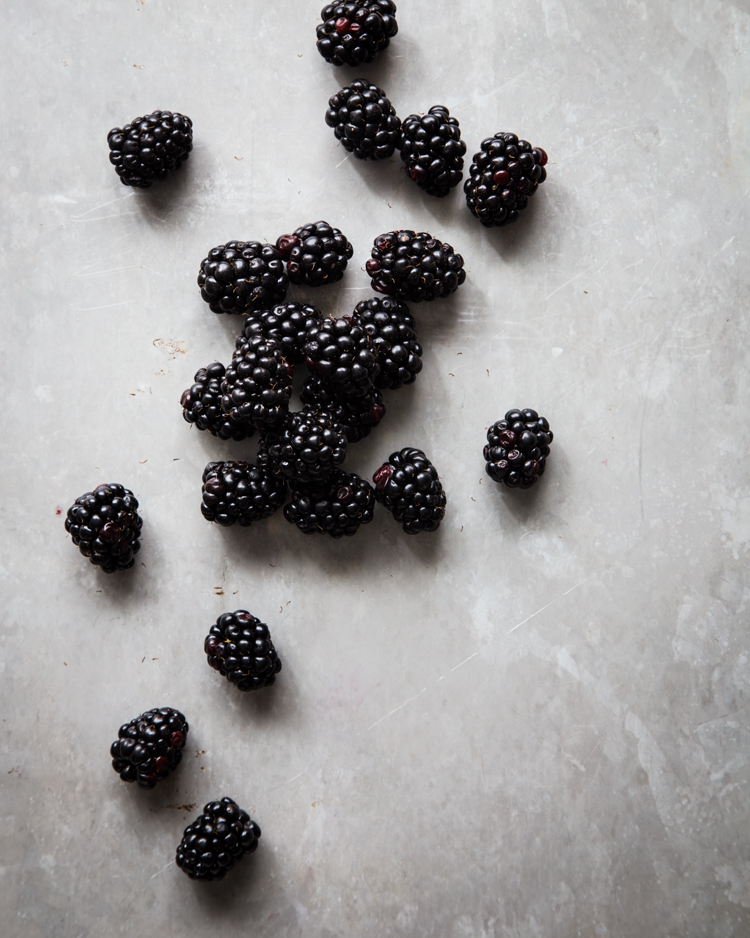 In experimenting and developing cocktail recipes, there are a lot of fails among the successes. Those failures don't get spoken of as much as they should. In fact, let's not think of them as failures but rather learning experiences. Usually it's a tweak of an amount or an addition or an elimination of an ingredient all together.
Some things work together and some flat out don't.
This blackberry mint julep had it's roots in my Birmingham cocktail, but needed a few tweaks before it was to my liking.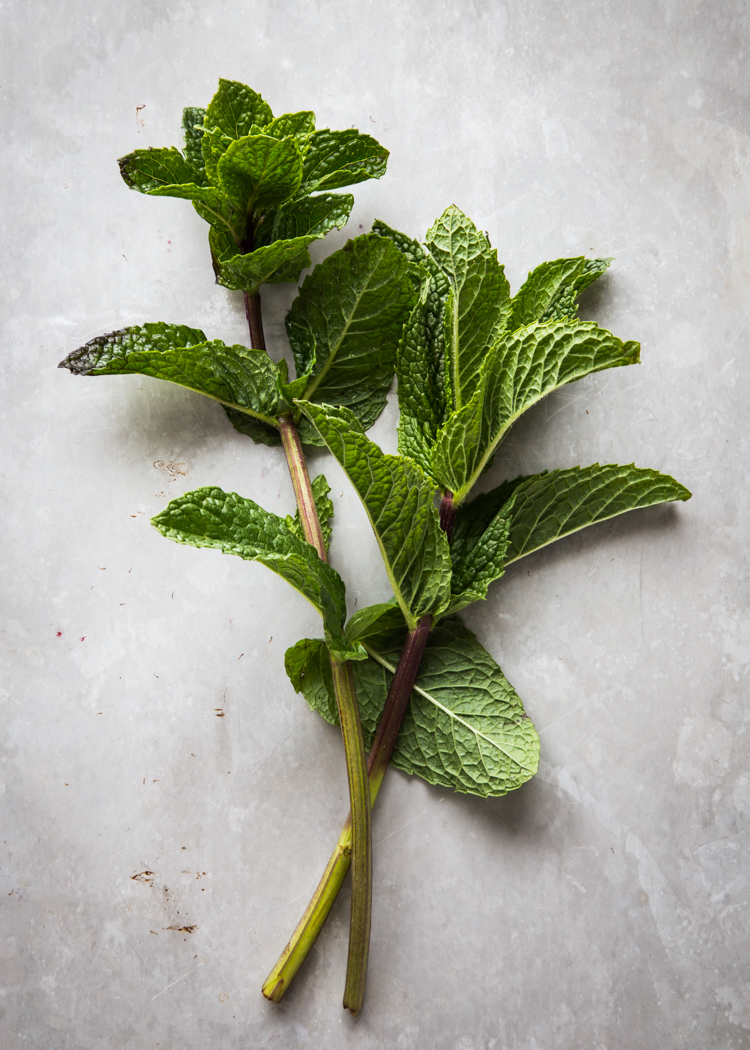 My first go-around I used blackberry puree that was not strained of it's seeds. Boy, that was a big mistake. I was chomping on seeds and picking them out of my teeth for hours.
Yeah, no. This was not my idea of a relaxing bourbon experience.
For my next round, I used a strained blackberry puree, but sugar cubes for sweetness – which I also used the first time, but was so distracted by the seeds I could not accurately judge the flavor of the cocktail itself. This was much better, but the flavors were a touch muddy and I was losing the mint and blackberry notes to the strong, but smooth, bourbon.
Finally, I tried the same cocktail but with simple syrup in place of the sugar cubes and the light went on. This was the combination that I was searching for. Smooth bourbon, cool mint, fruity but tangy blackberry with a touch of clean sweetness from the simple syrup. All of the flavors blended, but stayed separate and unique, allowing me to pick up notes of every element in each sip.
So three rounds of testing is what it took me to perfect this drink, but often it's more and occasionally less. It's always worth it. A Mint Julep is nothing but a leisurely drinking experience. Heavy on bourbon, it's meant to be enjoyed over a period of time. With the Kentucky Derby right around the corner, I am planning on entering my Blackberry Mint Julep into the #JulepOff contest sponsored by Maker's Mark. The winner will receive tickets to the Breeders Cup and get to tour the Maker's Mark distillery. So awesome!
Funny story – when I was planning my recipe this weekend, I caught an episode of How It's Made where they featured Maker's Mark Bourbon! I couldn't believe it! I also love how the bourbon starts out clear and is aged for seven years in barrels and that's when it develops it's rich amber color. They also showed how the bottles are dipped by hand into wax for that signature read wax seal. So cool!
Anyway, back to the contest!
I will be up against some pretty amazing spins on the classic julep and you can help me out by repining my recipe (pin can be found here) from the designated Pinterest board. Any re-pins and likes are much appreciated!
In the meantime, be sure to make yourself your very own Blackberry Mint Julep this weekend. You'll be glad you did!
Thanks guys!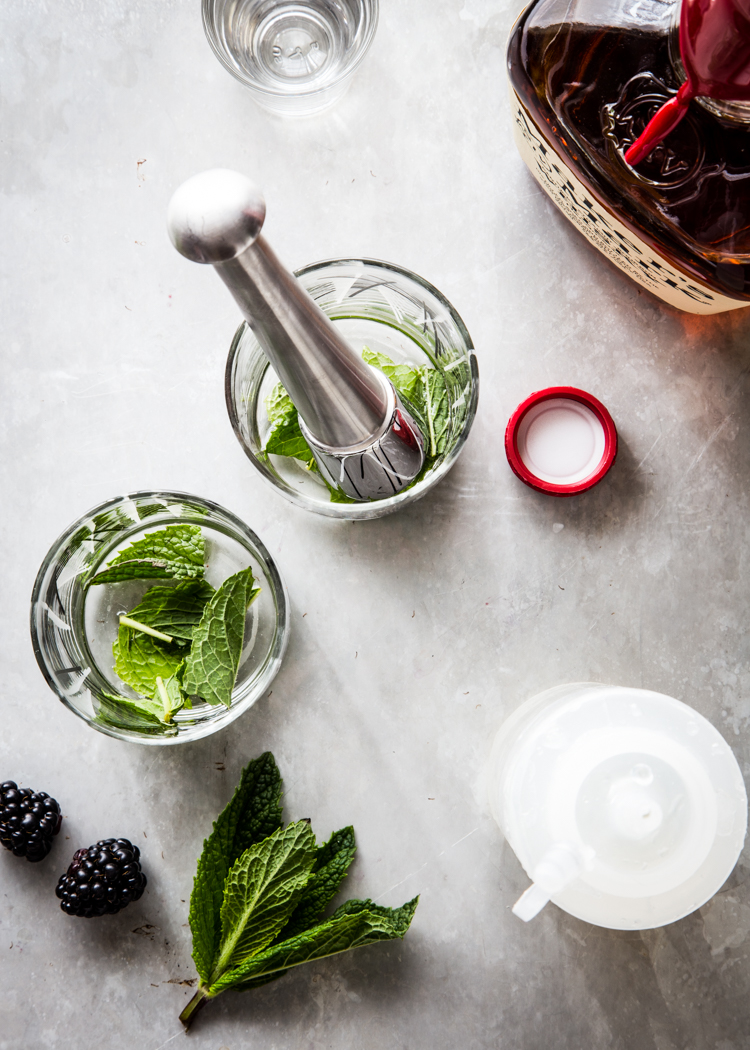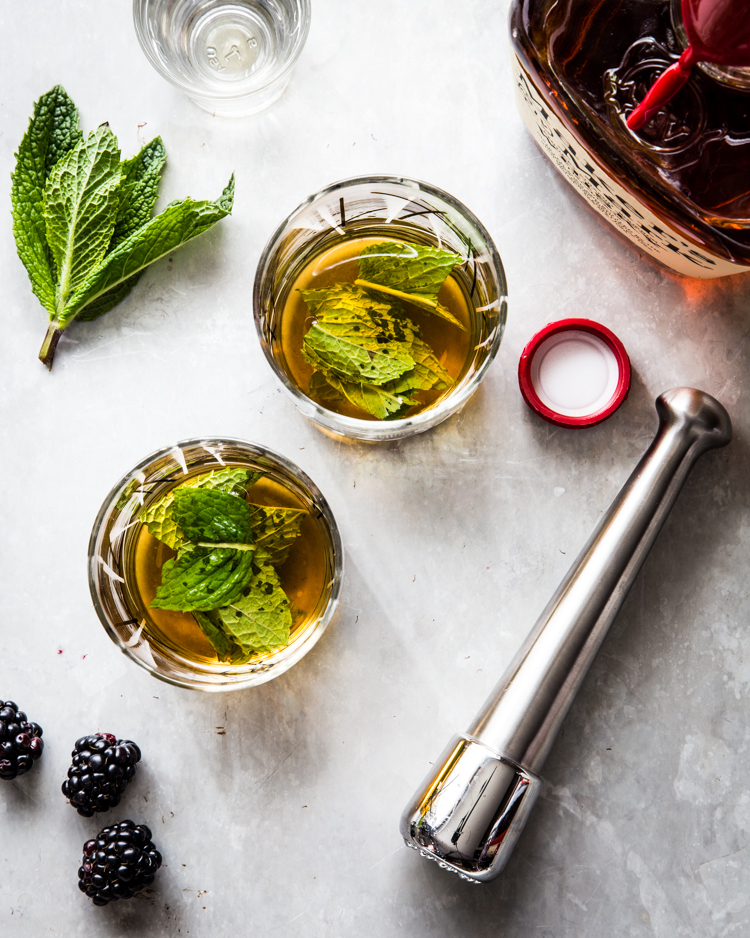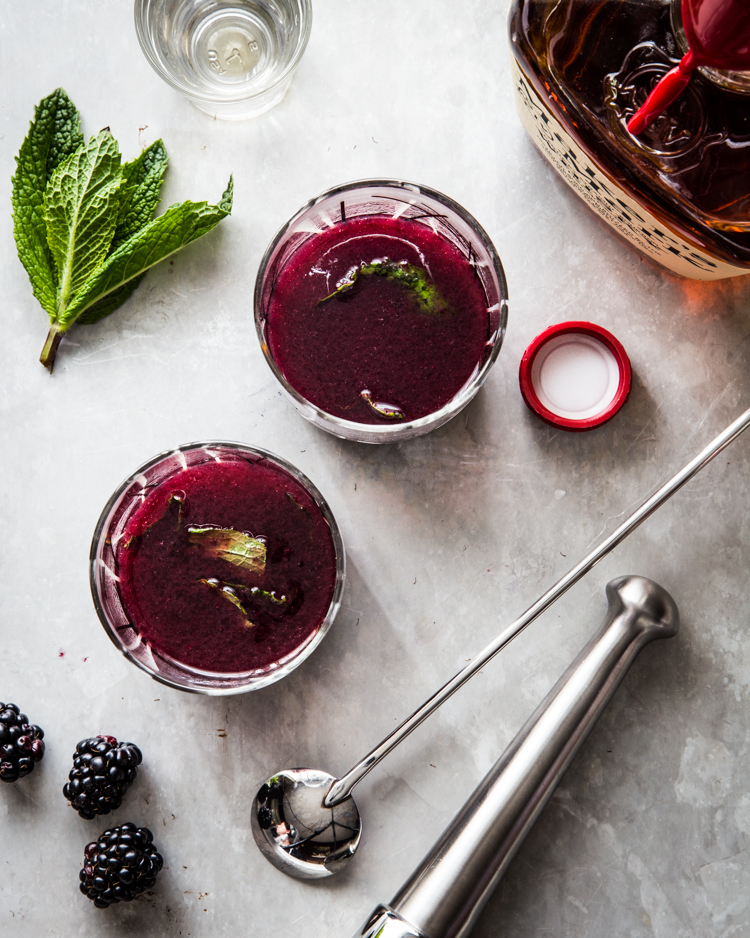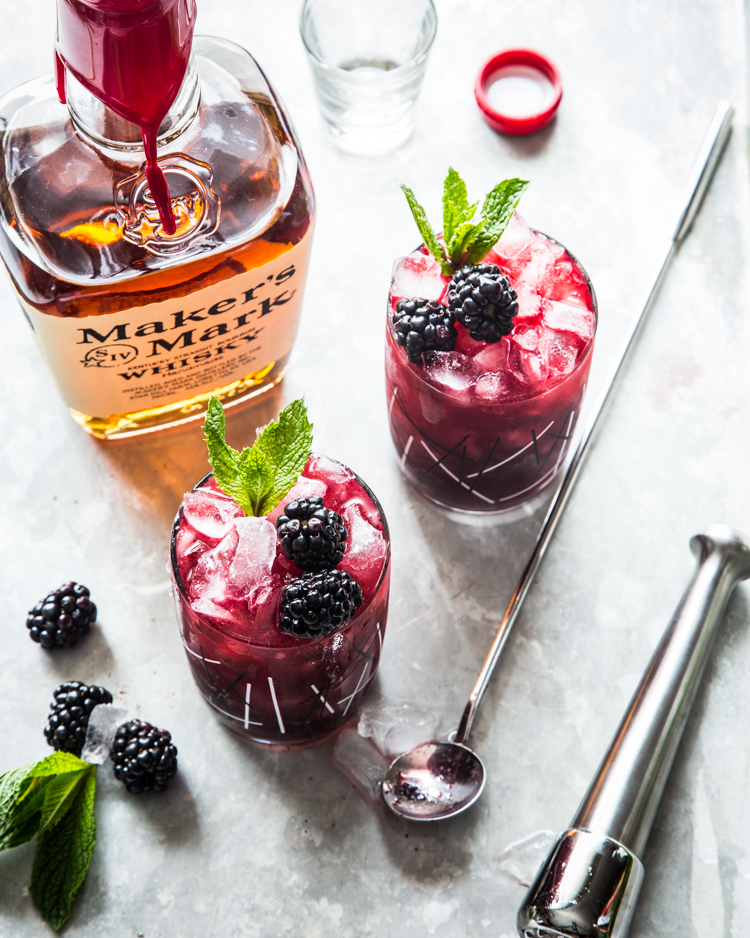 Happy Cocktail Thursday!
Disclosure: I received a bottle of Maker's Mark in order to participate in the contest. All opinions are my own.
Blackberry Mint Julep
Yield: 1 cocktail
Prep Time: 10 minutes
Total Time: 10 minutes
Ingredients
For the Blackberry Puree
2 6-ounce containers of blackberries
1-2 Tablespoons of water
For the Blackberry Mint Julep
1/2 ounce simple syrup
4-5 small mint leaves (or 2 large, torn)
2 1/2 ounces Maker's Mark Bourbon
1 ounce blackberry puree
blackberries and mint leaves for garnish
Directions
Make the Blackberry Puree
Place blackberries and water in a high powered blender and blend until smooth. Pass through a fine mesh sieve using the back of a spoon to coax the mixture through the holes. Discard seeds and pulp.
Make Blackberry Mint Julep
Place simple syrup and mint leaves in the bottom of a julep glass or double old fashioned glass. Muddle gently to release the oils of the mint, but do not shred the leaves. Add Maker's Mark and blackberry puree. Stir gently to combine. Fill glass with crushed ice and stir until sides of glass are nice and frosty. Top with more crushed ice and garnish with a mint leaf and a few blackberries. Serve!