cocktail glasses | styles and sources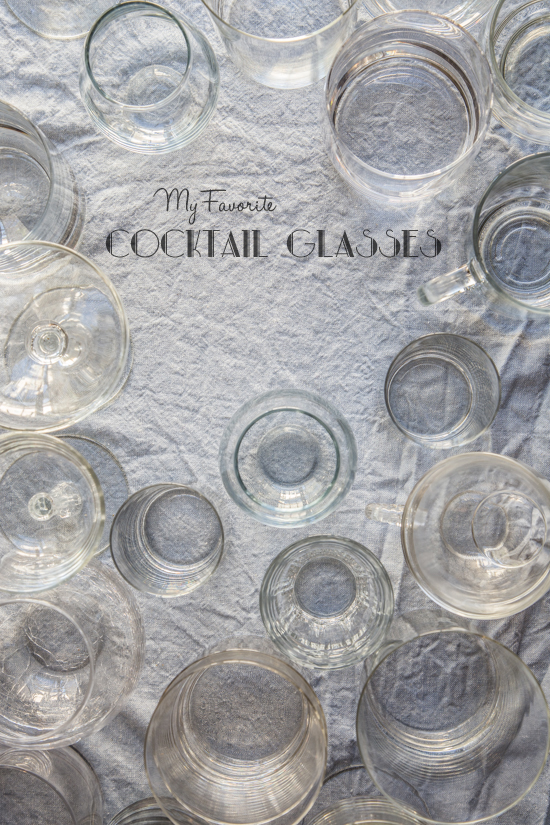 It's Cocktail Friday and I've got a little something special today. I have received several emails and comments as of late, regarding different cocktail glasses that are featured in my posts. As someone who is always on the hunt for lovely dishes, glasses and flatware – partly for my photography and partly just because it's an obsession of mine – I thought it would be fun to share where I've found some of my very favorite glasses. So whether you're a fellow food photographer, blogger or cocktail enthusiast, I hope this helps shed some light on some great (and inexpensive) resources for barware!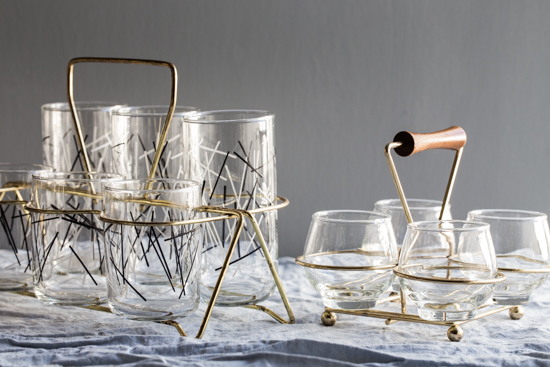 As you'll see, many of my favorites are vintage. Great places to source vintage glasses are Goodwill, Savers, Antique Malls, Etsy and garage sales. The trick to finding great vintage barware is patience. You've got to have some time and be willing to search. Your hard work and patience will pay off with some killer barware finds, let me tell you. For everything here that is not vintage, I've tried to link to the source, if it's still available. If not, you can come to my house and enjoy a few cocktails out of my glasses. I'll even let you take a selfie with them, if you're into that sort of thing.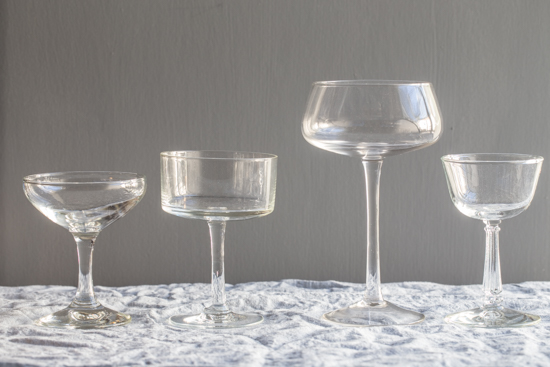 Let's chat stemware. There are endless styles and sizes of wine glasses, but I'll leave those for another post. Today, I want to talk about coupes and coupe-like cocktail glasses. These are my 4 favorite coupe glasses. I tend to serve cocktails that are shaken in a cocktail shaker but don't require additional ice in these lovely ladies. The first two coupe glasses on the left are vintage, and I actually found them at Goodwill. If memory serves, I paid about $.50 a piece on them. Not too shabby. Same for the coupe on the right. Vintage, Goodwill, less than a dollar.
The tallest glass, second from the right, I recently picked up from CB2. They are lovely and not too expensive either, currently on sale for $3.99 a piece.  I recently used these for my Aviation Cocktail – which is a favorite in our house. Plus, these glasses are downright adorable.
For examples of coupe-glass cocktails take a look at my 3G cocktail, Candy Cane Martini and Rum Clementine Cocktail.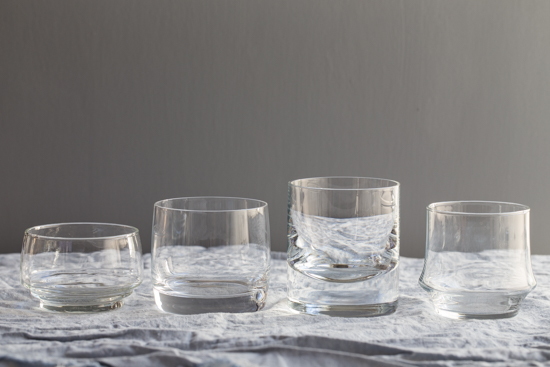 Low Balls! Low Ball glasses can seem so boring at first glance, and it's tricky to find ones that have a bit of flare to them. I always keep an eye for anything that is slightly unique. Either a squatty base, or a uniquely curved side. Something that will catch an eye. These glasses are prefect for cocktails with ice and very little mixers, as their capacity is not very large.
Starting on the left, the first glass is vintage and I picked up a set of 5 (weird number, I know) at the Antique Mall near my house. These are so short, but can make any cocktail very interesting looking. Check them out in my Salty Dog cocktail.
The second glass from the right is one of a set of 4 Food Network brand rocks glasses that I picked up at Kohls. I love these! Something about the squat stature and wide mouth is just awesome. They work great for my Watermelon Rum Punch and my Frozen Strawberry Margaritas. Not to mention my Stockyard Pony. They got quite the workout this summer.
The third glass from the right are the low ball glasses that we got when we were married 9 1/2 years ago. We got them from Crate and Barrel. While they don't seem to have the same exact ones anymore (shocking, I know) these look quite similar. Also, when I went hunting for these I came across a dozen other glasses I need and had to tear myself away.
Last but not least, another great vintage find! This time from Goodwill. I have 4 of these and I love how the kick out at the bottom. Plus, they're stackable! They were perfect for my roasted peach bourbon cocktail.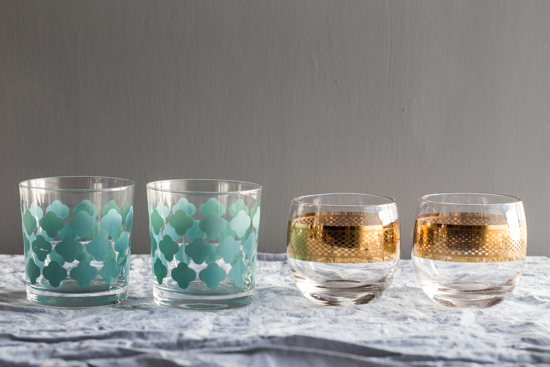 I don't have many colorful glasses, because it seems as with most things, I get nervous about color and pattern. I need to break out of my nerves, but it never fails that at last minute, I panic and ditch the color for something neutral. This goes for clothes and glassware, apparently.
These adorable glasses on the left I picked up at West Elm when I was in Long Island for my cousin's wedding this summer. They were too cute to pass up. Plus, they looked amazing showing off my chocolate coffee milkshake. Unfortunately, they appear to have been a summer find and aren't available at the moment.
The glasses on the right were a find from Savers and came in a set of 4. Also very inexpensive (less than $5.00 for the set) and great for on the rocks type drinks.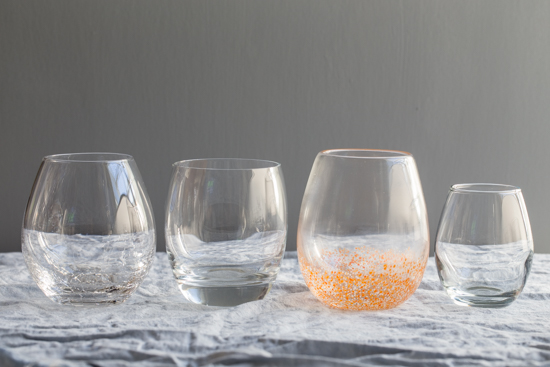 I've never been quite sure what to classify these glasses as, but they are great for smoothies and also fruity drinks like sangria.
The glass on the left is from Pier1, the second glass is from Bed Bath and Beyond (I picked them up off a clearance rack and they don't appear to be available online), the third is from World Market and the last glass on the right is also a vintage find from Goodwill.
The World Market glasses looked amazing with my Grapefruit Mimosas.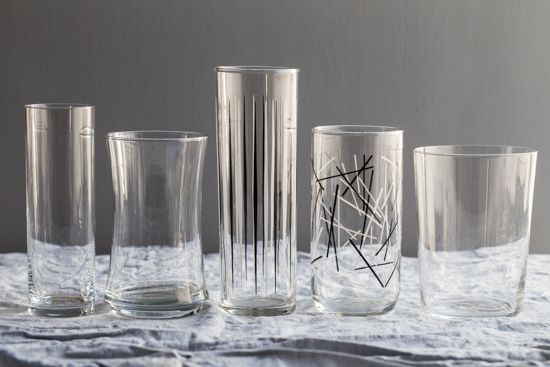 Coolers! These glasses are wonderful for iced teas, smoothies, collins and any highball type cocktails. The glass on the left is actually a cylinder flute that I picked up at CB2. The next glass is a stackable highball from World Market. The glass in the center is from Crate and Barrel (wedding presents once again) and alas, are no longer available. Although if you ever come across them, be sure to let me know because 9 years of wear and tear has the lines on several of mine coming off. It's heartbreaking, I tell ya.
Next are one of my very favorite glasses of all time and it was a vintage set that I found at our local antique mall. IT came with 3 highball and 3 lowball glasses in a gold rack ala Mad Men style (featured in the second photo of the post). I saw these during a trip the the antique mall and fell in love with them but like a fool, didn't get them. So, several months went past and I made another trip out, figuring they were long gone. But nope! There they were as if they'd been waiting for me to come back and get them. I didn't make the same mistake twice. I snatched those up and have never regretted it.
The glass on the right is from Williams Sonoma (although, sadly I can't find them on their site!!) and I have two tall and two short of the same glass. These are in the running for my favorite 'new' glasses because they are just so darn cool. Straight, simple and are perfect for anything. From Bloody Mary's to Gazpacho, these glasses rock my world.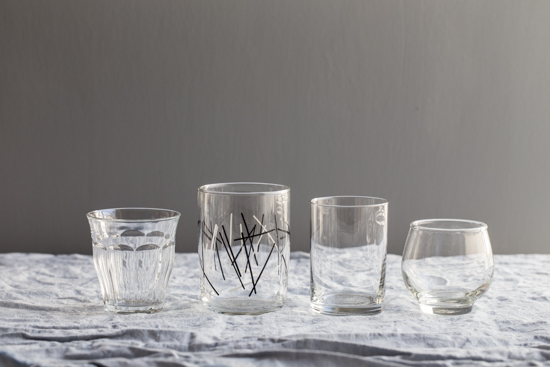 These are some of my little guys and I'm not exactly sure how to classify them, but look how cute?! On the left, are my miniature Duralex Tumblers which are great for little drinks, smoothies and even espresso. I recently featured them in my Pumpkin Spice Mocha post. They are just a sweet little drinking glass, great to dress up or for everyday use.
The next glass is the little sister to the taller vintage glass featured before. So, so cute. I shot my strawberry shrubs in these over the summer and the cross hatch pattern of the lines is so perfectly retro – it was perfect for a shrub.
Next are small little chaser glasses from CB2. I liked them for the size, simplicity and price! These were the glasses that I served my Apple Cider Margarita in last week.
And once again, the last little glass is a vintage find from the antique mall. This glass also came in a set of four in a little gold rack (also featured in the second image of this post). I'm a sucker for full vintage sets.
I hope you've enjoyed my *lengthy* rundown of my favorite barware! There is actually much more, but perhaps I'll chat about that another time. If you have great tips on sourcing killer barware, please leave a comment and I would love to check it out.
Now go get cocktailing!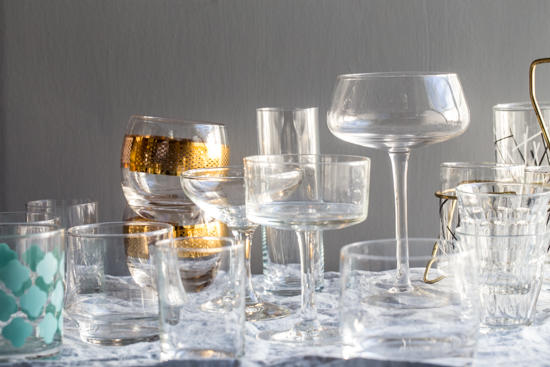 Happy Friday!