caramel espresso martini
For the cocktail and coffee lover, these Caramel Espresso Martinis are filled with decadent HiLine Coffee espresso and caramel vodka and are the perfect ending to a Friday night.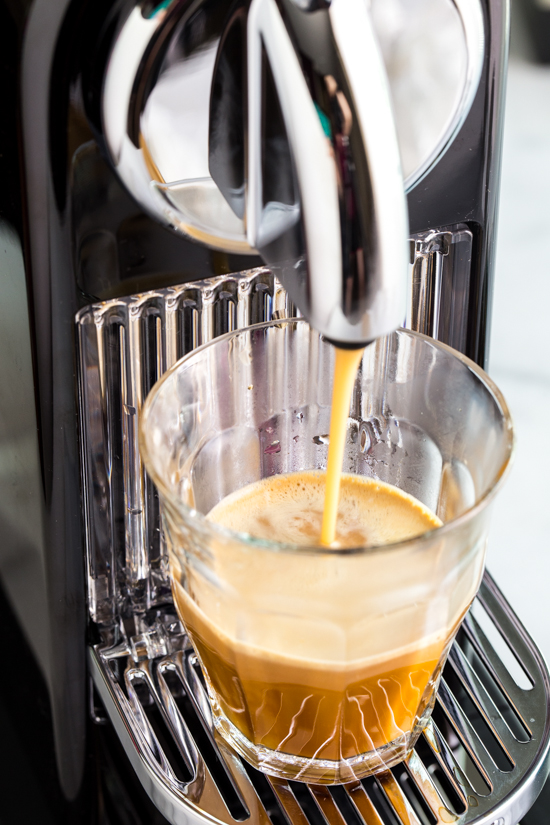 When I have a list of fun and awesome things to talk about in one day, I try to make a list and tick them down, one by one, in order to not forget anything. Today is one of those days. And rather than waste any more time talking about these alleged lists, I want to get right into the good stuff:
1. It's Cocktail Friday, which is quite possibly my favorite recipe sharing day.
2. It's my 2 year blogging anniversary (or Blogiversary if we're feeling clever, which we are) Last year, I also shared a cocktail on this day, so it is fitting that the 2 year mark fell perfectly on Cocktail Friday. I couldn't have planned it better myself!
3. Today's post is all about espresso and it includes an ah-mazing giveaway from HiLine Coffee that you do not want to miss. I'm totally serious.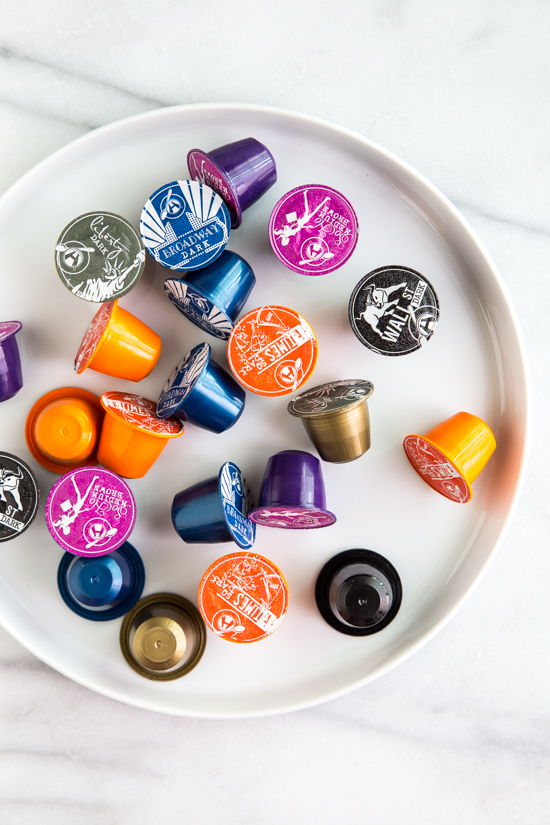 You know me and my all consuming love for coffee. I'm fanatical about it. The entire process of enjoying a cup of coffee draws me in. The choosing of the mug, to the selection of the coffee, the actual making of the drink and at last, the enjoyment of that very first sip.
It's pretty heady stuff.
So when I got the opportunity to try out HiLine Coffee's line of beautiful espresso capsules that are compatible with Nespresso espresso makers and then share it with you…here on Cocktail Friday and my two year Blogiversary, there was no question in my mind. I simply couldn't think of a better way to kick off my third year in this blog-o-sphere than to talk cocktails, coffee and host an incredible giveaway for you, my most loyal readers 🙂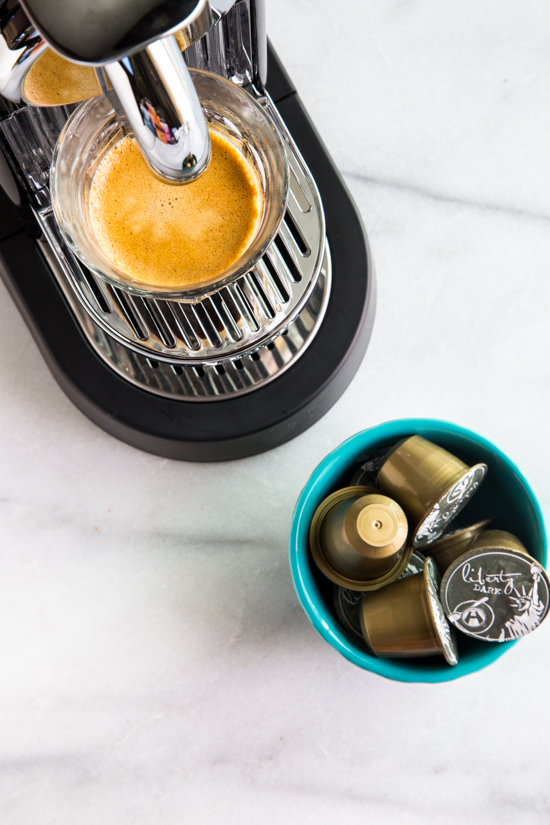 HiLine Coffee specializes in Nespresso compatible espresso capsules which make creating the perfect cup of expresso at home a total breeze. They have New York inspired roasts like Liberty, Wall Street, SoHo, Broadway and Times Square. And cleverness is not the only thing these little capsules having going for them – this espresso is seriously smooth.  I have to admit that I needed to do a little research in some of the espresso terminology to know what size cups to brew and what that gorgeous layer of creamy goodness at the top of the espresso is called.
Check out that crema: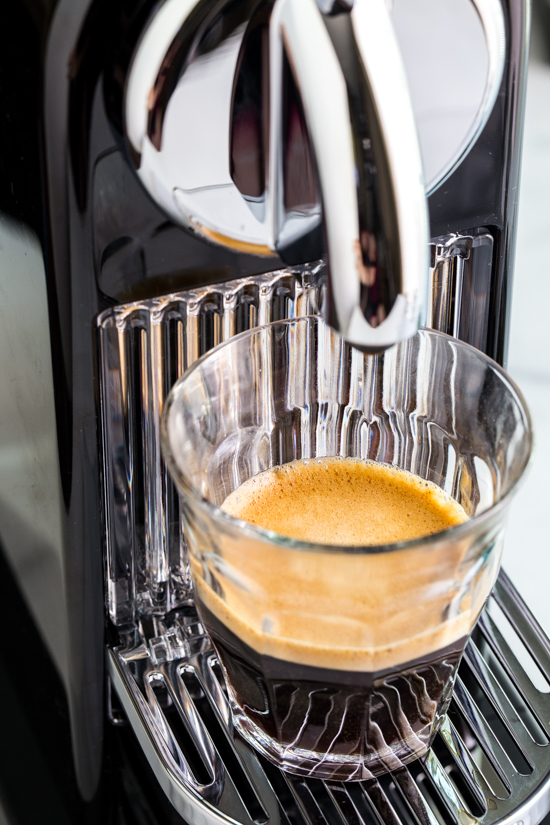 I told you I looked up some terms.
And with those terms came some awesome ideas for fancy coffee house style espresso drinks that I could make right in my own kitchen. I started with a macchiato with foamed milk and the Wall Street roast, which was out of this world. The SoHo was fabulous on it's own and the Broadway made a mean cappuccino. This espresso capsule system is beyond easy and the HiLine Coffee is utterly decadent. I'm happy to see that HiLine also has subscription plans for monthly orders of capsules because I'm eyeballing the Brooklyn roast in a bad way.
I told you my love for coffee was all encompassing.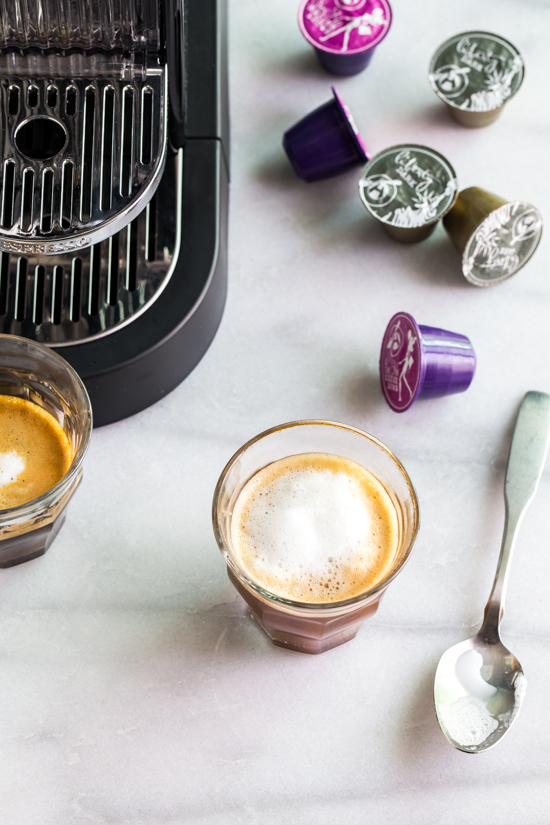 Because it's Cocktail Friday, I also needed to make something extra special in the way of a Caramel Espresso Martini. I used the HiLine Liberty blend and paired it with my favorite caramel vodka. Oh, my goodness, this cocktail has sky rocketed to the top of my all-time favorite drinks.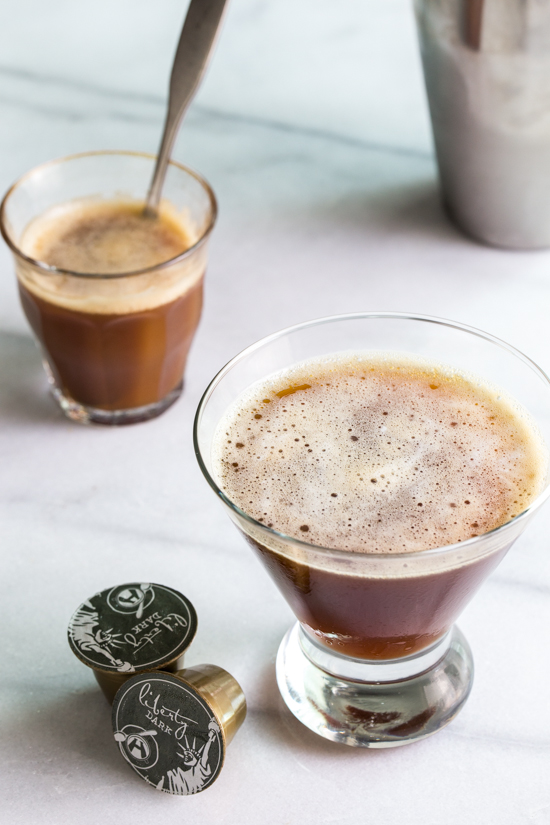 The caramel vodka makes it a bit sweet (which I love) but if you want something a little less so (which my husband did) feel free to use your own favorite, unflavored vodka. It will still be fabulous!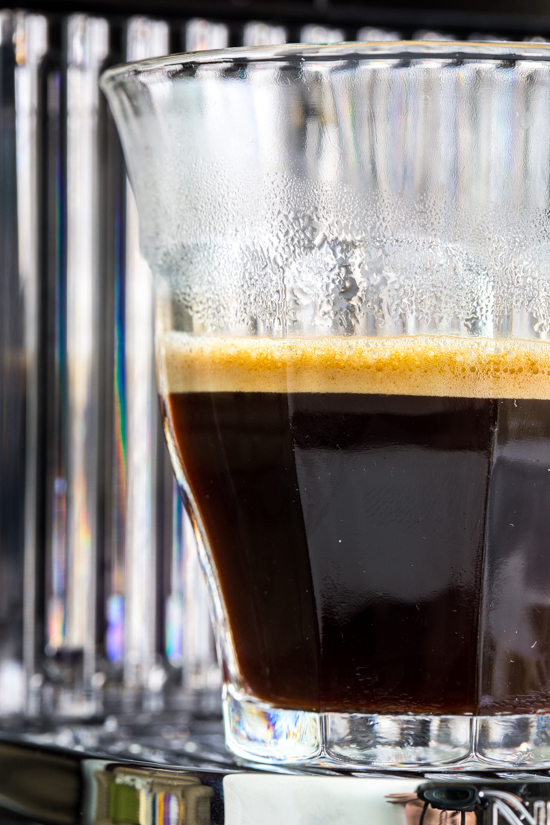 Now for the really good stuff! (Can you tell that my head is going to explode from the excitement?! Perhaps it's the espresso talking…)
***THE GIVEAWAY HAS ENDED – THE WINNER WILL BE ANNOUNCED SHORTLY! THANK YOU TO ALL WHO ENTERED!***
THE GIVEAWAY!
In celebration of my 2 year blog-iversary, I am thrilled to be hosting a HiLine Coffee Giveaway! One amazing Jelly Toast reader will win a Nespresso Citiz Espresso Maker (affiliate link) + $100 worth of HiLine Coffee Nespresso compatible capsules all courtesy of the generous folks at HiLine Coffee. How cool is that?
TO ENTER
Head over to HiLine Coffee's website and browse their variety of roasts. Come back and leave a comment on this blog post telling me which roast you are dying to try! Your comment will enter you for a chance to win this awesome prize (espresso maker + coffee)! One comment per reader. Giveaway will run through next Friday, 8/15 at 6:00 pm EST. Contest open to US residents, only.
**While we're on the subject of giveaways – there is still one more day to enter my Let Them Eat Kale Cookbook giveaway!**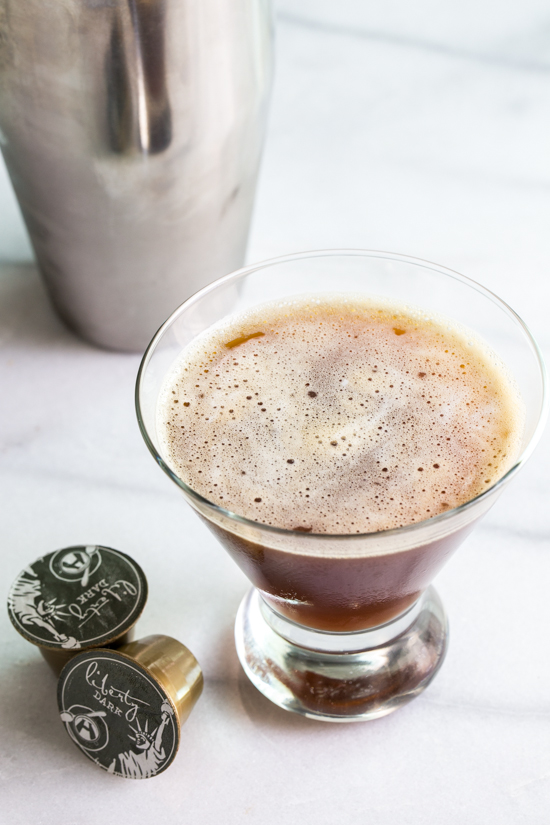 Good luck and have a very happy Friday!!
Caramel Espresso Martini Recipe
Ingredients
1 1/2 ounces HiLine Coffee Espresso (I used their Liberty Blend), chilled
1 1/2 ounces caramel vodka
1 ounce Kahlua
1 ounce creme de cocoa (white)
ice
Directions
Fill a cocktail shaker with ice and add cocktail ingredients. Replace the lid and shake until chilled. Strain into a martini glass and serve. Enjoy!
August 8th, 2014
Disclosure: I received an espresso maker and a variety of coffee from HiLine coffee to sample and review. All opinions expressed are 100% my own.