salted caramel chocolate chip cookies
Bite-sized chocolate covered caramel candies, a drizzle of chocolate and a sprinkling of sea salt amp up the flavor in these Salted Caramel Chocolate Chip Cookies.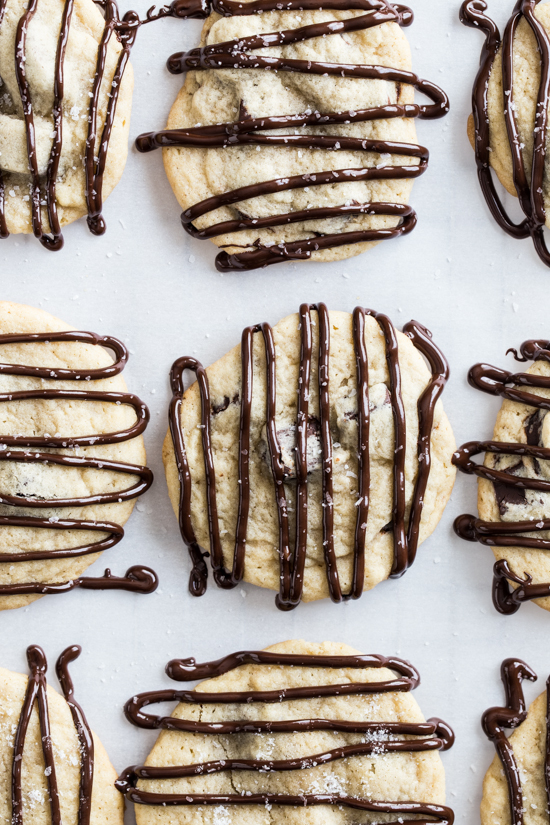 It's almost school time! I have mixed feelings about this, and while I love LOVE having my kiddos home I am never sad to see Fall come around and say, "well hey, there". With Fall, I'm trying to get my ducks in a row as far as school lunches go. Healthy treats like fruit, granola, veggie sandwiches, and yummy hummus are at the top of the list of importance. But as I am a girl of balance, we need to have some home-baked treats around here.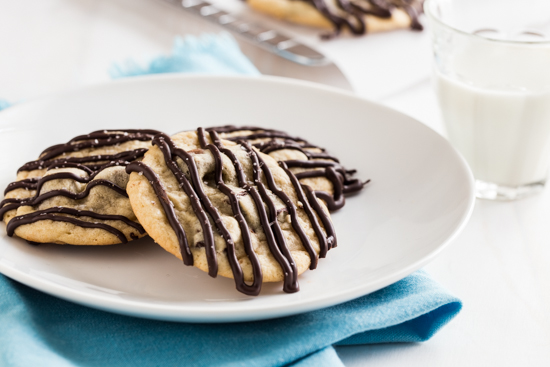 I like knowing that I'm sending the Buddy off to school with a lunch made entirely by me. Ok, it's not always made entirely by me, but it is whenever humanly possible. So, if treats are going to be home-baked by me, on a busy school night, you better believe that they need to be quick, easy and with very little clean up.
Dirty dishes are my nemesis.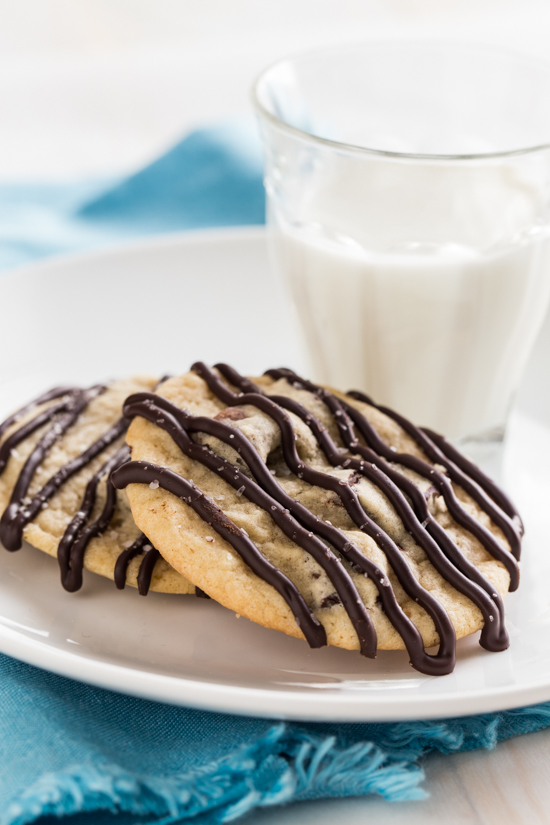 So, when Reynolds asked if I would develop an awesome twist on a chocolate chip cookie recipe that showcased their non-stick parchment paper, I didn't even hesitate. I mean, their parchment was already in my cabinet and I use it all. the. time. For everything.
Who has time to scrub dirty baking sheets? Not this girl, and I'm betting you don't either. And these salted caramel chocolate chip cookies can get a bit gooey because they're packed with bite-sized Rolos. Yes, Rolos. The caramel can ooze a bit, but baking them on parchment paper takes care of that. Quick and easy, clean up is done and we're on to the next thing, which is usually bedtime. For me.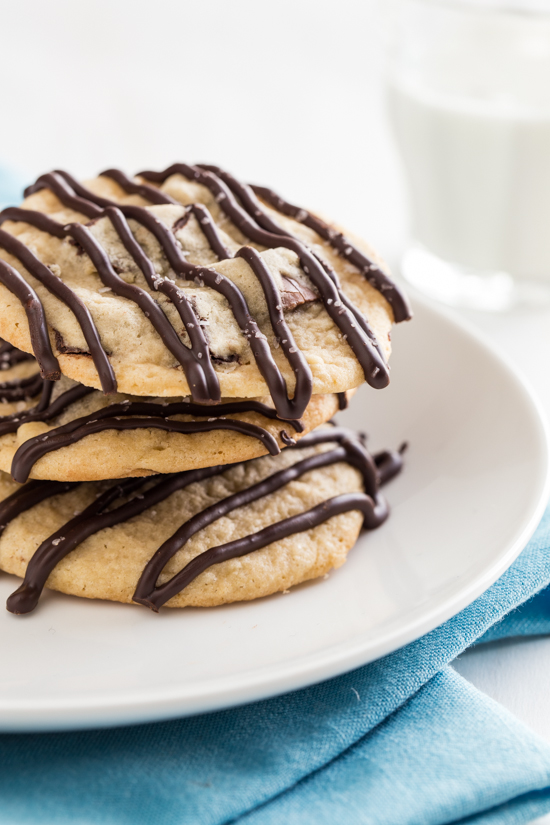 I didn't stop with the Rolos. I took these cookies to the next level and drizzled them with melted chocolate and sprinkled them with salt, making them pretty much the best cookies ever. I'm planning another batch of these for the start of school. Which is less than two weeks, I might add. I kind of think that these would put a spring in any little first grader's step. Am I right?
Now I must sob into a big pile of cookies because my little guy is going into first grade *sob*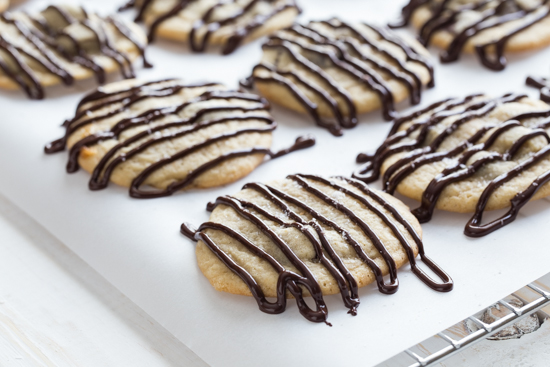 Happy Cookie Wednesday! <— That's not a thing, but I kinda think it should be.
Salted Caramel Chocolate Chip Cookie Recipe
Ingredients
2 1/2 cups unbleached, all-purpose flour
1 teaspoon kosher salt
1/2 teaspoon baking powder
1/2 teaspoon baking soda
2 sticks (1/2 cup each) unsalted butter, softened
1 cup light brown sugar, packed
1/2 cup granulated sugar
2 large eggs
1 teaspoon vanilla extract
1 cup dark chocolate chips
1 cup mini caramel filled chocolate candies (I used Rolos)
1 cup dark chocolate chips, melted
1 teaspoon sea salt
Directions
Prep:
1. LINE a baking sheet with Reynolds® Parchment Paper.
2. HEAT oven to 350 degrees.
3. WHISK together flour, kosher salt, baking powder and baking soda in a large bowl; set aside.
4. MIX butter, light brown sugar and granulated sugar together in the bowl of an electric mixer until light and fluffy; about 3 minutes.
5. BEAT in eggs, one at a time, mixing well between each egg. Add vanilla and beat until incorporated.
6. ADD reserved flour mixture to the butter mixture slowly, mixing gently until ingredients are just incorporated.
7. FOLD in caramel filled chocolate candies and chocolate chips, gently, until mixed throughout the dough.
8. SCOOP 2 tablespoons of dough, for each cookie, and roll into a ball, covering candies with dough.
9. PLACE balls on parchment lined baking sheets.
Cook:
1. BAKE cookies for 11 minutes.
2. COOL cookies for 5 minutes on baking sheets and then transfer parchment paper with cookies onto wire racks to cool completely.
3. DRIZZLE cooled cookies with melted chocolate and sprinkle with sea salt. Chill cookies until chocolate is set.
Notes:
Reynolds Kitchen Tip
Use parchment paper to help prevent baked on mess from the chocolate and caramel as well as create evenly baked cookies every time. Keep the cookies on top of the parchment paper while drizzling the melted chocolate over the cooled cookies to keep drips contained.
August 6th, 2014
I was compensated by Reynolds for the development of this recipe as well as the photography. All opinions are, as always, 100% my own.