Huevos Rancheros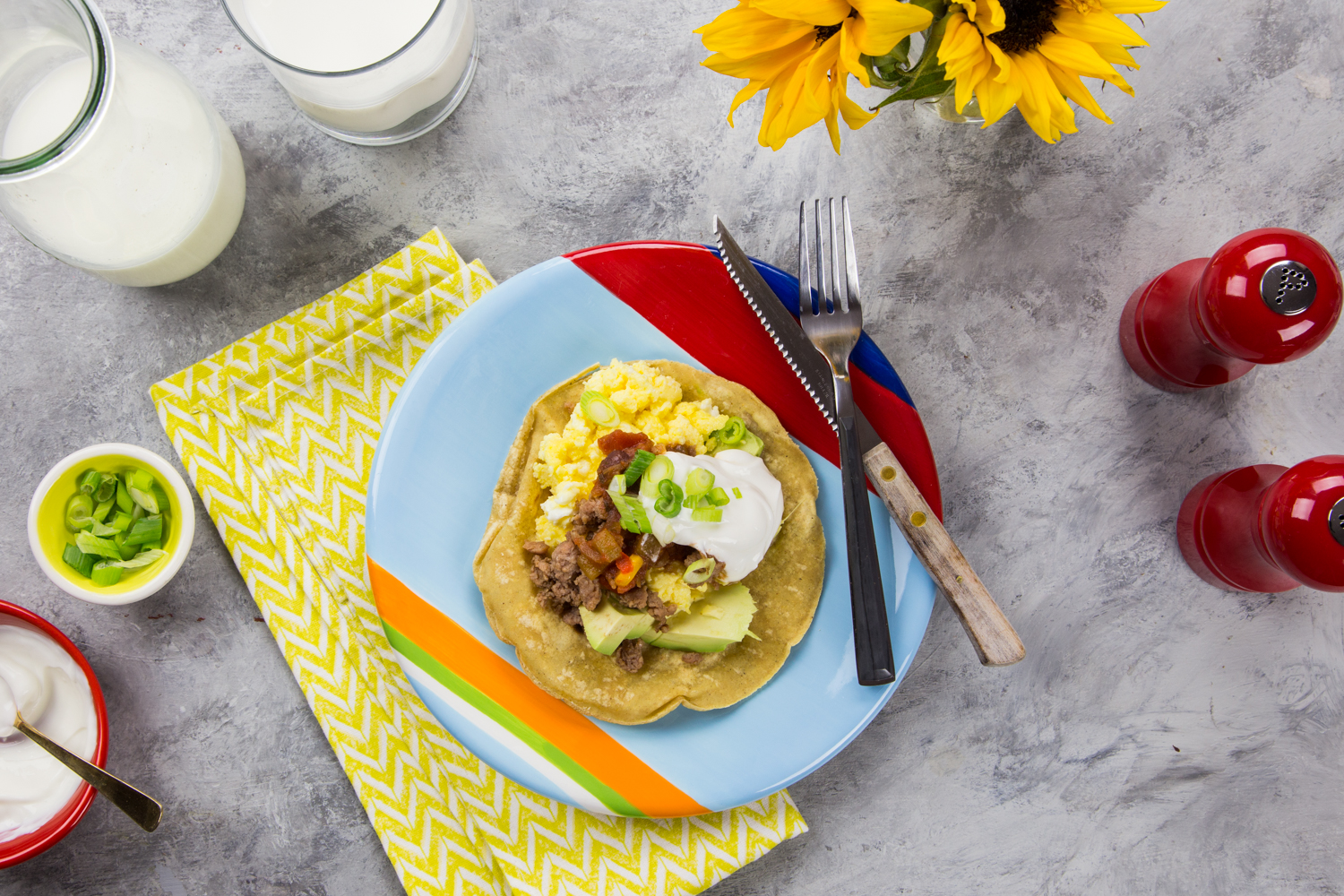 This post is sponsored on behalf of Milk Life. All opinions are my own.
Huevos Rancheros served with a glass of milk is a quick, hot, and satisfying breakfast that will give you a burst of protein to power your morning.
The last few months have brought great change to my life. Moving to a new home after ten years, having my youngest child start Kindergarten, and starting to blog full-time have all been scary and exciting adventures in my life. With all of the mixed emotions that have come with these changes I have made missteps while finding my new equilibrium. It is hard to admit that I have let my own personal health fall by the wayside, but that is exactly what has happened.
Sure, dinners are still like clockwork around here – nutritious, well-rounded meals appear every night to feed my family. It is the critical breakfast/lunch meals that have been lost.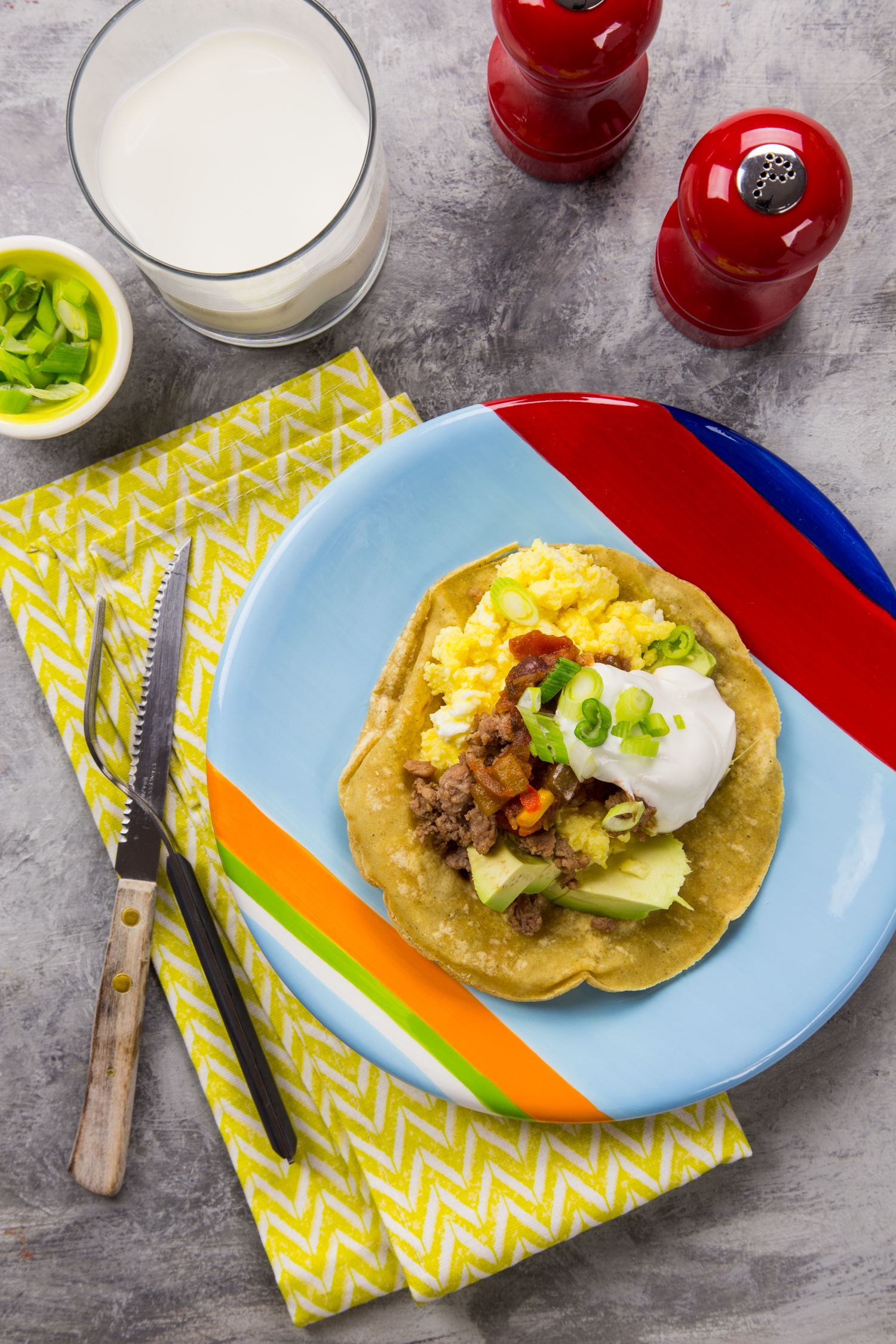 Like many of you, my day starts with getting my kids ready for school. Keeping on top of the sleepy creatures to get dressed, brush their teeth and come downstairs for a healthy breakfast, which they eat while I pack lunches and not eat breakfast. After that, we head out the door to go to school, only to have me return home and hit the ground running with work, determined to get my long to-do list finished before the end of the school day.
This is where I have faltered. In the last few months, I have failed to take the time to prepare meals for myself throughout the morning and afternoon – healthy, nourishing, protein-packed meals that will give me the energy I need to get through the day.
That is all changing here and now. I am turning over a new leaf. I am determined to go into the holiday season taking care of myself and my health. That is why this timely project with my friends at Milk Life has been so close to my heart. They challenged me to come up with several quick, but nutritious protein-packed recipes that will fuel my morning with the power of milk. Many experts now recommend getting between 25-30 grams of protein in the morning, and including an 8 ounce glass of milk with 8 grams of high-quality protein, with breakfast is an easy way to get closer to this amount before noon.
I have been working on a few new breakfast and morning snack recipes, one of which is my spin on Huevos Rancheros. Each of these recipes is simple to put together (or even make ahead) giving me no excuse not to take time in my morning to sit down and eat a nutritious meal.
For the last couple of weeks, I have been pushing myself into a better routine. After returning home, I make myself a full, hot breakfast – often these Huevos Rancheros that have eggs scrambled with milk and cheese over a heated tortilla topped with avocado, a few turkey sausage crumbles, plain Greek yogurt, and salsa. I have gotten in the habit of browning up some turkey sausage in the evening to keep in the fridge in order to whip up this quick breakfast for my kids before school, and then again for me after returning home from dropping them off.
These Huevos Rancheros, along with an 8 ounce glass of milk, provide a whopping 30 grams of protein to start out the morning! I am comforted to know that the kiddos, as well as myself, will be full of protein to keep us focused and energetic during the morning hours. Protein at breakfast is so important for both kids and adults alike because it provides energy and focus throughout the morning. If I'm being completely honest, I need all the extra energy and focus I can get. In fact, I have been adding glasses of milk to my day as part of my new healthy habits, as well as adding steamed milk to my coffee for a mid-day pick-me-up.
It feels good to be taking care of myself the way I should be because in reality, the more I take care of myself, the longer I will be around to take care of my family. That is something that I never want to lose sight of again.
If you are looking for more breakfast ideas with protein, be sure to visit MilkLife.com as they have a multitude of recipes that will help you reach that 25-30-grams-of-protein-per-meal goal. Be sure to check out my Huevos Rancheros recipe below and watch out for a couple of additional recipes coming up here to Jelly Toast, including my Harvest Fruit and Oat Bites (coming soon!) that are featured in the video.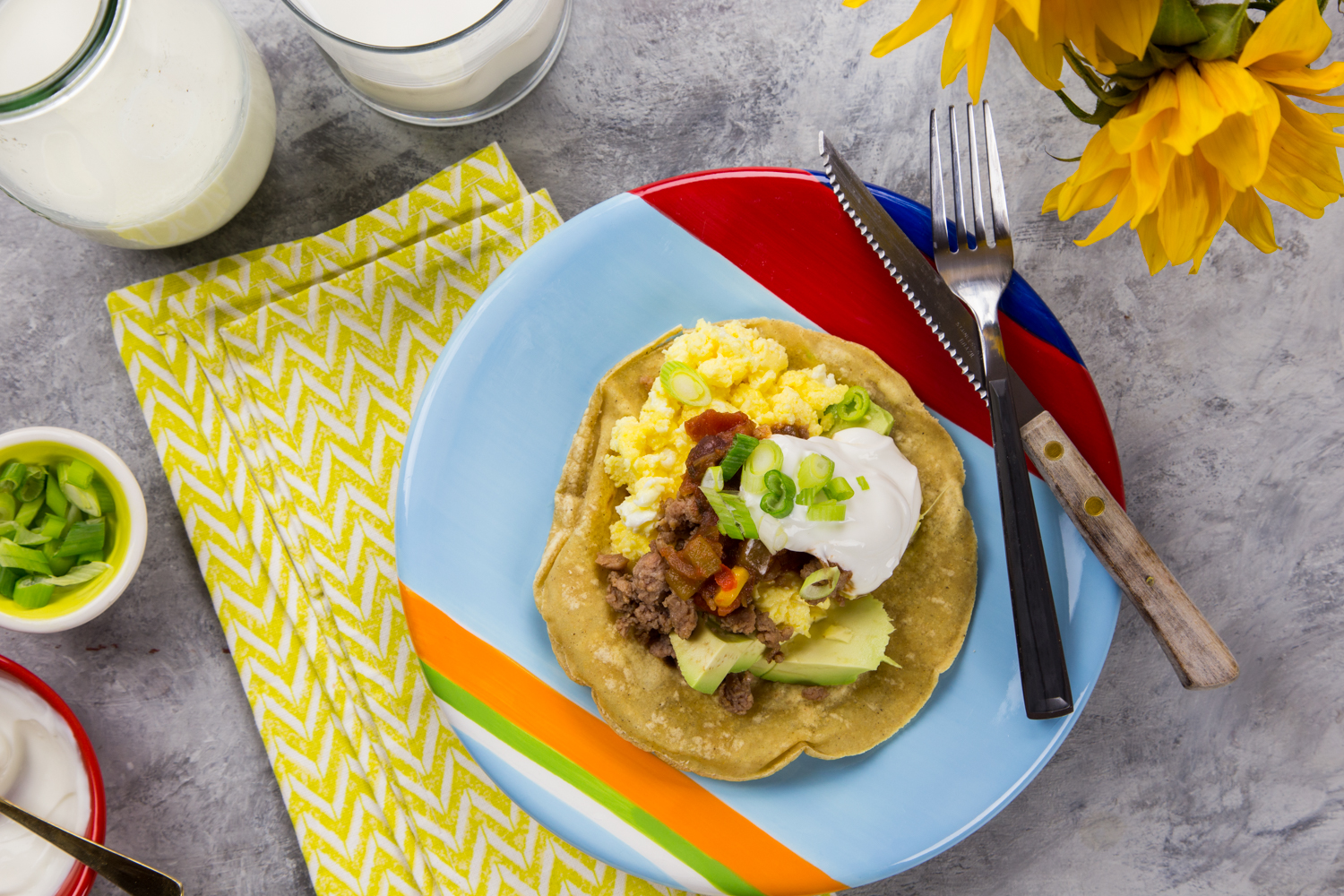 Happy Friday!
Huevos Rancheros
Ingredients
1 large egg
2 Tablespoons fat free milk
1 6 inch corn tortilla
2 Tablespoons pepper jack cheese, shredded
1 teaspoon olive oil
1/4 large avocado, sliced
1 ounce cooked turkey sausage, crumbled
1 Tablespoon chunky garden salsa
2 Tablespoons fat free plain Greek yogurt
1 Tablespoon scallions, sliced
black pepper to taste
salt (optional)
hot sauce (optional)
Directions
In a bowl, whisk together egg and milk. Season with salt and pepper; set aside.
Heat non-stick skillet over medium heat. Add tortilla to pan and heat for 10 seconds. Flip tortilla and heat on other side for 10 seconds and remove to a plate.
Heat olive oil in pan. Add egg mixture and cheese. Cook eggs over medium low heat, stirring gently with a spatula until cooked through, but still creamy. Remove from heat.
Top heated tortilla with turkey sausage, avocado, scrambled egg, salsa, Greek yogurt, and scallions. Serve.