le fizz cocktail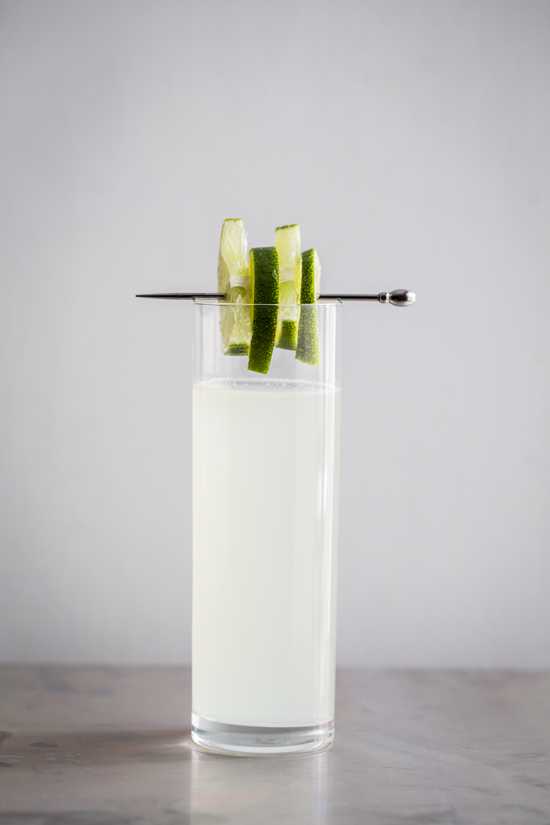 We ran out of vodka right before Christmas break. Much to my delight, I had just discovered that our grocery store started carrying Ginger Beer and bought a pack to bring home. Once there, my husband decided to make us a couple of Moscow Mules (yum!!) and thats when we discovered that we didn't even have enough vodka to make one Moscow Mule. I typically buy Smirnoff and love experimenting with their flavored vodkas, whether it be caramel or marshmallow. Oh, the marshmallow! It's one of my favorites. But for some time we had been saying that next time we needed to buy more vodka, let's get a bottle of Grey Goose. So back to the store I went to get a bottle. I was torn and wanted to give their pear vodka a try, but ended up sticking with the original so we had a bit more versatility. Plus, I had the beginnings of a Moscow Mule waiting for me.
While the mules were fab, we wanted to give this pricier vodka a try in some other drinks, to see if it was really worth the extra money. So, for the last couple of weeks, we've given several of the recipes straight off the Grey Goose site a try: Old Fashioned, The Cosmonaut (although we didn't have the pear vodka and I think it would have been better if we had – the candied grape was fun, though!) and this Grey Goose Le Fizz cocktail. The Old Fashioned was very interesting – a vodka twist on a classic drink, but the Le Fizz…That was something special. The Le Fizz is light, refreshing and crisp.
Typically, I like to put my own twist on a drink recipe and tweak them a bit. But, this one was pretty much perfect the way it was. While used our new Grey Goose, you could use your own favorite vodka in this drink. Smirnoff, Absolut – whatever you like.  I would just steer clear of flavored vodkas and stick with an original for this cocktail.
For my next vodka drink, I want to come up with a version of this Little Tickle cocktail. I'm thinking I found another use for my bottle of creme de violet, perhaps in place of the creme yvette? It's definitely worth a try. I just love finding new places for cocktail inspiration, don't you?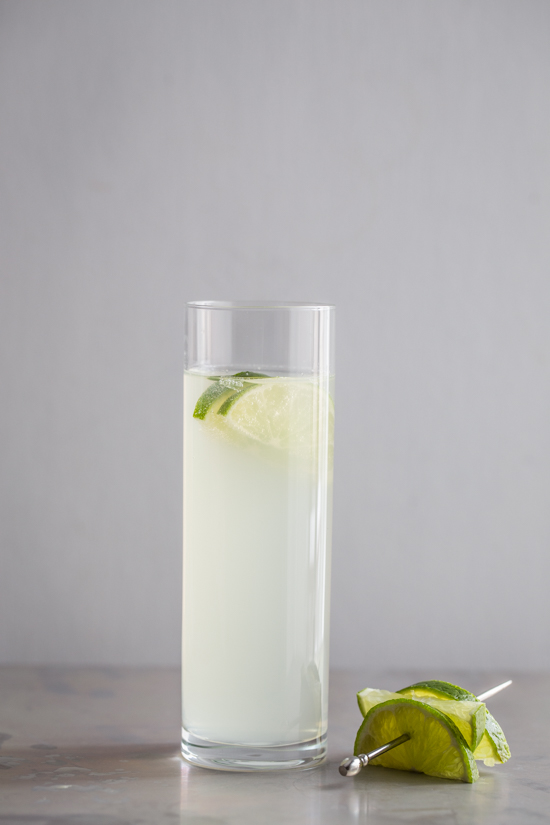 Happy Friday!!
Le Fizz Cocktail
Ingredients
1 1/2 ounces high quality vodka (I used Grey Goose)
1 ounce Elderflower liqueur (I used St. Germain)
3/4 ounce fresh squeezed lime juice
2 ounces soda water, cold
Directions
In a cocktail shaker, mix together vodka, Elderflower liqueur and lime juice. Add ice, cover and shake vigorously. Double strain into a chilled champagne flute and top with soda water. Enjoy!
**This is not a sponsored post. I simply tried a drink that I loved and wanted to share it with you. Enjoy!!