maple pork donut sliders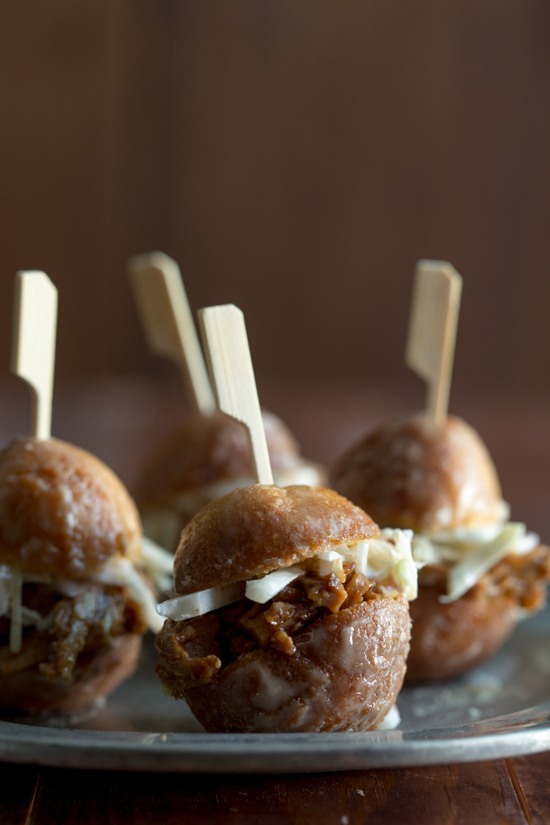 When it comes to recipes, I tend to avoid anything that is over-the-top, just for the sake of being over the top. That being said, I realize that a recipe called 'Maple Pork Donut Sliders' seems over the top, but trust me when I say that it's all very necessary. Very, very necessary…Last month at my book club, we ordered an appetizer to share called the 'Maple Pork Donut'. I couldn't even resist the title when I saw it on the menu and just had to see what it was all about. Well, let me tell you that it was all I had hoped it would be…and more.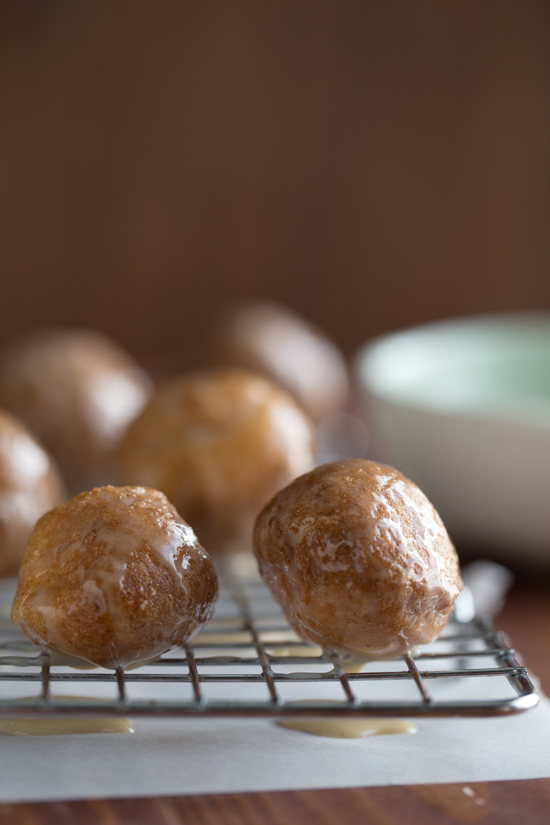 The Maple Pork Donut appetizer was a full size maple glazed yeast donut piled with hickory BBQ pulled pork and creamy coleslaw. It was un-believable…
I needed to make my own version at home. I decided to turn it into a mini slider that would be perfect for all of the football games that seem to be taking over our TV lately. If I'm going to watch football, having a sweet and savory little slider is going to make the entire experience more enjoyable.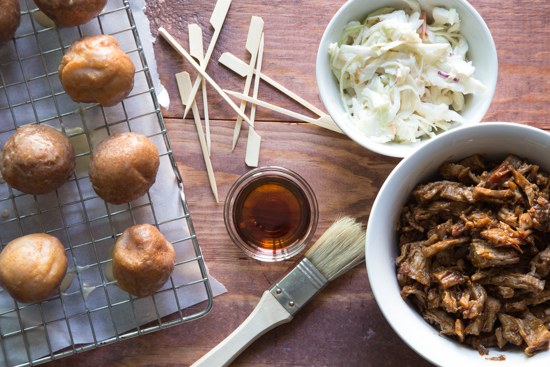 These sliders are savory, spicy and a little bit sweet from the maple syrup and donut. For my sliders at home, I used cake donuts, but yeast donuts would be incredible, too!
One of the best things about this recipe is that it used up the little bit of leftover BBQ pulled pork and coleslaw that we had gotten for dinner the night before. Feel free to use your favorite pulled pork recipe or just do as I did and take a little help from your favorite BBQ joint.
You won't get any judgement from me.
Pinky promise.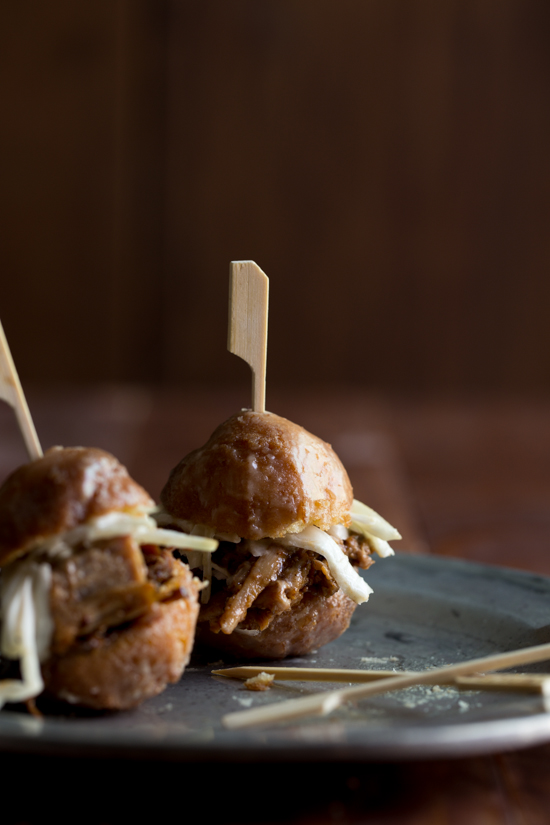 Happy Friday!!
Maple Pork Donut Sliders Recipe
Yield: 12 sliders
Prep Time: 15 minutes
Cook Time: 10 minutes
Total Time: 25 minutes
Ingredients
12 plain donut holes, cake or yeast
1 cup powdered sugar
4 Tablespoons maple syrup (or more to reach desired consistency), divided
1 1/2 cups of BBQ pulled pork (with BBQ sauce), warm (homemade or store-bought)
3/4 cup coleslaw (homemade or store-bought)
Directions
In a shallow bowl, whisk together powdered sugar and 2 tablespoons of maple syrup. Add more if needed to reach a thick, glaze consistency. Roll donuts in glaze and set on a wire rack to set.Once glaze is set, cut donuts in half.Brush each cut side of donut with the remaining maple syrup.
For each slider, place 2 tablespoons of BBQ pulled pork and 1 tablespoon of coleslaw on one donut half and top with remaining donut half. Secure slider with toothpick and serve!
Enjoy!
Notes:
This recipe came about as a way to reinvent leftover BBQ pulled pork and coleslaw. Feel free to use your favorite homemade BBQ pulled pork recipe or store-bought BBQ pulled pork. If your pork does not have sauce, toss it with 1/2 cup of your favorite BBQ sauce before assembling your sliders.