Marshmallow Ice Cream Pie
Marshmallow Ice Cream Pie is light, fluffy, and the perfect dessert to combat those hot summer days. Just a few ingredients to make this homemade marshmallow ice cream pie including Campfire® Cherry Roasters.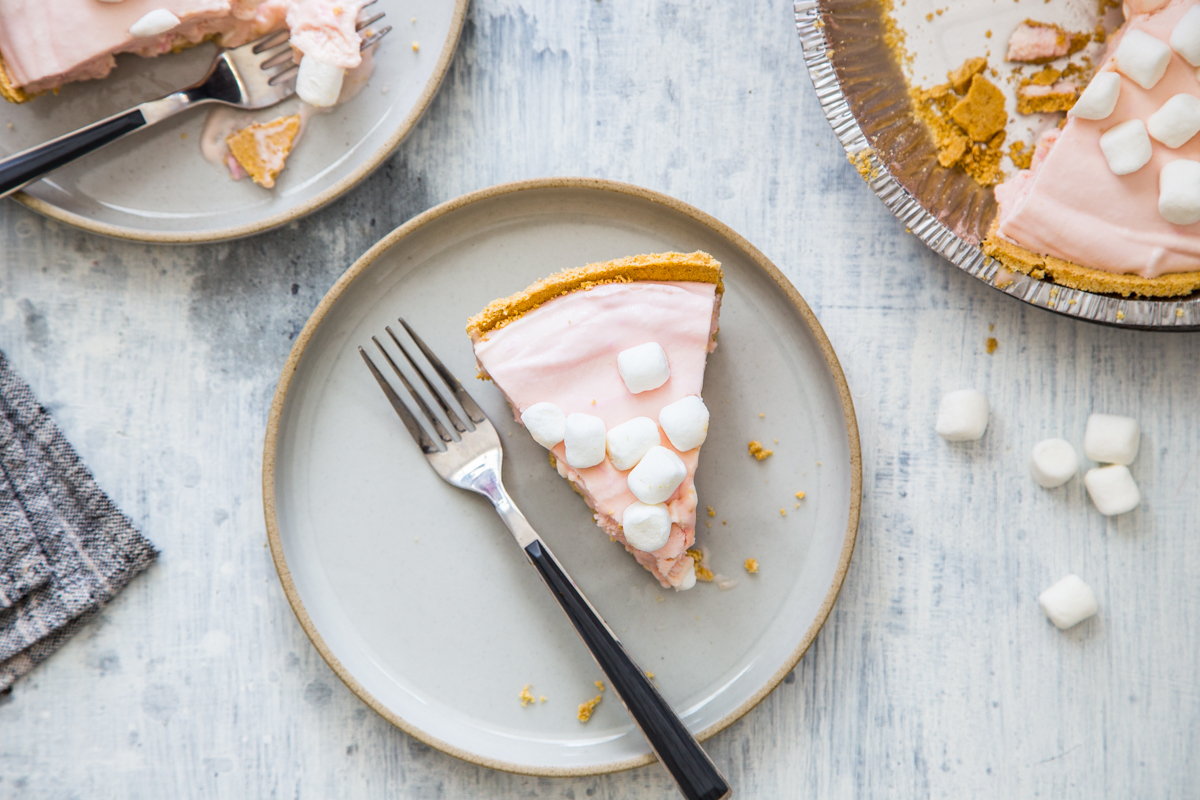 This post, Marshmallow Ice Cream Pie, is sponsored by Campfire® Marshmallows. All opinions are, as always, my own.
July has been a tricky month, guys. I've had a lot of behind the scenes work that hasn't shown up here on the blog, but we also have been hard at work with our kitchen mini-renovation (take a look at our design inspiration!) That has meant appliances being disconnected, weeks without countertops or a sink, and just a general feeling of construction zone and incompletion.
The last week we have made some great progress in that area and our countertops are installed and we are now moving onto our brick island feature and our subway tile backsplash. I'm so geeked about the tile backsplash I can hardly stand it.
My dream of living in a coffee house is finally becoming a reality.
I have weird dreams.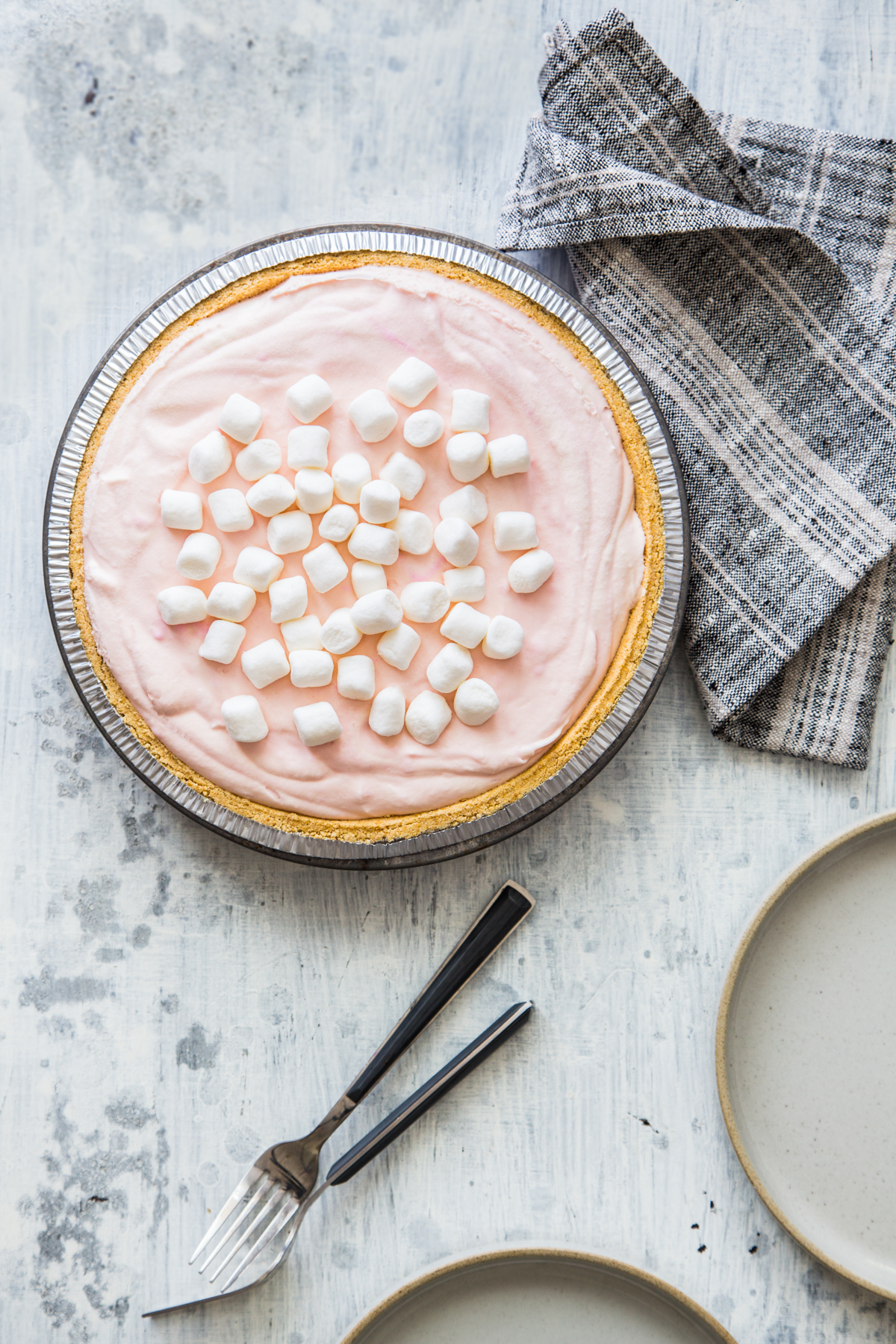 Renovation or not, we still gotta eat. I have declared this the 'summer of independence' which translates to the kids getting their own breakfast and sometimes lunch. I'm still on dinner duty most of the time, but often tag-team my husband for grilling.
We have grilled about 4 times a week all summer long (kabobs, anyone?). The other 3 days of the week tend to consist of breakfast for dinner or takeout.
I told you July has been tricky.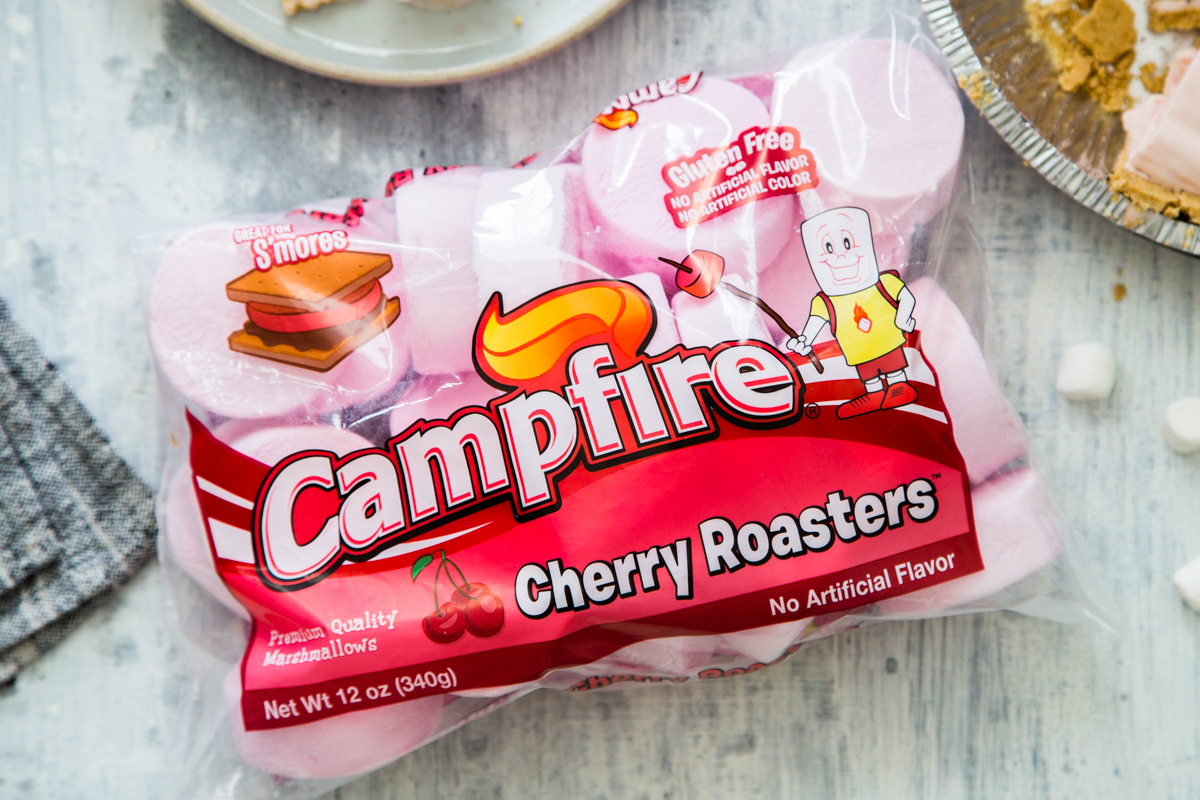 I was feeling a little guilty this week over my lack of cooking so I decided to do something special and make a dessert. Turning on the oven was out of the question (mostly because it wasn't even hooked up) so I decided to make a super easy frozen Marshmallow Ice Cream Pie. The marshmallow ice cream filling is made using the same method as my marshmallow no-churn ice cream but this time I used Campfire® Cherry Roasters.
I am crazy about these new cherry flavored roasters! First, the shape makes them perfect for roasting and sandwiching between graham crackers, but even better is the bursting cherry flavor. These Cherry Roasters are naturally flavored and colored  giving them a lovely subtle pink blush color.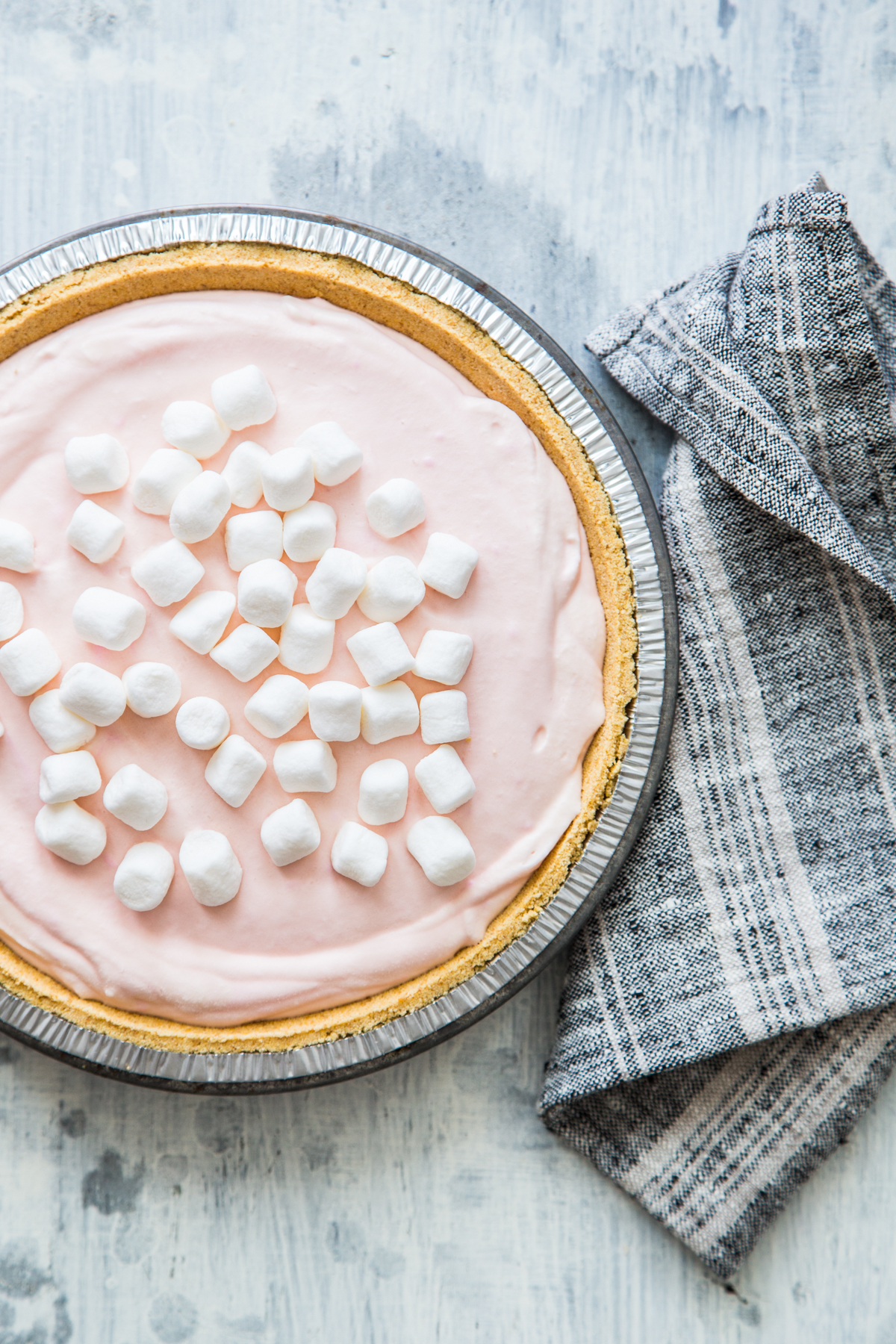 To make the filling for the marshmallow ice cream pie, there is no need to break out the ice cream machine. Just whip up some whipping cream, melt some of these Cherry Roasters, and fold it all into a can of sweetened condensed milk. This recipe makes two pies. I put them together in the morning and we had one one night and had an extra for later in the week.
A few mini marshmallows topped off these fluffy, dreamy marshmallow ice cream pies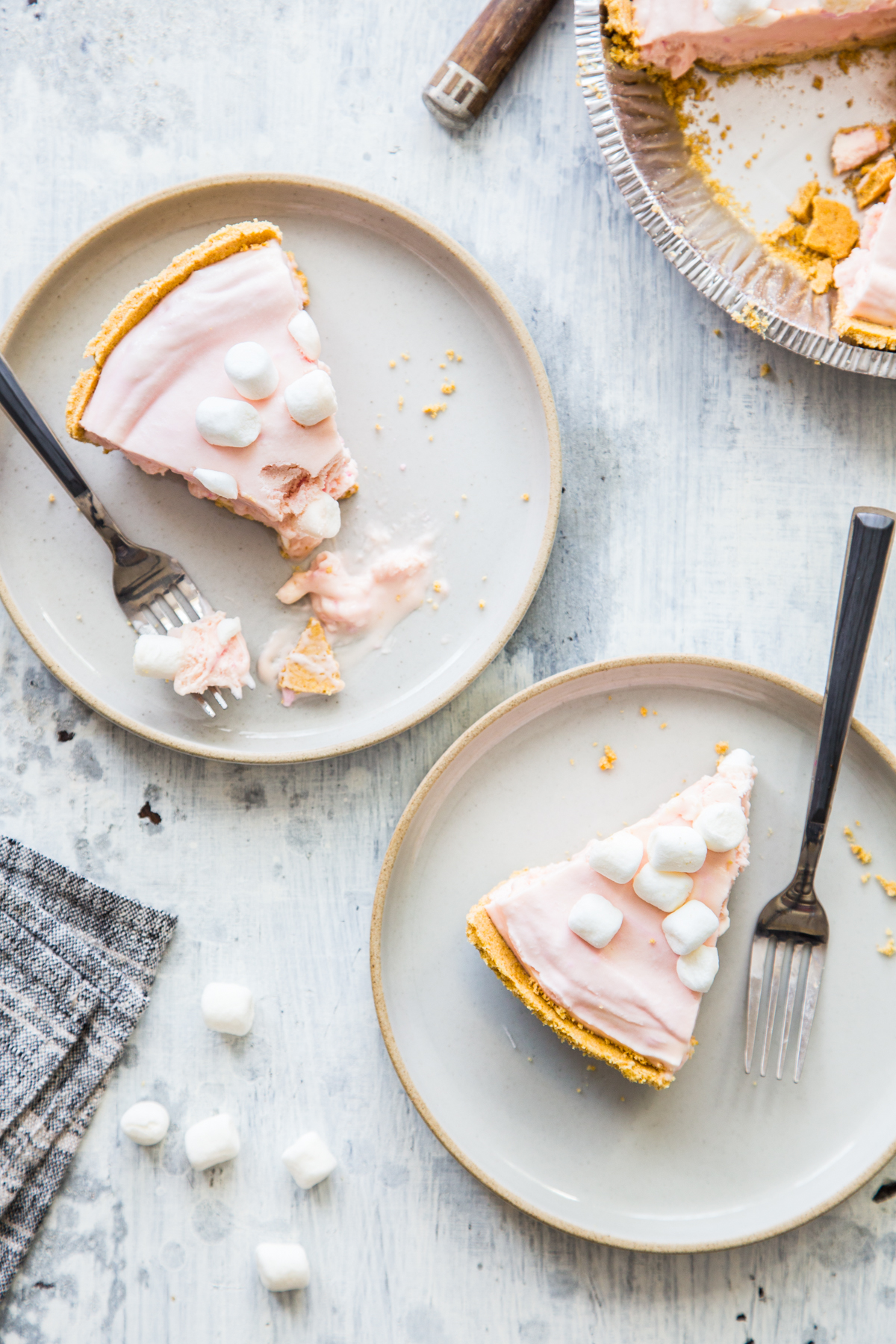 These pies could be mixed up with all softs of flavors depending on what kind of marshmallows you use. Campfire has a ton of great flavors to choose from. Be sure to check them out on Facebook, Pinterest, and Instagram, too!
Happy Monday!
Marshmallow Ice Cream Pie Recipe
Yield: 16-20 servings
Prep Time: 10 minutes + freezing time
Total Time: 10 minutes + freezing time
Ingredients
1 - 14oz can sweetened condensed milk
2 teaspoons vanilla extract
2 Tablespoons vodka (optional)
2 cups cold, heavy whipping cream
15 Campfire Cherry Roasters
splash of water
2 graham cracker pie crusts
1 cup Campfire® mini white marshmallows, divided
Directions
In a large bowl, mix together sweetened condensed milk, vanilla extract and vodka; set aside.
In the bowl of an electric mixer, whip heavy cream with the whisk attachment until stiff peaks form; set aside. Be careful not to over beat the cream.
In a medium microwave safe bowl, place the Campfire® Cherry Roasters and a splash of water. Microwave on high in 30 second intervals until marshmallows are puffed and melty. Watch them carefully as to avoid any spills. Stir until smooth and allow to cool slightly.
Spoon whipped cream into sweetened condensed milk mixture and fold in gently taking care not to deflate the whipped cream. Pour melted Cherry Roasters on top of the whipped cream mixture and continue to fold in.
Divide mixture between the graham cracker crusts and top each pie with 1/2 cup of mini marshmallows. Cover the pies and reeze for at least 6 hours or until ice cream is firm. Slice and serve!
Notes:
Adding the vodka keeps the ice cream at the perfect scoop-able texture. It can be omitted, however, the ice cream filling will be harder.