Kitchen Design Inspiration // Rustic Coffee Shop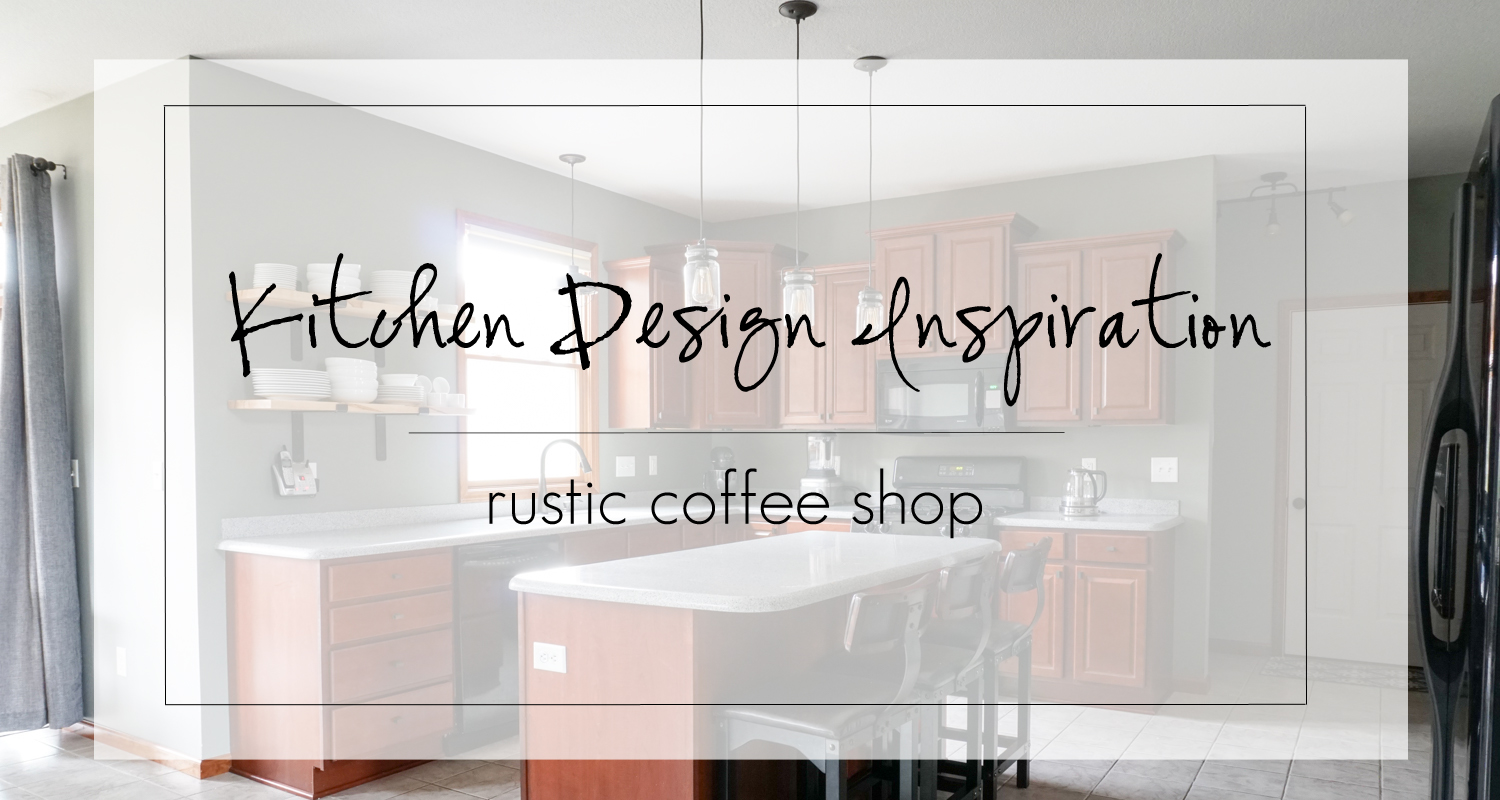 We're rounding on the second year anniversary of moving into our new house. I realize saying that we've lived here for almost two years plus the fact that the house was built in 2004, no longer makes this a new house. But it still feels pretty new especially after moving from a house that was built in the 1960's that we had lived in for 10 years.
Like most people that move into a new-to-them house, we loved the home, but wanted to put our own mark on it. Budget dictated that we needed to make these marks and improvements in phases based on cost and necessity. That being said we mainly focused on paint and light fixtures in the first phase of our updates.
Picking out paint colors was fun, but definitely a lot of work that involved way too many paint samples and a lot of second guessing ourselves. Perhaps I'll do a tour of some other rooms at some point (you can check out a behind the scenes: studio tour video) but this summer we are entering into phase two of updating the kitchen and I'm getting pretty excited about it!
Let me give you a quick peek into what our kitchen started out like. When we first moved in, the kitchen looked like this: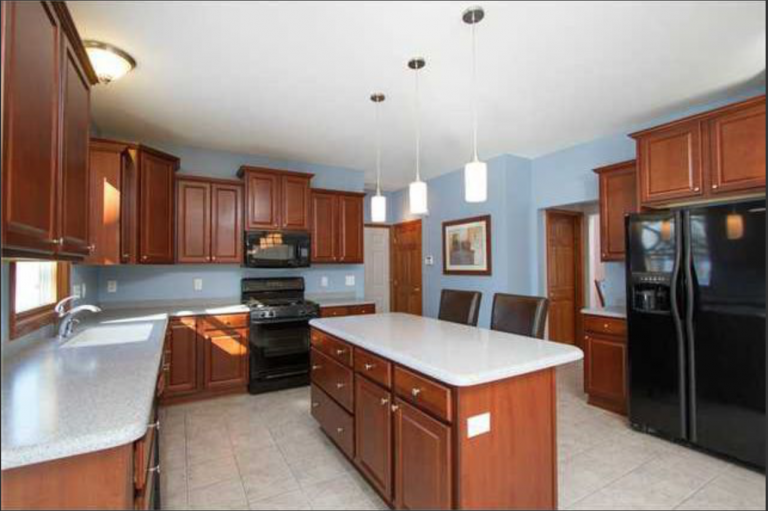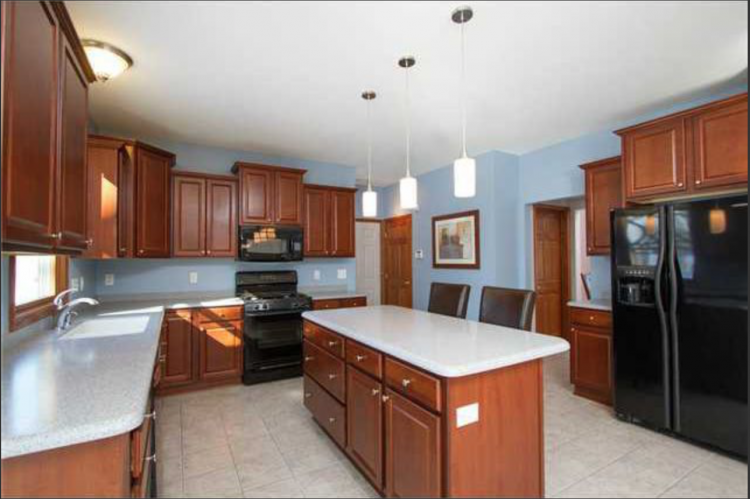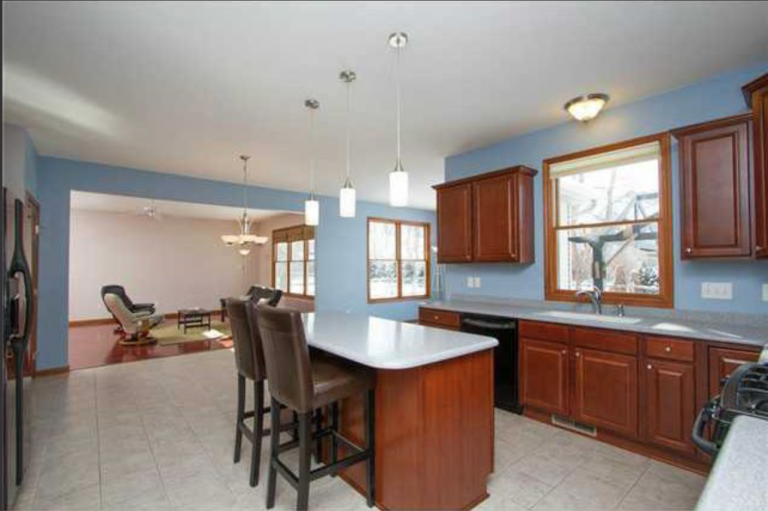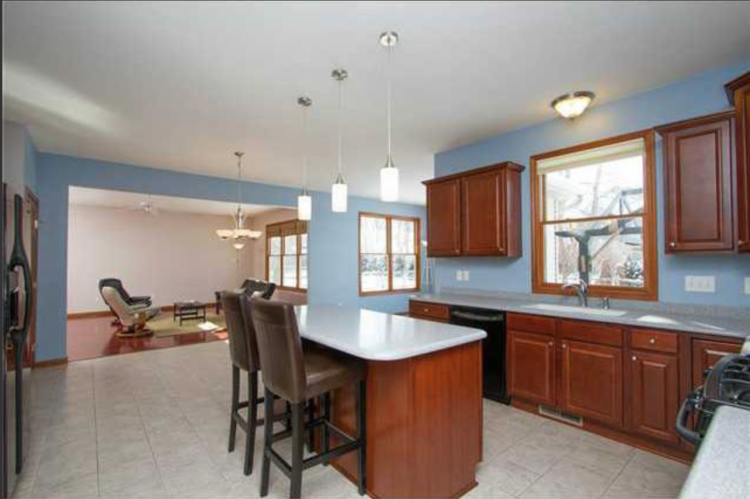 Not terrible, but definitely needed a little something. First, I loved the layout of the kitchen! When looking for a new house, that was one thing that made this house stand out over the others. It was incredibly open and spacious and that is just one thing that is hard to change about a house without major remodel.
And unless Chip and Joanna are planning on relocating to Northwest Ohio, I wanted no part of a major remodel.
While this kitchen did not need a gut job by any means, you can also see that it needed some serious help in the style department. Light fixtures, cabinet hardware, the faucet, the appliances, the wall color, the lack of backsplash….
The list went on.
The great thing about all of the stuff we didn't love, was that it was stuff that is easy to change. Walls can be painted, light fixtures changed out, and hardware updated.
Take a look at the updates we completed in Phase One: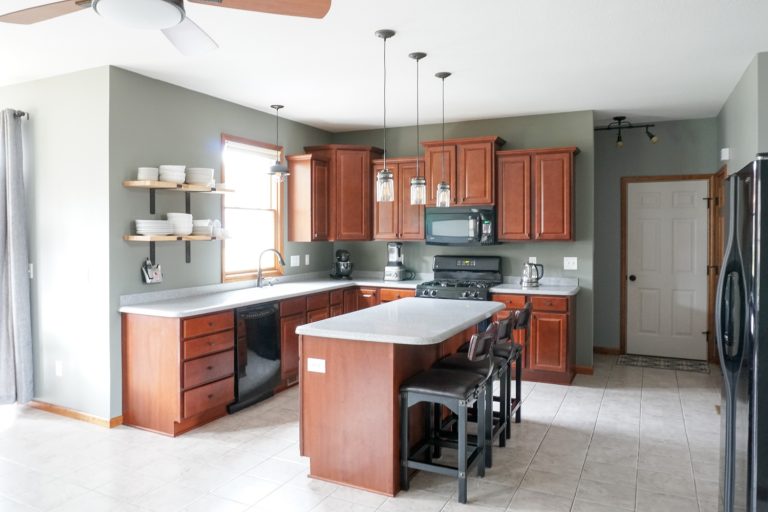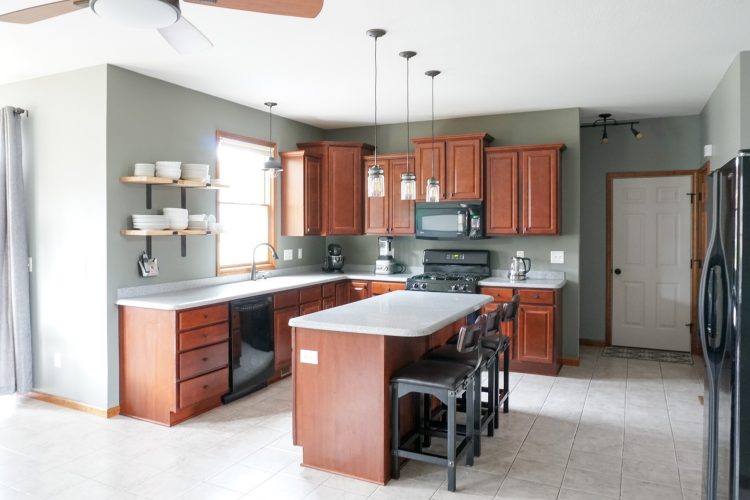 We started by updating the lighting. The pendant lights were swapped for industrial looking pendants with Edison bulbs and we replaced the boob light over the sink with a nice industrial pendant, as well.
The hardware on the cabinets got switched from chrome to oil rubbed bronze. Our new faucet is also a dark bronze and has a touch feature that I love!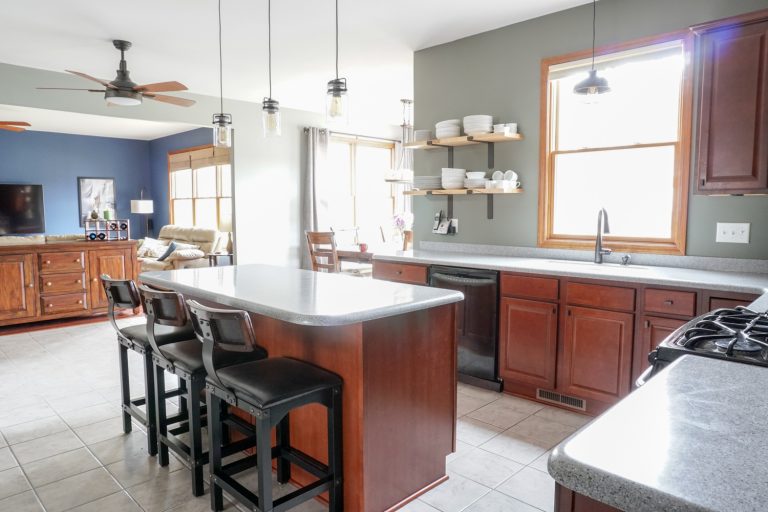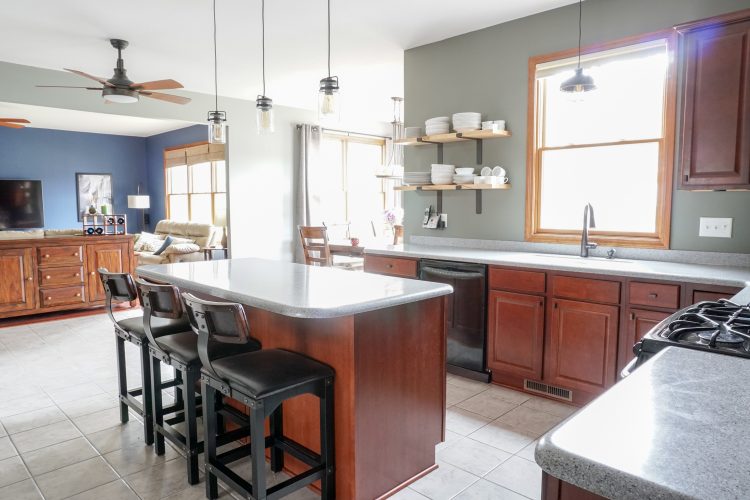 We added a ceiling fan  in the open area at the end of the kitchen. We live in Ohio and it gets insanely hot and humid here in the summer, so we pretty much live for ceiling fans.
Another big change we made in phase one, was to remove the wall cabinet over the dishwasher and replace it with open shelving. The cabinet that we replaced was really strange. Instead of both doors opening from the center, both doors had left hand opening knobs. This made unloading the dishwasher crazy awkward and also gave me a big reason to try out some open shelving which I had been wanting for years in our old house.
We had a local store here in NW Ohio called Kencraft put together some rustic maple shelves for us and I ordered the brackets from Etsy. I am thrilled with the way the shelves turned out and have not regretted removing the cabinet in any way.
Last, but not least for phase one, we painted the walls. We chose a color called Rare Gray from Sherwin Williams and it reads as a green-ish gray. I love the way it tones down the warmth of the wood but ties it all together.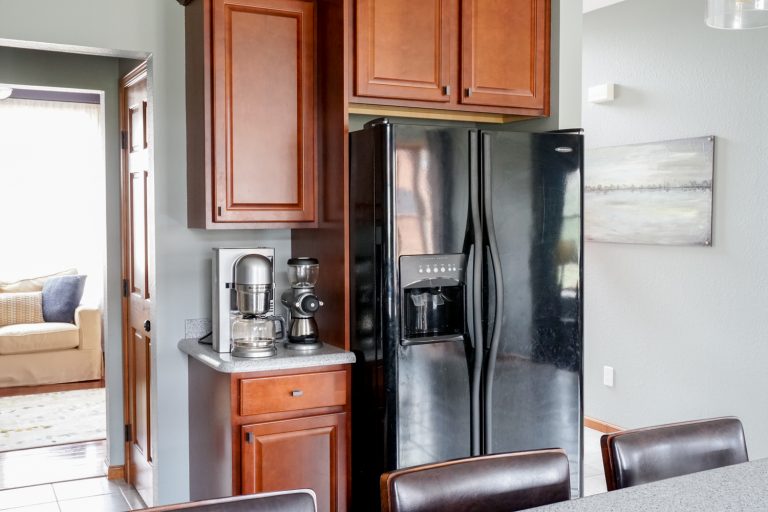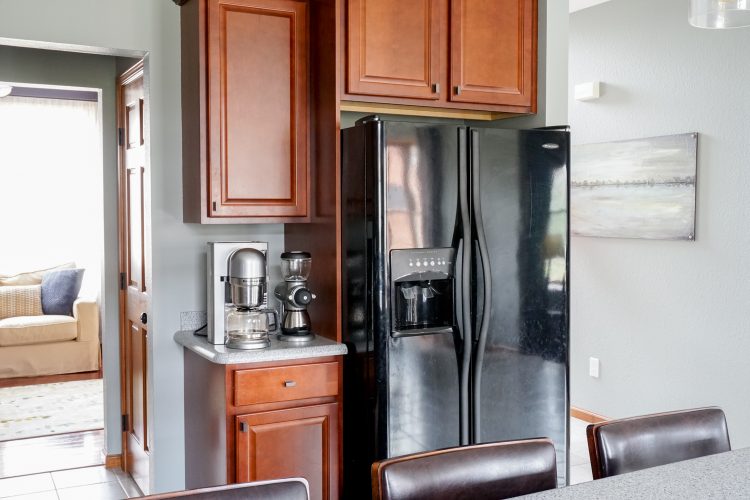 My little coffee station is the place that I start my mornings and possibly my favorite part of the kitchen. Above the coffee maker is my well stocked mug cabinet which I will be sure to share a photo of sometime.
This leads us to Phase Two.
Rustic Coffee Shop Inspiration
This summer we are going to be tackling countertop, backsplash, and appliances. You guys know I'm obsessed with coffee and have been cultivating my coffee game for years now. Well, my dream kitchen is pretty much to mimic a cool, rustic coffee shop feel in my own home.
We started it with the industrial style lighting and hardware choices in phase one, and in phase two, I'm hoping to take it a little further. I love the tone of our cabinets and want to play with different textures to give our kitchen that warm, coffee shop feel.
Here are a few inspiration images I found on Pinterest: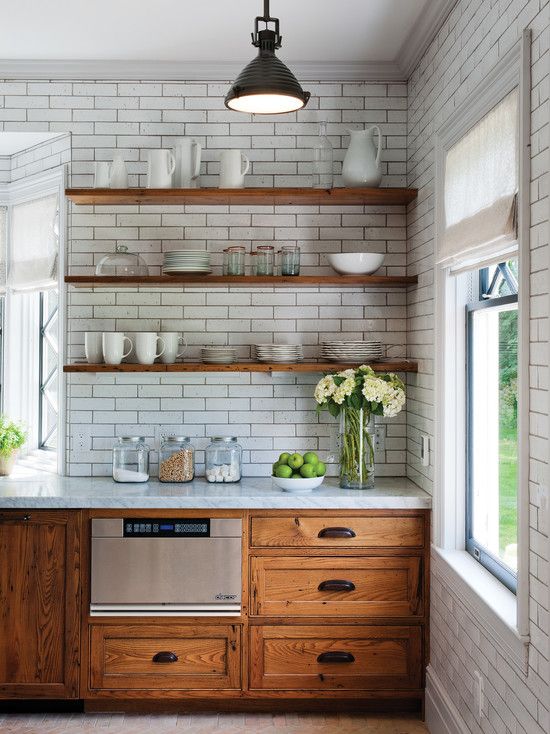 I adore the subway tile with the floating shelves as well as the combination of marble countertop on the wood cabinets. Subway tile will hopefully be making an appearance in our phase two!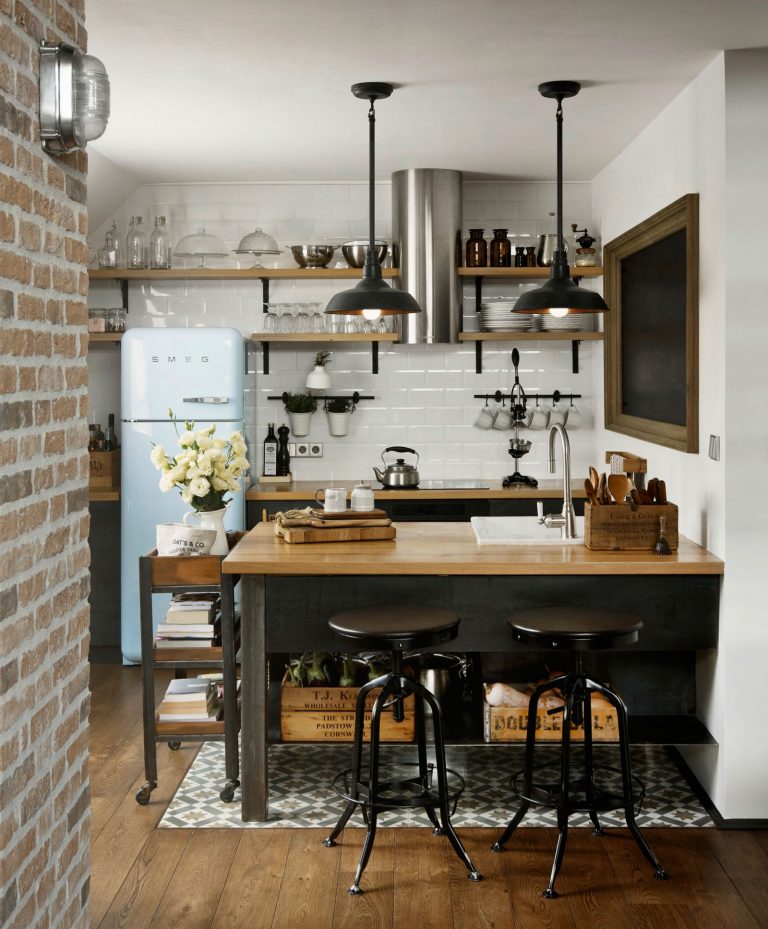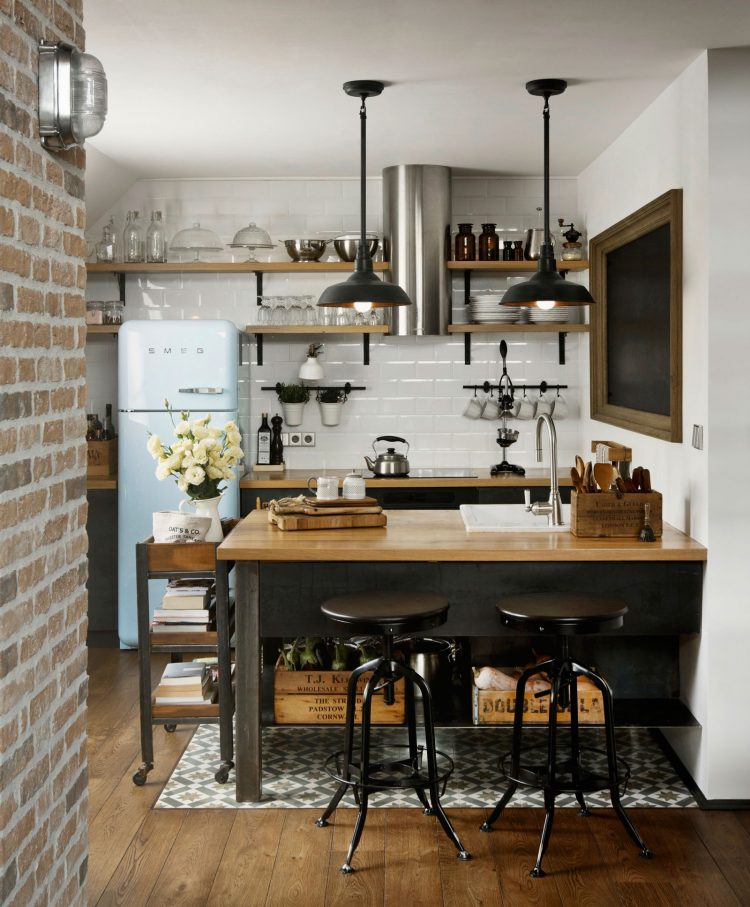 This kitchen is so dreamy! The mix of woods along with the exposed brick, dark metal, industrial lighting, and pops of stainless steal is just gorgeous. I love the eclectic feel, but also how everything is in neutrals.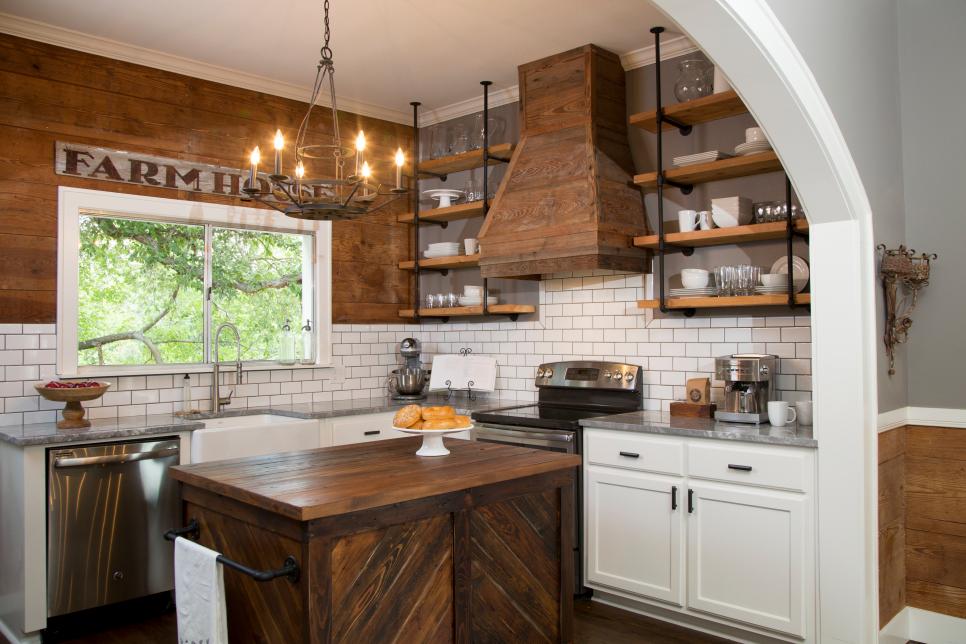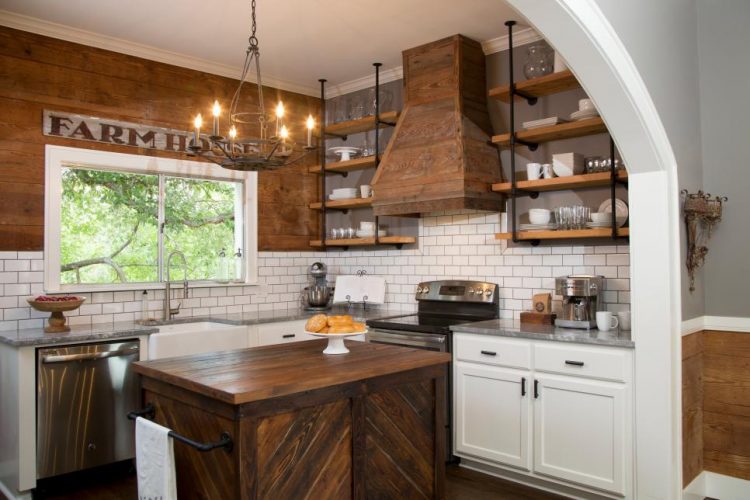 Speaking of Chip and Joanna, this kitchen is possibly one of my favorite ones they did on Fixer Upper. This episode they renovated a house for a young couple who owned a coffee shop and Joanna took a lot of inspiration from that in her design.
All of the wood and tile and floating shelves makes my heart skip a beat. I also like the contrast from the island to the rest of the cabinets and countertop. We are not going to be painting our cabinets, but I do like the idea of playing with a contrasting counter top situation like a butcher block top on the island and something contrasting on the rest.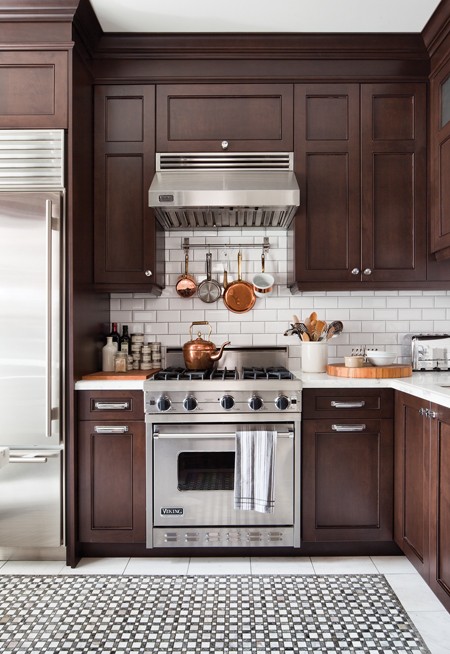 This photo caught my eye mainly for the color of countertop paired with the cabinet finish. I love the white counter top with the white tile surrounded by the dark cabinets which is what I'm hoping we can achieve in our phase two. Working near our stove, it can get a little dark. My husband installed under cabinet lighting to help with that, but I would love to lighten up under the cabinets with white tile and install a very light countertop.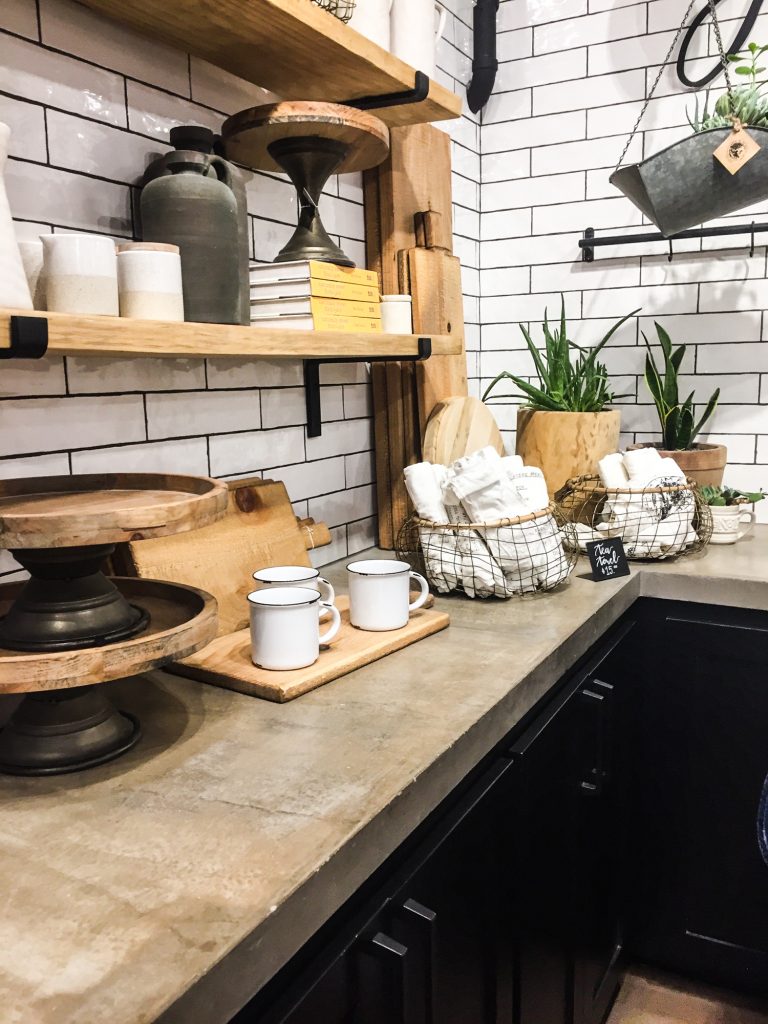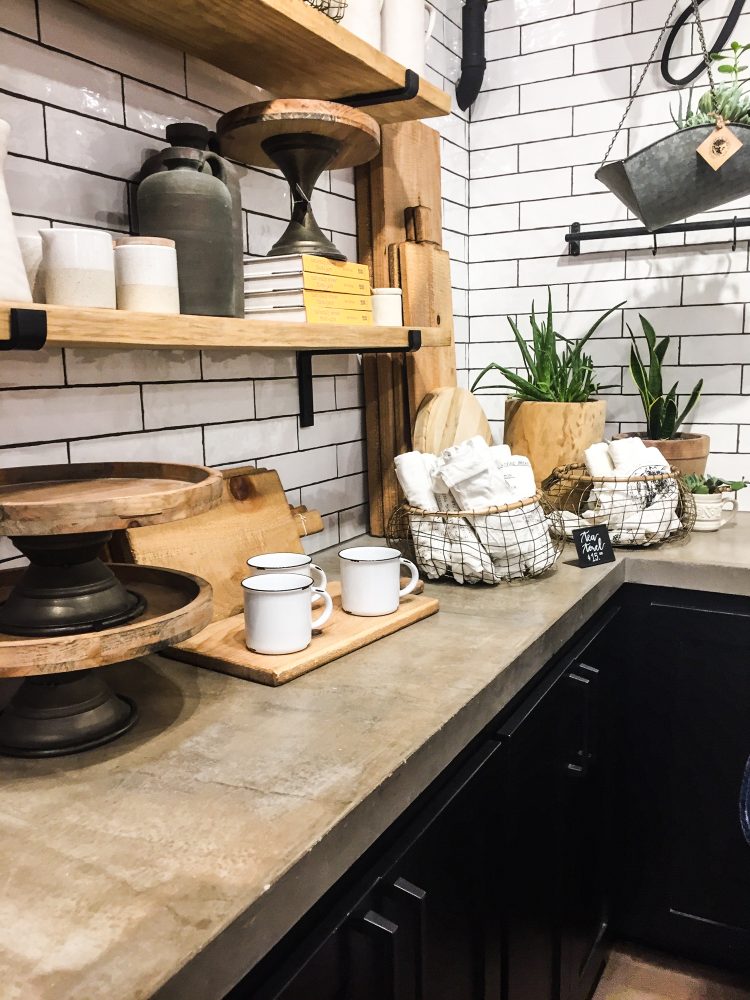 This is a photo I took myself when I was in the Magnolia store in Waco. My eye was drawn to the fantastic, hand made looking subway tile with dark grout and dark bracketed shelves. This is definitely what I am envisioning for our floating shelf wall. The dark grout is also appealing because it might be easier to keep clean.
I love all of these textures!
This summer will be all about working on Phase Two and I can't wait to share with you the materials and appliances that we go with.
And if you are wondering, Phase Three will be a new floor. But that's a project for another year!
So tell me, what does your dream kitchen look like?
Happy Friday!
xoxo Emily