marshmallow snack mix + a video
Back-to-school time means fun lunches and afternoon snacks. This sweet cinnamon marshmallow snack mix made with Campfire® Marshmallows 90 calorie snack packs is so easy and fun, the kiddos will be thrilled to help whip up a batch – as long as they get to help eat it, too!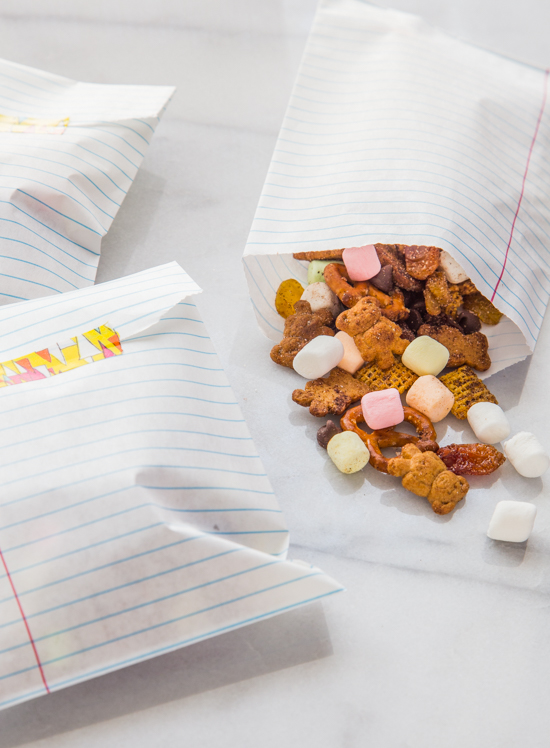 School's back!
Pencils are sharpened, uniforms are washed and lunches are packed! We are at the end of the second (yes, seriously – second) week of school and I can already tell it's going to be a great year. With the Buddy in first grade and the Baby in her second year of Preschool, the school routine is getting to be pretty second nature to us.
Thank goodness.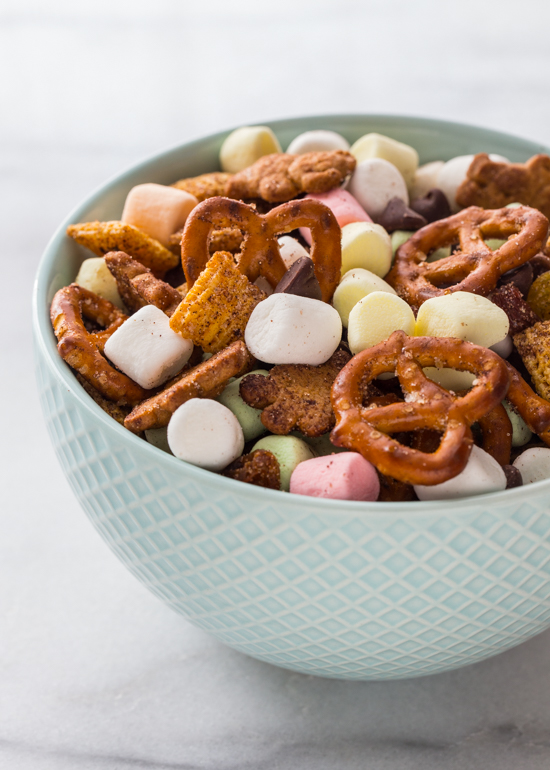 One struggle that I still have during the school year is trying to keep up with fresh ideas for lunches and after school snacks. I certainly don't like to eat the same thing every single day so I try to mix things up from time-to-time for the kiddos.
Does this mean that I'm sculpting beloved cartoon princesses out of radishes to garnish the Baby's ham and cheese sandwich? Ummm, no.
I'm dedicated, but nobody has time for that kind of lunch-box intensity.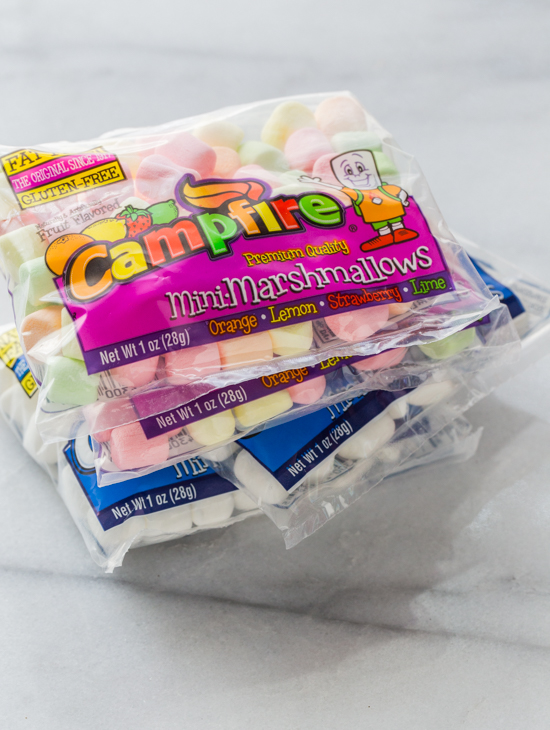 When I found out about Campfire® Marshmallow's adorable little 90 calorie snack packs I was absolutely smitten and it gave me a whole host of new lunch box and school snack ideas. I've been throwing them in my purse for a sweet treat after school and I am all about these for school birthday treats, too!
Campfire® Marshmallows are free of most major food allergens (nut-free, gluten-free, dairy-free) and being a mom of a peanut allergy kiddo, this really puts my mind at ease. I love the idea of sending these to school and every student having their own mini little pack to enjoy.
I have also found myself opening up these teeny packs for recipes that call for smaller amounts of mini marshmallows, like this Marshmallow Snack Mix. Rather than opening up a big bag of marshmallows and having it go stale before you can finish it, I open up a few of these mini snack packs and keep the rest of my 'mallows nice and fresh!
I've been making various forms of this snack mix (sometimes I call it trail mix, but I realize that's a stretch) and while the crackers and cereal sometimes vary three things remain constant: chocolate chips, raisins and marshmallows. I remember my dad making versions of this for me when I was little and giving it to me in a little baggie to carry around. I would always make a weird little sandwich out of the Cheerios (his cereal of choice) the chocolate chips and a marshmallow. Kind of like a mini, non-toasted s'more.
It was the best!
This version of the snack mix is so simple to make and it ups the cereal/pretzel/graham cracker elements with some cinnamon and sugar. It's so simple to make that the kiddos did the entire thing themselves (with the exception of the oven stuff). Take a look at these little marshmallow packs in action. And by 'marshmallow packs' I mean my kiddos.
Honestly, how cute are those snack packs? For this recipe, I used three little packs (two flavored and one plain) for a total of 3 ounces of marshmallows. You could use whatever combination you'd like in yours, as well as swap out whatever cereal, pretzels and snack crackers you have on hand.
That's the beauty of snack mix! It's endlessly versatile and the kids go crazy for it.
Crazy, I tell ya.
What's not to love, right? It's crunchy cereal, snack size graham crackers and pretzels seasoned with a bit of cinnamon and sugar and mixed with chocolate chips, jumbo raisins and sweet marshmallows. It's a veritable party in your mouth.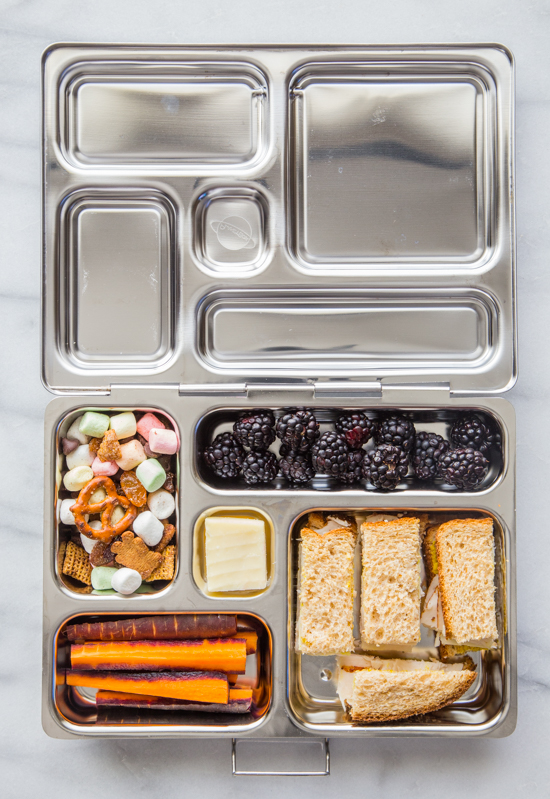 Besides snack time, this cinnamon-y mix is great for lunches or treats for school friends. It's a great fit for the Buddy's Planet Box (similar lunch box shown here) for lunchtime and then I found these beyond adorable treat bags that look like notebook paper on Etsy and I about died and went to classroom mom heaven.
A bit of festive washi tape sealed the deal.
Marshmallow Snack Mix for life!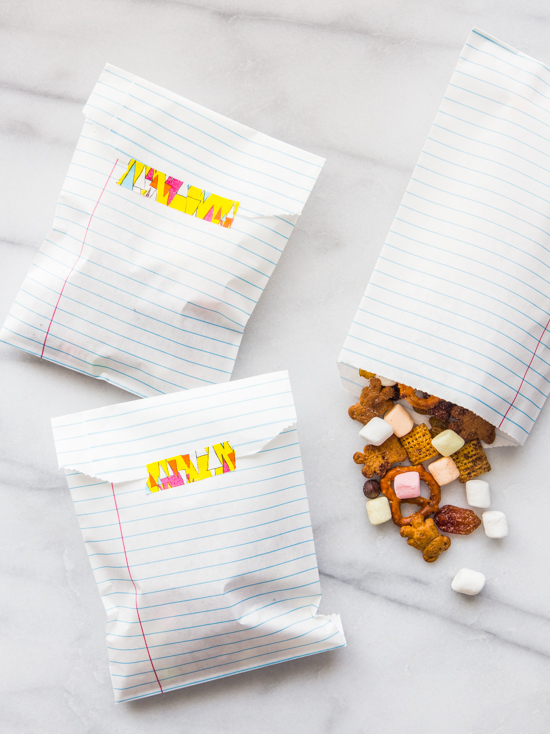 As you may remember from my Marshmallow Strawberry Shortcake post, I'm partnering with Jamie from My Baking Addiction (check out her new Pumpkin Spice Marshmallow Treats – they are out of this world!) and Campfire® Marshmallows to bring you tons of great seasonal marshmallow recipes throughout the year.
We have a Marshmallow Madness Pinterest board going and it is stocked full of marshmallow awesomeness.
For more information about Campfire® Marshmallows, check them out on Pinterest and Facebook.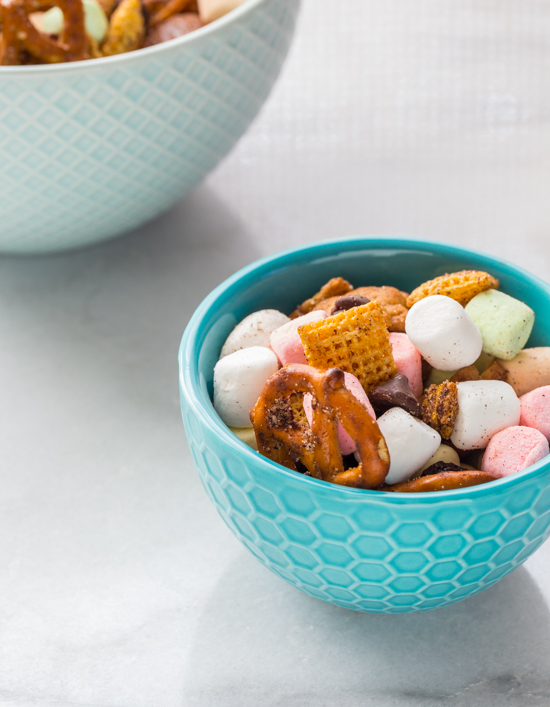 Happy Snacking!!
Disclosure: I have teamed up with Campfire® marshmallows to share recipes using their products. This is a sponsored post written as part of that program. All opinions about Campfire® marshmallows are, as always, 100% my own. 

Marshmallow Snack Mix Recipe
Yield: 10 cups
Prep Time: 10 minutes
Cook Time: 10 minutes + 10 minute cooling time
Total Time: 30 minutes
Ingredients
3 cups corn cereal (I used corn Chex)
2 cups snack size graham crackers (I used honey Teddy Grahams)
2 cups pretzel twists
3 tablespoons unsalted butter, melted
1 teaspoon ground cinnamon
2 Tablespoons sugar
1 cup chocolate chips
1 cup jumbo mixed raisins
3 Campfire® Marshmallows 90 calorie snack packs
Directions
Preheat oven to 350 degrees; line a rimmed baking sheet with parchment paper and set aside.
In a large bowl, stir together cereal, crackers and pretzels. Drizzle with butter and sprinkle with cinnamon and sugar. Stir to coat. Spread mixture onto prepared baking sheet and bake for 10-15 minutes, stirring once, until mixture is lightly toasted. Be careful not to over bake. Allow to cool.
Place cooled snack mixture into a large bowl and add remaining ingredients. Stir to combine. Serve and enjoy!
Notes:
Snack mix can be stored in an air tight container at room temperature for up to 3 days.
This post contains Amazon affiliate links.