Sausage Filling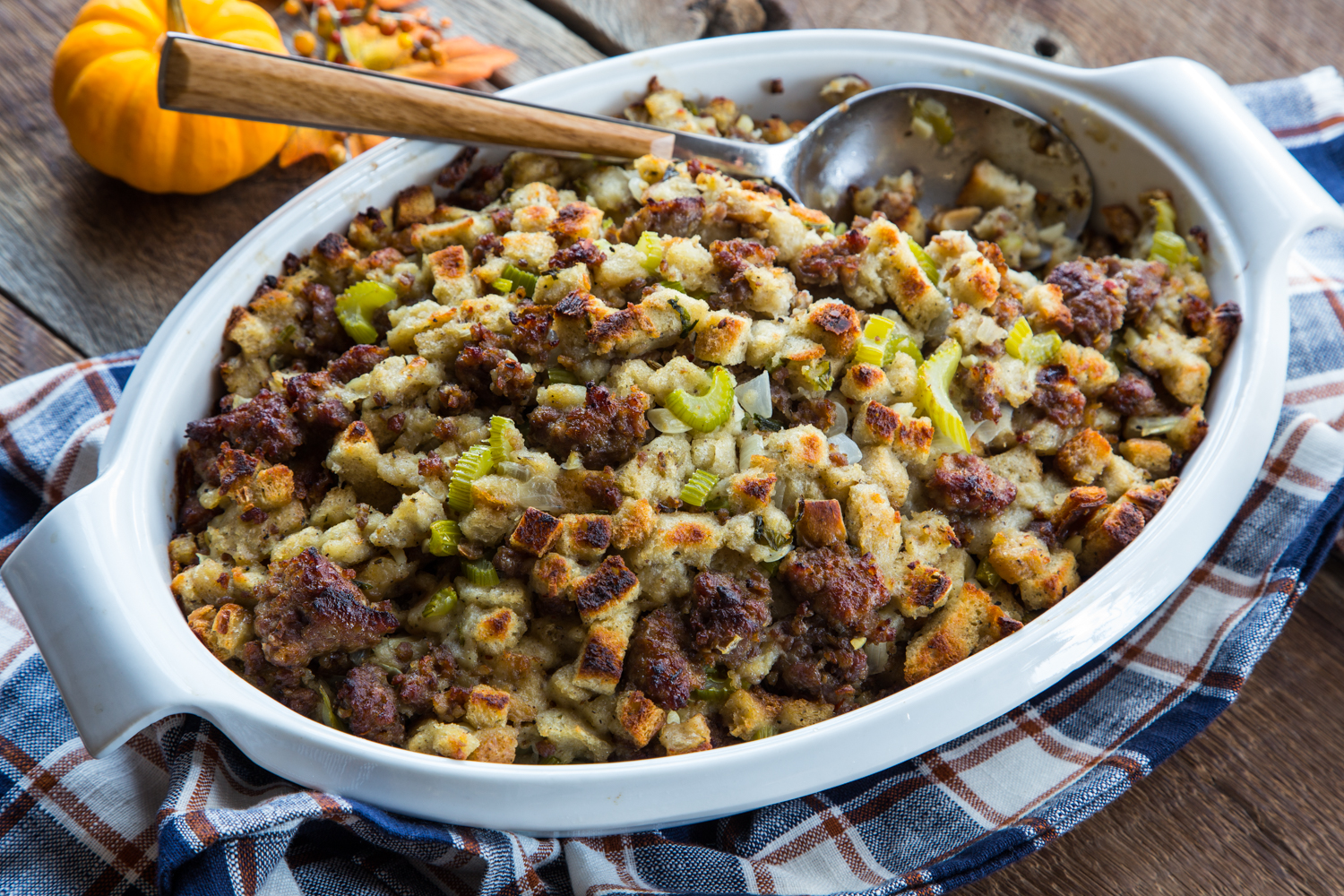 This is my fourth Thanksgiving season since I started blogging. What is funny about that is that every year, I make pretty much the same recipes (with slight variations). For instance, this sausage filling. You will never see another Thanksgiving stuffing recipe on my blog – ever. It just won't happen. This is the recipe that was handed down to me from my Mother-in-Law 10 years ago and I have been making it ever since. It was the recipe that my husband grew up with, and living so far away from his family, I always wanted him to have a little bit of his traditions mixed with mine.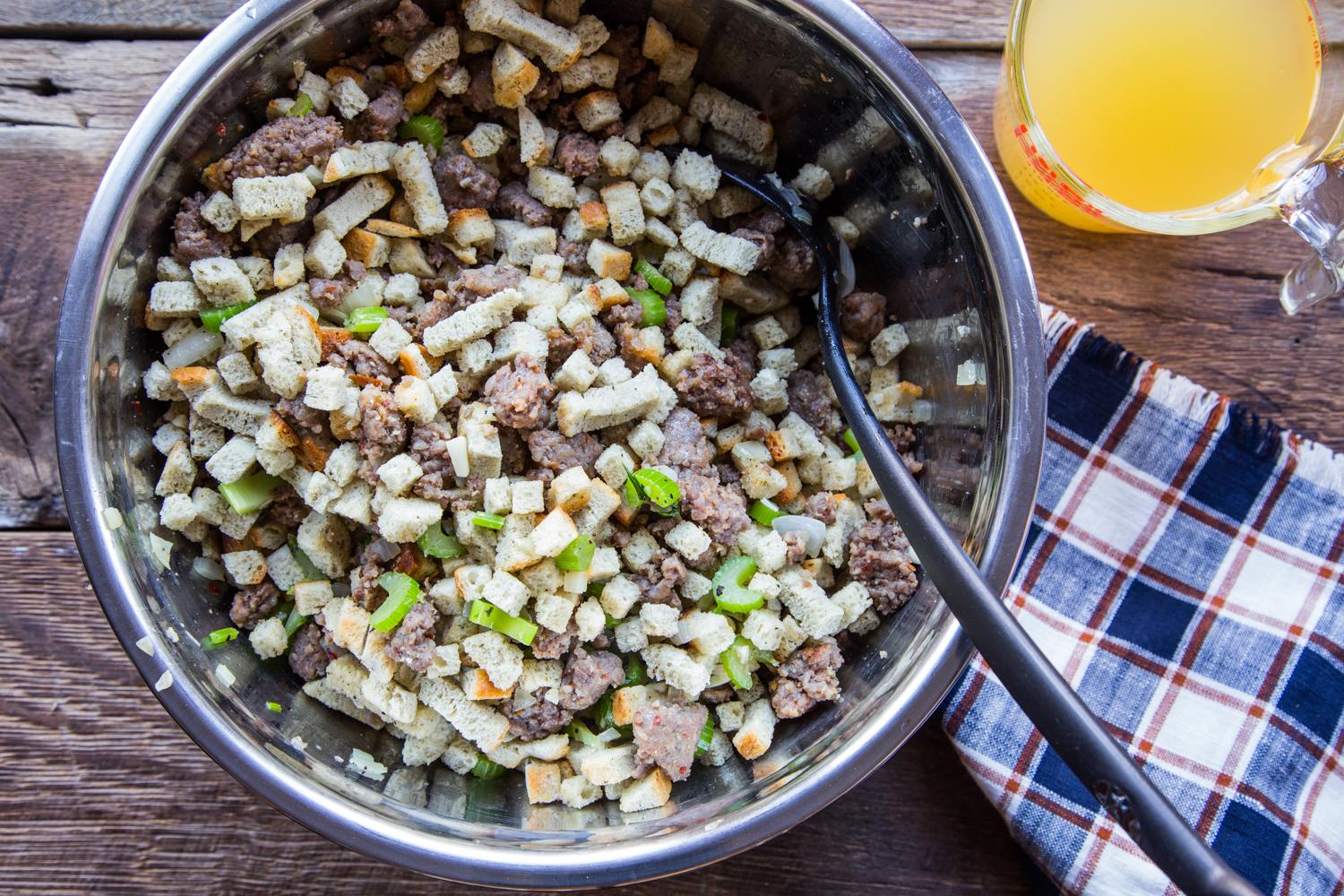 I blogged about this Sausage Filling (aka: stuffing) back in 2012 but felt it was time to revisit the post, freshen up the photos, and bring it back to the front of the blog. It is my favorite, after all, and I thought this year would be the perfect time to share it again. This is a recipe that I have made now for 10 years and when I start browning up the mixture of sweet and spicy Italian sausage and mix it with the herb sent of the bread cubes, I get a rush of excitement for Thanksgiving.
It's a powerful feeling.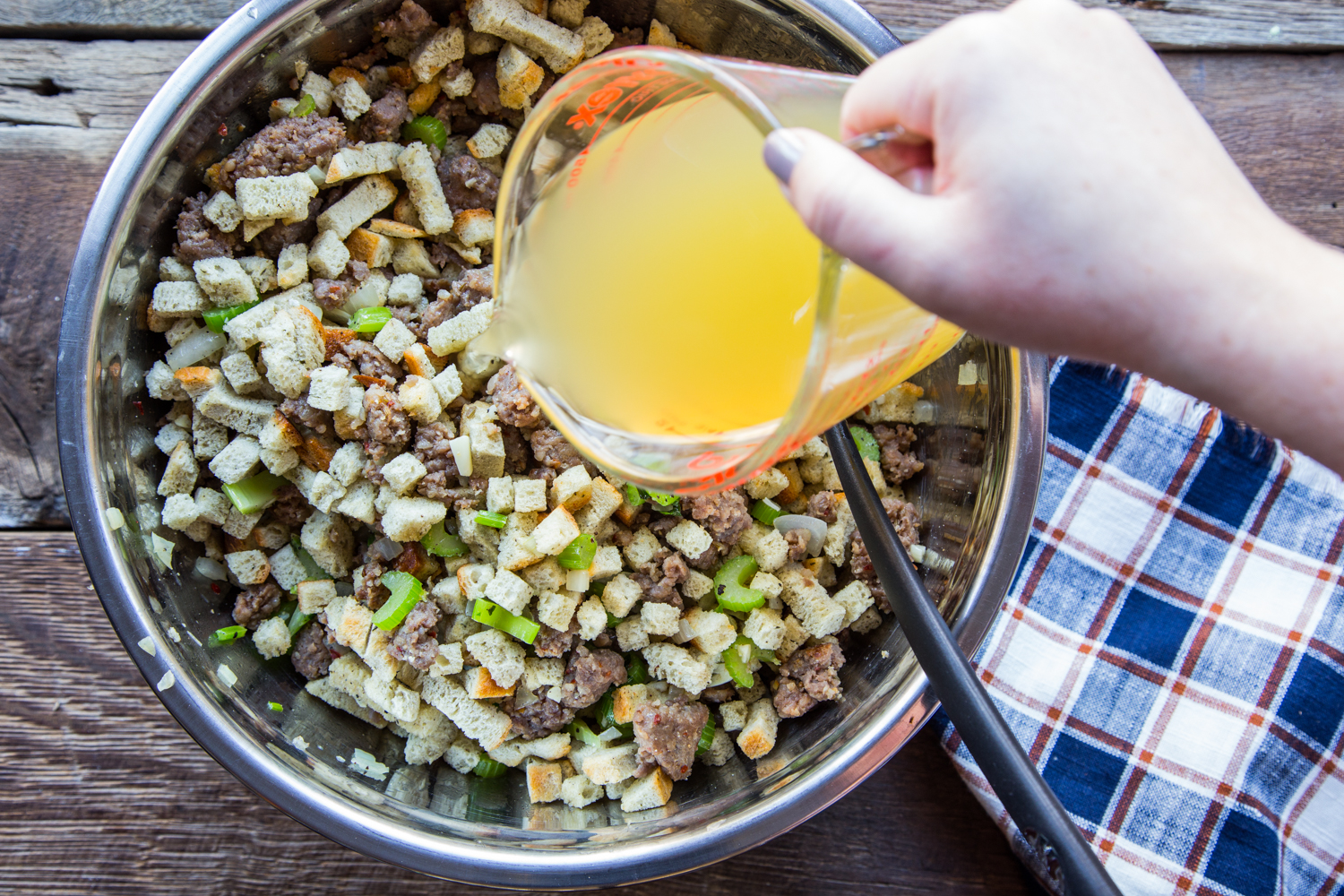 A couple of notes for making this sausage filling:
I use Italian sausage, 1lb of sweet (or mild) and 1lb of hot (spicy). It gives the filling an intense sausage flavor with a bit of a kick.
My Mother-in-Law told me to use Pepperidge Farm Herb Seasoned Bread Cubes (red package), and I would never even dream of using anything else. Her original recipe was made when the bread cubes came in 14oz bags, but now the bags are 12oz. I have found that using 1 1/2 bags works great for the amount of other items in the stuffing. So buy two, and save the leftover half of a bag for a small recipe later. Or feed it to the squirrels. Your choice.
Add your broth slowly. I usually add one cup at a time then stir and assess the texture. One of my favorite characteristics of this sausage filling is that it is a bit on the dryer side. I usually end up using a little less than 3 cups of broth when making mine. But again, mix in a bit of broth at a time, and mix to your desired consistency.
I have the walnuts listed as optional in the directions. The original recipe calls for them and I adore the walnuts. They add a softly nutty crunch to the stuffing that is just incredible. However, due to C's nut allergy I tend to leave them out because she loves the stuff. If I am feeling ambitious, I make two batches – one with nuts and one without. If nut allergies aren't a concern for you, by all means, put in the walnuts!! You won't be sorry.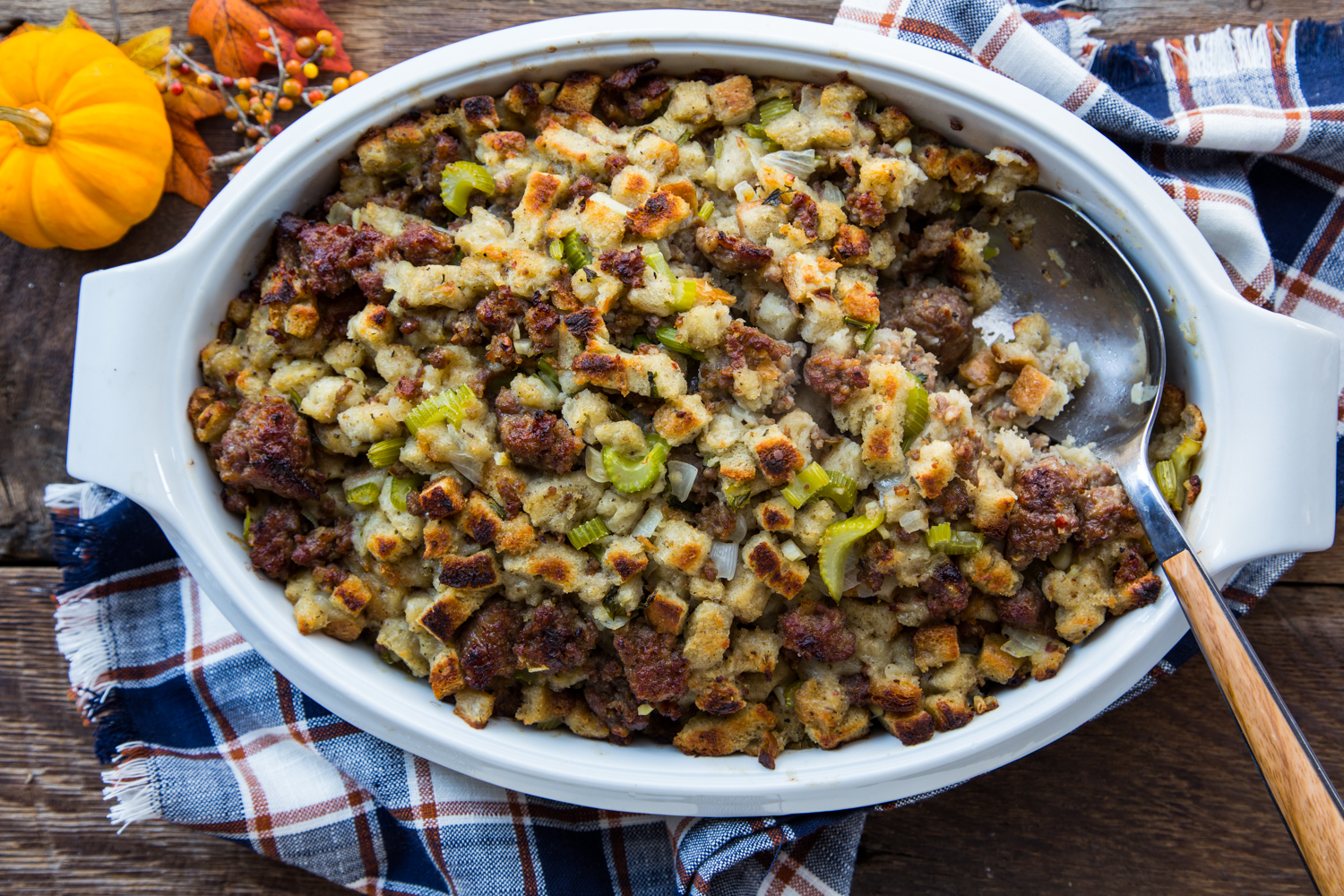 In the spirit of sharing family traditions, I am so happy to be sharing this recipe once again. Stay tuned, because I have some more family favorites coming up, as well as some great leftover ideas.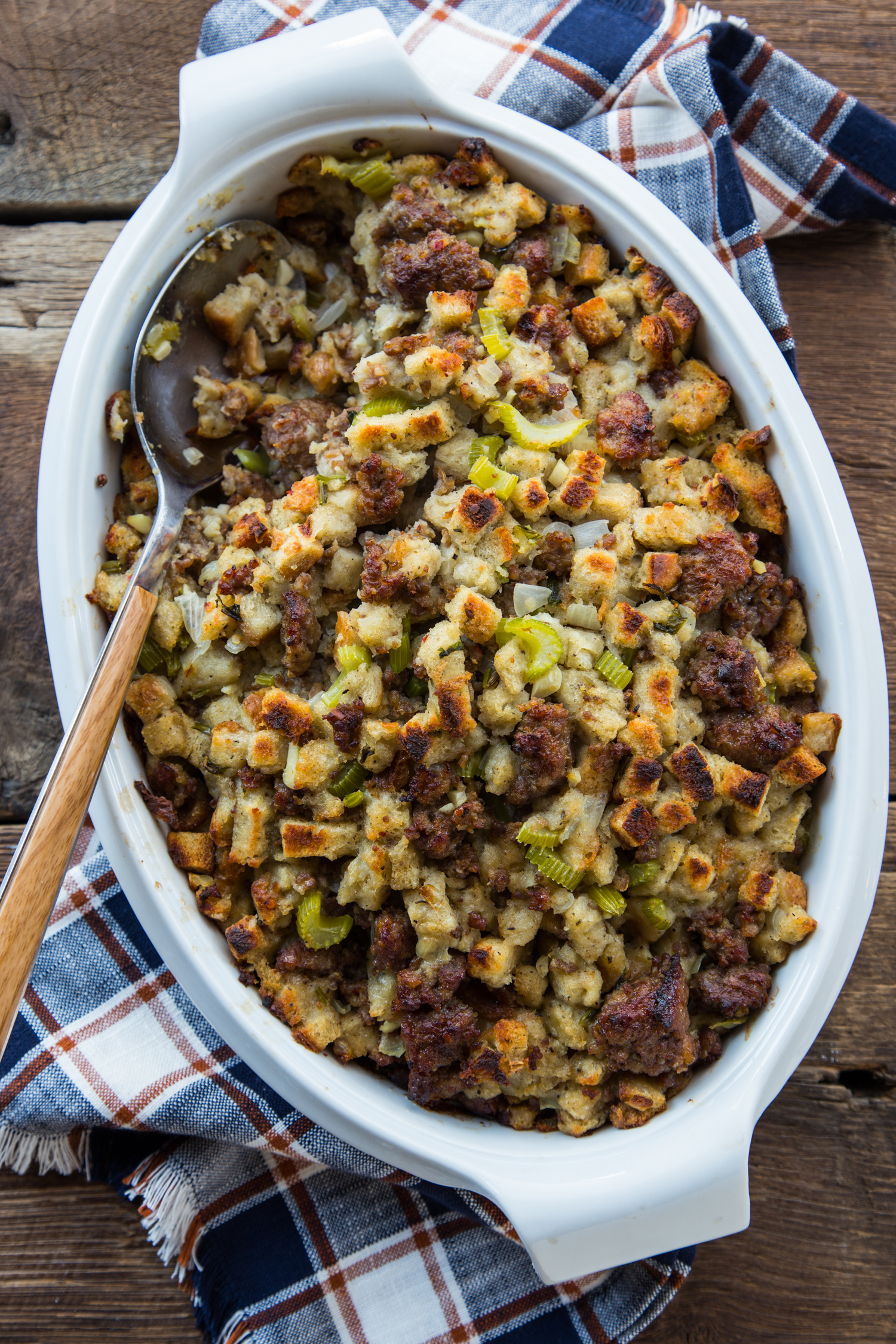 Happy Tuesday!
Sausage Filling Recipe
Yield: 12 servings
Prep Time: 20 minutes
Cook Time: 1 hour
Total Time: 1 hour 20 minutes
Ingredients
1 1/2 - 12 oz bags of Pepperidge Farm Herb Seasoned Bread Cubes
1 lb of ground sweet Italian sausage
1 lb of ground hot Italian sausage
1 Tablespoon of olive oil
2 Tablespoons of butter, divided
1 medium sweet onion, chopped
4 celery stalks, chopped
8 cloves of garlic, minced
1 cup of walnuts, chopped (optional)
Salt and pepper to taste
Up to 3 cups of chicken/turkey stock (depending on your desired consistency)
Directions
Preheat oven to 375°
Heat a large skillet over medium heat and add sausage. Brown the sausage until it's cooked through, using a wooden spoon to break it into small pieces. Drain any extra fat and transfer cooked sausage to a large bowl and set aside.
In the same skillet, heat 1 Tablespoon of butter and olive oil together. Add celery, onions and garlic and sauté until translucent. Transfer to bowl with sausage and set aside.
In a small skillet, melt the remaining Tablespoon of butter over low heat and sauté walnuts until fragrant, being careful not to burn them. Transfer to bowl with sausage along with bread cubes.
Using a large spoon, mix well to incorporate all ingredients, and season with salt and pepper. Adding one cup at a time, slowing pour in chicken/turkey stock. Mix well after each cup to test consistency. If you prefer a drying stuffing (which I do) add less stock, if you prefer a more moist stuffing, add a bit more stock. I usually end up using a little less than 3 cups of stock.
Transfer mixture into a 3 quart casserole dish. Cover and bake for 1 hour.
Enjoy!
This post was originally published on November 12, 2012.