Niçoise Deviled Eggs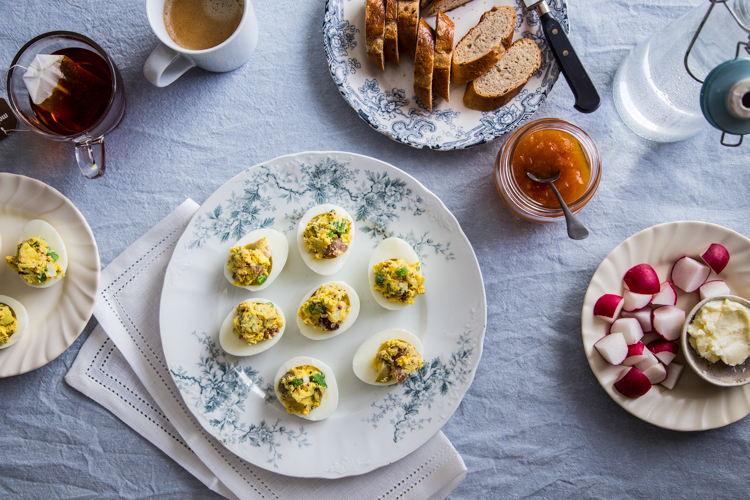 This post is sponsored by the Ohio Poultry Association. All opinions are, as always, 100% my own.
Is it just me or is this week clipping along at a breakneck speed? My to do list is growing and Thursday needs to get the memo and just sloooowww down. Seriously, Thursday – just grab a cup of coffee and take it easy for a minute.
Being down South at the beginning of the week got me thinking about regional foods. The foods that are rooted in the culture of  region. But there are foods that definitely overlap. Take deviled eggs. Deviled eggs are considered to have Southern roots, but growing up in Ohio, my great-grandma always made deviled eggs, especially at Easter. She strongly believed in eating an egg a day and would be totally on board with the egg trend of right now.
But trendy or not, my Great Grandma loved her eggs and has passed that love down through my grandma, my mom and now me. We're egg people!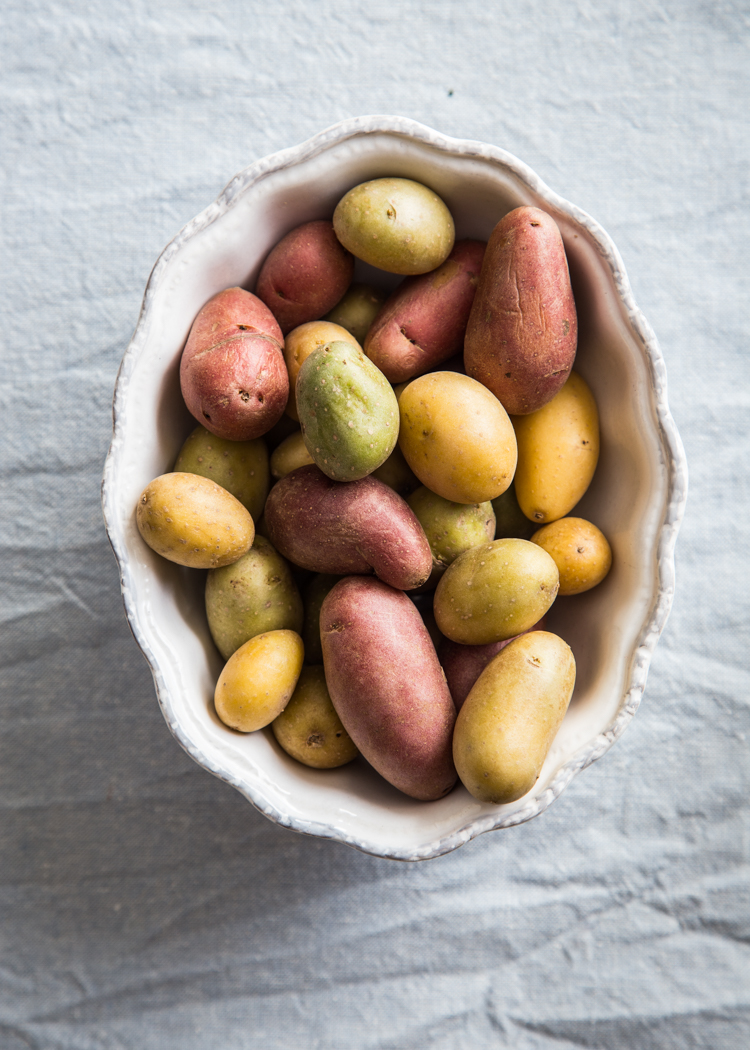 Did you know that deviled eggs actually date all the way back to ancient Rome? Crazy, huh?! Yeah, apparently the ancient Romans would boil eggs and serve them up with spicy sauces before big meals. Like a crazy, spicy little appetizer. How fun is that? No matter where deviled eggs came from or how the tradition of them has mixed and mingled with other regions, one thing will always be true: deviled eggs are ah-mazing.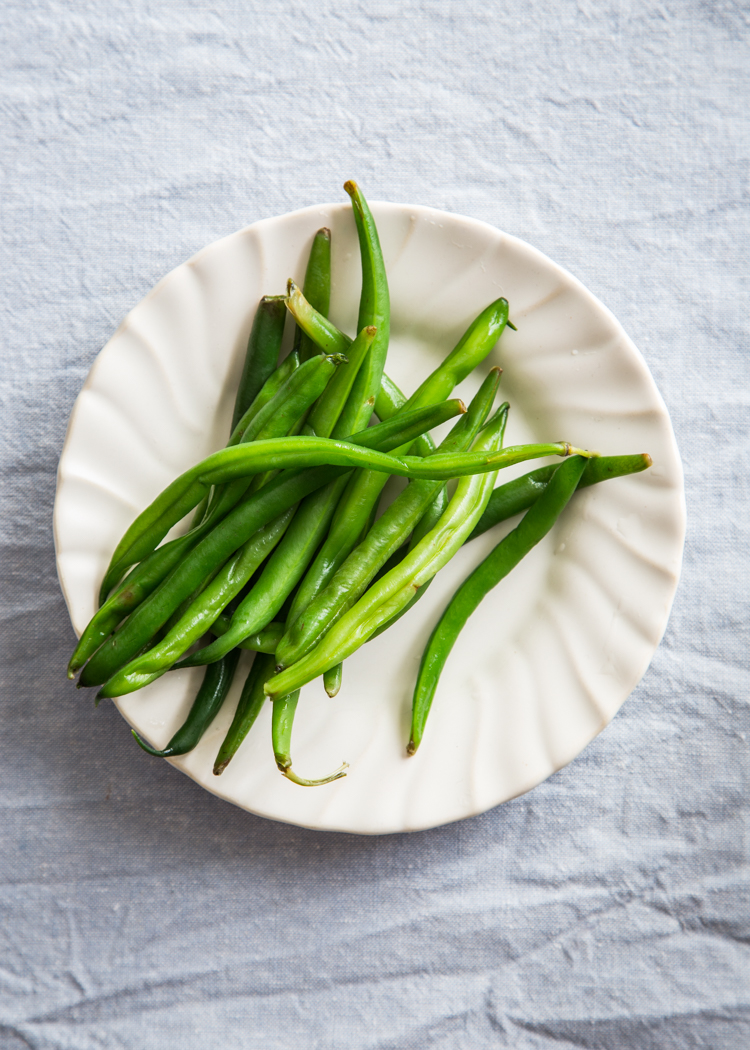 I've made it pretty clear that my feelings for deviled eggs are strong. True love, strong. I've shared not one. Not two. But four deviled egg recipes here on Jelly Toast. First there are my classic Deviled Eggs. Then Smoked Salmon Deviled Eggs, Fig Deviled Eggs and Spinach Bacon Deviled Eggs. These incredible Niçoise Deviled Eggs are lucky number five.
I told you I have a passion for deviled eggs!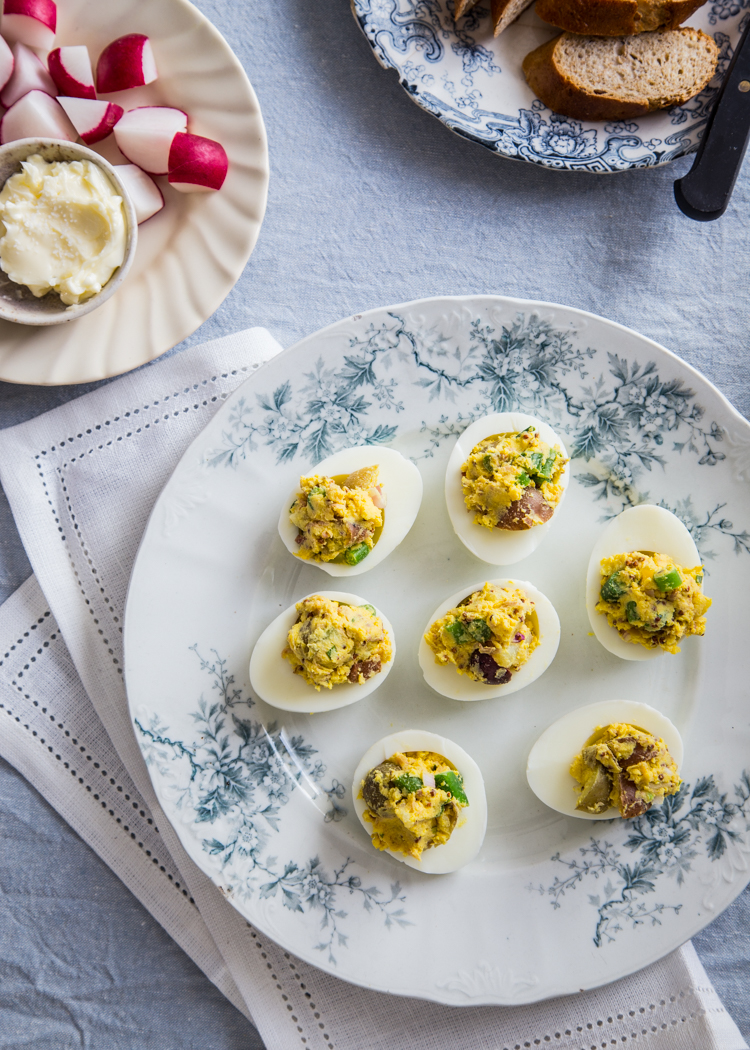 When my good friends at the Ohio Poultry Association asked me to share a recipe featuring hard boiled eggs, I knew that a new take on deviled eggs was the way to go. Last spring I had the amazing pleasure to go on a trip with the OPA and tour the Weaver Egg farm (you can find a virtual tour here – it's such a cool video!) and I learned so much about the process of producing eggs and using eggs. It was one of the coolest experiences I've had. You can read more about my trip here and here (scroll down to see me stylin' in an awesome hair net!)
Niçoise salads are amazing in the Spring time – the baby new potatoes and fresh green beans are perfection. I took all of the classic flavors and elements from a Niçoise salad and incorporated them into these deviled eggs. Ingredients like coarse grain mustard, fresh green beans, baby new potatoes, shallots, tuna, and of course, Niçoise olives.
The filling is reminiscent of a vinaigrette potato salad, egg salad and tuna salad all combined – but in the very best way. The combination of all of these lovely ingredients make these Niçoise Deviled Eggs so elegant and full of flavor. Vinegary, salty but fresh and light. The filling is mayo-free which is unusual for a deviled egg recipe. Some great coarse grain dijon mustard and olive oil are all it needs to hold this filling together. I can't think of a better egg dish to share on Easter Sunday.
Heads up, Mom! I'm bringing these eggs 😉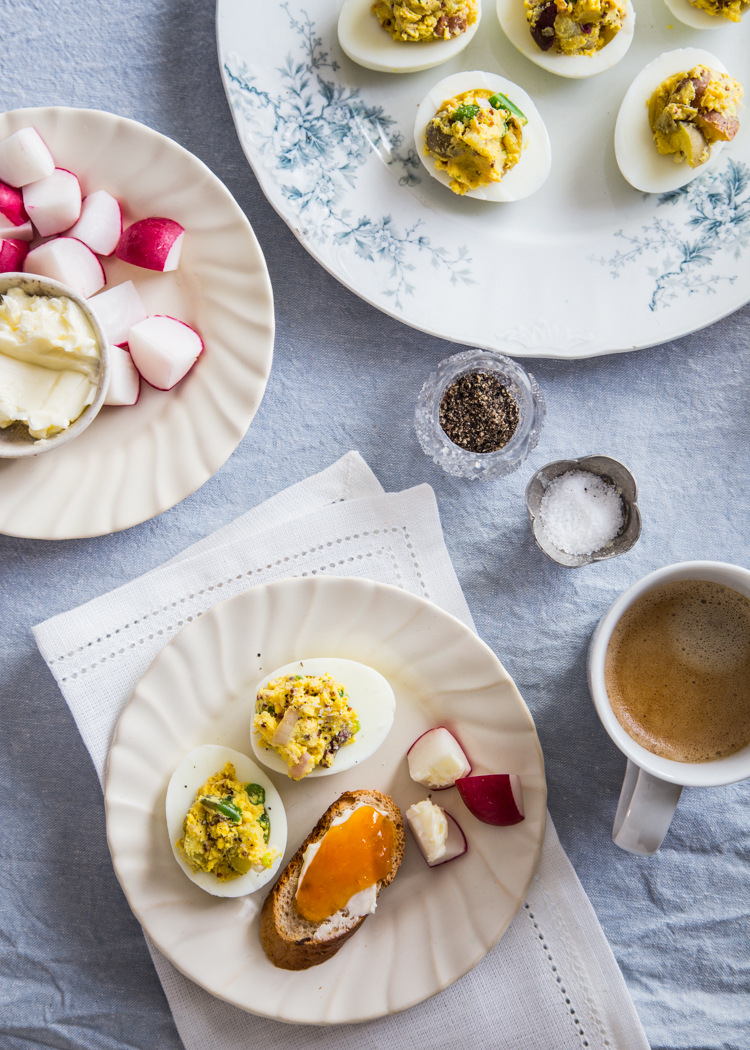 So, my egg loving friends, this Easter, the OPA wants to help you really get the most out of your egg experience. Join me, the OPA, and five of my favorite egg loving blogger friends next Wednesday, March 25 from 9-10 pm EST for our #OhioEggRoll Twitter party! We'll be chatting all things eggs and you'll have the chance to win some great prizes. You won't want to miss it! In the meantime, be sure to check out some of my friend's wonderful Easter egg recipes: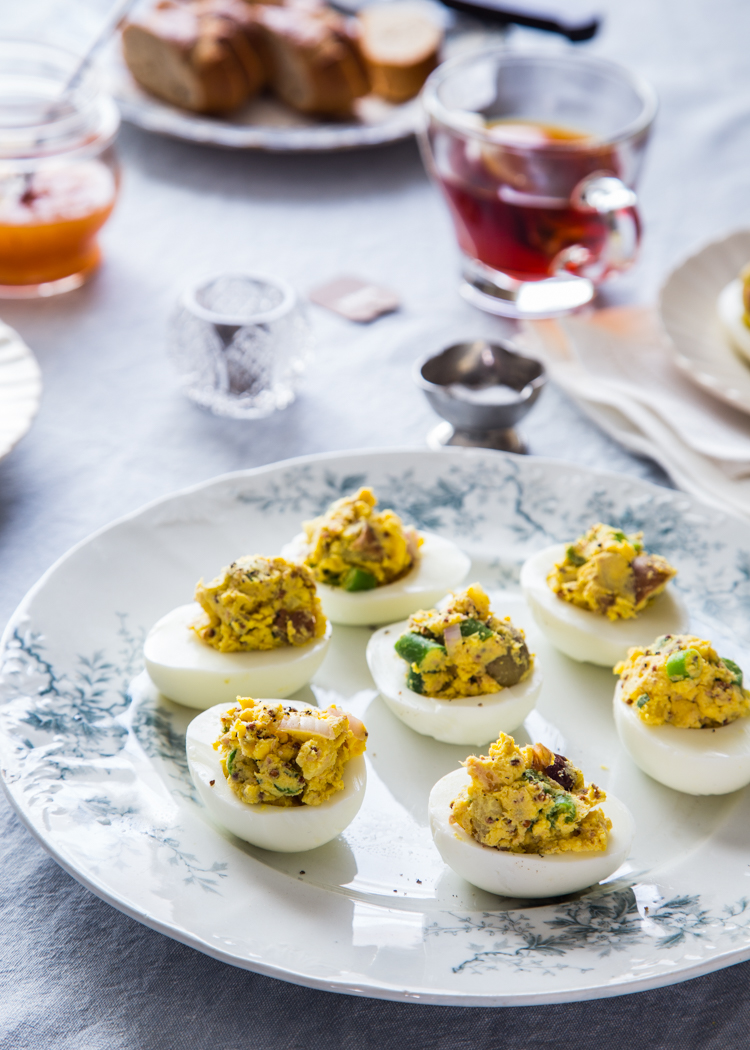 Happy Thursday!
Niçoise Deviled Eggs Recipe
Yield: 24 deviled eggs
Prep Time: 10 minutes
Cook Time: 20 minutes
Total Time: 30 minutes
Ingredients
12 large eggs
1 cup baby fingerling potatoes
1/2 cup fresh green beans
2 1/2 ounces canned tuna packed in water, drained
3 tablespoons course grain dijon mustard
2-3 tablespoons white wine vinegar
2 tablespoons extra virgin olive oil
2 tablespoons Niçoise olives, chopped
1 1/2 tablespoons shallot, minced
2 teaspoons chopped fresh tarragon
salt and pepper to taste
Directions
Place eggs in a large pot and cover with cold water by 1 inch. Place pot over medium/high heat. When the water begins to boil, cover pot and remove from heat. Allow eggs to sit in the water for 12 minutes. Remove eggs and place in an ice water bath to stop the cooking. Refrigerate until ready to use.
While the eggs are cooking, fill a medium saucepan with water. Add potatoes and bring to a boil. Boil potatoes for about 5 minutes or until tender. Use a slotted spoon to remove the potatoes and set aside to cool. Add green beans to the boiling water and cook for 1-2 minutes or until beans are bright in color and just tender. Place beans in an ice water bath to stop the cooking. Chop the potatoes and green beans; set aside.
Peel the eggs. Cut them in half lengthwise and separate the whites and the yolks. Place the yolks in a large bowl and add potatoes, green beans, tuna, mustard, white wine vinegar, olive oil, Niçoise olives, shallots, tarragon, and salt and pepper to taste. Use a spoon to scoop filling mixture back into the reserved egg whites. Arrange on a platter and serve!
Enjoy!