Roasted Cauliflower Toast with Whipped Goat Cheese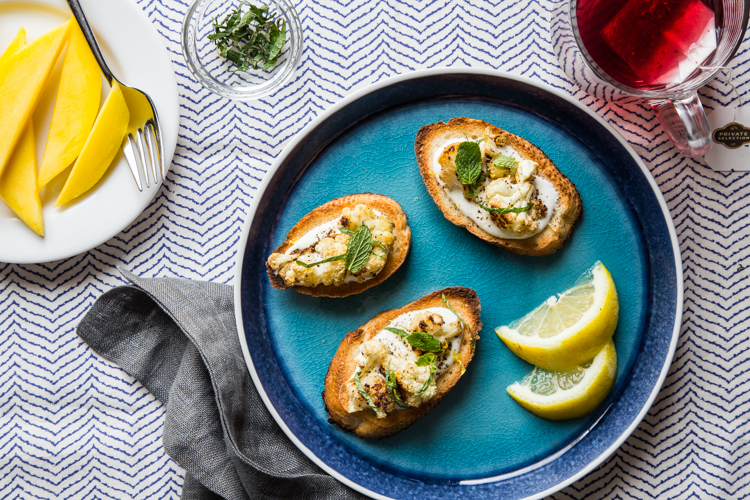 I have to laugh when I think about how this recipe came about and it all stems from my procrastinating. Typically, I get hard on myself about how I put off tasks until the last minute, or indefinitely if it's something non-urgent. But in this case, I had to pat myself on the back for putting off the tedious task of clearing off my iPhone. Yes, my iPhone.
My husband is methodical about clearing off and backing up his phone. He urges me *gently* to stay on top of my phone and not let my camera roll take up every last bit of storage on my phone, but I inevitably get side tracked and the task gets pushed aside. Now with even more storage on my new phone, the problem has become even worse.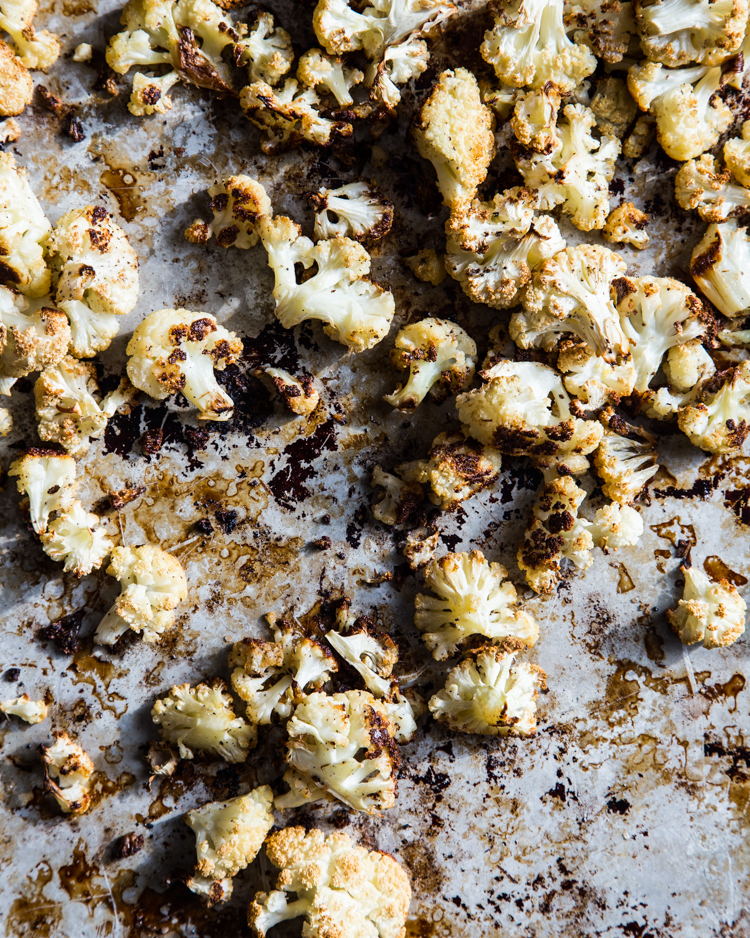 What in the world does a crowded iPhone have to do with Roasted Cauliflower Toast with Whipped Goat Cheese? Well, a few months ago (yes, months) my parents took us out to dinner at an awesome little gastropub near us called Social. I ordered the Pork Ramen which inspired my Slow Cooker Pork Ramen but for one of our appetizers we ordered a whole roasted cauliflower that was served on a bed of fluffy whipped goat cheese and feta cheese. The whole dish was accented with lemon and olive oil and was pretty fabulous. I had the thought at the time that this would be a fun recipe to play with at home so I snapped a picture of the dish, along with our other two appetizers which were homemade potato chips with blue cheese sauce and balsamic drizzle and buffalo fried deviled eggs. Yeah, those blew my mind, but I'm still trying to figure out how to batter and fry a deviled egg.
Suggestions are welcome on that.
Here is the photo I snapped (warning: totally unedited iPhone photo ahead):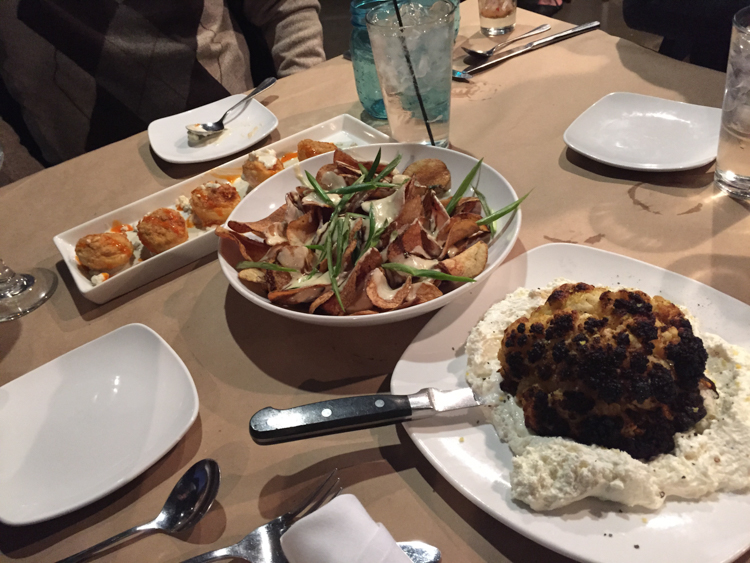 See? That was a serious spread! Just looking at those chips makes me want to go back just for those…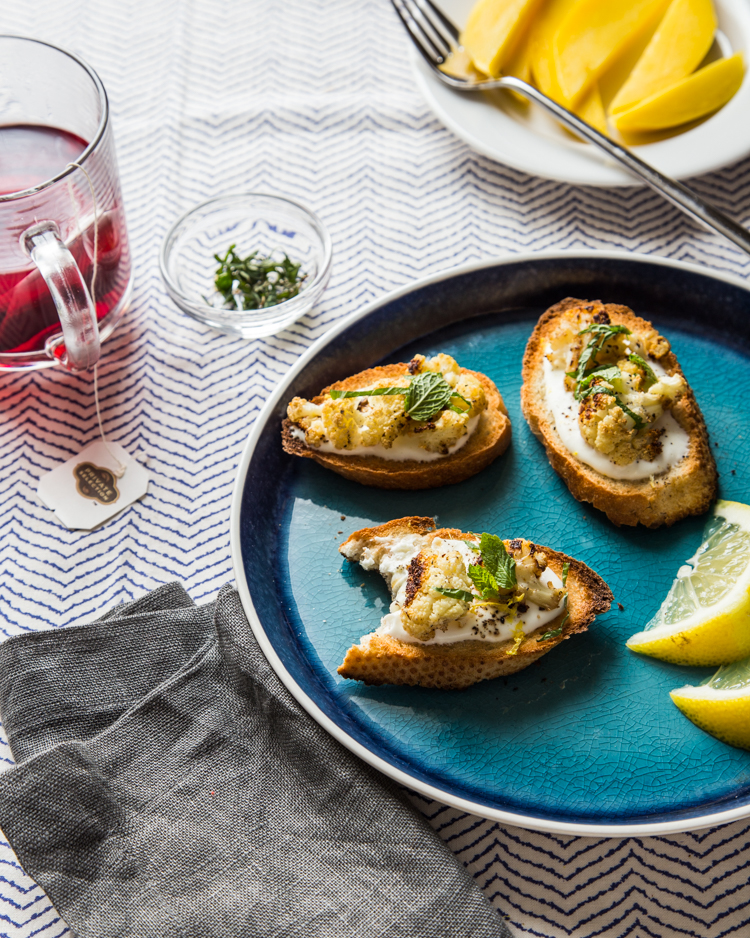 Anyway, shortly after the dinner, I forgot about my intention and went on my merry, busy way. That is, until last week when I was on a plane down to Birmingham (more on that trip to come soon!). I was sitting on the plane trying to keep myself occupied and missing my family a bit, so I started scrolling through my phone's camera roll and checking out all the cute pics of my kids. It was like a rabbit hole of memories (I have photos from 2013 on there, guys. I'm not kidding).
Well, low and behold a pic of a giant head of roasted cauliflower on top of a bed of fluffy whipped cheese. I had totally forgotten about it!! I was so happy to have come across this photo, because when I got home and began playing around with the ingredients, I realized it would make a killer toast recipe.
All of the components are simple to make, but it does take a little forethought to have the ingredients on hand. I added some mint to the equation because I felt that it needed some herbiness. My spell check is telling me that's not a word, but I disagree.
The creamy, tangy goat cheese/feta cheese mixture is set off with some bright lemon zest and mint. And I'm a strong believer that there is no better way to eat cauliflower than roasting. It's by far superior to any other form, particularly steamed.
Steamed cauliflower makes me shudder. If you have yet to roast cauliflower, it needs to happen now. Warning: it does make your house smell like cauliflower, which can be a bit of a deterrent. Just power through and stock up on air freshener, because this stuff is awesome.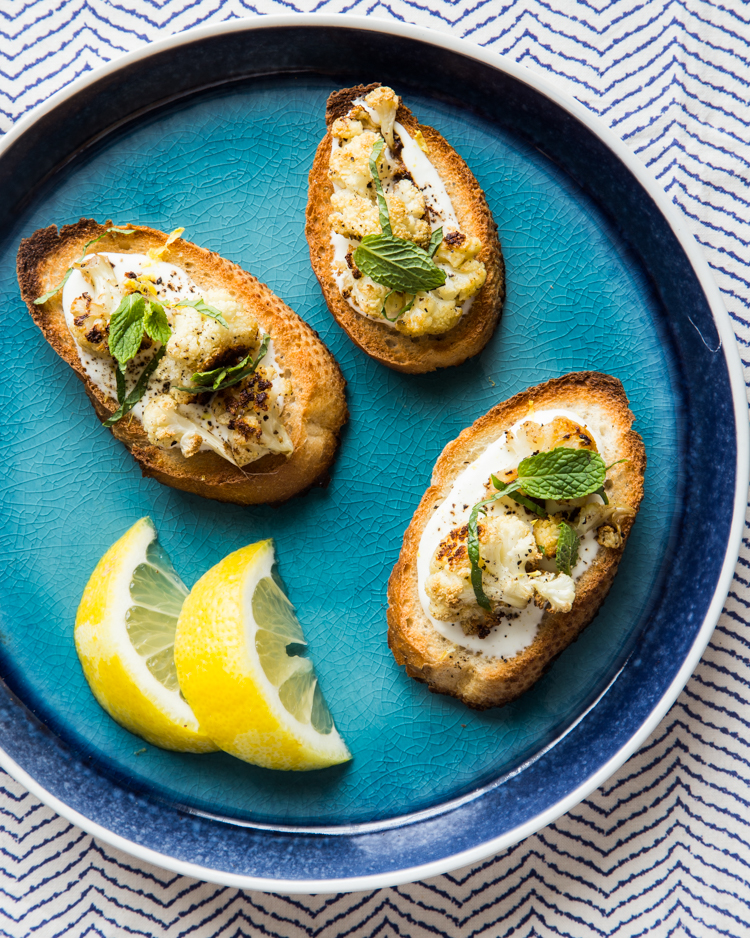 I'm so glad I didn't clear off my phone. Happy Tuesday!
Roasted Cauliflower Toast with Whipped Goat Cheese
Yield: 8 servings
Prep Time: 5 minutes
Cook Time: 45 minutes
Total Time: 50 minutes
Ingredients
1 large head cauliflower, cut into small florets
1 Tablespoon olive oil
salt and pepper to taste
4 ounces goat cheese
4 ounces feta cheese, crumbled
1 Tablespoon whole milk (optional)
1 small baguette, sliced and toasted
1 tablespoon mint leaves, chopped
zest from 1 lemon
Directions
Preheat oven to 400 degrees. Spread cauliflower out on sheet pan and toss with olive oil and sprinkle with salt and pepper. Roast for about 45 minutes or until slightly charred and tender.
While cauliflower is roasting, place goat cheese and feta cheese in a small food processor (or blender) and blend until smooth. Add milk if needed to get the mixture moving.
Assemble the toast:
Spread cheese mixture on piece of toasted baguette. Top with a few pieces of cauliflower and sprinkle with a bit of lemon zest and chopped mint. Finish with a touch of black pepper and serve!
Enjoy!