Roasted Brussels Sprout Quiche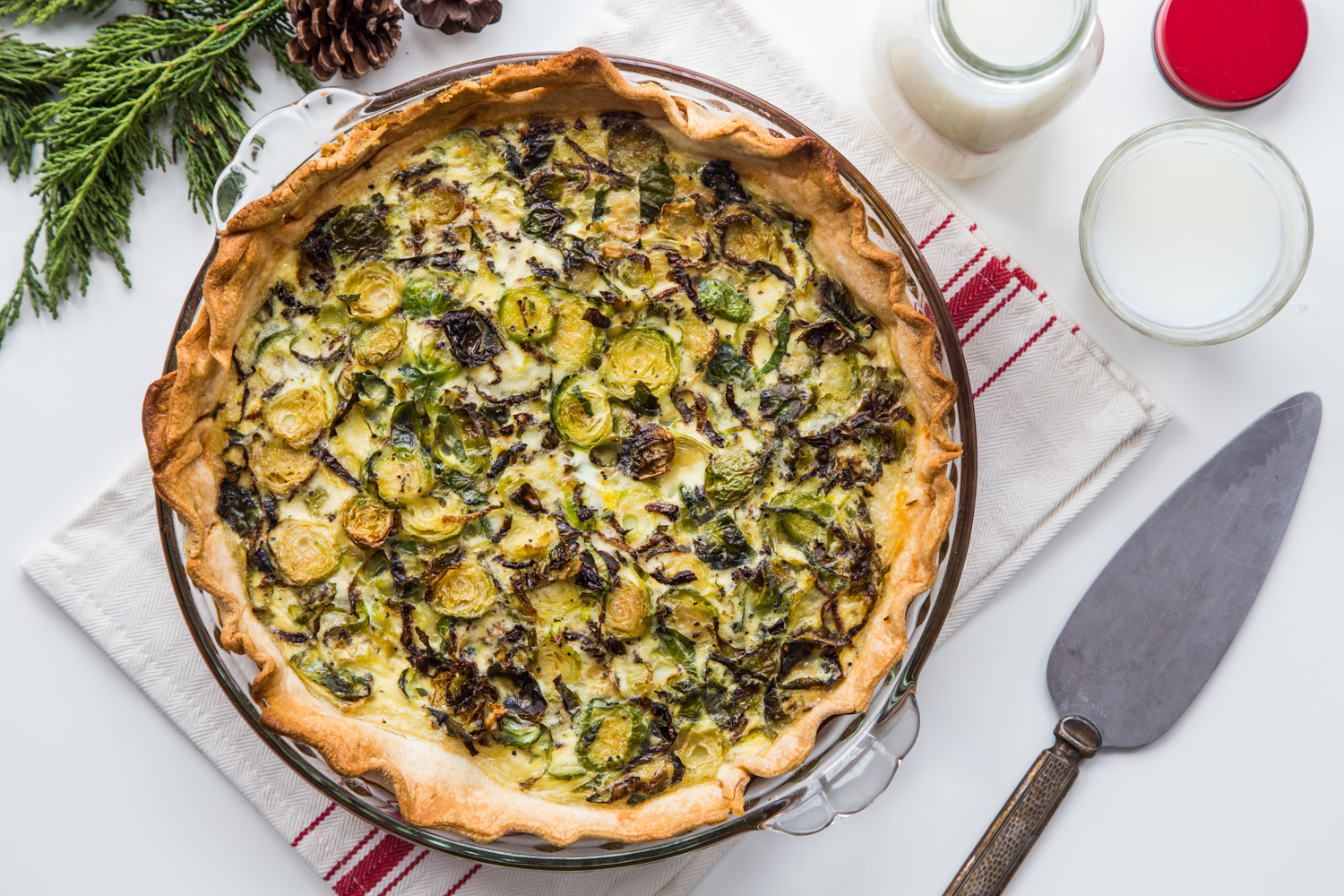 This post, Roasted Brussels Sprout Quiche, is sponsored on behalf of the National Milk Life Campaign. All options are, as always, my own. Thank you for supporting the partners that help make Jelly Toast possible.
There are so many different ways that families celebrate the holidays. Big family dinners, casual grazing potlucks, boisterous open houses, and my personal favorite: laid back family brunch!
It's fairly common for our family to get together for brunches in the Spring time with Easter, Mother's Day, and Father's Day, but who says you can't have a Christmas brunch?
I say that Christmas brunch is a brilliant idea and I will be pushing for it heavily this year.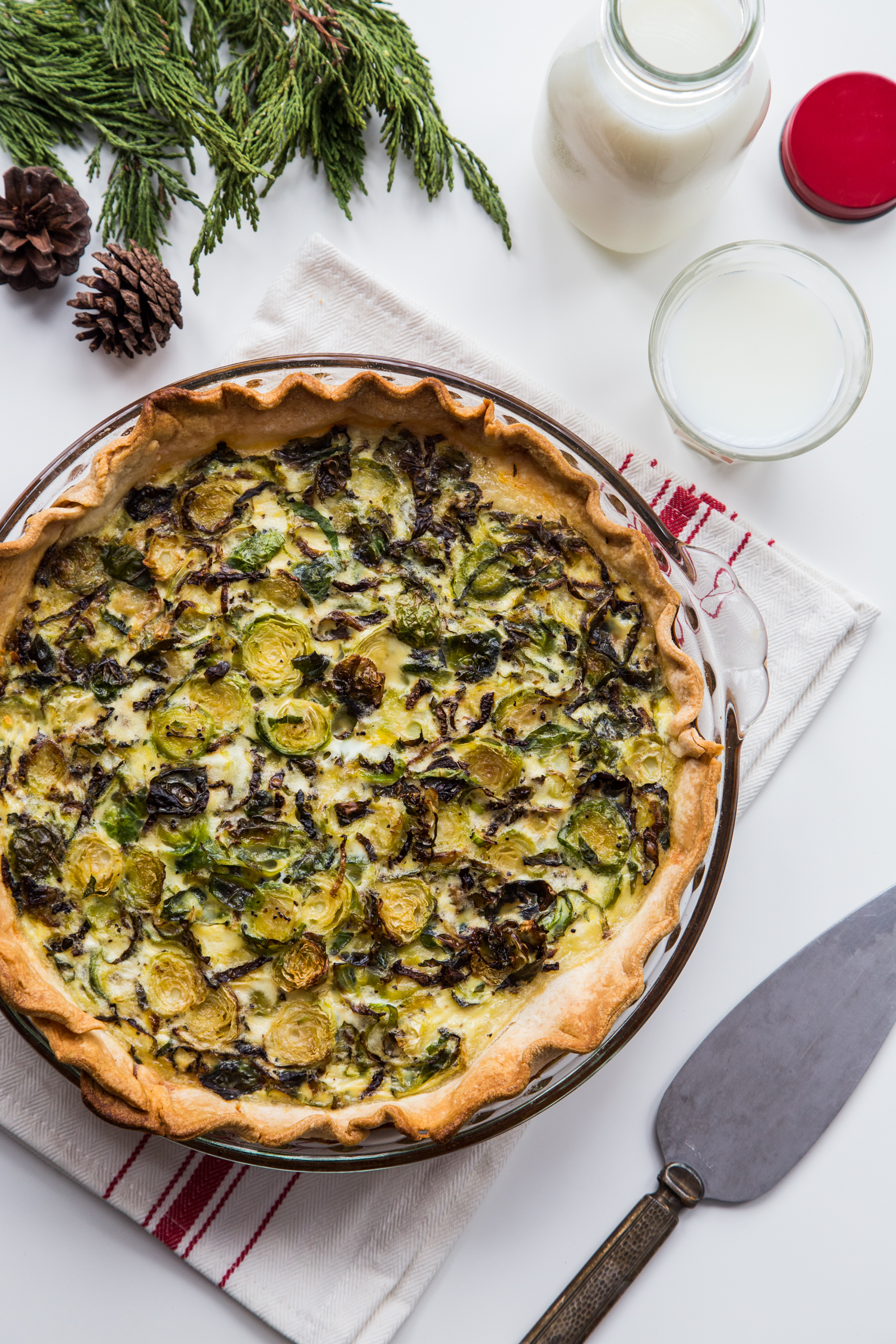 Many years, I put together a make-ahead sausage egg souffle for our family on Christmas morning. I make it the night before and pop it in the oven before the kids start opening their presents from Santa.
That is a staple in our house, however, we are talking a full brunch spread with the entire family, then I figured we'd need a few main course options to feed the crowd.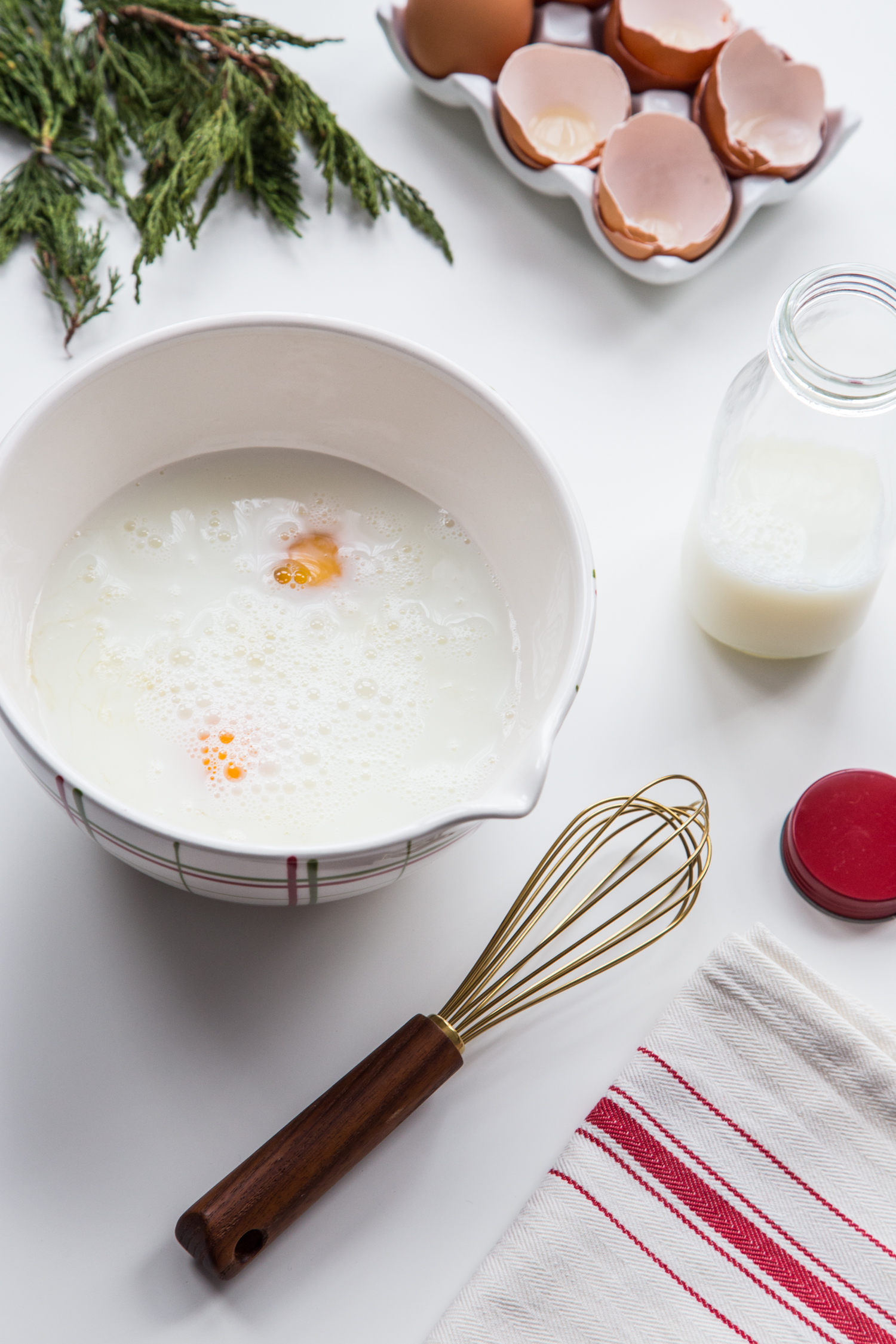 My Roasted Brussels Sprout Quiche is a perfect Christmas brunch dish. It's similar to a frittata but a bit fancier in that it has a crust and the ratio of milk to eggs is a bit different (more milk, less eggs). While the presentation is somewhat more elegant than my standard frittata, it's really not significantly more involved to make.
This recipe, I took some help from a store-bought pie crust. Blind baking the crust helps keep the bottom of the quiche from getting soggy when you put in the milk mixture.
I traded traditional broccoli for Brussels Sprouts because they are one of my favorite vegetables any time of the year. Thinly slicing the Brussels sprouts before roasting them enhances their flavor, makes them cook faster, and gives you all sorts of crispy bits that add amazing texture to the quiche.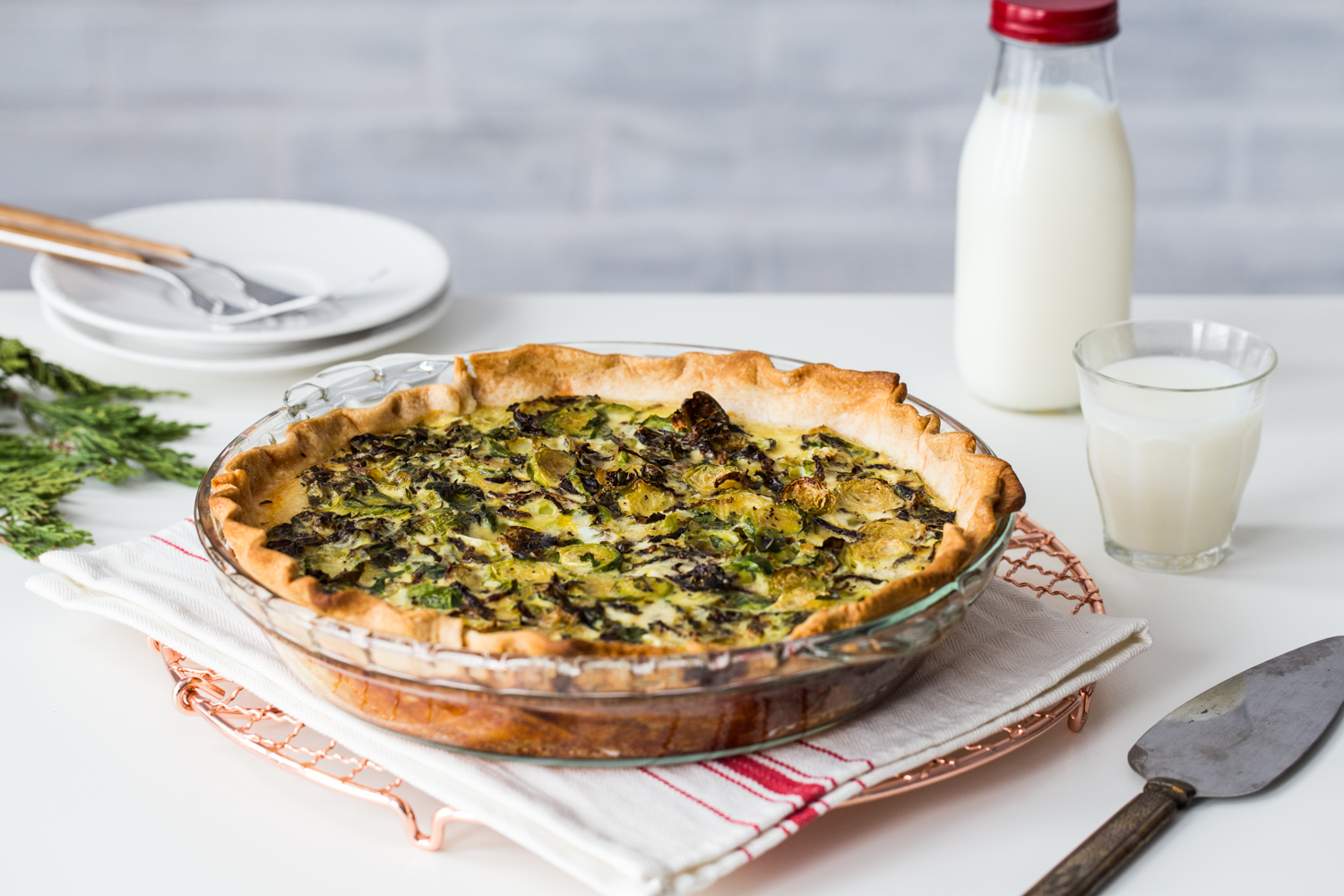 The rest of the Roasted Brussels Sprout Quiche is made from eggs, cheese, and simple, wholesome milk that I always have on hand in my fridge. Milk is the original farm-to-table ingredient that I can always feel good about serving to my family.
Adding milk to my family's brunch, whether it be a weekday or holiday, helps to start off their day on the right foot with protein and other essential nutrients.
The quiche bakes up to be light and fluffy and pairs perfectly with some sweet brunch treats as well as a tall glass of milk.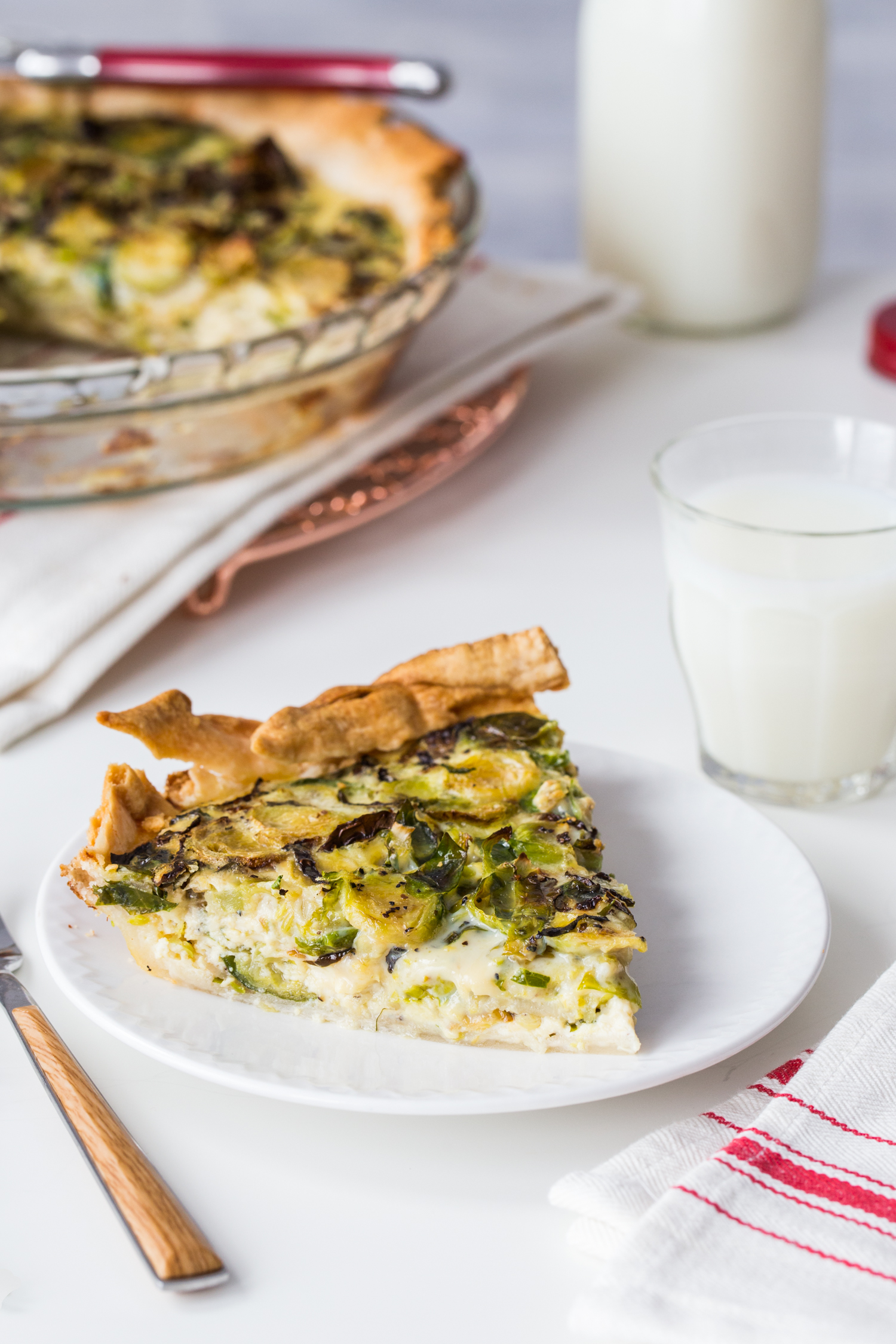 Now that I have the main courses for our brunch set with this Roasted Brussels Sprout Quiche, I'm moving on to the sides! What are your favorite brunch recipes?
Happy Thursday!
Roasted Brussels Sprout Quiche
Ingredients
1 package – 9" refrigerated pie crust, at room temp for 15 minutes
3/4 pound – fresh Brussels sprouts, thinly sliced, stem ends removed (about 3 cups)
2 teaspoons – extra virgin olive oil
1/2 teaspoon – kosher salt, divided
1/2 teaspoon – black pepper, divided
4 – large eggs
1 1/2 cups – fat free milk
2 ounces – shredded Swiss cheese
Pair each serving with an 8-ounce glass of milk
Directions
Preheat oven to 350°F. Lightly roll pie crust to increase diameter by about 1 inch. Transfer crust to glass or metal pie plate and gently press into bottom and sides of plate. Fold edges under and crimp with fingers. Place a piece of parchment paper onto the bottom of the crust and add pie weights or a handful of dried beans on top of parchment. Bake crust for about 15-18 minutes. Remove from oven and increase oven temp to 400°F. Remove parchment and pie weights from crust.
Spread sliced Brussels sprouts onto parchment or silicone mat lined baking sheet. Drizzle with olive oil, 1/4 teaspoon of salt, and 1/4 teaspoon of black pepper. Roast for 18-20 minutes or until Brussels sprouts are cooked through and crispy in places. Remove from oven.
In a large bowl, whisk together eggs, 1 1/2 cups milk, Swiss cheese, and remaining salt and pepper. Fold in roasted Brussels sprouts. Carefully pour milk mixture into crust and bake for 30 minutes or until center is set. If crust edge browns too quickly cover with aluminum foil.
Allow quiche to cool for 5-10 minutes before cutting and serving. Pair with 8-ounce glass of milk and enjoy!