Gingerbread Stuffed French Toast
This post, Gingerbread Stuffed French Toast, is sponsored on behalf of McCormick®. All opinions are, as always, my own. Thank you for supporting the brands that I love and that help make Jelly Toast possible.
I could let myself become nervous at this point, with Christmas less than 2 weeks away. But instead of being nervous, I'm trying to choose to just….be. Be calm, be present, be happy. Sure, I'm well aware of all of the cookies that I haven't baked, the presents that I haven't wrapped, the blog posts and videos that I haven't completed. It's easy to focus on all of the things that I have planned on doing but just haven't seemed to find the time to do. When I find myself in a spiral of stress surrounding my to-do list, this year, I've been pretty good about pulling myself out and focusing on all the things that I have done as well as the beauty of this season. After all, the kids and I did bake *one* batch of cookies last week and our Advent activities are going strong and bringing joy to our daily routines. Plus, we just got a huge blanket of snow that is impossible not to love.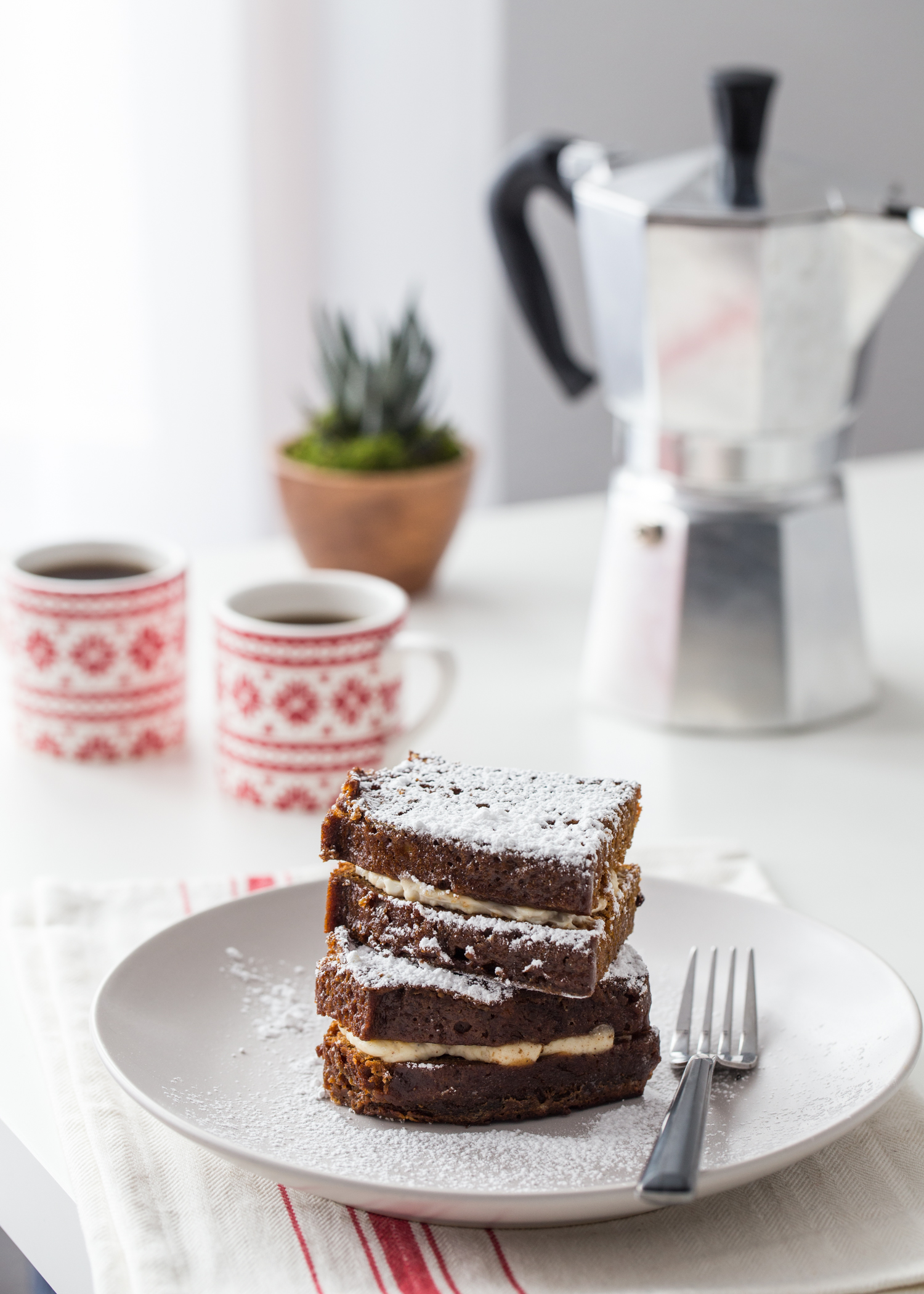 While our cookies have been few, I did have time to bake an unplanned batch of gingerbread cake the other day, which turned into inspiration for a little something sweet on Christmas morning. The kids and I had gotten into a discussion about gingerbread cake vs. gingerbread cookies and I realized they had never had gingerbread cake before. A quick perusal of the pantry made me realize that I had everything I needed to make a homemade gingerbread cake. Instead of putting it off until another day (which is classic me), we got to work and in no time, had a cake in the oven.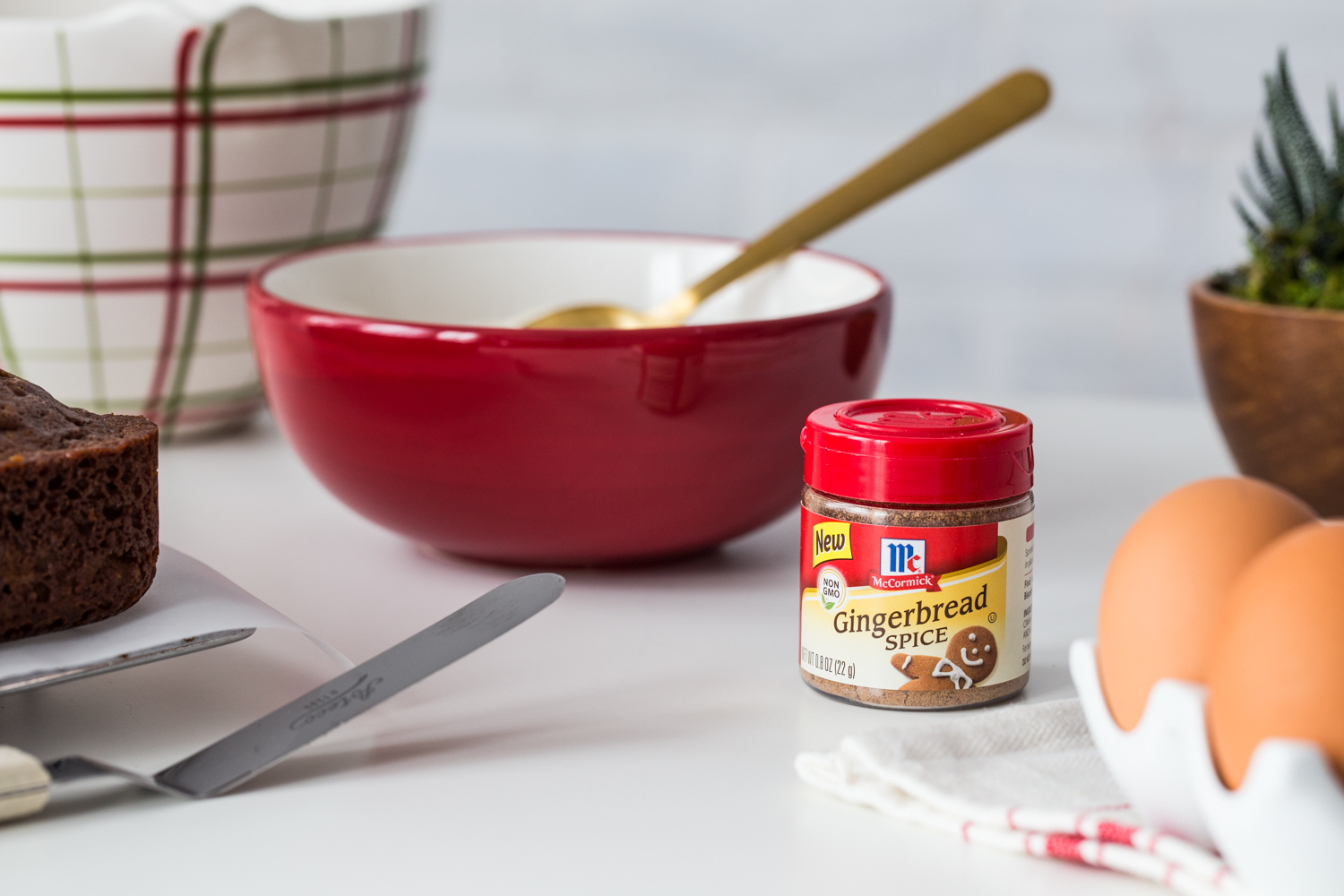 I have always loved the not-too-sweet spiced flavor of homemade gingerbread. It's a simple holiday treat that is perfect with a cup of coffee in the morning or a dollop of whipped cream for dessert. When making the gingerbread, I used a classic recipe for Gingerbread cake from McCormick®, but swapped the spices in the recipe for McCormick's newest spice blend: Gingerbread Spice. This is right up there in perfection with their pumpkin pie spice and apple pie spice blends and is a lovely, rich, and spicy combination of ginger, cinnamon, allspice, and nutmeg.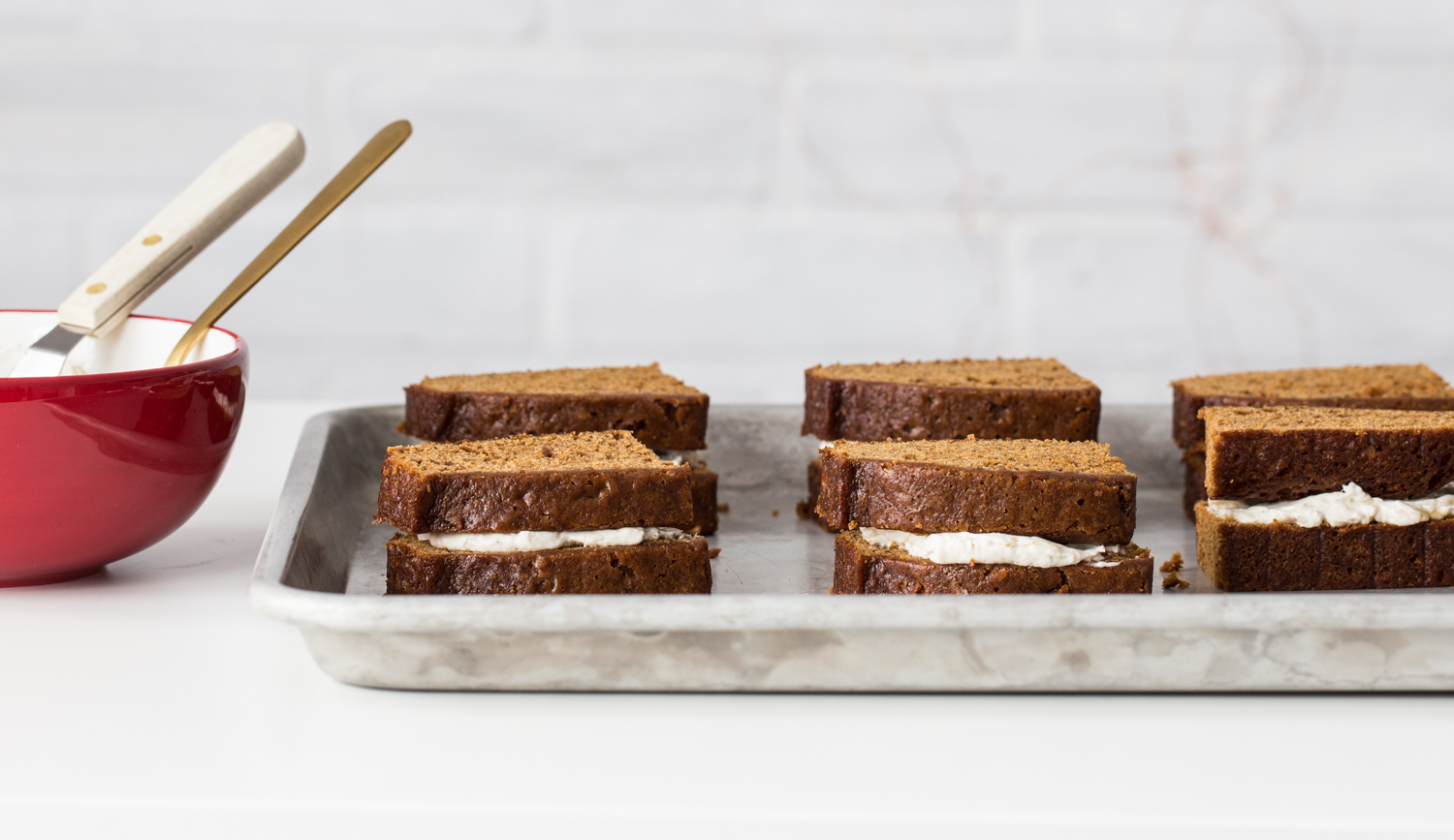 The gingerbread cake was fabulous all on its own, and the kids loved it, but I decided to turn the rest of our classic gingerbread into one of my favorite breakfast treats: French toast! And not just any French toast, but Gingerbread Stuffed French toast.
A sweetened and slightly spiced cream cheese filling added moistness to the hearty gingerbread cake. After turning the rest of our gingerbread into little gingerbread cream cheese sandwiches, we dipped them into a simple egg/milk mixture and griddled them to perfection on the stove top.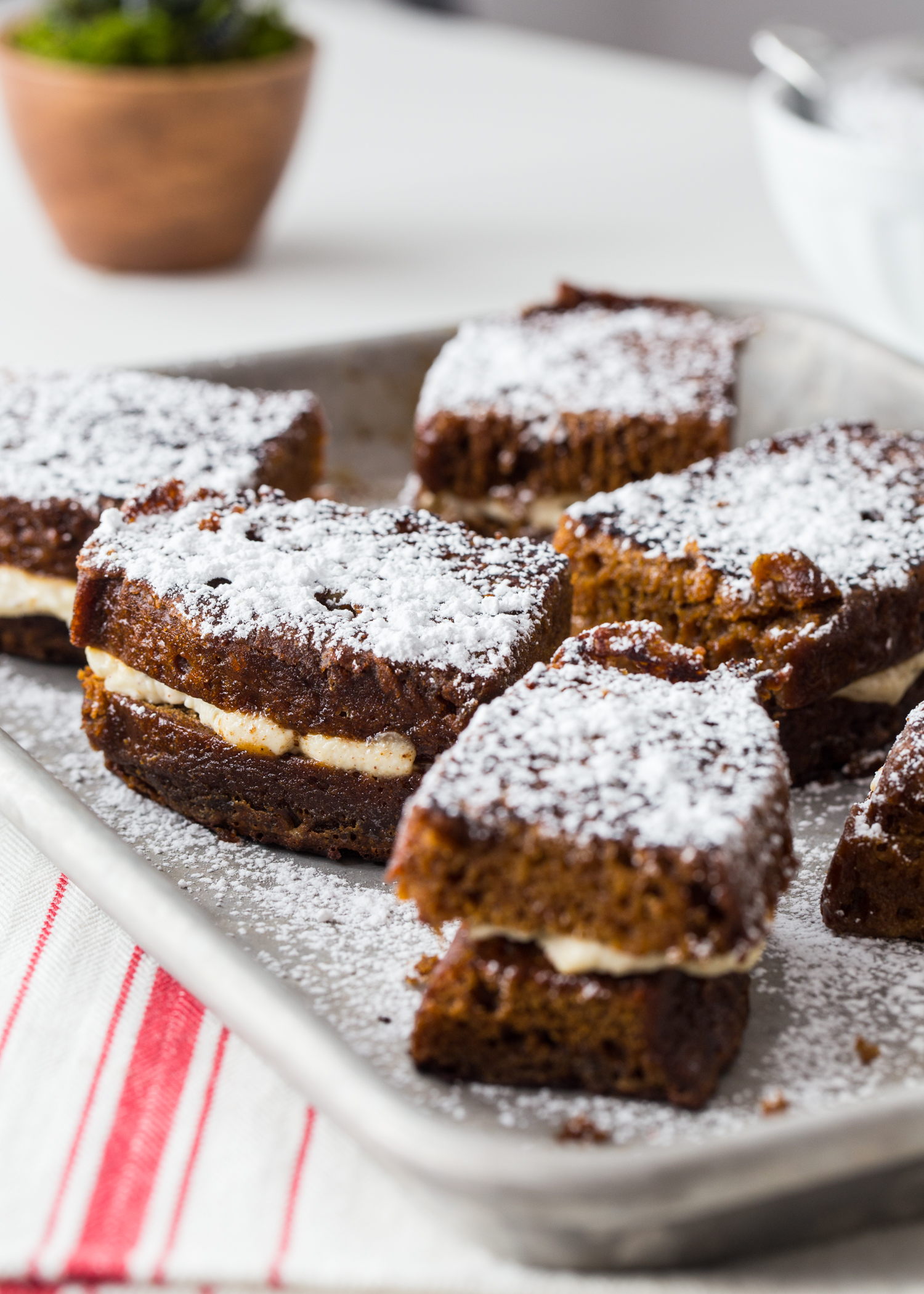 Each little Gingerbread Stuffed French Toast was topped with a sprinkling of powdered sugar and served warm. This Gingerbread Stuffed French Toast would make a perfect sweet pairing to any classic savory breakfast dish you have planned for Christmas morning (I'll be pairing this with my Roasted Brussels Sprout Quiche!) Even better, the cake can be baked several days ahead of time and the cream cheese mixture can be made the day before, as well, making this a very make-ahead dish which is perfect for Christmas morning. Christmas morning is a time to relax on the couch and watch the kiddos opening their gifts, not a time for being stuck in the kitchen.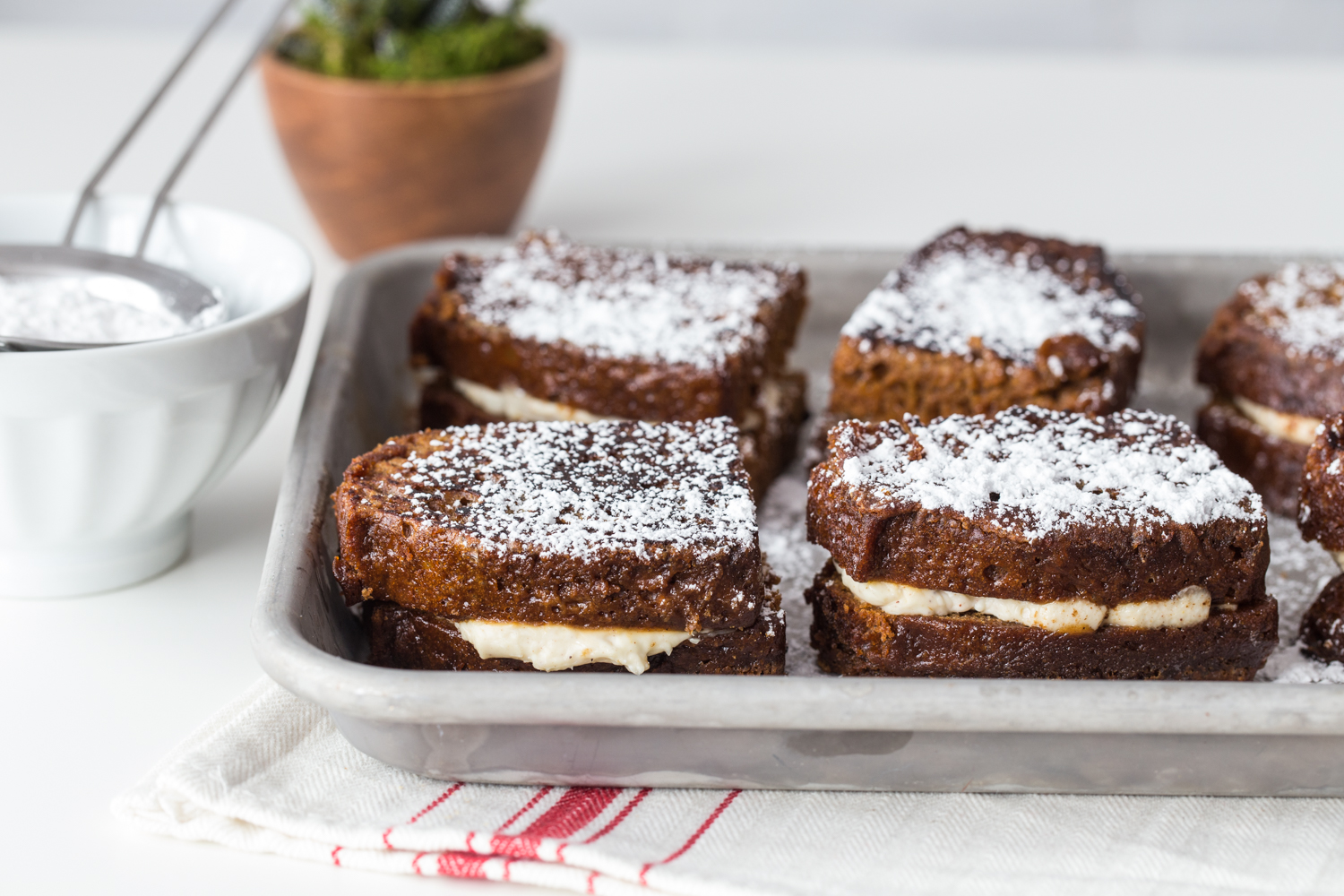 So, in this season of Christmas, let's try to put our to-do lists away and just take every opportunity as it comes around, even if they aren't' what we originally planned. You never know, it could turn out to be the thing that you remember the most from this season.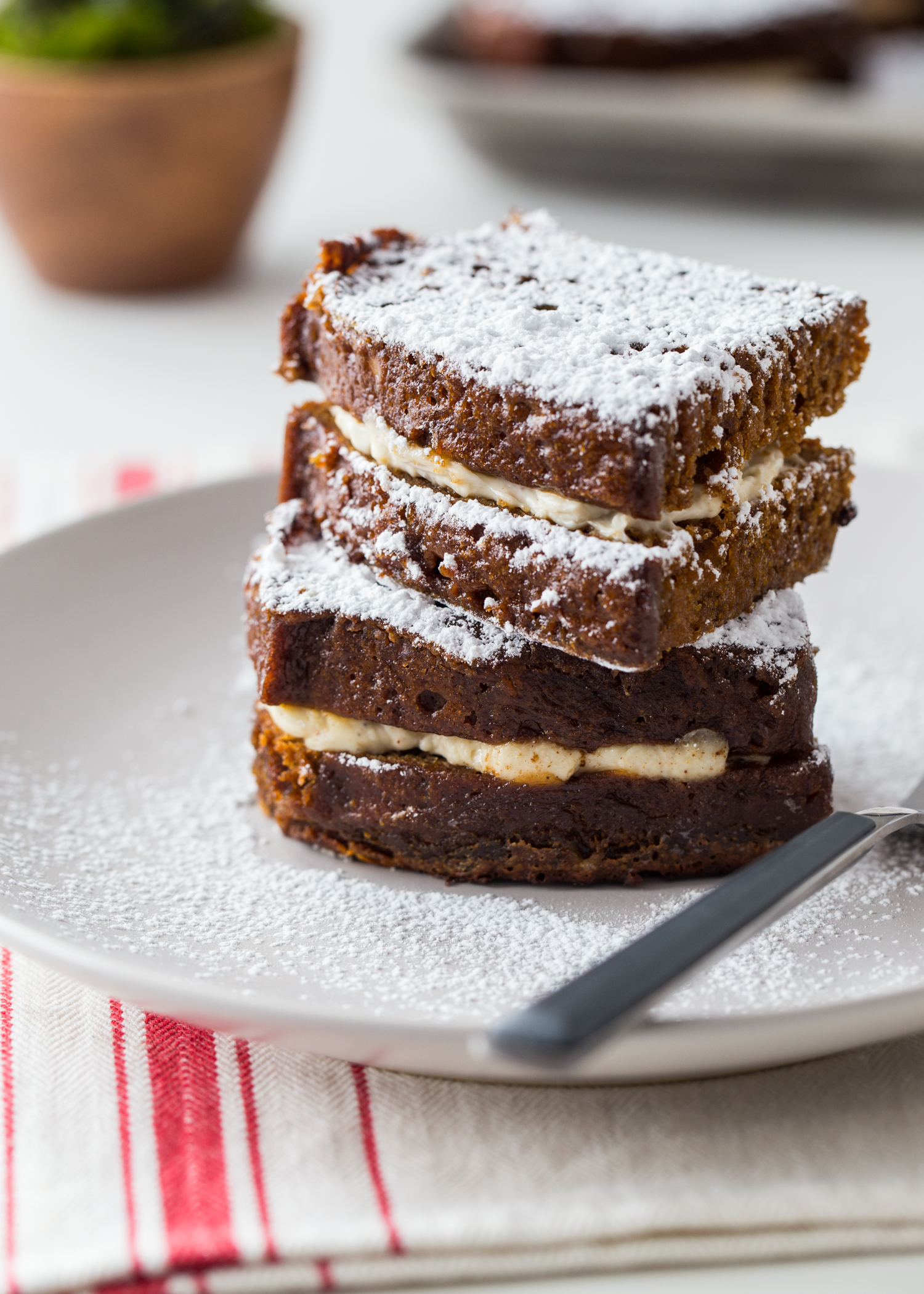 Happy Thursday!
Gingerbread Stuffed French Toast
Yield: 12 servings
Prep Time: 15 minutes
Cook Time: 50 minutes
Total Time: 65 minutes
Ingredients
For the Gingerbread Cake:
2 1/2 cups all-purpose flour
1 1/2 Tablespoons McCormick® Gingerbread Spice
2 teaspoons baking powder
1 teaspoon baking soda
1 stick unsalted butter, softened
1/2 cup packed light brown sugar
1 cup molasses
1 large egg
1 teaspoon McCormick® Pure Vanilla Extract
1 cup boiling water
For the Gingerbread Stuffed French Toast:
1 loaf of Gingerbread Cake, cut into thirds
8 ounces cream cheese, softened
2 Tablespoons powdered sugar
1/2 teaspoon McCormick® Gingerbread Spice
2 large eggs
1/2 cup whole milk
1 teaspoon vanilla
pinch of salt
butter for pan
Directions
Make Gingerbread Cake:
Preheat oven to 350. Spray 9x9 inch square metal baking pan with non-stick spray and set aside.
Whisk together flour, gingerbread spice, baking powder, and baking soda in a medium bowl. Set aside.
In a large bowl with an electric mixer, beat together butter, light brown sugar, and molasses until light and fluffy. Add egg and vanilla and beat until just incorporated. Alternate between adding small amounts of the dry ingredients and the boiling water to the butter mixture and beating between each addition until all ingredients are combined.
Pour batter into prepared baking pan and bake for 40 minutes or until toothpick inserted into the center of the cake comes out clean. Allow to cool in the pan for about 10 minutes. Invert cake out onto a wire rack and let cool completely.
Make Gingerbread French Toast:
Cut gingerbread cake into thirds and wrap one third of the cake up for later use or enjoyment. Slice the remaining two thirds of the cake up into 12 slices each (for a total of 24 slices). Lay 12 of the slices of cake out onto a rimmed baking sheet or work space and set aside.
In a medium bowl, mix together cream cheese, powdered sugar, and gingerbread spice. Divide mixture among the 12 slices of gingerbread cake and spread evenly. Place remaining 12 slices of cake on top of cream cheese making 12 little sandwiches.
In a shallow dish, whisk together eggs, milk, vanilla, and salt. Melt a small amount of butter into a large non-stick skillet set over medium heat.
Working with one sandwich one at a time, dip each side of the stuffed gingerbread sandwich briefly into the egg mixture. Place in pan and cook until outsides of gingerbread are golden and egg mixture is cooked, about 2-3 minutes per side.
Serve with warm with powdered sugar if desired.