Scrambled Egg-in-a-Hole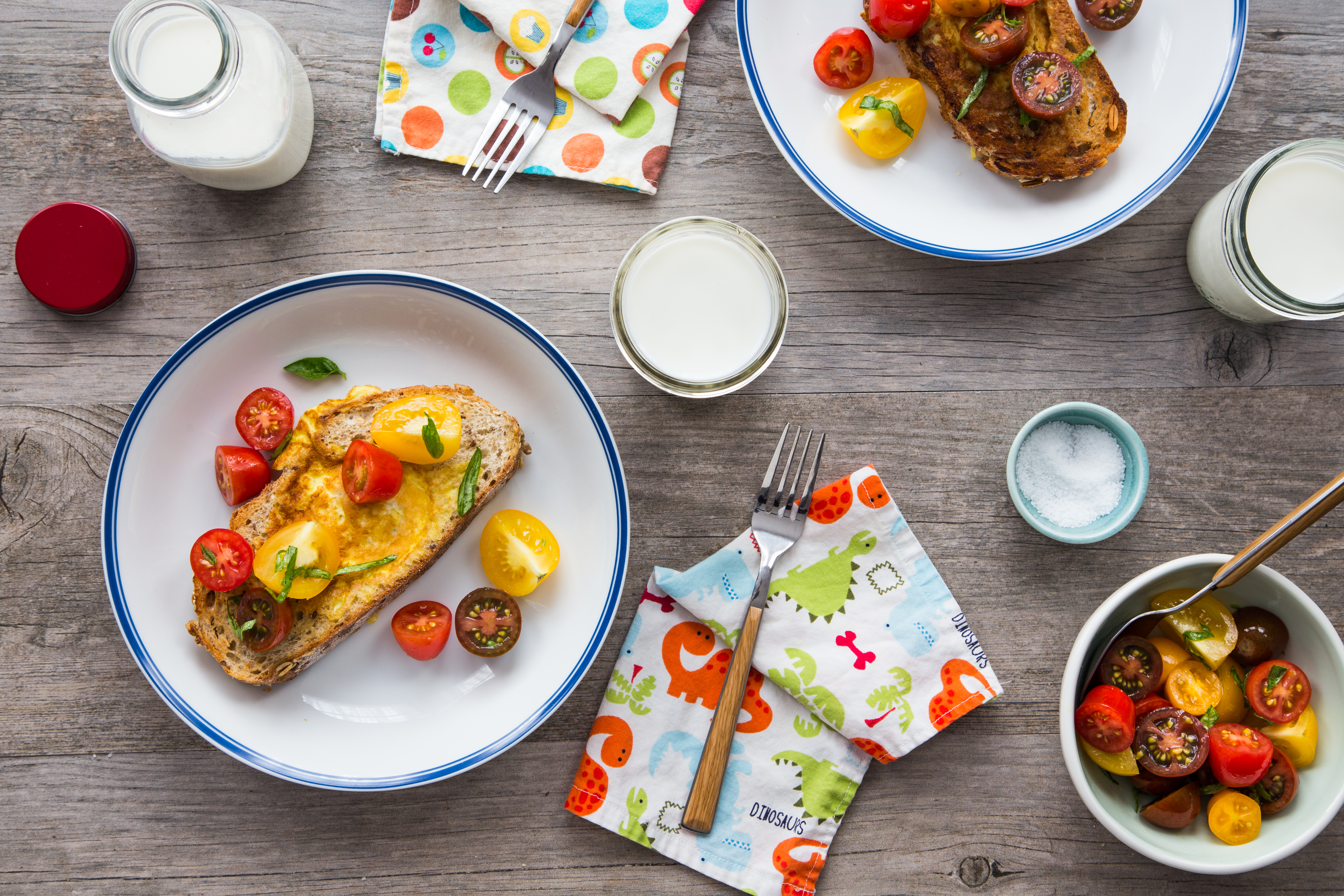 This post, Scrambled Egg-in-a-Hole, is sponsored on behalf of The National Milk Life Campaign. Thank you for reading Jelly Toast and supporting the brands and partners that I love and that help make Jelly Toast possible.
Fun fact about me: I loved school. I say "loved" not because my love is in the past but rather because I'm no longer in school. I still love all things school. From school supply shopping to book reports, school has always been something to look forward to. So while I miss my kids when they are away for the day, part of me is happy and excited for them that they get this chance away to be away from home and in the world of school to learn new things and their own adventures.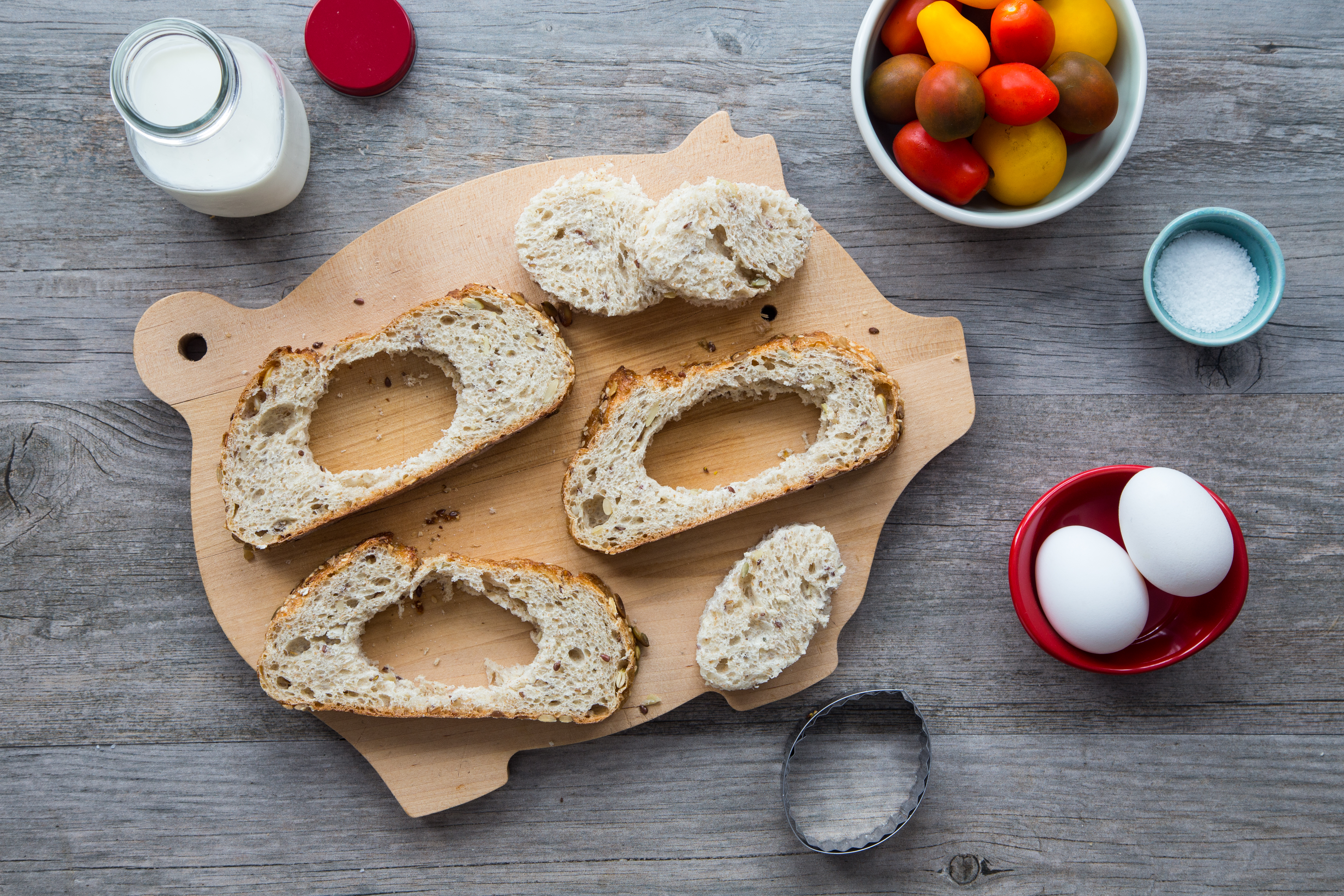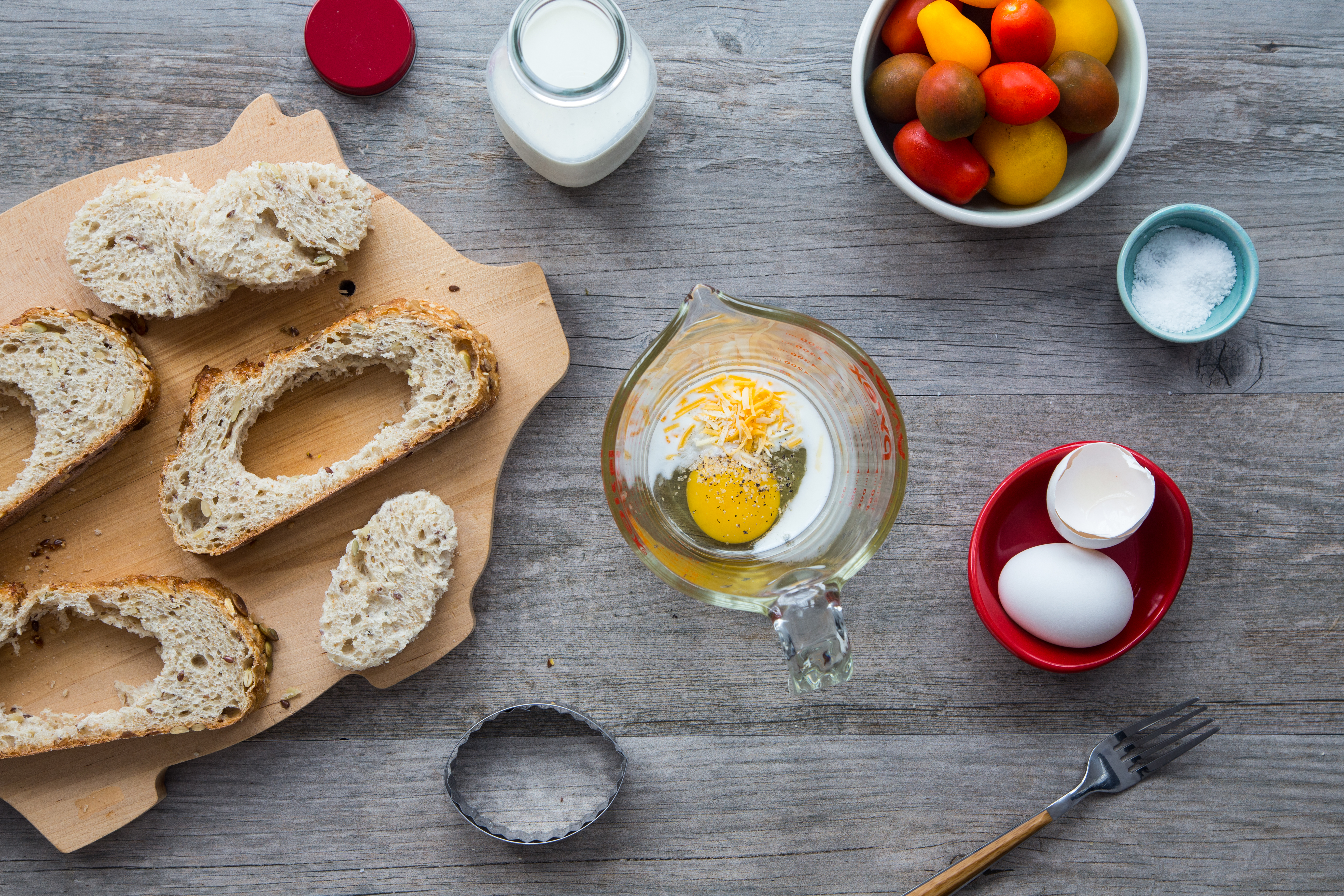 I fiercely protect our school mornings and do everything in my power to get the kids started out on the right foot. It's true that some mornings are easier than others and it's often dependent on what time they went to bed the night before or whether or not they have clean socks ready to go in their drawers. It's the little things, I tell ya.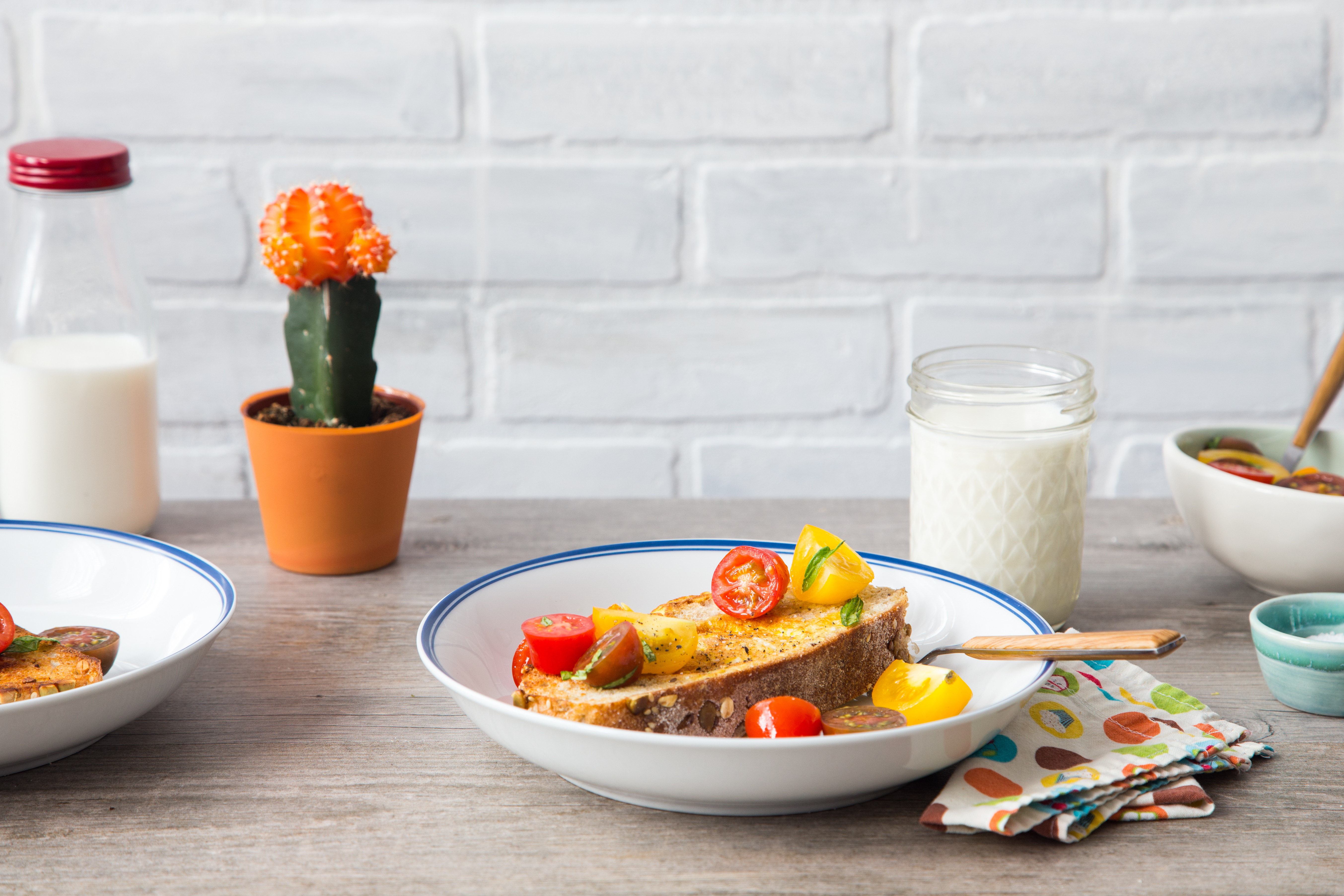 Not being a natural morning person myself, I know how important it is to have a smooth morning in order to have a productive and positive day. In our house, that means having a good, solid breakfast and enough time to sit and enjoy it.
We have a few go-to breakfasts for school mornings and most recently have been enjoying this simple Scrambled Egg-in-a-hole toast. You guys know I love toast, especially toast with toppings. You may be familiar with the classic egg-in-a-hole with the sunny-side-up egg, but this scrambled version is so simple with no pressure to over or undercook the yolk and my kids are all about it!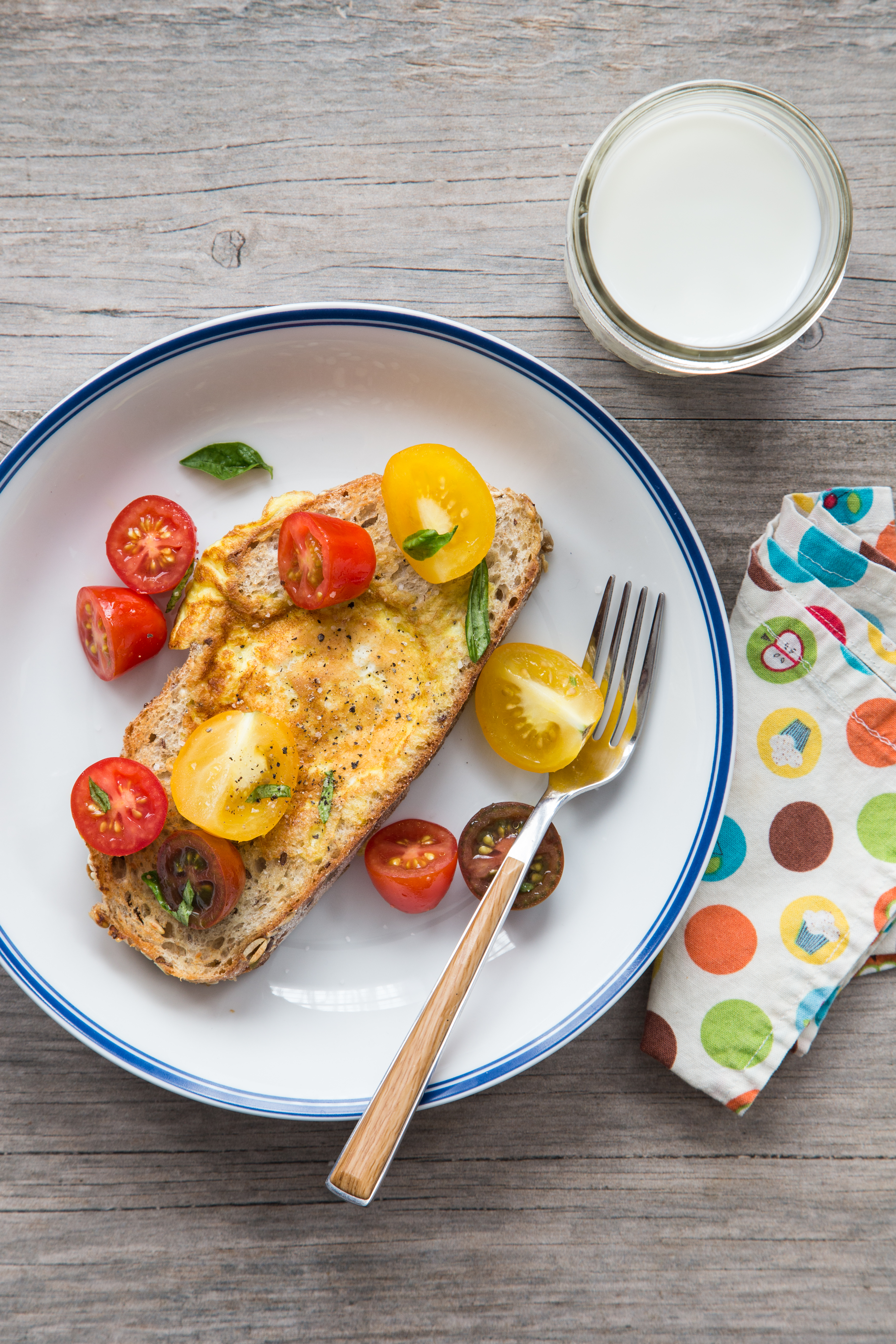 For this recipe, I like to use a hearty bread cut into a couple of thick slices. I typically use an oval or round cookie cutter to cut out the centers of the bread, taking care to not break the crusts. One egg gets scrambled with some milk, cheese, salt and pepper and divided between the two pieces of bread. I've been making a quick and easy tomato and basil salad to serve alongside the scrambled egg-in-a-hole but you could serve this with some sliced peaches or any other of your favorite fruits. I always serve the kids breakfast up with an 8-ounce glass of milk. Serving an 8-ounce glass of milk with any breakfast is a simple, wholesome way to ensure that my kids get 8 grams of natural, high-quality protein in the morning, along with 8 other nutrients they need – like calcium, vitamin D and potassium.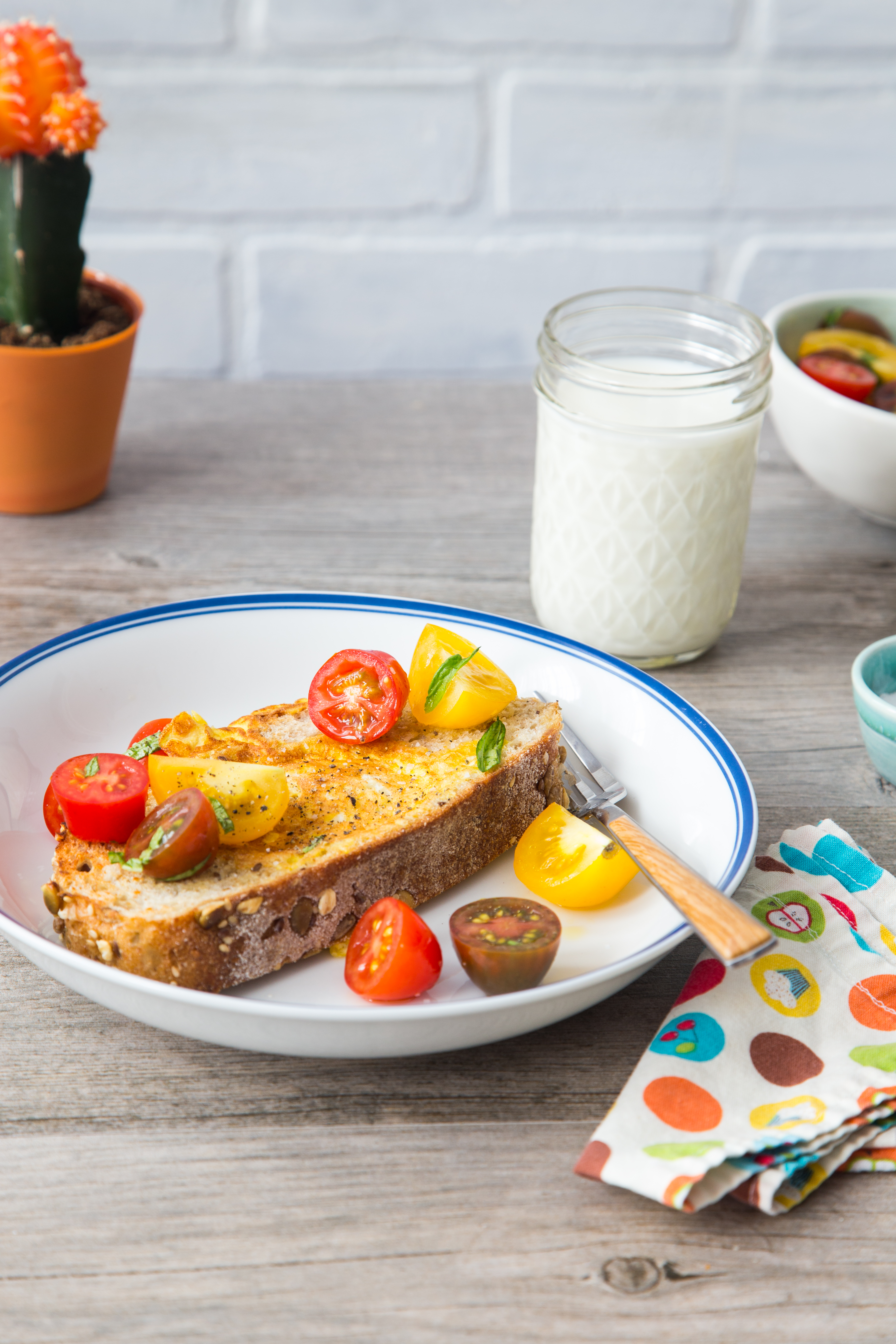 That is so important for all kids because it helps ensure that they will feel fuller for longer and have the energy they need to concentrate and do their best in school. A has an hour long gym class first thing in the morning on Mondays so if he wasn't getting the energy he needs from his breakfast I know it would be a struggle to make it to lunch without feeling hungry. Whether in a cup, glass, or bowl, including milk at breakfast is a simple way to help my kids (and myself!) get to a protein-packed morning.
If you are looking for more simple ways to get affordable protein into your kiddos breakfasts, try serving up these fun Scrambled Egg-in-a-Holes along with a cold glass of milk. It's sure to bring smiles to your school mornings.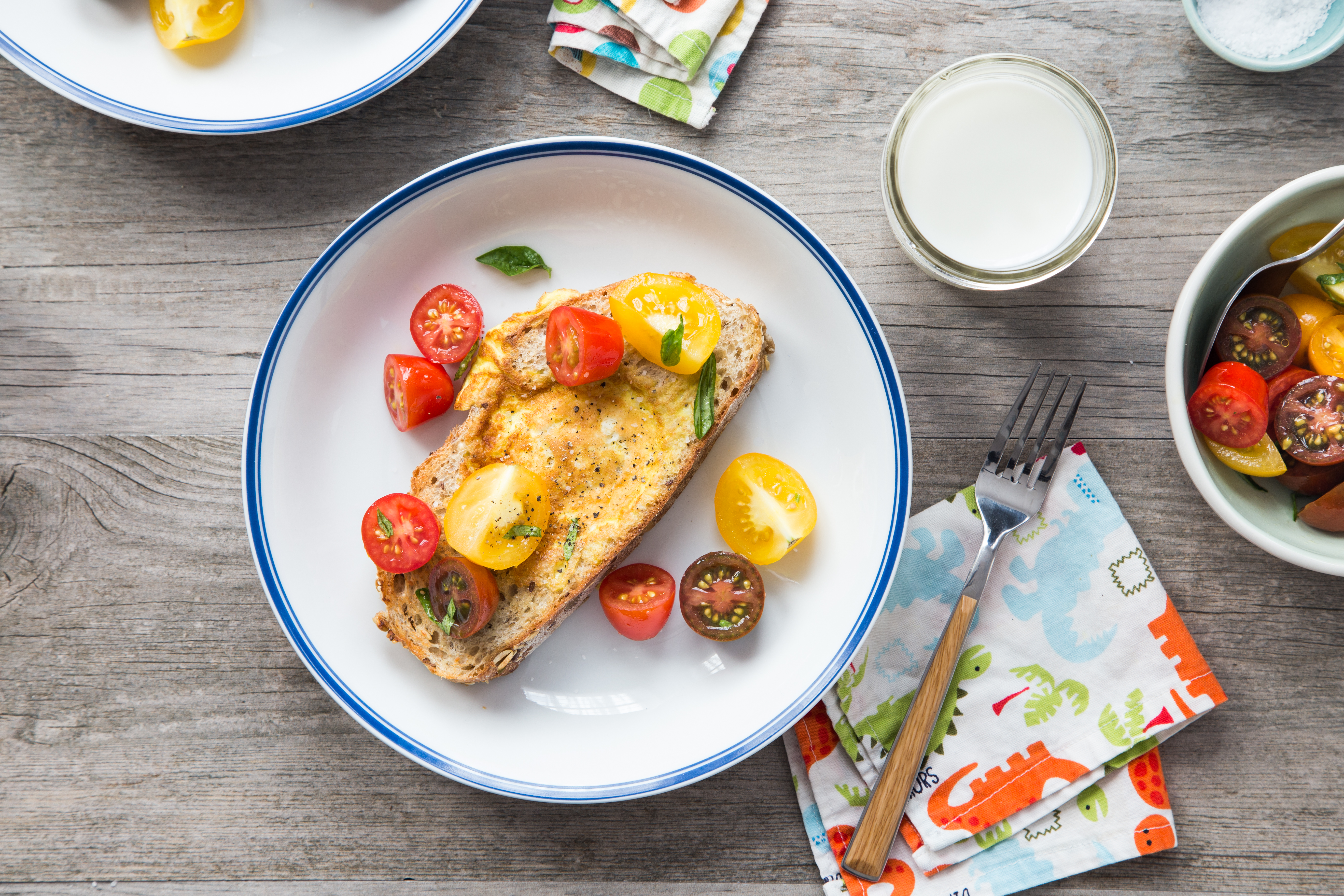 Happy Friday!
Scrambled Egg-in-a-Hole
Yield: 2 servings
Prep Time: 5 minutes
Cook Time: 5 minutes
Total Time: 10 minutes
Ingredients
1 large egg
1 teaspoon of fat free milk, divided
pinch of kosher salt, divided
1/2 teaspoon black pepper, divided
1 Tablespoon shredded cheddar cheese
non-stick olive oil spray
2 slices of multigrain bread, sliced 1 inch thick
2/3 cup cherry tomatoes, quartered
1/2 tsp extra virgin olive oil
4 basil leaves, thinly sliced
Pair each serving with:
8-ounce glass of milk
Directions
In a small bowl, scrabble together egg, milk, salt, pepper, and cheese. Set aside.
Using a small biscuit cutter (2 1/2 inches) or cookie cutter, cut a circle out of the center of each slice of bread. Reserve centers of bread for another recipe.
Spray a large non-stick skillet with extra virgin olive oil spray and place over medium/low heat. Place both pieces of bread in the skillet taking care that the bread is laying flat on the bottom. Carefully pour half of the egg mixture into the hole of one piece of bread and the remaining egg mixture in the second piece of bread.
Using a small spatula or spoon, gently stir the egg in the bread taking care not to move the bread. Cover the skillet and let sit for 1 minute or until eggs look almost set. Gently flip the egg and bread and cook for about 30 seconds. Remove to plates and keep warm.
In a medium bowl, toss together tomatoes, 1/2 tsp extra virgin olive oil, basil leaves, and remaining salt and pepper. Spoon tomatoes over eggs and serve.
Serve each scrambled egg-in-a-hole with an 8 ounce glass of milk.
Enjoy!
Notes:
Each slice of bread was 2.2 ounces before cutting out the hole. Each slice was 1.2 after removing the center.
Reserve bread centers for homemade bread crumbs, croutons, or toast pieces later in the week.