skillet mac and cheese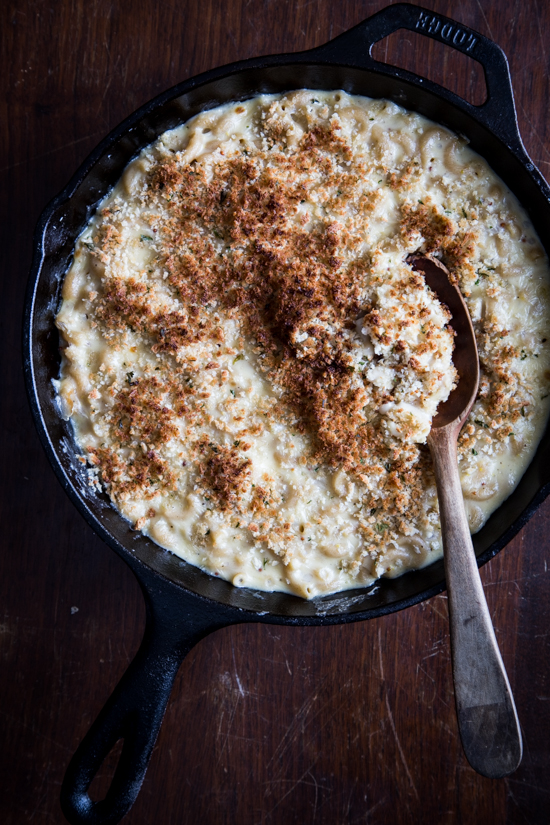 As the mom of two kiddos, mac and cheese is a staple in our house. In all honesty, it's not just the kids that love it, my husband and I can put down some mac and cheese like no one's business. Now that I'm thinking about it, I'm not sure I would fully trust someone that didn't grove on some good old mac and cheese.
So, don't tell me you don't like it or I'll be crushed.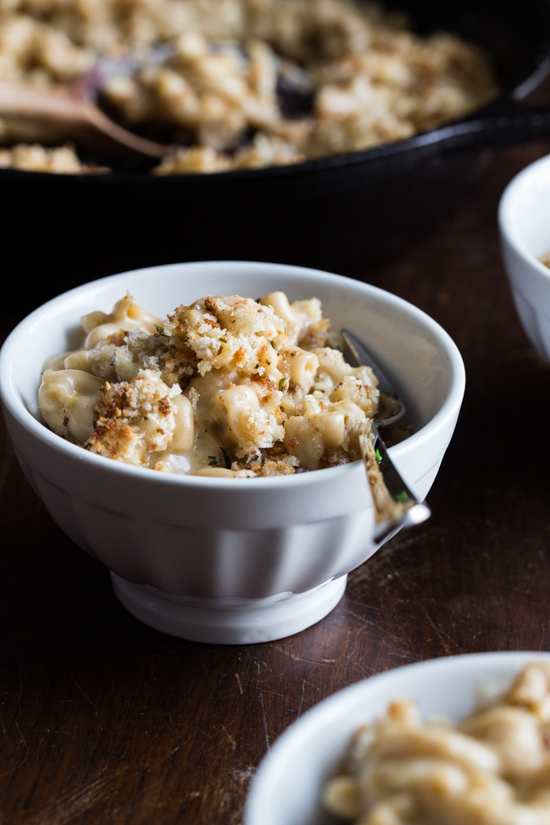 Because of my said love of mac and cheese, I was pumped when Rachel and Brandy invited me to be part of the Mac and Cheese Mania week. It's an entire week full of macaroni and cheese recipes that range from classic to down right fancy.  For my part of the week, it took me a while to come up with the mac and cheese recipe that I wanted to share. I bounced between recipes that included bacon, blue cheese, goat cheese or even roasted tomatoes. And then in the midst of all my recipe planning, there came an afternoon when my kiddos wanted some of their beloved Annie's for lunch and I was aghast to see that we were all out.
Yes, we make boxed mac and cheese all. the. time. Being out of our Costco sized stash was not a good thing, but it happens from time to time, and when it does I turn to my trusty quick, skillet mac and cheese.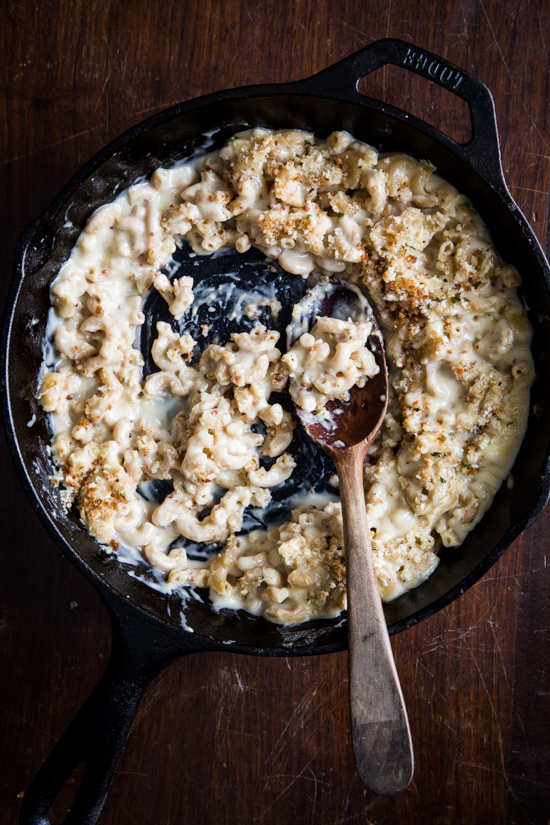 That's when it dawned on me. I need to share this recipe, not some fancy schmancy thing that I reserve only for special occasions. My good ol' stand by for when our Annie's is out, or when we're just in the mood for some homemade creamy, cheesy goodness.
I'm not kidding when I say this recipe takes the same amount of time that it takes to make a box of mac and cheese. Well, there is a little extra time for grating the cheese, but really, you could grate the cheese while the pasta water is boiling. Then make the sauce while the pasta is cooking. Boom. Mac and cheese time.
This is one of those recipes that has a few options such as cheese variety, noodle shape and bread crumb type. For this batch I used a combination of gruyere and marbled cheddar, elbow noodles and seasoned panko bread crumbs. It was a winning combo, but that's the beauty of this 'recipe'. Use what you've got in the fridge and the pantry. Make it work. You have penne? Use it. You've got all cheddar with some Swiss leftover for your chicken cordon bleu? Use it. No panko? No problem, use regular or whole wheat or whoever you've got. Just make this mac and cheese. I have faith in your abilities!
Side note: I swear, when my cast iron skillet is at the helm I am infinitely more confident in my ability to whip up something amazing. I just love that thing.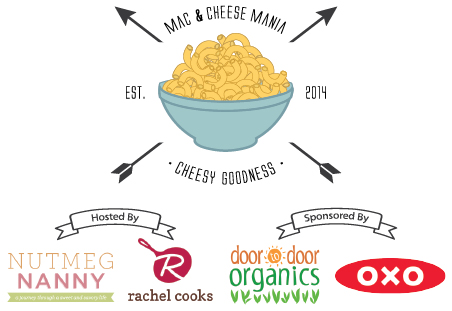 So! A little more about this awesomeness that is Mac and Cheese Mania week! This cheesy week that's being hosted by Rachel and Brandy is being sponsored by Door to Door Organics and OXO.
But wait, there's more. If you head over to  Rachel Cooks or Nutmeg Nanny and link to your favorite mac and cheese recipe, you will be entered for a chance to win one of these awesome prizes: Door to Door Organics Gift Cards, OXO Gift Baskets, Zak Designs Prize Pack, a year's supply of Cabot cheese, a Vermont Creamery gift basket, a risotto kit from Marx Foods, Barilla pasta, Anolon Advanced Bronze 4.5 Qt. Tapered Stockpot, Rachael Ray Stoneware Casseroval, Wusthof CLASSIC Studio Block Set, Microplane Graters and Kitchen Tools, a SavorX Starter Block with spices and Le Cordon Bleu by Swissmar oven to table roasters. (All giveaways open to US residents over the age of 18 only)
And no worries if you're not a blogger, you can still enter your recipe for a chance to win. Just head over to Rachel Cooks or Nutmeg Nanny for details.
Now don't forget to give your version of this skillet mac and cheese a whirl. Remember: use what you've got! I know you can do it 🙂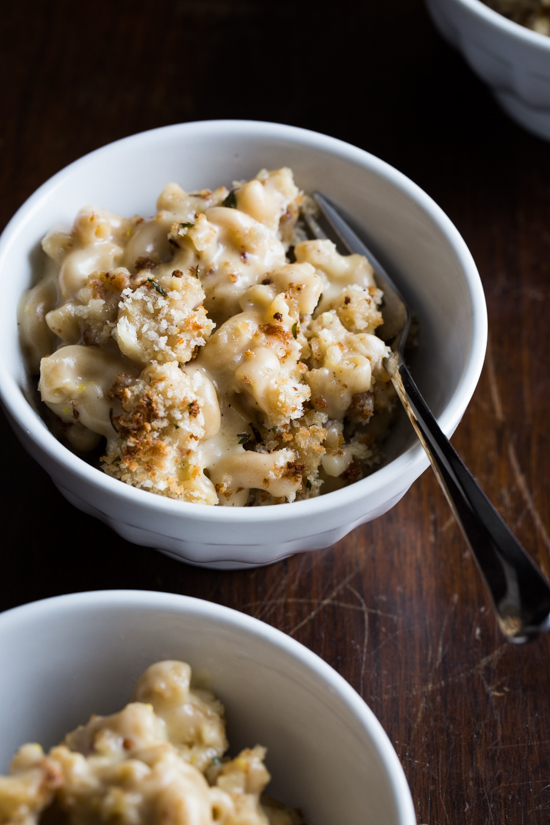 Happy Monday!
Skillet Mac and Cheese Recipe
Yield: 6-8 servings
Prep Time: 10 minutes
Cook Time: 15 minutes
Total Time: 25 minutes
Ingredients
10 oz pasta (I used whole wheat elbows)
4 tbs unsalted butter
1/3 cup panko bread crumbs
1/3 cup flour
3-4 cups milk (I used whole milk)
10 oz cheese, shredded (use good melting cheese like gruyere, swiss or cheddar)
1 tsp dijon mustard (I used whole grain, but use whatever you'd like)
salt and pepper
Directions
Bring a large saucepan of water to a boil. Cook pasta according to package directions. While your pasta is cooking, melt butter in an oven proof skillet. Remove 1 tablespoon of the melted butter and mix it with the panko bread crumbs in a small bowl, and set aside.
Whisk the flour into the remaining melted butter in the skillet until a thick paste forms. Slowly add in milk, whisking the entire time until the flour dissolves into the milk and the entire thing becomes a thick and creamy white sauce. You may not need to use all of the milk. Stir in cheese a handful at a time until completely melted. Stir in mustard and season with salt and pepper.
Drain pasta and add to the skillet, string to coat in cheese sauce. Top with bread crumbs and place under the broiler for 1-2 minutes or until bread crumbs are toasty.
Enjoy!