skillet nachos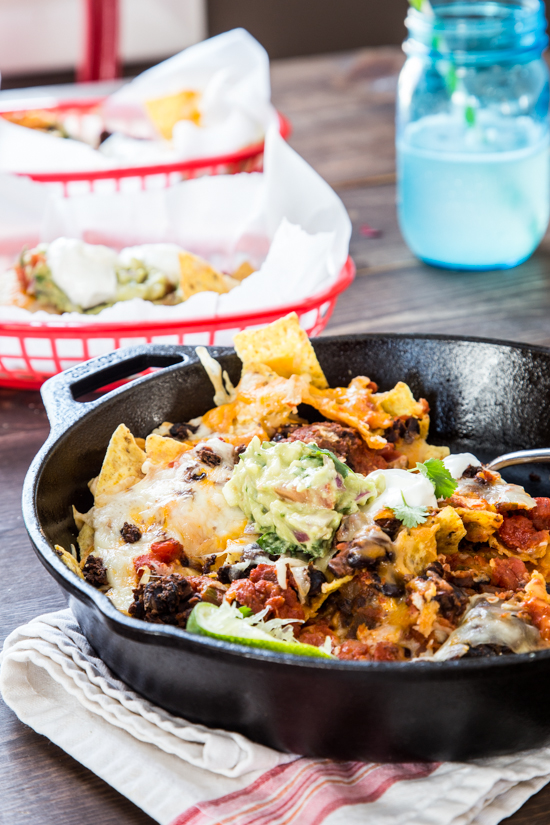 I'm pretty sure it's safe to say that last night's game was quite possibly the most boring 'Big Game' I've ever seen. Yes, it's true that I didn't have a favorite team in the game, but because of that I was hoping for at least a little back and forth to keep things interesting, but..wow. It wasn't even close. On top of the boring game, the commercials were a total letdown. Not one stuck out in my mind as being terribly inspired or funny – except for the Dannon Oikos commercial. That was pretty funny, although that could be my love of Full House talking.
Needless to say, after halftime (which I did enjoy) I punched out and starting watching YouTube cooking videos. I'm not going to pretend that it was productive, although I did learn how to make Red Cabbage Sauerkraut, so that was pretty cool. Plus, I love Laura – she rocks.
Then I got to thinking about what recipes and posts I was going to share with you this week, and even though these skillet nachos weren't originally on the list, there are too many things about them that I felt you needed to know about, that I couldn't not share them. So here they are.
The number one thing that you need to know is that they are fantastically delicious.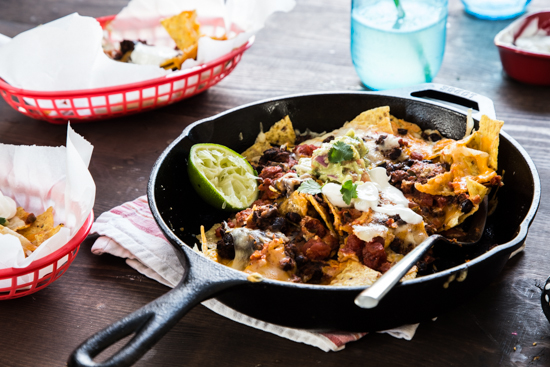 Another reason I wanted to share these skillet nachos with you is that the kiddos helped me make them, and I love to share recipes that are family friendly and get everyone in the kitchen together. This is one of those recipes that takes a few minutes of prep to get the ingredients cut, shredded and seasoned, but then after that, it's pure assembly. Plus, it's nachos, so the assembly can be a little willy nilly if you know what I mean. It's chips and cheese, people.
Which brings me to the main reason why I was hesitant to share this recipe: It's chips and cheese, people.
Do we really need a recipe for nachos? I'm arguing that no, no we don't. So I really don't want to call this a recipe, but rather more of a method. Put whatever you want on your nachos, refried beans, seasoned ground beef, grilled chicken, fajita veggies, tofu (no judgment) – seriously, whatever you want, throw it on. There are no hard and fast rules about these skillet nachos other than you should make them, and make them soon.
In fact, making these nachos was the perfect activity to round out our Saturday. The Buddy had recently gone to a bowling birthday party for one of his friends and decided he loved bowling. He also felt that we all needed to go bowling together as a family, and soon.
Well, my husband and I hadn't been bowling in over 10 years, but figured it would be worth a good laugh, plus a great thing to go do together instead of being cooped up in the house all day. Well, we went and we had a blast. And then we came home and made nachos, so the day was pretty much perfect.
We even put together a little video of the day, including making these cheesy, guacamole covered nachos. Also, if you haven't been bowling in a while, you should totally go, it's a riot. And then make these nachos.
Is it just me, or did that music remind you of Napoleon Dynamite?
If you're interested more snack recipes and videos be sure to check out Jenni's killer Cuban Sandwich Empanadas. She has given more one more reason that I really need to get a pressure cooker!
Also, Amy's Turkey Chili Casserole will be on our kitchen table very soon. Everything about it looks fantastic!
Happy Monday!!
Skillet Nachos Method
Ingredients
1 can black beans, rinsed and drained
1 tbs canola oil
salt and pepper
1 tsp cumin
1-2 tsp chili powder
a few dashes of hot sauce
tortilla chips (I like yellow corn)
shredded cheese (I used cheddar and monterey jack)
salsa
guacamole
sour cream
Directions
In a small skillet, heat oil over medium heat. Add beans, salt, pepper, cumin, chili powder and hot sauce. Stir together and mash gently with a wooden spoon until beans are hot. Remove from heat. In a large cast iron skillet, layer in chips, cheese, mashed black beans and salsa. Repeat layering at least one more time or as much as your skillet will allow. Top with more cheese. Bake nachos in a 425 degree oven or until chips are hot and cheese is bubbling, about 10-15 minutes. Remove from oven and top with guacamole and sour cream. Serve hot and enjoy!
Notes:
These ingredients are purely suggestions. Besides the chips and cheese (that I strongly recommend) layer any of your favorite nacho ingredients in the skillet in whatever quantities you see fit. Bake them in the oven and serve them up!