sweet pepper provolone grilled cheese
Sweet Pepper Provolone Grilled Cheese sandwiches are made with sweet cherry peppers, salty prosciutto and aged, creamy provolone cheese. They're an incredible spin on the classic grilled cheese.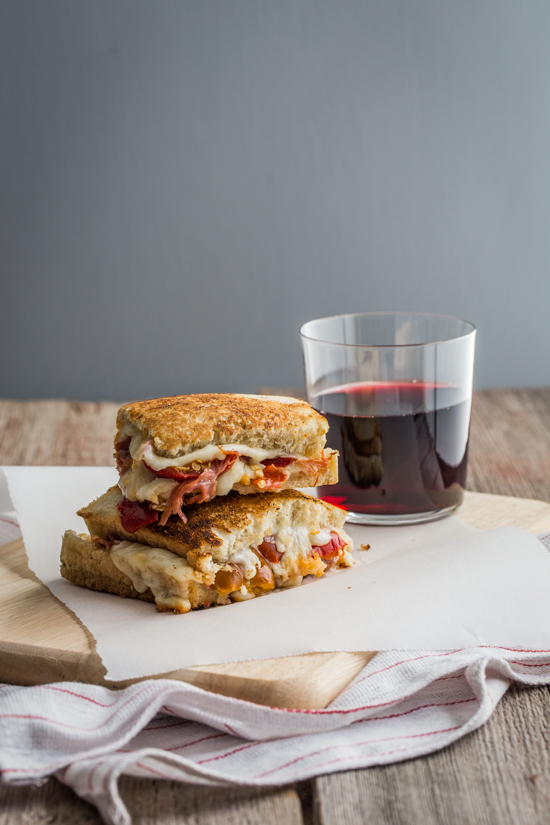 This post was sponsored via the NoshOn.it Publisher Partner Program by BelGioioso Cheese, and, as always, all opinions expressed are my own. 
It's no secret that I'm a Costco shopper. It's the errand that I run every couple of weeks and typically spend much more time on than originally planned. A few weeks ago, I told you about a particularly lovely trip where the baby and I had a total sample cart jackpot, complete with smoothie makings and the most delicious provolone cheese I'd ever tasted.
We're no strangers to provolone in our house, as it's been a favorite of my husband's for as long as I've known him. While I typically enjoy provolone, many types of provolone cheese lack a punch of flavor that makes it unique and memorable.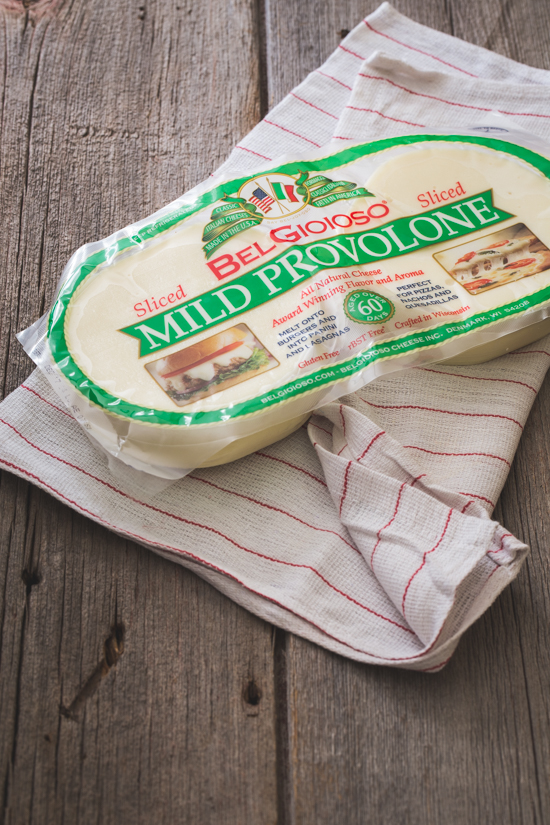 This is why I was blown away by this aged provolone from BelGioioso. Their provolone, while still mild and versatile, has a slight nuttiness and unexpected pop of flavor due to it being aged for 60 days.
After sampling our little cheese rollup at Costco, the baby and I circled back to the case and promptly added the two pound package to our cart, thoroughly pleased with our selection.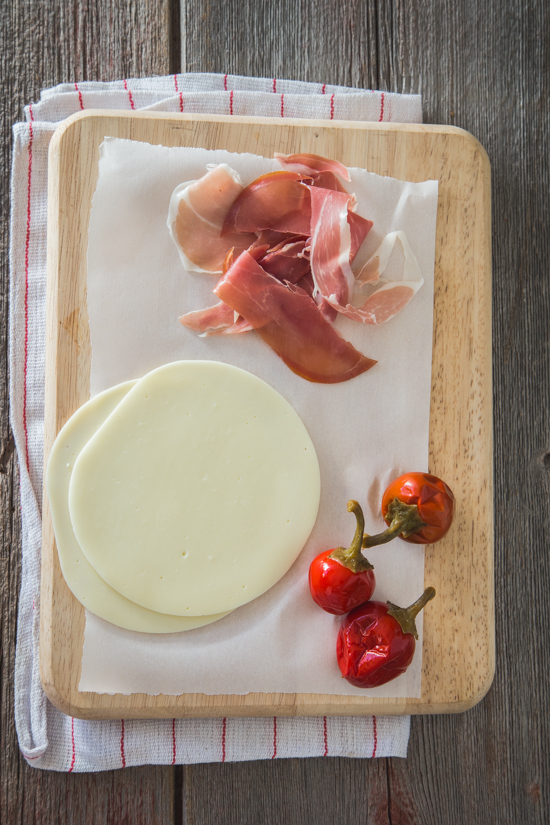 We have been loving our provolone and have had to go back and restock as we've found that it's creamy melting qualities make it perfect for pizzas, casseroles and sandwiches – specifically, grilled cheese sandwiches.
I love jazzing up grilled cheese sandwiches and when it came to using provolone, I looked no further than my husband's favorite cherry pepper shooters. Have you ever heard of a stuffed cherry pepper shooter? Well, neither had I until I met my husband some 14 years ago.
These shooters are either an East coast thing or an Italian thing, but either way, I had never in my life come across these little peppers that are stuffed with a piece of prosciutto and a chunk of aged provolone.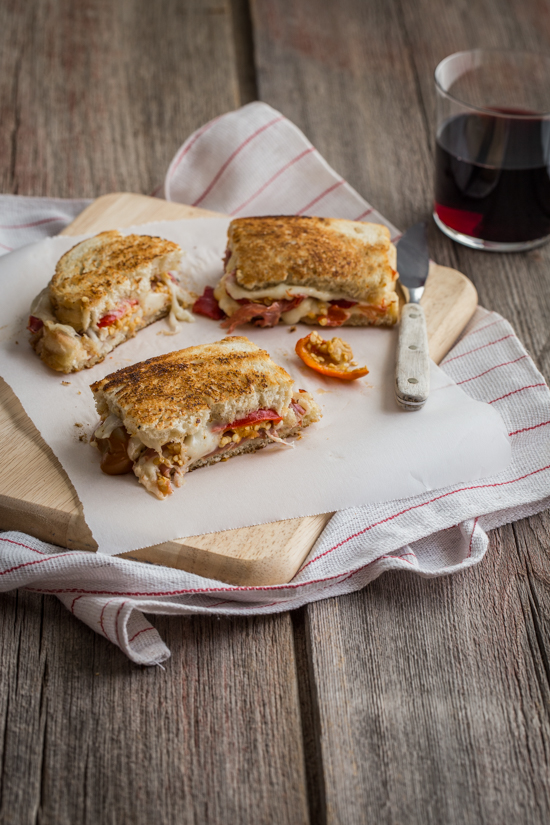 When I first started dating my husband, he would rave about these things and promised that the first time we traveled out East to visit his family, he would find some for me to try, because alas, they are impossible to find here in Ohio.
True to his word he sought them out during our first trip and I've been smitten ever since. Now our family visits are never complete without picking up a dozen or so pepper shooters.
I knew the flavors of these little stuffed peppers would make an incredible grilled cheese sandwich, especially when paired with my favorite BelGioioso provolone. The resulting sandwiches are toasty and gooey with a bit of tang from the peppers. The provolone melts perfectly onto both pieces of bread to wrap the entire sandwich in it's melty goodness.
I'm getting hungry just thinking about these!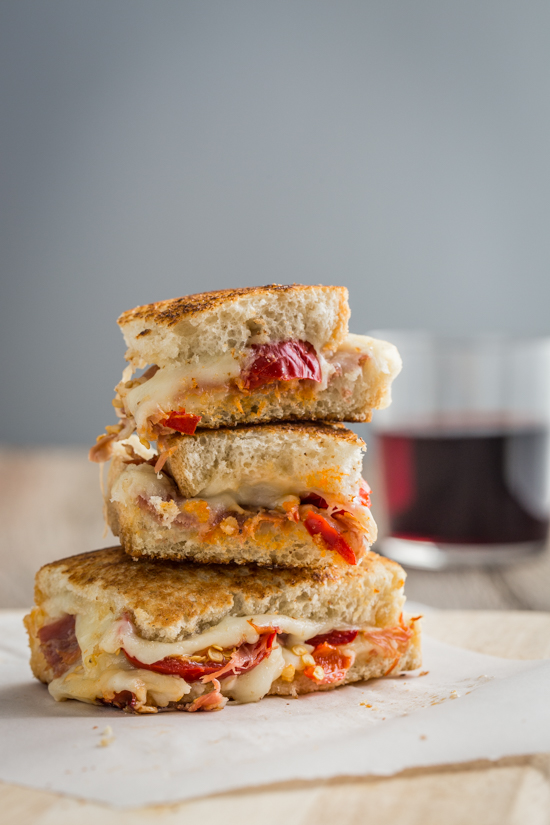 Happy Wednesday!
Sweet Pepper and Provolone Grilled Cheese Recipe
Yield: 4 sandwiches
Prep Time: 10 minutes
Cook Time: 10 minutes
Total Time: 20 minutes
Ingredients
8 slices sourdough bread
8 slices BelGioioso Provolone Cheese
12 slices prosciutto
16 jarred sweet cherry peppers, stems removed and cut in half
1 tablespoon olive oil
1 tablespoon unsalted butter
Directions
Place all 8 pieces of bread on a work surface and top each with one slice of BelGioioso provolone cheese. Divide prosciutto and peppers between 4 of the slices and top those with the remaining provolone topped bread slices.
In a large skillet, heat half of the olive oil and half of the butter until the butter is melted. Add two sandwiches, cooking until bread is golden brown and cheese is melted, flipping once through cooking time. Repeat with remaining oil, butter and sandwiches. Serve sandwiches hot. Enjoy!
September 24th, 2014