thursday thoughts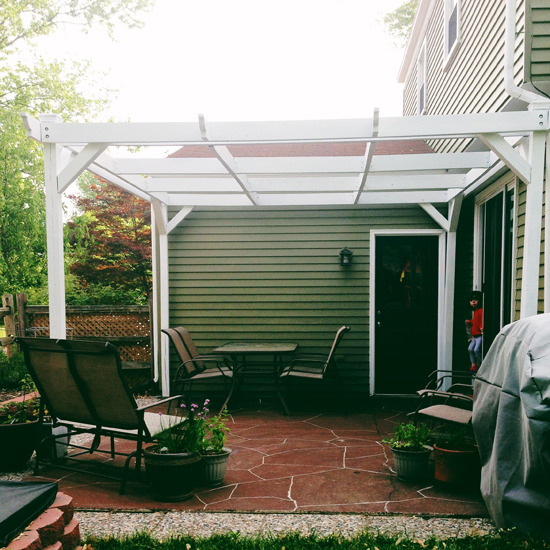 I spent last Saturday painting our patio covering (we call it a pergola but I'm not sure if that's right. What would you call it?). We built it several years ago, and painting it fell onto our to-do list, but alas, last summer flew by without it getting done. So, I am now finished with the project and have an awful farmer's tan to show for it. Seriously, it's terrible. I couldn't even show you a picture of it because you wouldn't be able to fully grasp it's strangeness. Also, my nose is burnt and peeling. I'm a mess.
Thanks to my awesome Instagram peeps, I have some great ideas for hanging plants that will 'lush' this space up a bit. My favorite suggestions are ferns, pansies and perhaps even a strawberry plant. What would you hang around the edges?
I love this post on The Pioneer Woman featuring some very heart warming photos about Memorial Day. Many of these would be appropriate for Veterans Day, too.
We spent too much time on Sunday night looking at creepy photos of abandoned amusement parks. It started with the lovely, albeit eery, Lost-esque photos by the photographer Dietmar Eckell. But it quickly escalated to the uber creepy, nightmare inducing photos of abandoned amusement parks and this one flat out gave me nightmares. Be warned – the creepy factor is insane.
On a non-creepy and actually amazingly beautiful photography note, my friend Maya from Alaska from Scratch went on an incredible camping trip and captured the some of the most stunning photographs I've seen. If you're on Instagram, you totally need to follow her. Her Alaska scenery is gorgeous!
Speaking of camping, I bought this pan*
and have big plans for our first camping trip. I'm thinking biscuits, eggs, and mini upside down cakes. What would you make in it?
After making some Chive Popovers, I had a few extra chive blossoms. FYI- chive blossoms mixed into goat cheese with a drizzle of honey is amazing when spread on crackers, crostini or just eaten with a spoon. That's how I roll.
Happy Thursday!
*Amazon Affiliate Link