Apricot Yogurt Parfait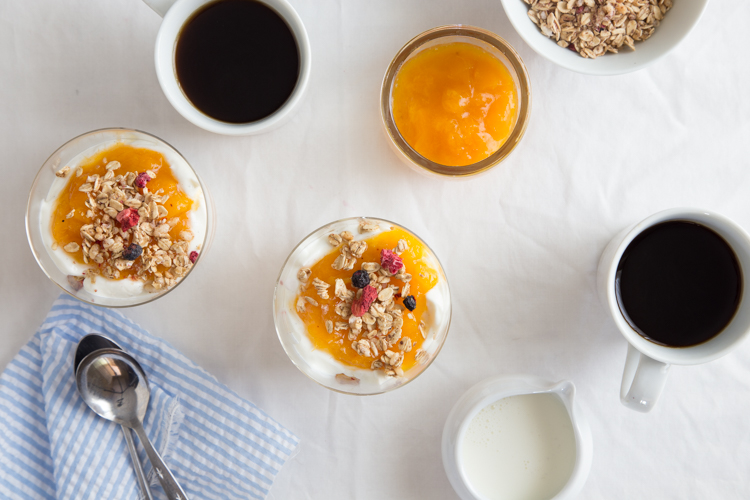 This post is sponsored on behalf of Yulu Yogurt. All opinions are, as always, my own.
I'm feeling extra adult-like these days. Our house went up for sale last week and we were thrilled to receive not one, but two offers within 24 hours. As a result, we spent the entire weekend searching for a new house and were lucky enough to find one that we love. If you've ever bought and sold houses before, I'm sure I don't need to tell you that things can get some what complicated and it's rarely cut and dry. I am, however, a firm believer that things happen for a reason and to trust that life will work out the way the way it is meant to work out. That being said, it's hard to focus on that philosophy while trying to set up inspections and worrying over little thing that could possibly happen to make either house fall through. I want to gather all the families involved into a big group hug and say, "We got this, you guys. We can do this so everyone is happy."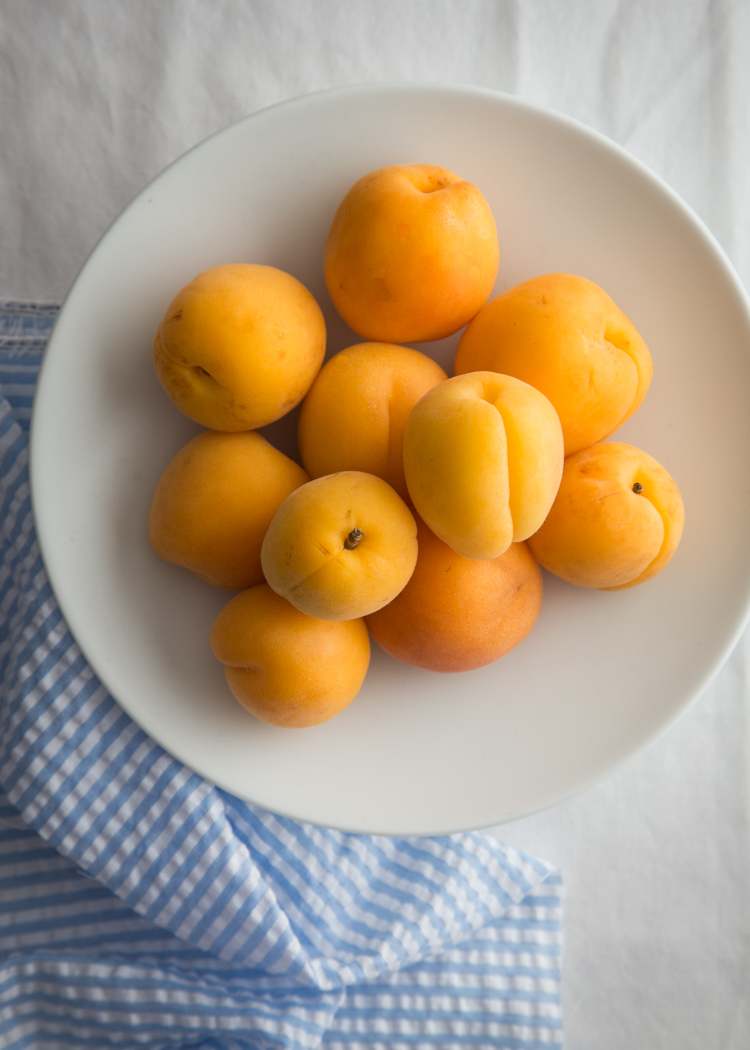 So how does my adult-like feeling come into play? Well, besides getting everything squared away with selling our current house and buying a new one (which is all very grownup, if not scary, if you ask me) I'm doing my best to put nourishing food in my family's bodies and not power eat chocolate chips in a dark room. Not that I've ever done that before.
Of course not.
This past weekend was Memorial Day and we had quite the weekend of house hunting and family get togethers. Before our third round of house touring got underway, I made us all some simple yogurt parfaits. I had bought a bag of apricots earlier in the week without a clear cut plan for them and because it's a touch on the early side for apricots and the fruit was a bit tart for straight eating. I decided to cook the apricots with some honey to make a quick honeyed apricot compote. I layered the compote between layers of smooth and creamy Yulu Vanilla Bean Aussie style yogurt. A sprinkle of mixed berry granola for some crunch and these parfait cups were sweet but satisfying. The protein from the yogurt gave us energy to parade through about 7 more houses all with an optimistic outlook.
Er, mainly optimistic. There are some wallpaper patterns that simply can't be unseen.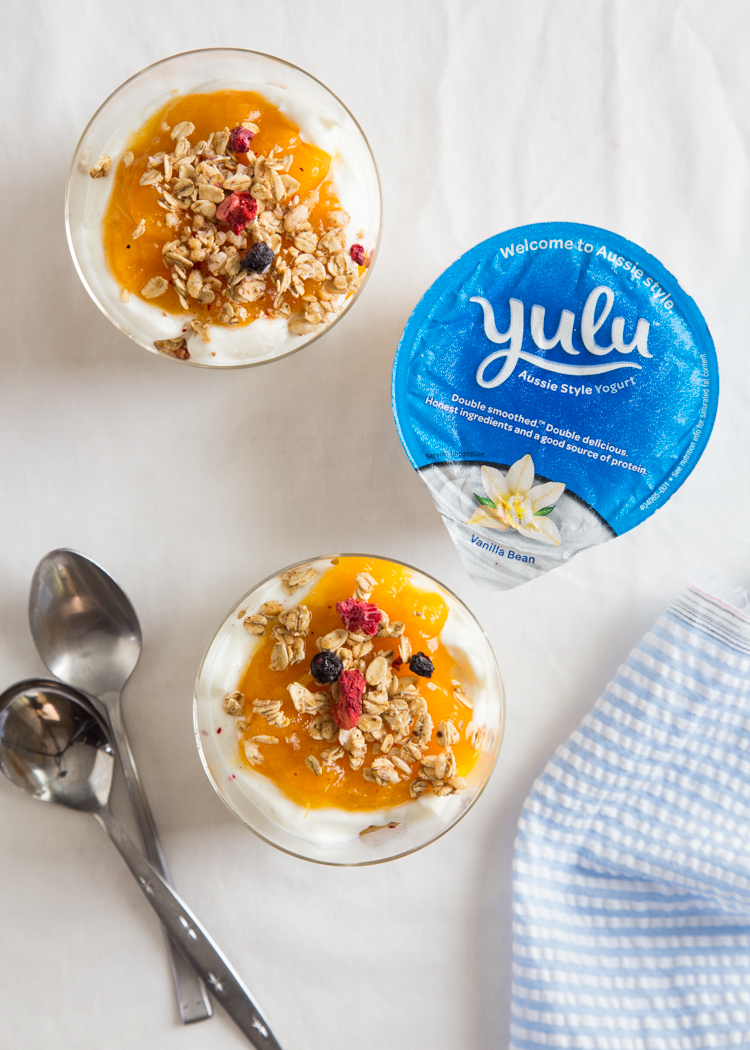 What I like about Yulu yogurt is that it is extra creamy and has a very smooth texture. In fact, they call their yogurt double-smoothed. I love the sound of that!
When it comes to my kids, C loves any kind of yogurt, but A has mixed feelings. He prefers his yogurt to be completely smooth. As in, no chunks of any kind. Do you know how hard it is to find good tasting yogurt made with honest ingredients that is completely smooth?! Not easy, let me tell you. I don't mind searching, though, because other than the chunky yogurt thing, the kid is the least picky eater you'll come across.
Well, I found the Yulu Vanilla Bean and had A try it. He adored it! He just kept eating it and saying, "wow…this is really good". He's a seven year old of few words, but he speaks the truth. This is some seriously delicious yogurt.
It's comforting to know now that I have a brand of yogurt that he'll love and that also tastes fantastic. Full, rich and very vanilla-ish. Paired with the sweet, honey and apricot compote, this apricot yogurt parfait made a pretty fabulous breakfast.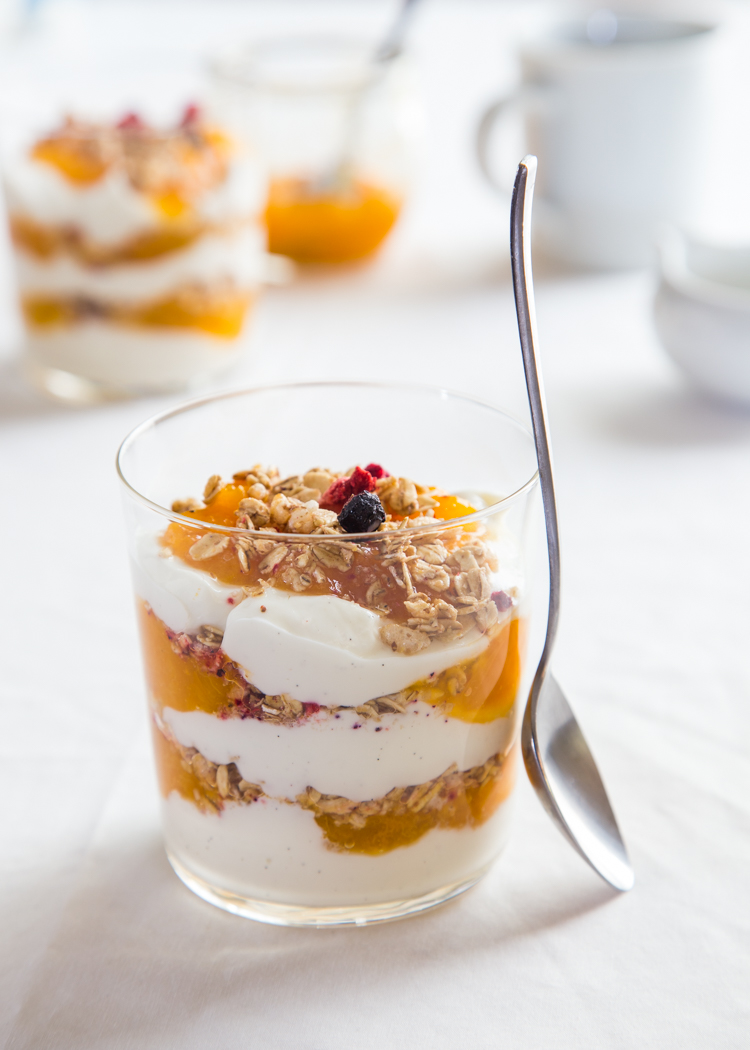 Happy Wednesday!
Apricot Yogurt Parfait
Yield: 1 1/2 cups compote
Ingredients
Honey Apricot Compote
10 small apricots, halved and pits removed (about 2 cups of fruit)
2-3 Tablespoons honey
1/4 cup water
For the Parfaits
1 container Yulu Aussie Style Vanilla Bean Yogurt
1/4 cup Honey Apricot Compote
1/4 cup granola (use your favorite)
Directions
Place apricot halves, honey and water in a small sauce pan. Place over medium low heat and bring to a simmer. Allow fruit to cook on low for about 15 minutes, stirring often, or until fruit is tender. Allow to cool.
In a glass or small jar layer Yulu yogurt, honey apricot compote and granola in alternating layers. Serve and enjoy!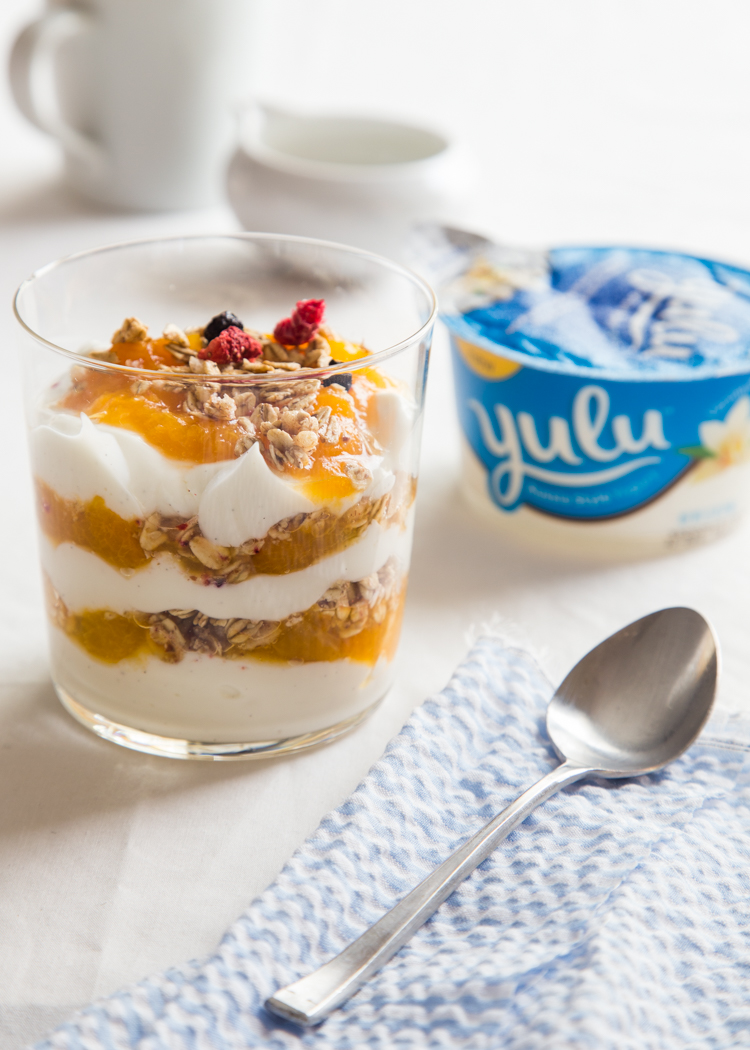 This is a sponsored conversation written by me on behalf of Yulu. The opinions and text are all mine.