Beef Bourguignon Meatballs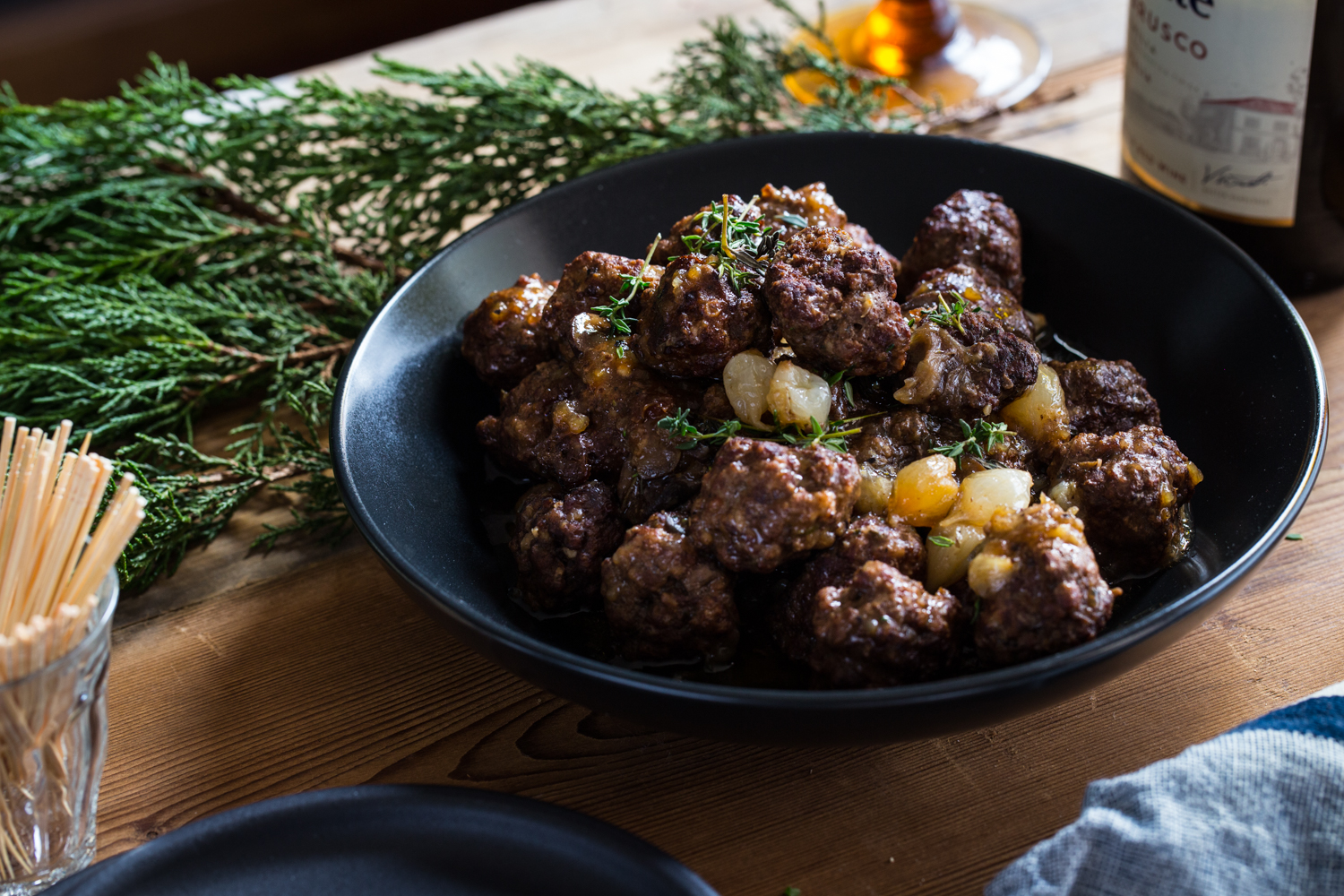 This post, Beef Bourguignon Meatballs, is sponsored by Swanson®. All opinions are, as always, my own.
This time of year is the best for getting together. Everyone feels festive and jolly and ready to kick back and party. Speaking of parties, my family and friends tend to have several throughout the season.
Occasionally there is a sit-down dinner, but more often than not, we celebrate around a big spread of appetizers, drinks, and small little bites. A few heavy appetizers like these Beef Bourguignon Meatballs are a must.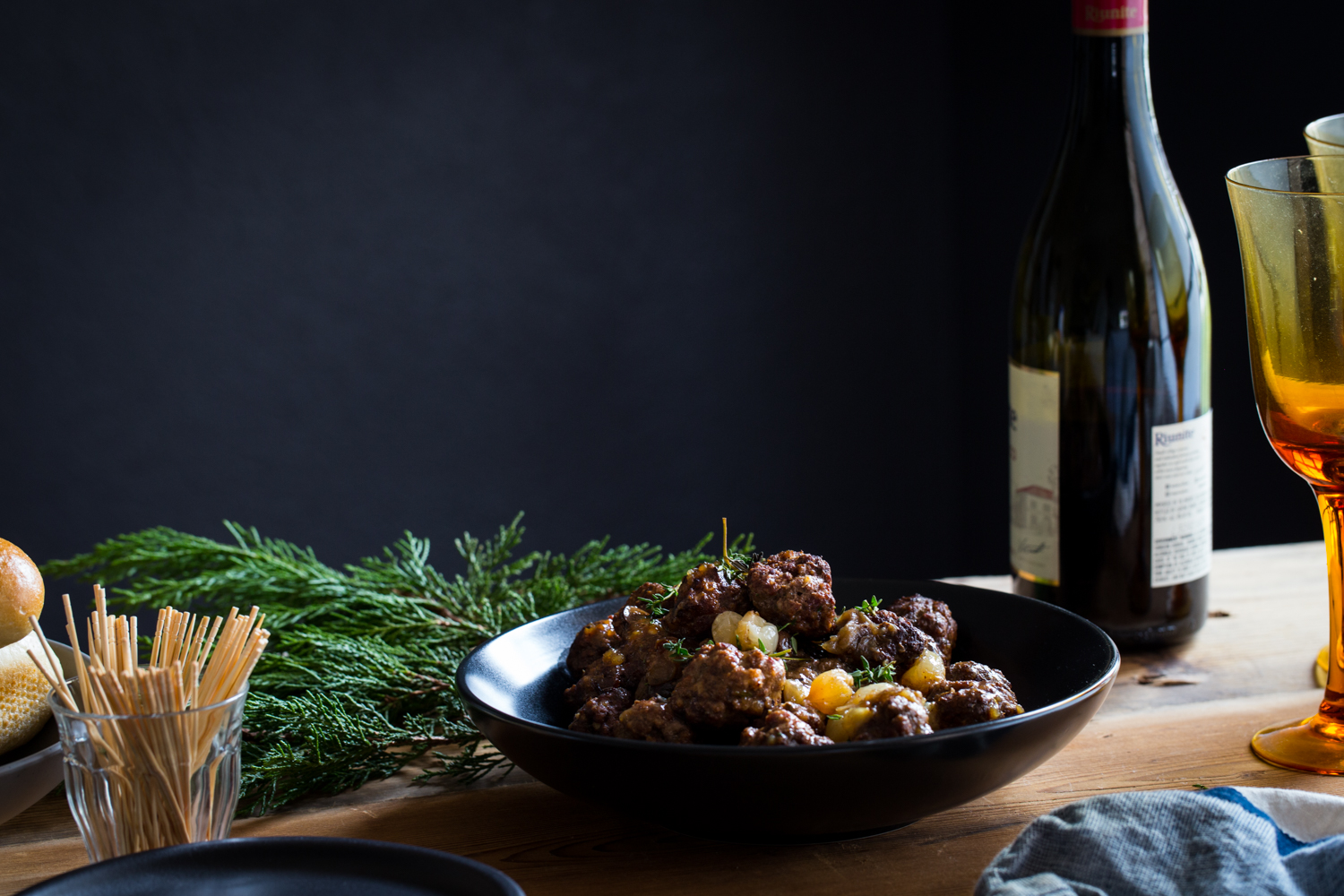 This year, my brother and sister-in-law are hosting our main Christmas get together, which will actually take place on New Year's Eve (I told you we spread out our celebrations!). My sister-in-law and I were sitting around the other day chatting over cups of coffee.
We were brainstorming a great Christmas spread and that is when the idea of these Beef Bourguignon Meatballs was conceived. Something a little different than a BBQ meatball or a Swedish Meatball, but still smacks of a big holiday celebration.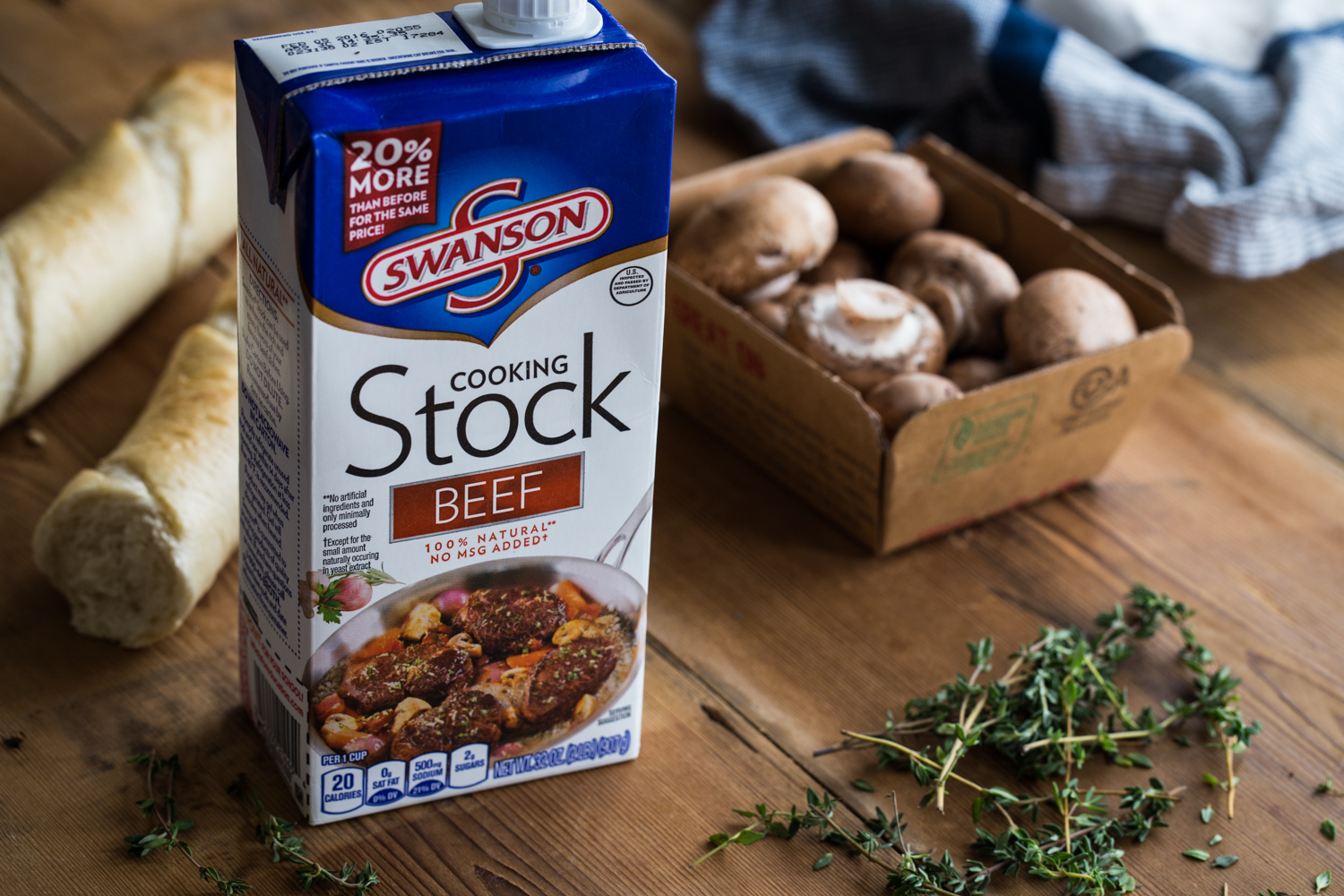 These meatballs are a combination of beef and pork seasoned with fresh thyme, garlic, salt, and  pepper. This gives the meatballs themselves great depth, but it's the sauce that really makes them sing.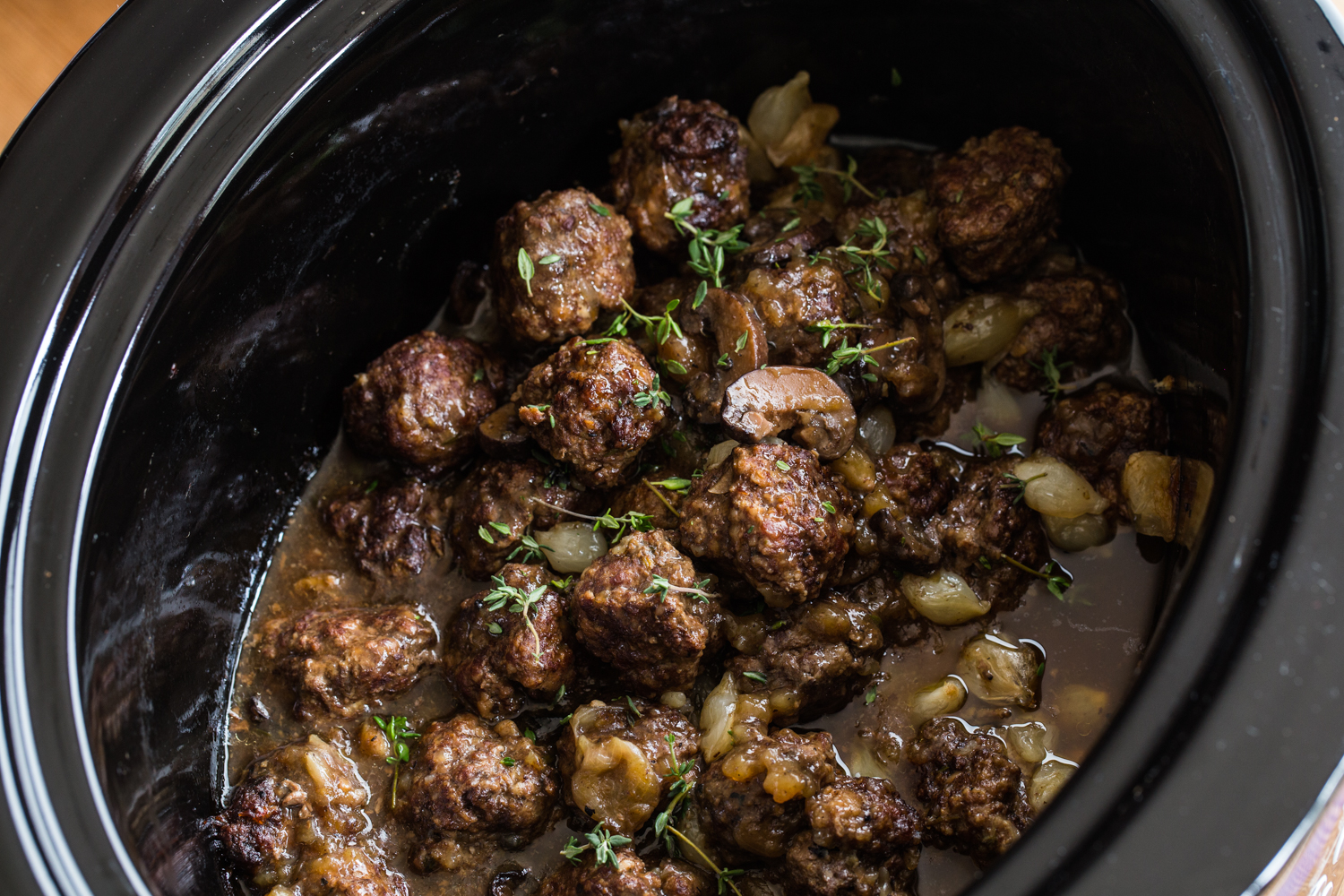 The pan sauce is started with Swanson® Beef Cooking Stock. I adore this stock because of it's rich beef flavor that creates the perfect base for all of the other flavors in the Bourguignon sauce.
The stock is used to deglaze the pan that the meatballs are browned in and then in goes some red wine, pearl onions, mushrooms, thyme, and a bit of salt and pepper. The sauce and the browned meatballs get added to the slow cooker for a simple finish and to let all of these savory flavors melt together.
Plus, at a grazing party like we're planning, serving the meatballs in a slow cooker is a great way to keep them hot and ready throughout the party.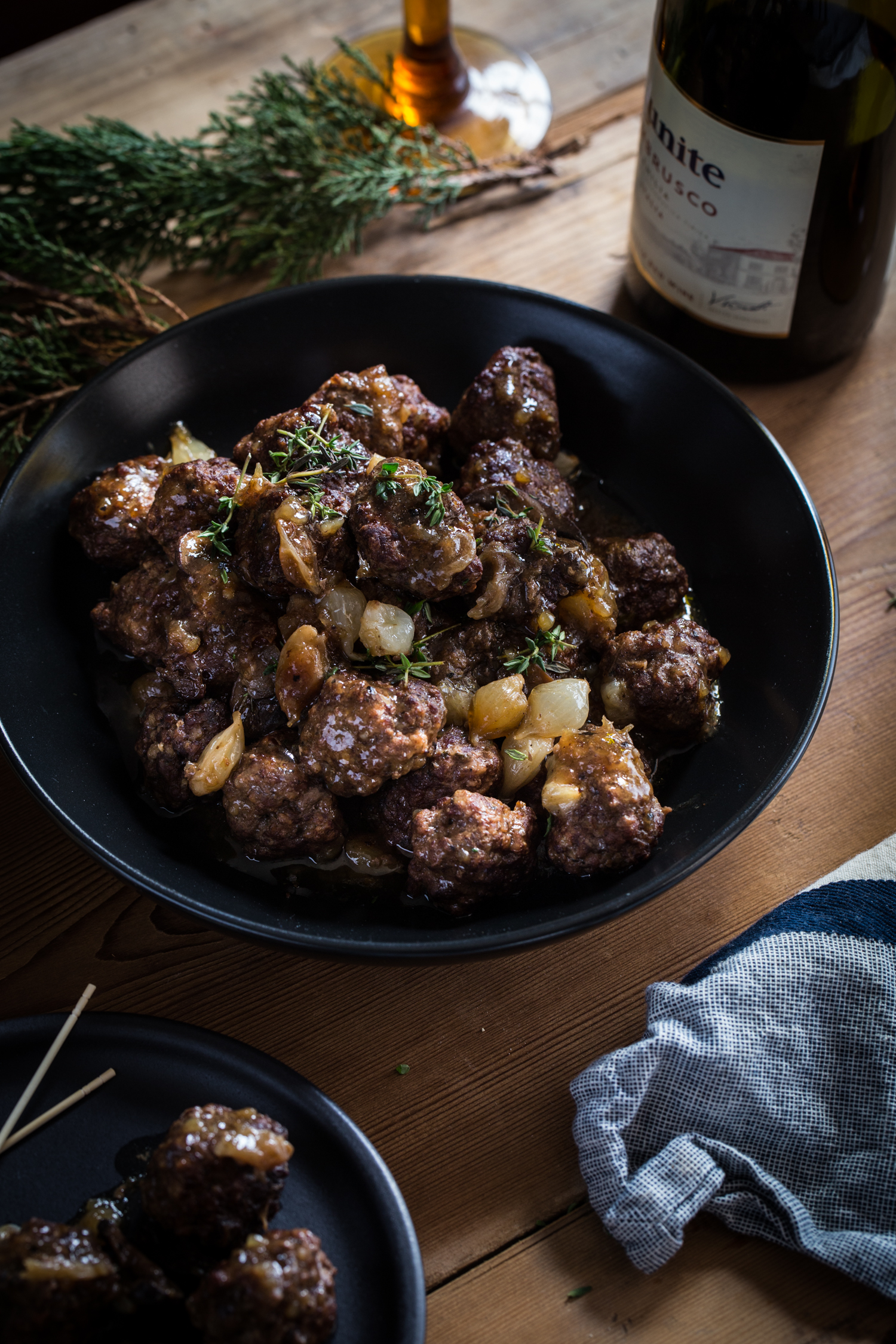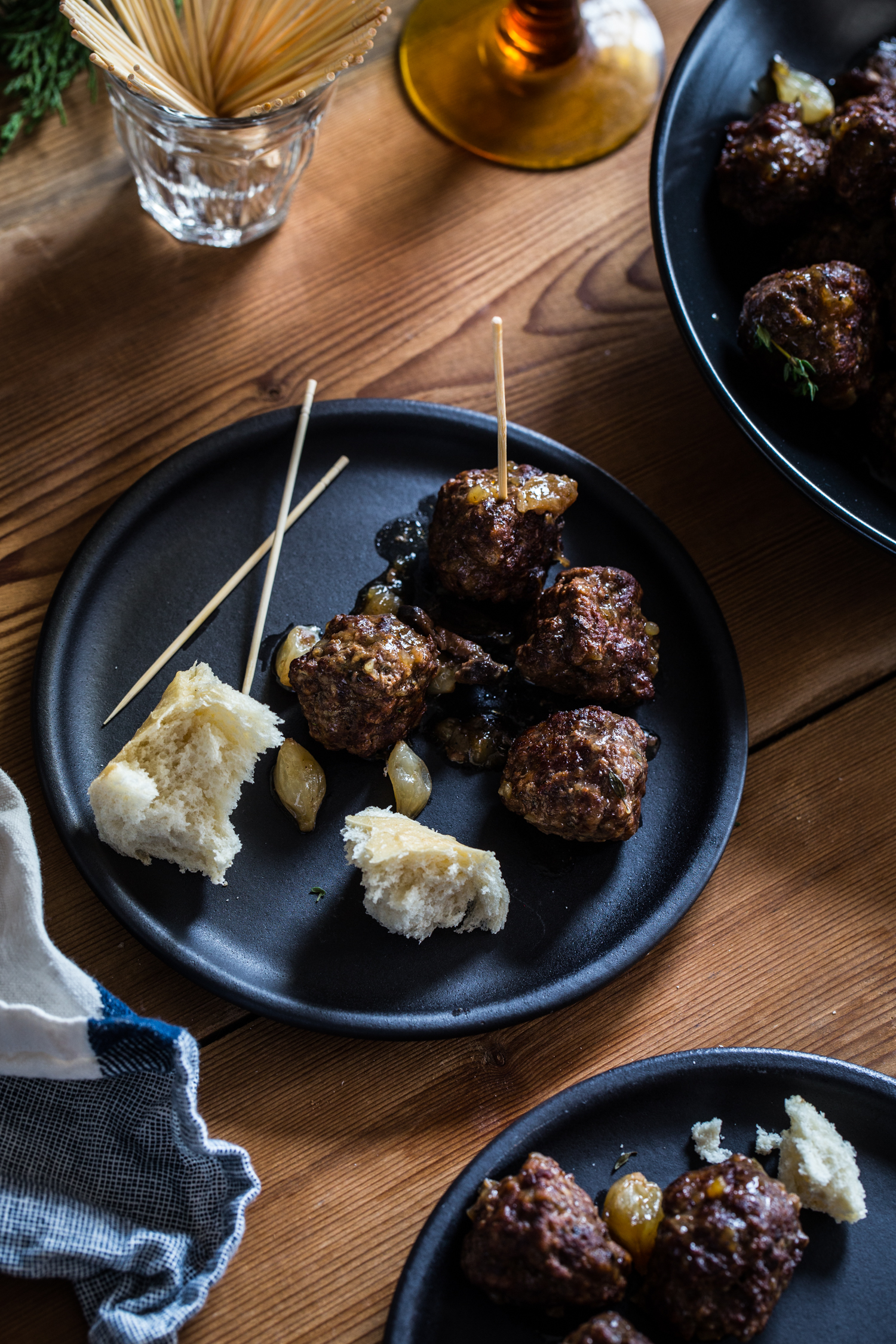 I plan on having a hefty amount of good, crusty bread to serve up alongside with these meatballs. Big hunks of bread to soak up all of this incredible sauce. These Beef Bourguignon Meatballs are going to be perfect for Christmas!
Happy Tuesday!
Beef Bourguignon Meatballs Recipe
Yield: 35-40 meatballs
Prep Time: 25 minutes
Cook Time: 4 hours
Total Time: 4 hours 25 minutes
Ingredients
1 lb ground beef (I used ground round)
1 lb ground pork
1 large egg
1/4 cup seasoned bread crumbs
4 garlic cloves, minced
1 1/2 teaspoon fresh thyme leaves, minced
3/4 teaspoon kosher salt
1/2 teaspoon black pepper
2 teaspoons extra virgin olive oil
1 1/2 cups Swanson® Beef Cooking Stock
1/2 cup Pinot Noir
1 cup frozen pearl onions
6 cremini mushrooms, wiped clean and sliced
6 sprigs thyme
2 tablespoons corn starch
1/4 cup water
Directions
In a large bowl, mix together beef, pork, egg, bread crumbs, garlic, thyme leaves, salt, and pepper until well combined. Using a tablespoon, scoop meat mixture and roll into balls. Set aside.
Heat olive oil in a large non-stick skillet. Brown meatballs on all sides, about 2-3 minutes per side. This may take several batches. Place browned meatballs into slow cooker.
Pour out excess fat from pan, leaving the brown bits in the pan. Return pan to medium/high heat and add Swanson® Beef Cooking Stock. Use a wooden spoon to scrape the brown bits off the bottom of the pan. Add wine, onion, mushrooms, and thyme sprigs. Bring stock to a simmer and allow to cook for about 5-7 minutes or until sauce is reduced slightly. Mix corn starch and water in a small dish to create a slurry. Pour into pan sauce and stir until combined. Allow sauce to cook for an additional 2-3 minutes or until thickened. Remove thyme stems. Pour sauce over meatballs in slow cooker.
Cook meatballs for 4-6 hours on low. Serve meatballs with sauce. Enjoy!