betty's salad for #SundaySupper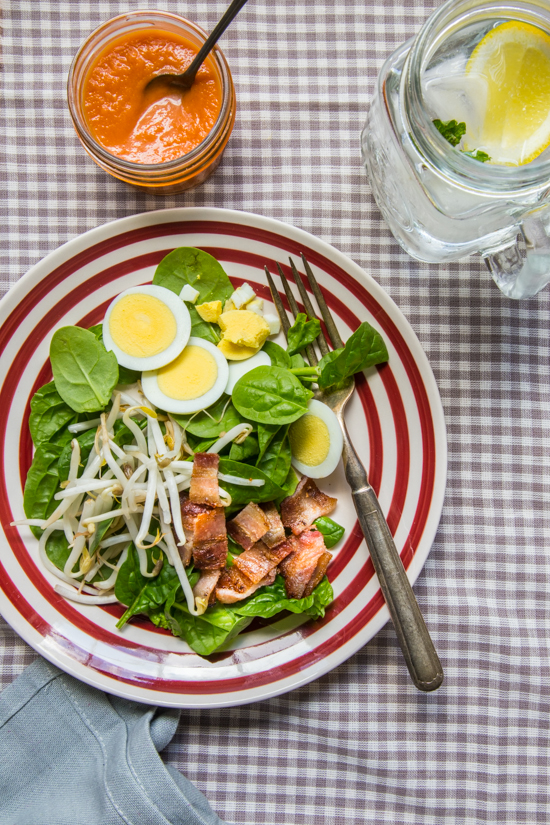 Betty's Salad for #SundaySupper is a classic Ohio salad full of fresh spinach, crispy bacon, hard boiled eggs and a rich, tangy dressing.
I have so many things that I want to talk about today, but first let me start off by wishing you all a very happy Mother's Day!
You might be wondering a little about this salad. Well, let me give you a little bit of the background of this regional favorite. Growing up in Toledo, Ohio you couldn't go to a potluck or summer picnic without coming across a Betty's Salad. This salad is known for it's fresh spinach, crumbled bacon, hardboiled eggs and tangy reddish/orange salad dressing. It's a flavor combination that brings to mind visions of childhood summertime. Sunshine, grass, families and fun. And of course, my mom.
Betty's Salad was actually created by Betty Timko who had a restaurant, called Timko's Soup and Such, just blocks away from my childhood home. This salad was on the menu and even after the restaurant closed, it remained a classic in our area. You can even buy jars of Betty's dressing in grocery stores in Ohio.
I told you it was a classic.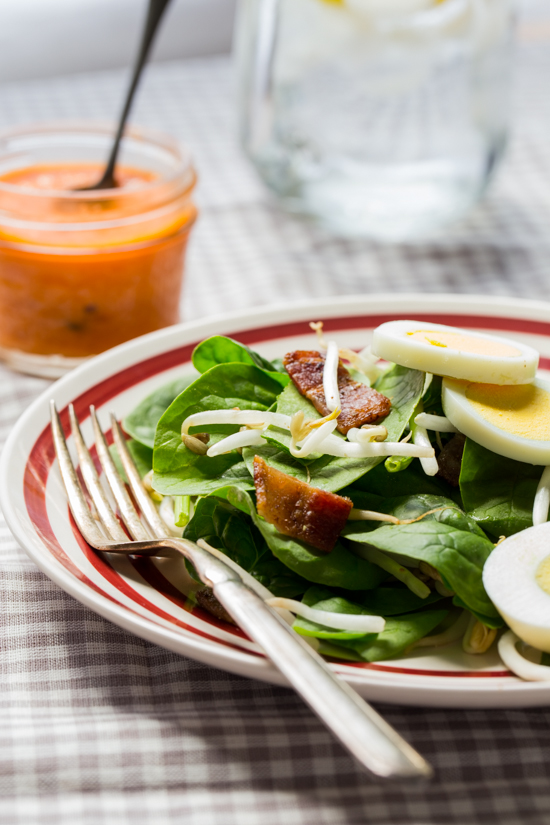 It had been a while since I had thought about this salad and a few weeks ago I went into the small local grocery store near my kiddos school to pick up a few things for dinner. While wandering by the deli counter, I saw that they had Betty's Salad! Well, I couldn't not get some, so I popped it in my cart and went home. The Baby wanted to share and by 'share' she meant eat all of the eggs and bacon. We need to work on her idea of sharing a little bit, but I couldn't blame her, those are my favorite parts, too. Most of me was just thrilled because she was loving something that I had such fond memories of as a kid.
It made me think that I really wanted to make my own at home so the Buddy and my husband could try it and I started looking into recipes for the dressing and found a few different versions. Every recipe had oil, ketchup, vinegar, Worcestershire sauce and sugar in slightly different proportions. Yes, it has ketchup, just go with it. So I picked one and tweaked it to fit my memories.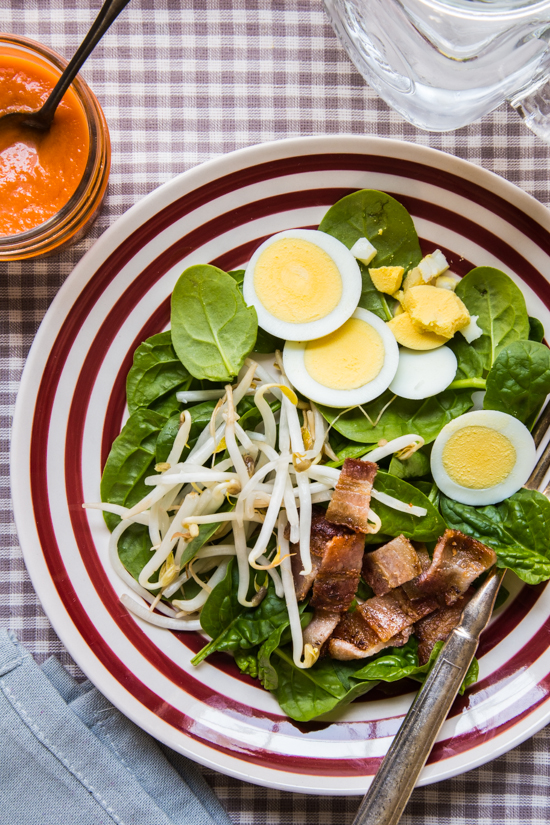 When I served the salad to my family my husband chuckled at my 'ketchup dressing' but proceeded to clean his plate, so I figured it must have tasted pretty good. Betty's Salad is a simple, but perfectly flavor balanced salad that takes me straight back to my childhood. I'm so glad to have rediscovered it just in time for Mother's Day.
Betty's Salad Recipe
Ingredients
1 cup canola oil (or other neutral salad oil)
3/4 cup raw sugar
1/4 teaspoon salt + black pepper to taste
1/2 cup ketchup
1/4 cup white wine vinegar
1 Tablespoon Worcestershire sauce
1 small onion, cut into chunks
4 cups chopped romaine
4 cups fresh baby spinach
1/2 cup fresh bean sprouts
4 hard boiled eggs, sliced
4 strips of bacon, cooked crisp and crumbed
Directions
Place oil, sugar, salt, pepper, ketchup, vinegar, Worcestershire sauce and onion in a blender and blend until smooth. Set aside. In a salad bowl, toss together romaine and spinach. Top with bean sprouts, hard boiled eggs and bacon. Drizzle with dressing and serve.
Enjoy!
Notes:
Store leftover dressing in an airtight container in the fridge for up to 5 days.
This recipe is slightly adapted from
this version
of Betty Timko's recipe that was made popular through her restaurant, Timko's Soup and Such.
May 11th, 2014
The last tidbit that I want to share today is that I'm so excited to be joining the #SundaySupper movement celebrating families gathering around the dinner table. If you're looking for some more Mother's Day dinner inspiration, look no further than our Sunday Supper table!
Mother's Day Breakfast:
Mother's Day Appetizers, Soups and Salads:
Mother's Day Main Dishes:
Mother's Day Desserts:

Join the #SundaySupper conversation on twitter on Sunday! We tweet throughout the day and share recipes from all over the world. Our weekly chat starts at 7:00 pm ET. Follow the #SundaySupper hashtag and remember to include it in your tweets to join in the chat. Check out our #SundaySupper Pinterest board for more fabulous recipes and food photos.
Would you like to join the Sunday Supper Movement? It's easy! You can sign up by clicking here: Sunday Supper Movement.